Rivers People Celebrate Wike On Birthday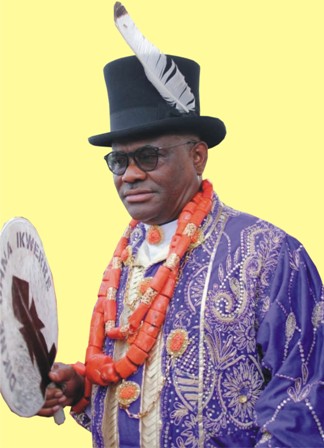 As Rivers State Governor, Chief Nyesom Wike marks his birthday today, both Rivers indigenes and people resident in the State have expressed myriad of opinions in celebrating the special day with the Governor.
There is no doubt that, so far, the greatest encomiums showered on the Governor have derived from his obsessive knack for massive infrastructural development across the state.
What baffles many observers is that the execution of such projects comes with the speed of a sprinter, regardless of the season. Their commissioning is always a marathon performed by notable politicians from across party lines. And, above all, these projects have proved to be of top-class quality.
In fact, it was during the commissioning of one of such people-oriented edifices that Nigeria's Vice President, Professor Yemi Osinbajo, of a rival political party and an unlikely source for such tangible praise, gave him the most fitting appellation of 'Mr. Projects'.
Obviously borrowing from this, one of our respondents, Mr. Edward Amatigha, said "Governor Wike is a good man. Look at the three flyovers he is constructing at a go; whereas his counterparts elsewhere are busy emptying their state treasuries into their personal bank accounts. The man is Mr. Projects, no doubt.
"As for his birthday on Friday, I join other well-meaning Rivers men and Nigerians in wishing him a happy celebration and God's continued guidance".
Amatigha, a bank clerk, wished the same level of infrastructural transformation could be achieved in his native Bayelsa State.
Chikwendu Nwokorogwu, a civil servant in Port Harcourt, sees Governor Wike as a blessing to the people of Rivers State and one of the best governors the state has had since its creation.
Nwokorogwu was particularly grateful to the Governor for his contributions to the health sector. She called on all Rivers people to celebrate their son who has done them well in all aspects of governance.
A trader, Mrs Ifeoma Chukwuemeka, referred to the Governor as a man of "timber and caliber"; a man of good taste and immense strength. She praised Wike for ensuring that traders enjoyed comfort while doing their business by building ultra-modern markets for them.
The food vendor wished him well on his new age while urging him to maintain his service delivery stance with the Rivers electorate as more goodies were being expected from the government.
Also speaking, Gabriel Ejiofor noted that "Governor Wike, beyond all reasonable doubt, is doing well, but I just pray that he becomes friendlier with the youths, because we have a lot to explore in our own state. God bless Wike! God bless Muhammadu Buhari! And God bless Nigeria!"
Muhammad Kadiri, who is of the Muslim community in Rivers State could not express his excitement and gratitude enough to Governor Wike. He saw the governor as a man of the people whose peaceful mien is very palpable across the state.
Kadiri said that Muslims in the state, who are mostly non-indigenes, still partake of the governor's generosity, even as non- Rivers people. According to him, they can access the health and educational facilities in the state and also do business without any fear of intimidation or molestation; all because the governor is very accommodating.
Mallam Muhammad appreciated Allah for Governor Wike's life and wished him well on the occasion of his birthday today.
On his part, a motorist, Anthony Chibor, paid special tribute to Governor Wike for inaugurating the task force on illegal parks and street trading in Port Harcourt. According to him, there is better traffic flow and an improved ease of doing business in the city.
He wished the Governor many years of success and advised him to remain focused while avoiding any temptation to be distracted by unnecessary political rantings and hate speeches from enemies of the state.
Also responding, Miss Goodness Idong, a student of Captain Elechi Amadi Polytechnic, Port Harcourt, opined that it is actually a double celebration for the state's chief excutive as his birthday anniversary falls in the same month as Jesus Christ's.
She assured that the governor's vision and support towards improving the standard of education in the state would not be in vain as it will surely serve to produce students who would become very sound future leaders.
Another trader, Mr. Cletus Nwankwo, said that Wike's good legacy at ensuring a better Rivers State is unrivaled. He described the state's helmsman as the "Governor of all governors", saying that his birthday would bring him good fortunes as the Heavens would surely shower him with multiple blessings.
For Elder John Chimezie, it was a very simple and apparently honest confession: "I like the governor's work. The truth is that I have never seen a governor like him. I wish him goodluck, long life, prosperity and a graceful birthday".
A civil servant who craved to be known simply as Mrs. D said she was always proud of Governor Wike's accomplishments as a politician.
"Politicians hardly keep their election promises. But in Governor Wike, Rivers people and, indeed, Nigerians have found a politician whose word has always been his bond; a man who has consistently matched words with prompt action. In fact, an Ekwueme (talk-and-do) governor," she eulogized.
By: Ibelema Jumbo, Ngozi Dennar, Chioma Peters & Odinakachi Oko

Terrorism Rating: Bomb Bandits Now, Buhari Orders Air Force …Summon Buhari On National Security, PDP Charges NASS …As Suicide Bomber Attacks Mosque, Kills Four, Injures Scores
President Muhammadu Buhari has condemned the repeated attacks by bandits on communities in Niger State and its environs, directing the Nigerian Air Force to deploy its fighter aircraft in checking the menace.
The president gave the directive in a statement by his Senior Special Assistant on Media and Publicity, Malam Garba Shehu, in Abuja, yesterday.
Buhari described the repeated attacks which led to the loss of several lives in the affected communities "as a disaster for the nation".
He, therefore, authorised the deployment of air power to support troops and policemen deployed to the "difficult terrain," to counter the menace of the attackers operating in the forest area bordering Kaduna, Niger and Zamfara states.
In line with this directive, according to the presidential aide, the Nigerian Air Force is setting up refuelling facilities at Minna, Niger State, to support the air operations.
Shehu revealed that relevant military authorities had assured the president that given the improved weather conditions, a major exercise to "visually acquire targets" and launch attacks would soon follow.
He said: "President Buhari has received assurances that with the harmattan dust gradually easing its hold on the skies, fighter aircraft would this week join the efforts to provide effective air attacks against bandits, kidnappers and cattle rustlers that have been attacking remote communities around Dogon Gona forest in Niger State."
He added that the Police Command in Niger had equally given assurances that "the planned dedicated air raids to complement the police helicopter gunship operations remain the best approach given the lack of motorized roads in the areas constantly under attack".
Buhari commiserated with the government and people of Niger State over the attacks and loss of lives, and assured that affected communities would not be abandoned by the rest of the country.
Meanwhile, the Peoples Democratic Party (PDP), has urged federal lawmakers to upon resumption, tomorrow, use its legislative instruments to invite President Muhammadu Buhari to address it on the worsening security situation across the country.
The party, in a statement, yesterday, premised its call on what it called "the alarming Global Terrorism Index report by the Institute for Economics and Peace (IEP), which ranked Nigeria as the third country with the highest level of terrorism in 2019, after Iran and Afghanistan."
Signed by its spokesman, Kola Ologbondiyan, the PDP described the report as "distressing particularly as its indices show that insecurity and deaths from acts of terrorism increased in Nigeria in spite of promises by the current administration."
The statement further continued: "The party notes that the IEP rating has further confirmed its position that the security of lives and property in our nation has gone beyond what the Buhari administration's security architecture, as presently composed, can guarantee.
"Our party posits that the issue of security has gone beyond partisan and sectional sentiments as well as propaganda and now requires a concerted effort by all stakeholders to compel a review of security structure and method by Mr President.
"The PDP, as a pan-Nigerian platform, urges the National Assembly to step in by persuading President Buhari to heed wise counsel and rejig his security high command so as to inject new blood to tackle our security challenges.
"The party also urges the National Assembly to compel President Buhari to take a decisive step in ordering the apprehension and prosecution of perpetrators of acts of terrorism including the mass killing in Benue, Nasarawa, Bauchi, Taraba, Kogi, Adamawa, Borno, Yobe, Zamfara, Kaduna, Ekiti and other parts of the country under the current administration.
"The failure to track down and prosecute the perpetrators of heinous crimes had continued to embolden marauders, insurgents, bandits and kidnappers to further ravage communities and major highways, beheading compatriots, killing, maiming and taking innocent citizens captives in droves, to the extent that our nation has become the third with the highest level of terrorism in the world.
"Indeed, this is not the way to go. Our party restates that such situation should not have been allowed to fester and degenerate to this abyss.
"While the PDP salutes the gallantry and patriotism of our troops fighting and daily risking their lives in the fronts, our party charges the National Assembly to use its legislative instruments to invite Mr President Buhari for an appropriate briefing as a prelude to decisive step towards ensuring adequate security in our country", the PDP argued.
Similarly, no fewer than four persons were said to have died during a suicide attack on a mosque in Gwoza, in Borno State, yesterday.
Gwoza was at the peak of the ongoing Boko Haram insurgency, the administrative capital and caliphate of the terrorist group.
It was reported that the suicide bomber ran into a group of worshippers during early morning prayer.
As at the time of filing this report, yesterday, no official confirmation has been received from the government or the military authorities.
However, the Nigerian Army troops of 'Operation Lafiya Dole' have foiled efforts by the Boko Haram insurgents to attack some soft targets in Borno State.
The Nigerian Army Operations Media Coordinator, Col. Aminu Iliyasu, who disclosed this in a statement, yesterday, said the troops also continued to decimate the insurgents from different encounters across the North-East.
Iliyasu disclosed that the troops of 3 Battalion deployed in Gamborou-Ngala Local Government Area of Borno had on January 18 repelled a Boko Haram attack on the Ngala community.
According to him, the insurgents sneaked into the peaceful community in five gun trucks, motorcycles and a number of foot soldiers through the rear of a humanitarian hub.
"They used a farm as cover with the heinous intent to unleash one of the most devastating terror attacks in recent times.
"Fortunately for the residents, the vigilant troops responded swiftly, engaging the criminals with overwhelming superior firepower, thereby forcing them to beat a hasty retreat in complete disarray.
"During the ensuing pursuit and exploitation embarked upon by the troops, one Boko Haram criminal suicide truck driver strapped with a suicide vest was neutralised.
"Items captured during the encounter include one AK-47 rifle, one FN rifle, one motorcycle and one heavily-laden vehicle borne Improvised Explosive Device (IED) with deadly explosive materials," he said.
Iliyasu added that preliminary investigations revealed that vehicles laden with IEDs and suicide bombers were heading to the IDP Camp in Gamborou-Ngala before the troops foiled the attack.
He added that five humanitarian workers who took refuge in a bunker during the attack were successfully rescued by the troops.
According to him, on January 24, troops of the same 3 Battalion deployed at Ngala bridge repelled another Boko Haram attack on their location.
He disclosed that the insurgents, who came in three gun trucks and a number of foot soldiers late afternoon, were engaged by the troops and inflicted heavy casualty on both their men and equipment.
The spokesperson disclosed that two of the three gun trucks belonging to the terrorists were captured at the end of the encounter.
He added that two anti-aircraft guns, one GPMG gun, two AK-47 rifles, one GPMG barrel, 688 rounds of 7.62mm NATO ammunition, 20 rounds of PKT ammunition and 63 rounds of 50 ammunition were also captured.
"One neutralised body of the criminal insurgents was recovered during exploitation while several other bodies and the wounded were believed to be carted away as evident by the trails of blood found along their withdrawal route.
"Similarly, on January 24, troops of 7 Division decisively cleared a Boko Haram ambush while on clearance operations between Firgi and Banki Junction in Bama Local Government Area of Borno.
"In the aftermath of the encounter, two Boko Haram criminals were neutralised while others are believed to have escaped with varying degrees of gunshot wounds", he was quoted as saying.
However, the General Officer Commanding (GOC), 2 Division, Ibadan, Maj-Gen Anthony Omozoje, has advised officers and men of the Nigerian Army to remain disciplined and continue to abide by existing regulations.
Omozoje made the call during the Fire Night organised as part of activities marking the West African Social Activity (WASA) for 2019 in Okitipupa.
Represented by the Chief of Staff of 4 Brigade, Benin, Col. Auwal Haruna, Omozoje said: "To the officers and soldiers of this battalion, I hereby congratulate you for seeing the end of another demanding year.
"I want to use this opportunity to implore you all to remain disciplined and continue to abide by all existing regulations as well as instructions that will be passed to you from time to time.
"We must also be focused and stand firm in order to checkmate militancy, bunkering, vandalism of oil and gas infrastructure, piracy and kidnapping, among other criminal activities in the state and Nigeria at large," Omozoje said.
The GOC further charged the officers and soldiers to discharge their lawful duties without intimidating citizens.
He called on members of the public to cooperate with the Nigerian Army and other security agencies to ensure that crimes were reduced in the country.
The Nigerian Army has been at the forefront of battle against insurgency in Nigeria.
Recently, troops of Operation Lafiya Dole prevented efforts by the Boko Haram insurgents to attack some soft targets in Borno State.

Wike Recommits To PH Airport Access Road Dualisation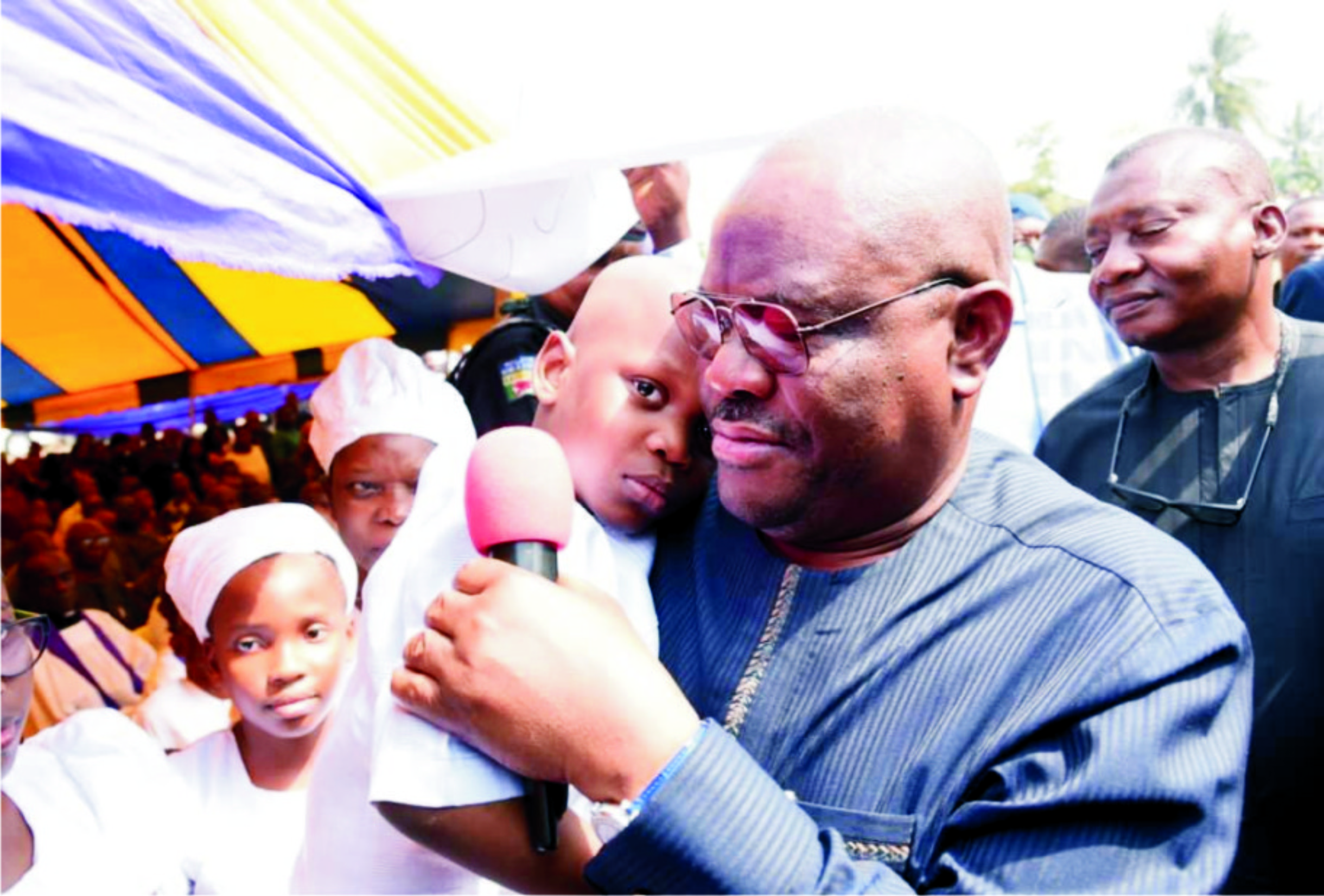 The Rivers State Governor, Chief Nyesom Wike has reiterated that his administration would dualise the access road to the Port Harcourt International Airport, Omagwa in Ikwerre Local Government Area, in line with his pledge to aviation workers.
Speaking during the 2019 End of Year Party of Federal Airports Authority of Nigeria (FAAN), in Port Harcourt, last Saturday, Wike said that he was committed to ensuring better access to the airport.
Represented by his Chief of Staff, Engr Chukwuemeka Woke, the governor reminded the workers that the process started with the completion of the iconic Obiri-Ikwerre Airport Road.
He said: "On the road infrastructure towards the airport, Governor Wike will fulfill his promise. He keeps all his promises to the people.
"Knowing that it is important to provide the enabling environment for people to do business in Rivers State, Governor Wike completed the Obiri-Ikwerre Road to the airport.
"The promise to dualise the airport road with streetlights will be fulfilled and the project completed before the end of our second term."
Wike added that the Rivers State Government was already expanding the Ikwerre Road up to the airport junction, to resolve the issue of traffic congestion along that route.
He added that all across Port Harcourt, several important infrastructural interventions were taking place to develop a beautiful modern city.
Wike said: "As you drive around town, you will notice a major expansion of different road infrastructure. The expansion of road infrastructure will lead to the improvement of traffic flow.
"By the time road infrastructure expansion is completed and the three flyover bridges are ready, the traffic congestion would ease off", he added.
He charged the FAAN workers to remain committed to quality service delivery in order to promote safety and comfort for customers at the airport.
"This opportunity will provide a very wonderful platform for the workforce to interact and evaluate their work performance for greater productivity.
"I charge other state and federal agencies to create time for regular interaction among workers.
"For the workers, in your core area of delivery of service, of relating with airlines and customers, I urge you to continue to serve our country, Nigeria," he said.
He commended the management of FAAN for the annual get-together.
The governor said: "This meeting is a proof of the wonderful relationship that exists between the Rivers State Government and federal agencies in the state.
"Let me thank you for finding time to unwind and relax with your workforce. This is a very special gesture that will motivate the productivity of your workforce."
In his response, the Managing Director of FAAN, who was represented the Director of Human Resources and Administration, Mr Anozie Norris, commended the staff for working hard all through 2019 to ensure the safety of passengers with no major accident all through the year.
He said: "We recorded many successes and achievements in 2019. We must work to consolidate on the gains of 2020.
Norris said airports and airport managers around the world were working to take advantage of the huge African market.
"We must strive to ensure that we make our airports aviation hubs that will be achieved through hardwork", he said.
Also speaking, the Manager of Port Harcourt International Airport, Felix Akinbinu reminded the Rivers State governor of the pledge to dualise the airport access road.
He also called on all stakeholders to work towards ensuring that the Port Harcourt International Airport gets the desired international certification.
Highlight of the event was the presentation of a plaque of honour by FAAN to the Rivers State Governor, Chief Nyesom Wike with an Award of Excellence for his contributions to the aviation sector.

Bestiality Of Power: Whiteman's Burden (4)
Management experts would tell us that power is the ability to do something, while authority is the right to do so. Therefore, use of power without authority is an abuse of power. Sources of authority include constitutional, legal or bureaucratic one, while others are traditional or monarchical, charismatic, paternalistic and sapiental authorities. There are situations where individuals and groups, using the advantage of brute force and superior armament, impose themselves upon other weaker groups of people.
Slavery and colonialism remain classical examples of foreign forces imposing themselves upon weaker groups and causing irreparable damages both physically and psychologically to peaceful local communities. With an overwhelming technological superiority, the colonial powers embarked upon military invasion and occupation of West African territories between 1885 and 1906. They subjected the people to an administration which they did not bargain for, but resisted fiercely, resulting in the death of many local heroes and the invading intruders. Things began to fall apart.
The invasion and occupation of African communities by military conquest depict how the might of power can claim unmerited right and how power can become a bestial instrument. One success emboldens a conquering tyrant, and subsequent acts of brigandage became forms of missionary exploits. The invasion of communities in West Africa by European powers from 1885 was not the first time of such ruthless exploits. For about two centuries, West Africa had been the theatre of Trans-Atlantic slave trade, and after its abolition, another phase of the bestiality of power began. It was called colonialism.
Christian Europe which did not see anything bestial in slave trade, assumed a superior moral ground to convert heathen, inferior Africans to embrace the Christian faith. European scholars had propounded theories of racial classification which placed the Whiteman at the top and the Blackman at the bottom. Thus, what became known as the "Whiteman's burden" was a mission statement of fulfilling a "sacred trust" of saving inferior human stock from state of depravity.
The scramble for Africa became the focus of European powers after the abolition of slave trade, with a sacred duty of executing the Whiteman's burden of saving the race of inferior people. Such mission of forceful entry and occupation of other people's territories and ruling over the people became a "sacred trust" for the benefit of the Africans. Pure hypocrisy!
European colonial powers would hardly admit that they knew little about Africa and its communities. The assertion that Africa had no history spoke eloquently about the Whiteman's ignorance about Africa. Professor Hugh Trevor-Roper gave the following verdict: "Perhaps, in the future, there will be some African history to teach. But at the present, there is none; there is only the history of the Europeans in Africa. The rest is darkness… and darkness is not the subject of history".
Among some African elite who felt bitter about the marauding activities of European powers in Africa and their misrepresentation of the reality of Africa, was Late MKO Abiola. He initiated the pursuit of reparation by African nations, requiring European powers to make some payment to African nations for the damage, loss and injuries which colonialism had inflicted on African communities. Being a rich and powerful business man, Abiola's project made European powers jittery. Expectedly, they kept quiet.
Without going into a security report that enjoys the protection of the statute of limitation, the Abiola reparation project became an issue which brought about a gang-up to deny him the chance of becoming a president. There may be more to the factors which brought about the annulment of the "freest and fairest election in Nigeria" than Abiola's dream of reparation. But obviously, such prospect would have jolted our colonial masters into some underground actions to nip a possible danger on the bud. So, let it be with MKO Abiola and reparation!
A statement by a postgraduate student from Papua New Guinea in a conference hall in a British University long ago, brought an ominous silence. That statement was that "the coming of the Whiteman to Africa was not because of love or concern for the Africans, but because of selfish economic interests". Such a statement coming from a Blackman in a predominantly white environment obviously caused some embarrassment to some people, even though it was true.
When some international authority considered fit and right that the Bakasi Penisula be ceded to the Cameroon, with Nigeria having no option for an appeal, some issues came to light. It is to be expected that the glory and reputation of past heroes and macho-men are not meant to be tarnished, even when evidence of some atrocities come to light. Human vanity and ego can cause wars.
Highly placed individuals and great nations that had abused power and treated human beings as animals in the past have a way of asking for the sympathy of history. Atrocities that the Whiteman had committed in Africa can be presented as "sacred trust" of having to bear the burden of saving Africans from their state of depravity. Same culture or mindset prevails currently in various guises whereby winning emboldens tyranny and turns injustice into justice. Humanity has much to atone for, individually and collectively!
Bright Amirize