PDP Women Protest, Demand Justice For Slain Party Leader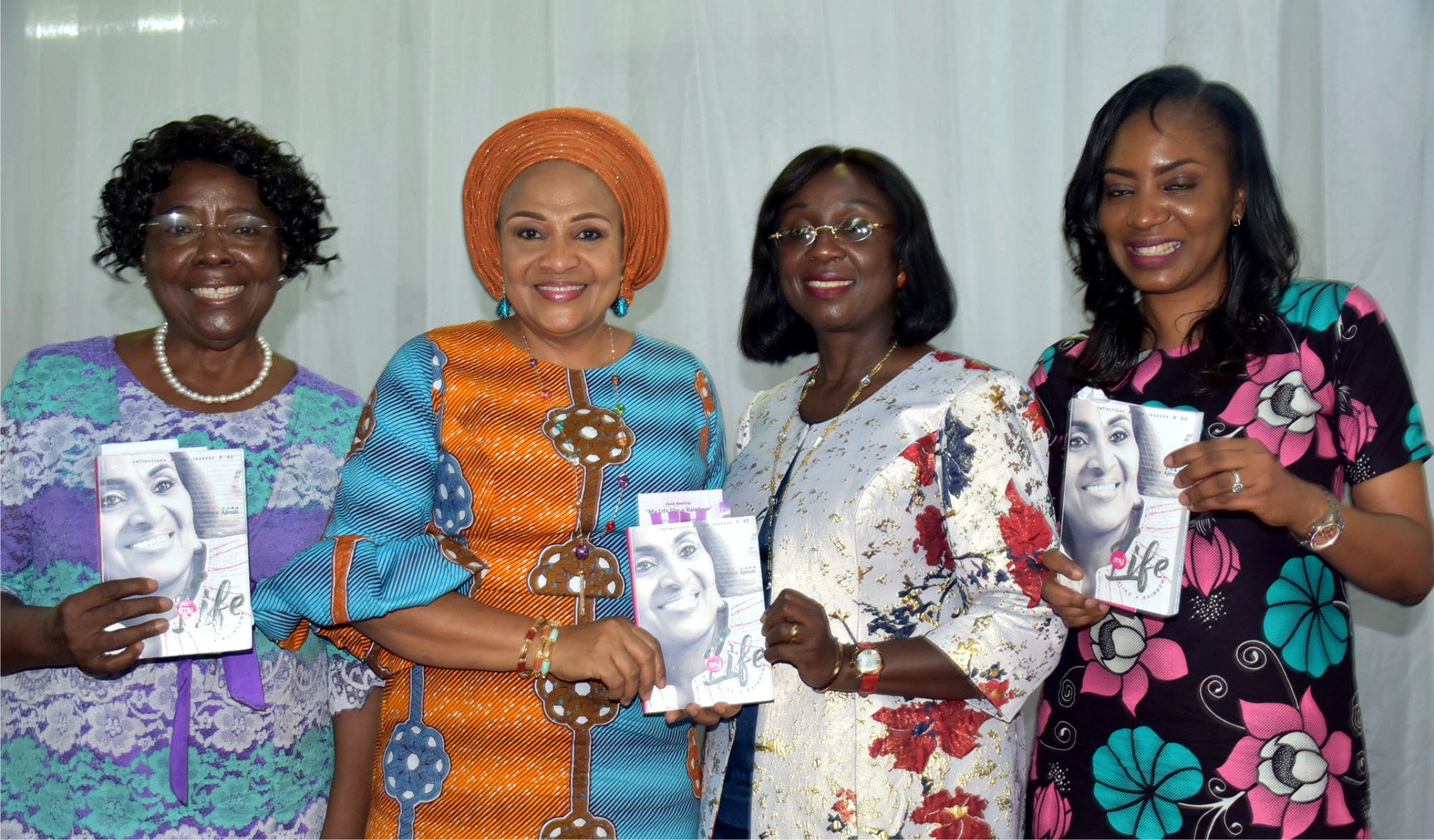 Women stakeholders in the Peoples Democratic Party (PDP), on Wednesday, protested to the National Human Rights Commission (NHRC), Abuja, demanding justice for Mrs Salome Abuh who was killed in Kogi State.
Mrs Abuh, the PDP Women Leader of Ochadamu Ward in Ofu Local Government Area of Kogi State, was murdered in her house on November 18 in a post-election violence.
The women led by PDP National Women Leader, Hajiya Mariya Waziri, told newsmen that they would not rest or relent until justice was secured for the deceased.
"Today, Nigerian women have gathered to continue our mourning and agitation over the death of an innocent woman, our sister, friend and mother, Mrs Abuh who was killed in cold blood in Kogi for participation in politics.
"We are here today to find answers to these nagging questions: Why are the murderers of our sister Mrs Abuh who are well known in their community still walking free?
"How long will justice continue to be delayed and denied for Mrs Abuh?
Who killed Salome Abuh? Who killed Abuh, this innocent mother?" she asked.
Waziri said that no mother deserved to be killed in cold blood, not even after enduring the pains and strife of motherhood.
The national woman leader described the killing as the 'height of humiliation', suppression of women in Nigeria, and a huge setback for women participation in politics.
Waziri called on President Muhammadu Buhari to take major action that would bring the perpetrators to justice, while also calling on Nigerians to raise their voices in solidarity for justice for Abuh.
Executive Secretary of NHRC, Mr Tony Ojukwu, receiving the protesting women, said that the Commission commiserated with them in their moment of grief.
Ojukwu said while it was expected that Nigeria's elections should be improving, unfortunately the improvement in the electoral system in the past seemed to have been rolled back during the Kogi and Bayelsa governorship elections.
"Everybody has attested to this. It behoves on all of us to make sure that we take steps to deepen our democracy in making sure that things like this did not go unchecked."
Ojukwu said that was why Justice Uwaise electoral reform committee advocated that an Electoral Offences Commission be established to ensure that electoral offenders were tried and prosecuted for justice to prevail.

Rivers PDP Extols Wike's Leadership Qualities
Chairman of the Peoples Democratic Party, PDP, in Rivers State, Ambassador Desmond Akawor, has described Governor Nyesom Ezenwo Wike as the Joshua of our time who, against all odds, stood up to liberate the people of the state from the forces of darkness and oppression.
Ambassador Akawor stated this on Monday when he received the leadership of Grassroots Development Initiative, GDI, who paid him a solidarity visit at the PDP Secretariat, Port Harcourt.
Ambassador Akawor emphasised that the governor has exhibited enough sagacity  and courage by  bringing  the state out of the pit which his predecessor plunged it, stressing that GDI should be grateful that the governor they worked so hard to install was performing wonderfully well to the admiration of all in the state.
"Most of you who are leaders of GDI joined him when nobody gave him the chance that he was going to succeed", Akawor said, noting that the party was happy with any GDI member who occupied any position in the administration because he worked hard for it. Ambassador Akawor, who disclosed that local government election would take place next year, said the party would campaign during the election as if it is a national election.
He also warned members of GDI not to associate with any member of the party found to be nursing gubernatorial ambition, saying that at the right time, the party would decide on the direction to go.
"very soon the game will start, various candidates will come up, my appeal to you is that do not get yourself distracted, Rivers state is a peculiar family" he noted, and urged the group to continue to pray for the Governor to actualise his laudable plans for the state.
The state PDP Chairman also told the GDI members not to allow moles infiltrate their fold and cause division among them, urging them to remain vigilant, united and focused.
Ambassador Akawor, who disclosed that all the actions of the Governor were geared towards protecting the interest of the people of the state irrespective of party affiliation, recalled how he  (Governor Wike) saved Barr Joy Nunieh, who is not a member of the PDP from being kidnapped by security forces.

Ex-Agitator Wants Obaseki To Run People-Oriented Govt
A peace ambassador and leader of Amnesty Phase II in Delta State, Mr Kingsley Muturuhas described Governor Godwin Obaseki's victory as the final blow to godfatherism in Nigerian Politics.
He, however, called on the governor to carry everyone along and ensure that his administration ran a purposeful and people-oriented government.
Muturu said this in a congratulatory message to Gov. Obaseki following his victory at the just concluded Edo governorship election.
He noted that Obaseki's victory in the election was an indication that no godfather could succeed whenever the people were determined to take their fate in their hands.
According to him, the era of godfatherism in politics was finally coming to an end as people can effectively protect their votes in spite of all odds.
"I congratulate the governor of Edo who is now the governor-elect on his hard fought and well deserved victory.
"The people of Edo have spoken with one voice and that should be respected.

Group Knocks Obasanjo Over Comments On State Of Nigeria
A group of elders in the country, The Patriotic Elders Council, PEC, has faulted ex-President Olusegun Obasanjo over his recent statement that Nigeria has failed and is badly divided.
PEC said Obasanjo should bury his head in shame because he laid the foundation of the problems currently facing the country and therefore, has no moral right to make such comments.
Obasanjo had during a recent consultative dialogue attended by various socio-cultural groups including Afenifere, Middle Belt Forum, Northern Elders Forum, Ohanaeze Ndi Igbo and Pan Niger Delta Forum, said something must be done to avert the looming disaster.
He said, "I do appreciate that you all feel sad and embarrassed as most of us feel at Nigerians with the situation we find ourselves in. Today, Nigeria is fast drifting to a failed and badly divided state; economically our country is becoming a basket case and the poverty capital of the world, and socially, we are firming up as an unwholesome and insecure country."
Reacting, however, to Obasanjo's assertion, the Patriotic Elders Council (PEC) said his comment was least expected of a two-time leader and an elder statesman.
The group in a statement signed by Alhaji Muhammadu Ari Gwaska, its Chairman and Chief Simon Shango, Secretary, said Obasanjo was wrong in his statement.
Part of the statement reads: "Though, sometimes Obasanjo's utterances are right; but unfortunately, most times, he is condescendingly wrong. His latest public statement at the consultative dialogue is a perfect example of the many instances he is wrong and sounds unconvincing even to himself.
"Ex-President Obasanjo, more than any other Nigerian leader, knows the institutionalized, intricate and complex problems of Nigeria, as the country's democratic leader from 1999-2007. And he midwived all the two successive administrations which came after him.