Basic Education: Using PR To Address Challenges
It is a privilege to talk with Public Relations Officers of the Universal Basic Education Commission (UBEC) and the State Universal Basic Education Boards (SUBEBs) from all over the country.  This National Training session is very important because it has the capacity to enhance the quality of basic education in the country.
It is instructive that the 2019 Public Relations Training is holding in Rivers State. This is because Rivers State is the centre of rapid development in the country. Therefore, the gathering of basic education public relations officers means that they will directly interact with the development process of Rivers State.
I take this opportunity to welcome you to Rivers State, the home of Mr. Projects, Nigeria's Best Performing Governor. You must have noticed that Rivers is a huge construction site.
UBEC And SUBEBs Public Relations Officers Are Important
Public Relations Officers of UBEC and SUBEBs are key players in the quest to resolving the out- of-school children challenge facing the country.  Fundamentally,  proactive information dissemination to convince parents to allow their children access basic education is important.  This is in view of the fact that basic education is free.
•This entails effective use of traditional and new media. However, each public relations officer must use the right media that will be most effective for his state. But in view of the strata of society being targeted, I suggest local broadcast media and the new media. For the broadcast media, messages should be sent across to parents through indigenous languages.
In cases where finance is available, the public relations officers should work with the Local Government Education Authorities (LGEA) to engage in direct outreach programmes, which will involve meeting religious leaders, community-based groups, women groups and comparative groups in the drive to attract children to school.
•Retention Of Kids In School
Even when the out-of-school children are attracted to school, the next challenge is to retain them in their classes. Here again, public relations officers of UBEC and SUBEBs remain critical partners with other stakeholders.
I believe that the PR Departments of UBEC and SUBEBs should be strengthened to provide positive information on the beautiful things that happen in schools – the improving quality of learning, the free feeding programme (where it exists) and the advantages of good education.
PR personnel must not allow purveyors of negative information discourage children from going to school and giving parents reasons why children should not go to school.  Such negative information comes from sensationalism.  If there is a challenge at a public school, these negative information traders blow it out of proportion.
While we seek better educational facilities, we must always seek intelligent and honest ways of promoting the public basic education system. You can achieve this by promoting outstanding teachers and very brilliant pupils in different schools across different states.
•Advocacy To Attract Stakeholder Participation In Basic Education Across Communities
We have all agreed that government alone cannot drive basic education.  There are limited resources with competing needs. We are also aware that several schools across the country that require attention cannot be reached by the Federal and State Governments.
This is where the participation of community stakeholders is vital.  Public relations officers in different states working with other SUBEB and LGEA officials should identify privileged Nigerians in different communities and prevail on them to invest in basic education schools.
There are privileged Nigerians who can build classroom blocks, boreholes, writing materials, classroom furniture and feeding for children.  These investments ought to be done in line with the capacity of the investing stakeholders.
For the investing stakeholders, they would have their names crested on the areas of their investments.  In addition, UBEC and SUBEB should also initiate awards and halls of fame to recognize these stakeholders and encourage others to key in.
•Education Remains The Key To National Revival
As public relations practitioners, always bear in mind that you are at the most important rung of the developmental ladder of the country. This means that you must remain dedicated.
As it stands today, education is the only way for the country to commence its journey to greatness. In this march to greatness, education plays a key role and the basic education sector is even more important.  That is why public relations officers of UBEC and SUBEBs must engage the process and all stakeholders to ensure that our people appreciate the importance of basic education.
•Education Beyond Politics
As we work to develop the basic education sector, we must bear in mind that education is beyond politics.  Every Nigerian child, irrespective of the political leaning of his/her parents, should be able to access education
Therefore, public relations officers working for UBEC and SUBEBs must place the society above political considerations.  If they do this, they will earn the confidence of parents and improve the enrollment figures in our public basic schools.
Building Networks To Achieve Collective Goals
This is why this meeting should be applauded.  Beyond the training that PR personnel will get is the opportunity to interact and build networks for the development of the basic education sector.
Though the challenges faced may differ from state to state, public relations officials have the platform to peer review and compare notes. This way, they can tap into diverse experiences and better their operational capacity. In the long run, the country stands to benefit. The basic education sector would be enriched and our country would naturally be on the path to growth.
Nwakaudu is the Special Assistant to the Rivers State Governor on Electronic Media. He made the above remarks at the 2019 PR Training for UBEC and SUBEB Public Relations Officers from the 36 States and FCT in Port Harcourt, yesterday.
By: Simeon Nwakaudu

Illnesses is a broad term used to define the poor state of mind or body. It-is the state of feeling or being unwell, which can be due to an underlying factor. Illnesses vary depending on what part of the body it affects or the underlying factors, it is not always due to a disease. For example, a person suffering from emotional turmoil due to stress may have an illness, but that doesn't mean they are suffering from a disease.
Mental health is significant for emotions, thinking, communication, resilience, and self-esteem. It is also the key to relationships, personal and emotional well-being and contributing to community and society. Whilst mental illness are health conditions involving changes in emotion, thinking or behaviour a combination of all these, which affect your ability to get through day­to-day life. The American Psychiatric Association (APA) redefined mental disorders in the DSM- 5 (Diagnostic and Statistical Manual of Mental disorder) as "a syndrome characterized by clinically significant disturbance in an individual's cognition, emotion regulation, or behavior reflects a dysfunction in the psychological, biological, or developmental processes underlying mental functioning. The term mental translates to "the mind".
One in four Nigerians – some 50 million people – are suffering from some sort of mental illness, according to the World Health Organization (WHO). The seventh-largest country in the world, Nigeria, has Africa's highest rate of depression, and ranks fifth in the world in the frequency of suicide, according to WHO. There are also less than 150 psychiatrists in this country of 200 million, and WHO estimates that fewer than 10 percent of mentally ill Nigerians have ·access to the care they need.
Many Nigerians have misconceptions and misbeliefs about mental illness, hence stigmatize people with mental illness. A mental health condition isn't the result of one event. Research suggests multiple overlapping causes; genetics, environment and lifestyle influence whether someone develops a mental health condition. A stressful job or home life makes some people more susceptible, as do traumatic life events like being the victim of a crime or abuse. Biochemical processes and circuits and basic brain structure may play a role, too. Some common ones include:
*Anxiety disorders, including panic disorder, obsessive-compulsive disorder, and phobias
*Depression, bipolar disorder, and other mood disorders
*Eating disorders
*Personality disorders
*Post-traumatic stress disorder
*Psychotic disorders, including schizophrenia.
You might experience or notice some of these signs & symptoms. If several of the following are occurring, it may be useful to follow up with a mental health professional.
*Sleep or appetite changes- Dramatic sleep and appetite changes or decline in personal care
*Mood changes – Rapid or dramatic shifts in emotions or depressed feelings
*Withdrawal – Recent social withdrawal and loss of interest in activities previously enjoyed
*Drop in functioning – An unusual drop in functioning, at school, work or social activities, such as quitting sports, failing in school or difficulty performing familiar tasks
*Problems thinking – Problems with concentration, memory or logical thought and speech that are hard to explain
*Increased sensitivity – Heightened sensitivity to sights, sounds, smells or touch; avoidance of over-stimulating situations
*Apathy – Loss of initiative or desire to participate in any activity
*Feeling disconnected – A vague feeling of being disconnected from oneself or one's surroundings; a sense of unreality
*Illogical thinking – Unusual or exaggerated beliefs about personal powers to understand meanings or influence events; illogical or "magical" thinking typical of childhood in an adult
*Nervousness – Fear or suspiciousness of others or a strong nervous feeling
*Unusual behaviour – Odd, uncharacteristic, peculiar behaviour
*Suicidal thoughts
One or two of these symptoms alone can't predict a mental illness but may indicate a need for further evaluation. If a person is experiencing several at one time and the symptoms are causing serious problems in the ability to study, work or relate to others, he/she should be seen by a physician or mental health professional. People with suicidal thoughts or intent, or thoughts of harming others, need immediate attention.
Mental disorders can be diagnosed. The steps to getting a diagnosis include
*A medical history
*A physical exam and possibly lab tests, if your provider thinks that other medical conditions could be causing your symptoms
*A psychological evaluation. You will answer questions about your thinking, feelings, and behaviour.
Most families are not prepared to cope with learning when their loved one has a mental illness. It can be physically and emotionally trying, and can make us feel vulnerable to the opinions and judgments of others. However, they need your love and support.
There are also other methods that are helpful. Choosing the right treatment plan should be based on a person's individual needs and medical situation, and under a mental health professional's care. Therapy can be beneficial for both the individual with mental illness and other family members. A mental health professional can suggest ways to cope and better understand your loved one's illness.
When looking for a therapist, be patient and talk to a few professionals so you can choose the person that is right for you and your family. It may take time until you are comfortable, but in the long run you will be glad you sought help.
Stop the stigma. Stigma can lead to discrimination. Discrimination may be obvious and direct, such as someone making a negative remark about your mental illness or your treatment. Or it may be unintentional or subtle, such as someone avoiding you because the person assumes you could be unstable, violent or dangerous due to your mental illness. You may even judge yourself.
Some of the harmful effects of stigma can include:
* Reluctance to seek help or treatment
*Lack of understanding by family, friends, co-workers or others
*Fewer opportunities for work, school or social activities or trouble finding housing
*Bullying, physical violence or harassment
*The belief that you'll never succeed at certain challenges or that you can't improve your situation.
Here are some ways you call deal with stigma:
* Get treatment
*Don't let stigma create self-doubt and shame
*Don't equate yourself with your illness
*Don't isolate yourself
*Join a support group that helps educate people and end the stigma.
Others' judgments almost always stem from a lack of understanding rather than information based on facts. Learning to accept your condition and recognize what you need to do to treat it, seeking support, and helping educate others can make a big difference.
Dr Daniel, a pharmacist, is also a volunteer with Mentally Aware Nigeria Initiative.

COVID-19 Pandemic: A Fact Sheet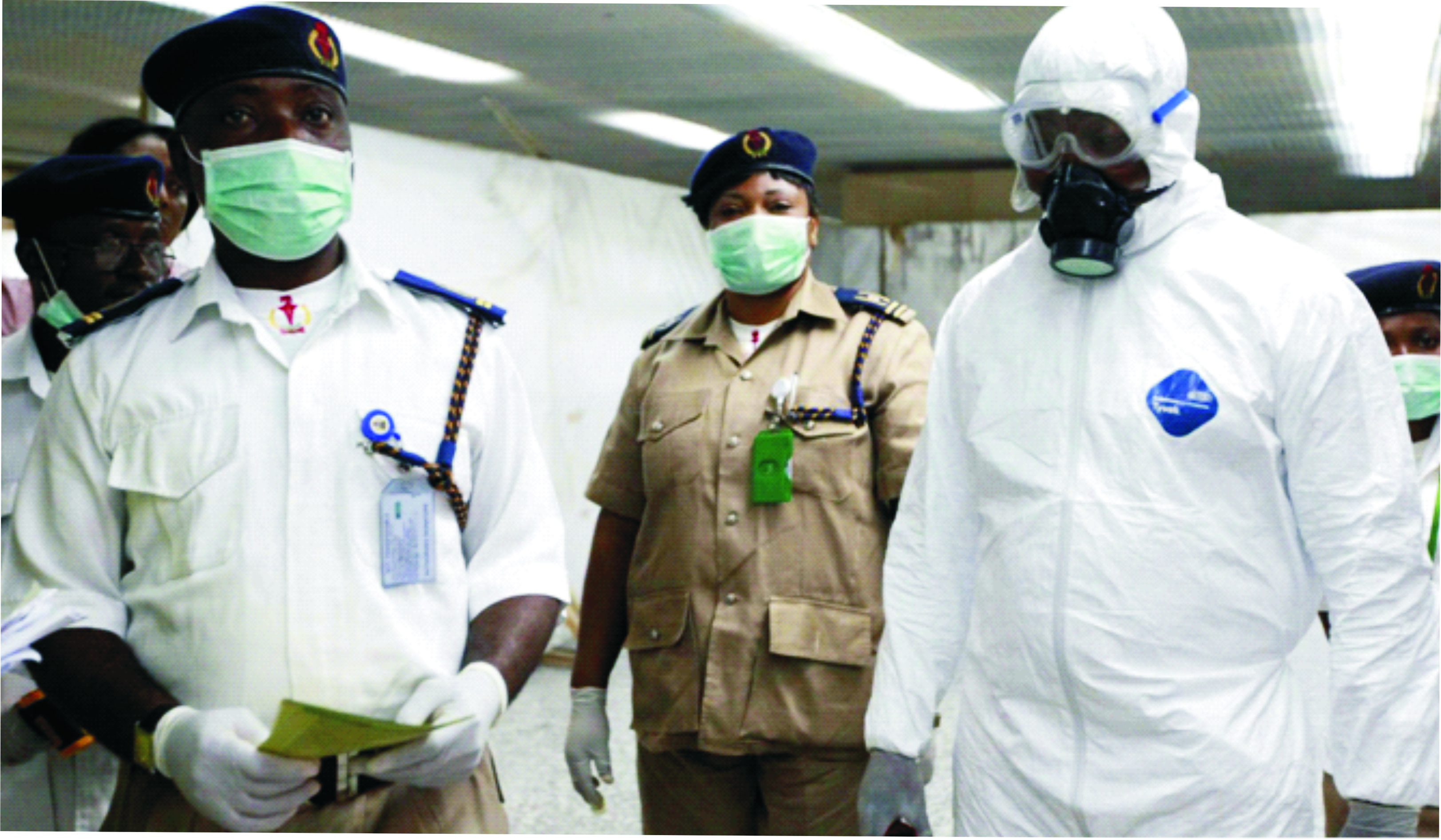 An alarm blared from the World Health Organisation's (WHO) secretariat on 30th January, 2020, officially announcing a Public Health Emergency of International Concern (PHEIC). All of human race is under siege by a completely new strain of the Coronaviruses starting from the city of Wuhan, China's economic hub in the province of Hubei and spreading to well over 200 countries and territories with an alarming figure of over 2.26 million infected persons and nearly 154,388 deaths globally.
In a joint agreement on the 11th of February 2020, based on international guidelines, World Health Organisation (WHO), the World Organisation for Animal Health and the Food and Agriculture Organisation (FAO), identified this novel virus as Severe Acute Respiratory Syndrome Coronavirus-2 (SARS-CoV-2) and its disease condition Coronavirus Disease-2019 (COVID-19) and on the 28th February 2020, WHO raised the global risk assessment of the infection of this deadly virus to "very high" hence a response plan was launched to prevent, contain, manage and control its spread vis a vis more deaths.
There exist presently a lot of unanswered questions in the bid to understand fully the epidemiology of COVID-19 so as to draw definitive conclusions about its full clinical features, mode of infection, the intensity of the human-to-human transmission and the original source of the outbreak as well as its management and control though research has been both vigorous extensive and continuous.
According to the joint mission of the World Health Organisation, the World Organisation for Animal Health and the Food and Agriculture Organisation (FAO), there are facts on COVID-19 which include:
It is a newly identified pathogen with no known pre-existing immunity in humans.
Everyone is assumed to be susceptible although there may be risk factors increasing susceptibility to infection. However, individuals at highest risk for severe disease and death include people aged over 60 years and those with underlying conditions such as hypertension, diabetes, cardiovascular disease, chronic respiratory disease and cancer.
Disease in children appears to be relatively mild but can still be fatal hence caution is strongly advised.
Presently, it is not known whether there is a neutralizing immunity after infection, studies on this are still ongoing.
Symptoms are non-specific and the disease presentation can range from no symptoms (a symptomatic) to severe pneumonia and death though most individuals who present no symptom at early stage of infection tend to become sick later.
Transmission is through droplets and fomites from an infected person to an uninfected person during closure unprotected contact.
Presently, there is no laboratory evidence that COVID-19 is airborne hence it cannot be transmitted through air, however caution should be applied especially by health care workers when carrying out some procedures that involve the generation of aerosols in health facilities.
Presently, no evidence exists on its transmission from human fecal materials or excreta however; strict toilet hygiene is strongly advised.
Generally, signs and symptoms for COVID-19 include: mild respiratory symptoms and fever, (for mild cases) on an average of 5-6 days after infection, however a range of 1-14 days has strongly been established to be the maximum incubation period while in severe cases, infected persons present with fever, dry cough, fatigue, sputum production, shortness of breath, sore throat, headache, myalgia or arthralgia, chills, nausea and/or vomiting, nasal congestion, diarrhea and hemoptysis, conjunctival congestion, respiratory failure, septic shock, and/or multiple organ dysfunction/failure and even death.
Most people (80%) infected with COVID-19 virus have mild disease and recover.
Presently, there is a strong evidence that non-pharmaceutical interventions can reduce and even interrupt transmission.
In order to reduce exposure to and transmission of COVID-19 illnesses, the general public is, therefore, advised based on WHO's standard recommendations to practice hand and respiratory hygiene, and safe food practices which include:
When coughing and sneezing, cover mouth and nose with flexed elbow or tissue; throw tissue away immediately and wash hands.
Avoid close contact with anyone who has fever and cough.
If you have fever, cough and difficulty breathing seek medical care early and share previous travel history with your health care provider.
When visiting live markets in areas currently experiencing cases of novel Coronavirus, avoid direct unprotected contact with live animals and surfaces in contact with animals.
The consumption of raw or undercooked animal products should be avoided. Raw meat, milk or animal organs should be handled with care, to avoid cross-contamination with uncooked foods, as per good food safety practices.
It is also very important that the general public should:
Recognise that COVID-19 is a new and concerning disease, but that outbreaks can be managed with the right response and that the vast majority of infected people will recover.
Be calm and avoid unnecessary panic and mongering unfounded rumours and fake news.
Begin now to adopt and rigorously practice the most important preventive measures for COVID-19 by frequent hand washing and always covering your mouth and nose when sneezing or coughing.
Continually get updated on COVID-19 and its signs and symptom (i.e. fever and dry cough).
Know that the strategies and response activities will constantly improve as new information on this disease is accumulating every day; and. Be prepared to actively support a response to COVID-19 in a variety of ways, inclduing the adoption of more stringent 'social distancing' practices and helping the high-risk elderly population.
The United Nations Organisation has made laudable efforts in its response to the outbreak of this unseen enemy in the areas of public awareness, sensitization, deployment of medical materials and personnel as well as logistics yet there still exist a knowledge gap on what understanding the virus there is and what ought to be at present. Whether this war on COVID-19 will be won will depend largely on a number of factors particularly in Africa and specifically in Nigeria and such factors will include;
Public perception on the existence and real danger posed by COVID-19.
The extent of aggressiveness of public awareness and sensitisation campaign.
The modalities put in place to monitor the extent of public adherence to measure rolled out for the fight against COVID-19 such as stay-at-home instructions, social distancing, self-isolation, simple sanitary measures (washing of hands with soap and water and the use of alcohol based hand rub), personal respiratory hygiene lock down of public places etc.
The availability of equipped isolation and management centers.
The availability of medical personnel as well as volunteers to manage identified cases.
Provision of palliatives to the public to ameliorate hunger while observing the stay-at-home instruction.
Sanitary measures such as fumigation and sanitisation of public places.
While we fight and hope to win this war, it is my sincere advice that we all remain resolute to stay safe by adhering strictly to WHO's safety measures.
Dr Amadi wrote from Port Harcourt.
Cynthia Amadi

COVID-19: Whither Rivers Public Health Lab?
No doubt, this verse of the Holy Bible is apt and dearly explains the challenges associated with the emergence of Coronavirus also known as COVID-19 the world over.
Since the pandemic emerged from Wuhan, China in December 2019, it has brought the world to its knees with about 19,000 deaths and over 500,000 cases across the world.
Surprisingly, the pandemic has brought down to ground zero even the best of health care systems while Europe is reportedly the current epic centre and not China.
As a result, many nations have announced travel ban to foreigners while others have declared a total lock down, leading to a sudden global economic meltdown.
For instance, it has been reported that Coronavirus is killing one person in every 10 minutes in Iran, death toll in Italy has overtaken China while Argentina, Spain, Canada and the US State of California have all declared a lockdown. Africa has got its fair share of the emerging Coronavirus pandemic.
This is evidenced by the number of African countries that have recorded suspected cases and fatalities as the case may be.
Nigeria, Africa's big brother has been adversely affected with about 50 confirmed cases, one death, while Governor of Bauchi State has been confirmed positive.
With the hind sight of Ebola epidemic in 2014, pundits expressed fear that the next state would be Rivers State.
This is because Rives State remains the hub of oil and gas industry in Nigeria with the presence of two sea ports in Port Harcourt and Onne, an International Airport at Omagwa supported by the Airforce Base as well as a train terminus in the heart of the city of Port Harcourt, is suggestive of influx of people into the state.
It was, therefore, no surprise indeed when it was speculated on the social media that COVID-19 has been reported in Rivers State.
The Rivers State Commissioner for Health, Professor Princewill Chike, on Saturday 14th March immediately addressed the media where he stated categorically that the suspected case of a 43 year old Imo State man was negative.
Professor Chike disclosed that the samples were taken to Lagos State University Teaching Hospital (LUTH) infectious disease centre.
In his words: "The nasal, oropharyngeal and sputum samples were collected for analysis and dispatched to the reference laboratory in LUTH.
He concluded thus: "The result from the test is available and is negative.
Interestingly, the Rivers State Government has constituted a 5-man Inter-Ministerial COVID-19 Awareness Campaign Committee headed by the Commissioner for Information and Communications, Pastor Paulinus Nsirim, for which several engagements have been held with critical stakeholders.
On the order of closure of schools and partial lockdown, an implementation committee has also been constituted.
Rivers State Governor Nyesom Wike, in a broadcast on Friday 20th March, ordered the immediate closure of public and private schools.
In as much as awareness campaign and closure of schools are necessary, COVID-19 offers the nations of the world, including Nigeria and indeed Rivers State in particular, opportunities to review their health care delivery system.
This review requires scientific investigation into manufacturing of vaccines and drugs needed for prevention and cure.
It would be recalled that the founding fathers of the state established a public health laboratory after the civil war as an integral part of the State Ministry of Health.
They foresaw the strategic position of the state to the national economy and created such a sensitive laboratory for disease surveillance.
It was the Rivers State Public Health Laboratory that carried out surveillance for the outbreak of cholera in Emakalakala during Governor Melford Okilo's administration as well as water quality management in parts of the state.
Unfortunately, the government of Dr. Peter Odili with Dr. Emi Membre-Otaji as Commissioner for Health gave the premises to NAFDAC and transferred the laboratory to the Central Medical Store with the promise of building a new one.
Worse still, the inception of the Wike-led administration was greeted with the outbreak of killer illicit gin (Ogogoro) for which the Rivers State House of Assembly invited the State Ministry of Health for an interface.
It was revealed that because the State Public Health Laboratory was in deplorable condition, samples of the killer Ogogoro were taken to NAFDAC for which result of analysis was delayed because NAFDAC itself had a job at hand.
Such sample analysis was required to protect and promote healthy living of the public because they are not carried out by conventional medical laboratories.
It was painful that the illicit Ogogoro samples were taken to NAFDAC not because of lack of laboratory scientists in the state but because of lack of basic equipment at the state public health laboratory.
It is on record that Rivers State, in the past, had competent laboratory scientists that served as Directors of the Public Health Laboratory.
It is worthy of note that late Professor Appolos Nna Bulol, late Jaja Festus Sunday, late Doctor Promise Karibo, Ikpoko Innocent, late Doctor Fiberesima Tonye, and Token Lawson-Jack among others worked there, including the present Director, Ngozi Igbo.
One thing is clear: the present Dean, Faculty of Medical Laboratory Science, Professor Confidence Wachukwu worked with the Public Health Laboratory of Ministry of Health before transferring to the Rivers State University (RSU).
The Rivers State Government must see beyond setting up inter­ministerial committee on COVID-19 and closure of schools to re­equipping the Rivers State Public Health Laboratory as part of effort to control emerging zonotic diseases such as Lassa fever, COVID-19, TB, toxoplasmosis and psittacosis, among others.
Better still, the Rivers State University now has a Teaching Hospital to handle tertiary medical services much more complex than primary health care centres and general hospitals.
Without mincing words, therefore, the Rivers State Government must interface with the Nigeria Centre for Disease Control (NCDC) and World Health Organization (WHO) to purchase relevant calibrated laboratory equipment and embark on hands- on-training.
If Rivers State Ministry of Health sent samples to LUTH, the Rivers State University Teaching Hospital (RUTH) could be equipped to carry out similar test too.
Collaboration, obtaining approvals and training are all that is needed to diagnose and fight emerging diseases.
These equipment include but are not limited to Polymerase Chain – Reaction (PCR), High Performance Liquid Chromatography, Spectrophotometer and Compound Microscope particularly the brands designed for specific purposes.
For instance, Polymerase Chain Reaction (PCR) according to experts is required to identify causative organism to their specie level, Ribo Nucleic acid in virus as well as amplify specific gene and acid detection and sequencing.
As organisms continue to mutate, humans must be determined to control emerging diseases.
It is also pertinent to revive agriculture and veterinary laboratory that hitherto existed at the present day office of the PDP State Secretariat on Aba Road, Port Harcourt.
The time to act is now.
Sika is of Radio Rivers FM, Port Harcourt.