OUR MENU Igbo Abacha (Full Option)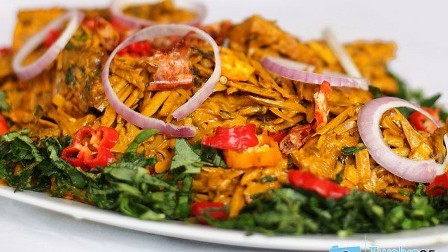 With Abacha, the more ingredients you use, the tastier and more "complete" it will be. So use as many as you can lay your hands on.
3 handfuls abacha
2 cups ugba (ukpaka)
30 cl red palm oil
2 tablespoons Powdered Potash (food tenderizer)
Fish | Mackerel/Dry Fish/Stockfish
2 onions
Salt and habanero pepper (to taste)
4 tablespoons ground crayfish
2 stock cubes (Knorr)
2 teaspoons ground Ehu seeds (Calabash Nutmeg)
Garden Eggs.
Garden Egg leaves
Ogiri Igbo (castor seed paste)
Other meat and vegetables for the Abacha
3 Fresh Utazi leaves (Gongronema latifolium)
Ponmo / Kanda (cow skin)
Notes on the ingredients:
1. Abacha is the main ingredient. Abacha is made by boiling and grating/shredding cassava tubers. Click here to see how to make abacha.
2. Ukpaka or Ugba is shredded oil bean seeds. It is compulsory for me but if you do not have it, you can skip it.
3. Red Palm Oil must be used when preparing abacha. Other oils are not acceptable.
4. You must add a green leafy vegetable. Garden Egg leaves are used for abacha. If you do not have it, use leafy spinach especially the baby ones. Very good alternative.
5. At least one type of fish must be used. For abacha you can use stockfish (dry cod), dry fish (dry cat fish, mangala), fried mackerel (fried titus) and smoked fish.
6. Crayfish much be used, click here to see how to prepare crayfish (for those outside Nigeria).
7. Pepper must be used and you can either add habanero pepper (recommended) or dry cayenne pepper. Habanero pepper is atarodo, atarugu or ose oyibo. Black pepper is not a good fit for abacha.
8. Add ogiri Igbo for the classic traditional taste but if you do not have it, add stock cubes. One of these must be used unless you are really really allergic to both.
9. Add garden egg. It is great in abacha but not compulsory.
10. Edible potash: akanwu, kaun, keun is what makes palm oil curdle and it is a must. If you do not have it or you do not want to eat edible potash, baking soda (bicarbonate of soda) has similar properties. Click here for more information.
Before you Make Abacha
All the work of making Abacha goes to preparing the ingredients.
1. Soak the dry fish in cool water and set aside to soften.
2. Soak the abacha for 2 minutes in cool water and put in a sieve to drain.
3. Rinse the stockfish and cook till soft. I use a pressure pot for this. Debone when it is soft.
4. Mix the edible potash with some water, stir and set aside.
5. When the dry fish is soft, clean and debone. Then break into small pieces.
6. Cut one of the onions into tiny pieces and cut the other into rings. See the video for what I mean.
7. Rinse the leafy vegetable, cut some into tiny pieces, some into thin stripes and leave some leaves whole.
8. Rinse the ukpaka and put in a sieve to drain.
9. Cut some garden egg into tiny pieces and some into thin discs.
10. Crack open the ehu seeds and grind with a spice grinder.
11. Melt the palm oil in a sizeable pot over low heat.

Girl Guides Move To Eliminate Violence Against Women Take Campaign To Rivers Community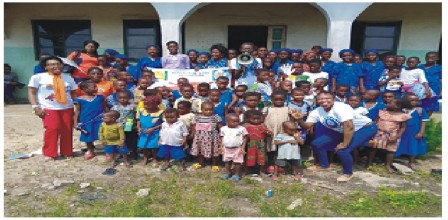 As the United Nations marks its 16 days of activism to eliminate gender-based violence, members of the Nigeria Girl Guides, Rivers State, last week undertook an advocacy visit to Rumuewhor Community in Emohua Local Government Area of Rivers State.
In interactive fora with pupils of the State School 1 and 2, and students of Odegu Senior Secondary School Rumuewhor respectively, the State Commissioner of Nigeria Girl Guides Rivers State, Barrister Daba Harry, told the audience that they were in the community to sensitize people on the need to key into the United Nations Initiative at the moment.
Explaining that the UN uses the period between November 25, through December 20, to reawken the world's consciousness towards the elimination of violence in the society, especially the ones perpetrated against women, Barrister Harry said, the mission of her organisation at the moment was basically to stop violence, increase peace, break the silence and speak out for the girls' rights.
She harped on the reality of violence in our society, understanding the nature of violence and the need to avoid it.
In her own speech, the sponsor of the visit, who doubles as the matron of Nigeria Girl Guides Rumuewhor, and member of Trefoil Guild, Barrister (Hon) Uchenda Bibian Okogbule, called on the pupils and students respectively, not to only avoid violent tendencies, but also speak out against any attempt at violating their right, especially their sexual right.
She advised that they seek the intervention of the federation of women lawyers in the state, (FIDA) should they be violated by any person any time.
Barrister Okogbule, while emphasising the importance of the visit, which she also considers her own way of giving back to the society and her community in particular, said although this may not have been the organisation's maiden visit to the community, it was their first school to school visit.
Meanwhile, the principal of Odegu Community Senior Secondary School, Mr James Anwanya, on behalf of his members of staff, had expressed satisfaction at the choice of Rumuewhor Community for the advocacy visit. He said it is an indication that Rumuewhor Community is still hopeful of better things ahead.
Mr Anwanya poured encomiums on the convener of the program, Barrister Okogbule, for carrying the community along, recapping her previous efforts at ensuring that the community is represented in the scheme of things.
Highlights of the visit included lecture on menstrual hygeine management and a lively interactive session with the students as well as offer of automatic registration of interested persons into the Nigeria Girl Guides.
It will be recalled that Girl Guides is a movement found worldwide, which was originally and still largely designed for girls and women only. This organisation was introduced in 1909.
By: Sylvia ThankGod-Amadi

Monarch's Wife Tasks NGOs, Others On Youth Employment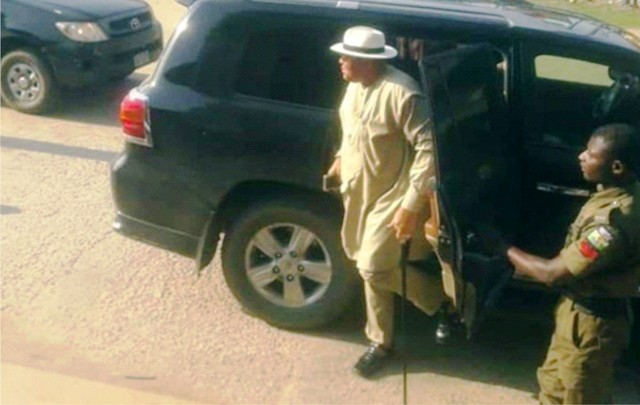 First Lady of Opobo Kingdom, Her Majesty, Queen Prudence Daneson Jaja, has called on Non-Governmental Organisations (NGOs) and the philanthropists to support Federal Government's efforts at addressing youth unemployment in Nigeria, which discourages social ills that paint the country black.
Jaja made the appeal recently while speaking at the 2019 Centralized Convention of a Non-Governmental Organization (NGO), the Opobo Women Welfare Association (OWWA), with the theme: "In time like this" held at Opobo Town, where about 150 youths were financially empowered, in addition to other gift items. She said that the beneficiaries who were youths from the eleven wards of Opobo/Nkoro Local Government Area of Rivers State were enrolled for training in various vocations having realized that government alone could not create employment for millions of Nigerian youths she enjoined them to make good use of the empowerment given to them.
According to her, "collective efforts of government, well-meaning individuals, philanthropists, NGOs and other stakeholders are required to address the alarming rate of unemployment in the country".
Queen Jaja, said that with the Federal and State Government's several empowerment programs, more opportunities had been created for the youths who are willing and ready to become self-employed, rather than taking to crime and other unholy means of survival, decrying the practice of using youths by some wealthy individuals to amass wealth, build houses, ride exotic cars and engage in other unproductive acts, which she regards as misplaced priorities.
In her words, "touching the lives of the less privileged, creating jobs through empowerment in various forms and sponsoring unemployed youths to make them self-reliant are legacies for which they will be forever remembered".
She pleaded with well-meaning Nigerians to rise up and pay attention to the worrisome unemployment challenges nationwide, appealing for collaboration by all stakeholders to mitigate the unemployment rate among youths.
Also speaking at the event, President of the group, Ama-Opu-Orubo Felicia Stephen Pepple, appealed to government at all levels to include youths and the less privileged in the society in their policies and programs in order to quell the upheavals beclouding the nation, adding, "this is the time the attention of our leaders at all levels are needed to address the escalating feud in Nigeria which is borne out of unemployment of the youths, as well as their empowerment. Greed and avarice are the twin relations of mal-administration and fracas hovering in and around Nigeria of recent".
She further admonished politicians to shun the habit of using Nigerian youths during elections to cause mayhem in the country and later abandon them, noting that, "a hungry man is an angry man." The youths she insists, should be encouraged by way of empowering them with scholarships, grants and other necessities of life for them to turn away from social ills, such as; rape, armed robbery, kidnapping, killings, drug abuse and drunkenness among others.
Pepple used the opportunity to advise the youths especially the recipients of the empowerment largesse to utilize them for their good, instead of using it for other purposes irrelevant to the society.
Meanwhile, Ama-Opu-Orubo Felicia Pepple, has asked the National Assembly to expedite action in implementing the violence against person prohibition bill while calling for twenty years jail term for anyone guilty of raping a girl less than fourteen years.
The group leader also called on the Federal Government to quickly give legal backing to the law so that offenders would not go unpunished, adding that the problem of Nigeria is not in law making but implementation.
She, however, said that the current laws which seek to protect the right of citizens in cases of this nature do not go far enough, adding that the punishments provided by existing laws was inadequate in light of present realities.
Pepple, therefore, implored the Federal Government to show concern on the plight of sexually abused people in the country. She stressed that it is imperative to establish a commission to handle the issue of rape properly and suggested that officers that would man the commission should be experts from relevant disciplines.
By: Bethel Toby & Patience Mecha

NAWOJ Seeks End To Sexual Harassment Of Members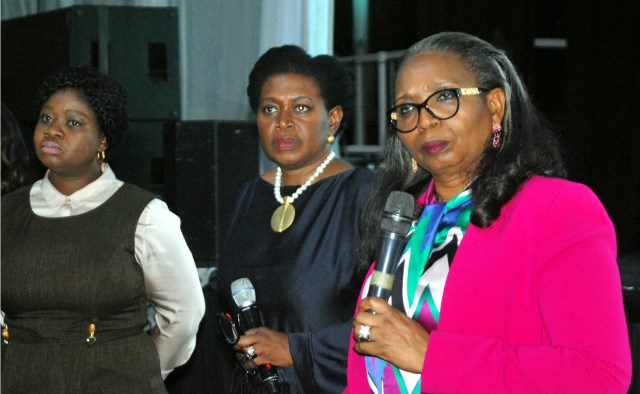 Female journalists in Nigeria have been advised to report all forms of sexual harassment meted against them in the course of discharging their duties.
Speaking during a two-day training programme organised by the Nigeria Association of Women Journalists in collaboration with the Norwejian Union of Journalists (NORSK), one of the facilitators on "Combating Sexual Harassment In Work Place and Safety In Field", Mrs Rafat Salami, said there was need for media houses to have a sexual harassment policy in their offices as well as ensuring that it is listed as misconduct.
Salami noted that the reason while we have unions is to be able to fight for the rights of workers, especially when female journalists are being harassed in their places of work. She warned women against raising false accusation against men on rape as they stand the risk to be arrested and prosecuted.
Also speaking, the Permanent Secretary, Ministry of Information and Communication, Pastor Paulinus Nsirim, stated that female journalists have a critical role in setting agenda as concerning gender inequality.
Nsirim stated further that NAWOJ does not have statistics of work done so far, adding that while they celebrate their last 30th anniversary they ought to have shown statistics of work done on advocacies and achievements recorded so far.
He charged NAWOJ to celebrate leaders who fought for the rights of women, citing the Rivers State Governor, Chief Nyesom Wike, as a case study. Nsirim further charged female journalists to look towards the incidences of sexual harassment on female journalists with a view to developing database, so that registered journalists can easily be accessed at anytime in case of molestation.
Also speaking, the Permanent Secretary, Ministry of Women Affairs, Mrs Atosemi Teetito, described the theme of the training as apt and timely, adding that the Ministry of Women Affairs is so passionate about discrimination against women and girls.
The Permanent Secretary, who was represented by a director in the ministry, Dr Carmelita Agbonbere, noted that last Monday marked the beginning of 16 days of activism against gender-based violence, she stressed that it is an international campaign to challenge violence against women and girls.
Teetito called for global action to increase awareness on gender-based violence and sexual harassment on female journalists within workplaces, adding that such acts must stop. She urged female journalists to stand firm and maintain their dignity no matter the cost.
In their separate presentations, the facilitator on Gender Equity And Safety, Mainstreaming, Making Your Gender Analysis, Mrs Veronica Ogbole, revealed that the Nigeria Sexual Offender Register has been launched yesterday by the Vice President, Yemi Osinbanjo so all sexual harrassment issues can be reported.
Ogbole commended the VP and Federal Ministry of Women Affairs for taking that bold step in launching the offenders register, adding that offenders have been getting away because they know that they are not being reported or prosecuted.
She urged that victims take full advantage of the development, while calling on the ministry to ensure full implementation.
Earlier in her welcome address, the Chairman, Rivers State Chapter of Nigeria Association of Women Journalists (NAWOJ), Mrs Lilian Ogabu-Okonkwo, had advised female journalists in the state to train themselves so they can improve, build themselves to have an edge over the men. She stated that only female journalists can report issues of sexual harassment and all forms of molestation better than others.
Meanwhile, Chairman of the occasion, Mr Chidi Okoro, had said that gender equity leads to peace in some parts of Africa, he regretted that in Nigeria, positions are still dominated by men.
By: Susan Serekara-Nwikhana