Monarch Cautions Youths Against Violence, Other Social Vices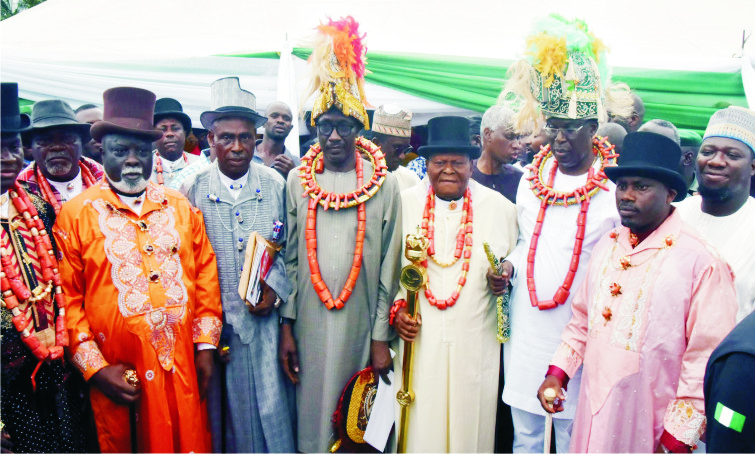 The Gom Mama of Mama Chiefdom in Nasarawa, Alhaji Mustapha Zubairu, has advised youths to shun violence and all other negative tendencies in their interest and for societal development.
Zubairu gave the advice yesterday when he received Wamba/Farin-Ruwa Youths Movement residing in Lafia, the state capital.
The traditional ruler said that if youths and other Nigerians could shun violence at all times, it would go a long way in not only promoting peace but would also ensure speedy development of the country.
"I want to thank you for the visit and for forming this group aimed at promoting unity and peaceful co-existence among yourselves and other Nigerians.
"This is because peace is the necessary requirement for the development of any society.
"Peace is priceless and non-negotiable; as no society or nation will achieve meaningful progress and development without peace.

'Real Madrid Always Favourites For Champions League'
Thibaut Courtois has insisted that Real Madrid is "always the favourites" for the Champions League while expressing his confidence that the Blancos can conquer Europe again in 2020-21.
Madrid has won the competition a record 13 times, six more than any other club, but an underwhelming start to the La Liga season has hardly served to inspire confidence they can claim a 14th title come May.
Madrid is third in the early La Liga standings, one point behind early leaders, Real Sociedad having slumped to a 1-0 home loss to newly-promoted Cadiz last time out.
Zinedine Zidane's side failed to reach the quarter-finals last season, losing in a two-legged last-16 tie to Manchester City with a five-month interval between the games due to the suspension of football amid the Covid-19 crisis.
Drawn in Group B with Inter, Borussia Monchengladbach and Shakhtar Donetsk, history is firmly on the side of Madrid progressing to the knockout stages.
Madrid has made it through all 28 of their Champions League group stages and Courtois has every confidence in their ability to go all the way once more.
"I'm sure we can win this Champions League," Courtois said ahead of tonight's meeting with Shakhtar.
"Real Madrid is always favourites in this competition. I'm pretty sure, I'm confident we have enough quality in the team to win this title.
"I mean we're not the number one favourites, there are many teams in the hat but we're definitely a candidate for the title.
"Juve, Bayern, Barca, there are a lot of good clubs, it's the most attractive competition in the world and we're going to do all we can to win the title."
Madrid will be heavy favourites to beat Shakhtar having won each of their meetings with the Ukrainian side in the 2015-16 group stage.
However, Shakhtar is unbeaten in their last three Champions League away games under coach Luis Castro.
Courtois has been in sensational form for Madrid once again, with his shaky start to life at Santiago Bernabeu after joining the club from Chelsea in 2018 now nothing more than a distant memory.
Of the previous 43 shots on target he has faced in La Liga, Courtois has saved 38 and his stats for this season show he has kept out 16 of the 19 efforts on target.

Bauchi LGA To Prioritise Projects
The newly elected Chairman of Dambam Local Area (LGA) of Bauchi State says Alhaji Warziri Ayuba, he will give priority to execution of projects which have direct impact on residents of the area.
Ayuba made this known in an interview with newsmen in Bauchi yesterday.
He said that solar powered boreholes would be constructed in the 16 electoral wards in the area, beginning with Yanda, Janda and Michika communities.
Ayuba noted that some communities in the council had been experiencing shortage of potable water hence the resolve of his administration to tackle the problem.
The chairman also said that feeder roads would be constructed to link Dambam town and surrounding villages.
According to him, all existing health facilities in the LGA will be renovated and provided with medical equipment and drugs.
"We will employ additional health personnel to man all our existing facilities,'' he said.
The chairman solicited cooperation of the residents in the efforts to develop the area, adding "we are open to constructive criticisms and advice as we do not claim monopoly of wisdom.''

Nigeria Greater Together As One, Says Buhari
President Muhammadu Buhari says that Nigeria as an indivisible geo-political entity is more beneficial to its citizens than becoming units of nationalities.
Buhari gave the advice in a nationwide broadcast to mark the 60thindependence anniversary of Nigeria, Africa's most populous nation.
According to him, Nigerians must collectively resolve to continue their journey beyond the recorded 60 years on the understanding that Nigeria as a geo-political entity will be more beneficial to every citizen.
"We are greater together than being smaller units of nationalities,'' he asserted.
Buhari stated that citizens should continue to do the right things to promote unity and understanding among the diverse ethno-religious groups in the country, to achieve desired goals of nation building.
"Fellow Nigerians, our history has shown that we are people that have the capacity to live peacefully with one another.
"Fellow Nigerians, to achieve the great nation we desire, we need to solidify our strength, increase our commitment and encourage ourselves to do what is right and proper even when no one is watching.
"Let us collectively resolve to continue our journey beyond the 60 years on the clear understanding that as a nation we are greater together than being smaller units of nationalities.
"By the sufficient grace of God we shall come through current transient challenges."
The president also stressed the need for the country to begin a sincere process of national healing, saying that the current anniversary presented genuine opportunity to eliminate divisive tendencies among the people.
He advised citizens to always discard acts capable of dividing the nation or promoting primordial sentiments.
"We need to begin sincere process of national healing and this anniversary presents a genuine opportunity to eliminate old and out-worn perceptions.
"The stereotype of thinking of ourselves as coming from one part of the country before seeing ourselves as Nigerians is a key starting point to project us on the road to our deserved nation's evolution and integration.
"To start this healing process, we are already blessed with the most important asset any nation requires for such , our people, and this has manifested globally in the exploits of Nigerians in many fields.
"It has been demonstrated time and time again that Nigerians in the diaspora frequently excel in science, technology, medicine, sports, arts and many other fields,''he said.
"Similarly, the creativity, ingenuity and resourcefulness of the Nigerian at home has resulted to a global recognition of our endeavours."
The president expressed his optimism that Nigeria would achieve its set goals if citizens collectively pursued the nation's aspirations together.
"I'm convinced that if we pursue our aspirations together we will be able to achieve whatever we desire," he added.
Buhari stressed that Nigerians, irrespective of their geo-political backgrounds must continue to show genuine commitment toward the survival of the country as a geo-political entity no matter the challenges facing the nation.
"I chose the path of self-reflection because this is what I do on daily basis and I must confess that most times, I always felt the need for collective reflection.
"I know that the foundation for a solid future which this administration is laying can only be sustainable if there is a collective commitment by Nigerians.
"Nigeria is not a country for Mr President, any ruling or opposition party but a country for all of us and we must play our part, irrespective of the challenges we face to make this country what we desire.
"To achieve this, we must focus our minds together as a people on ways of resolving the identified critical challenges that underline our present state.
According to him, these include evolving and sustaining a democratic culture that leaves power in the hands of the people:
Supporting the enthronement of rule of law, demanding accountability of elected representatives and contributing to good governance.
Increasing our commitment to peaceful co-existence in a peaceful, secure and united Nigeria;
Harnessing and optimizing our tremendous human and natural resources to attain our goal of being in the top 20 economies of the world and in the process;
Lifting 100 million Nigerians out of poverty in 10 years and strengthening institutions to make them stronger in protecting national interests and imbibing tolerance in diversity. (NAN)