PDP Kicks As INEC Declares APC's Lyon Winner In Bayelsa… Commission Concludes Kogi's Guber Poll Results Collation, Today… We Remain Strong, United -PDP …Observers Urge INEC To Reject Results In Bayelsa
Chief David Lyon, the governorship candidate of the All Progressives Congress, APC, has been declared winner of the governorship election held in Bayelsa State on Saturday.
Lyon polled 352,552 to defeat his rival from the Peoples Democratic Party, PDP, Duoye Diri, who got 143,172 votes, according to official results announced by the Independent National Electoral Commission,
INEC's Returning Officer of the election and Vice-Chancellor of the University of Benin, Professor Faraday Orunmuwese, around 1:03am on Monday.
He said, Lyon, having satisfied the electoral criteria by scoring the highest number of vote cast was hereby declared winner of the governorship poll.
The APC recorded more than a landslide result in Southern Ijaw, polling a gargantuan 124,803 votes against the PDP's 4,898 votes. The result is certainly APC's joker in the poll.
Official results in the eight local government areas had APC's Lyon winning with 352,552 while PDP's Duoye Diri has 143,172.
In Ogbia, the local government of former President Goodluck Jonathan has Lyon in massive win. Lyon got a massive vote of 58,016 to defeat the PDP's candidate, Douye Diri who scored 13,763 votes.
Also, Lyon won massively in Nembe, the local government of former Governor of the State and Minister of State of Petroleum, Timipre Sylva.
Lyon won by a landslide in Nembe, polling 83,041, as against Diri's paltry votes of 874.
However, Lyon suffered a massive loss in the Sagbama Local Government Area, home of Governor Seriake Dickson.
The PDP recorded a landslide in Dickson's LGA, polling 60,339, while the APC scored 7,831 votes. Accord Party got 131 votes.
In Kolokuma/Opokuma LGA, APC polled 8,934 to lose to the PDP, which scored 15,360.
In Brass LG, APC claimed victory, with a total vote of 23,831, while PDP got 10,410 votes.
In Ekeremor Local Government, Lyon polled 21,489 votes to edge out PDP's Diri, who scored 18,344 votes.
Meanwhile, the Returning Officer for the election and Vice Chancellor of Ahmadu Bello University (ABU), Zaria, Professor Ibrahim Umar says the collation of results in the governorship election in Kogi State will be concluded today. He announced this yesterday in Lokoja, the Kogi State capital.
Professor Umar told party agents and other political stakeholders present at the INEC office where the collation of results took place that the exercise would continue by 9am on Monday.
He explained that the announcement was necessary as the results of the election in the remaining two local governments have yet to be brought to the collation centre.
The announcement followed the collation of results of the election in 19 out of the 21 local government areas (LGAs) in Kogi.
Those collated so far are Adavi, Ajaokuta, Ankpa, Bassa, Dekina, Idah, Igalamela-Odolu, Ijumu, and Kabba/Bunu LGAs.
Others are Koton Karfe, Mopa-Muro, Ofu, Ogori/Magongo, Okehi, Okene, Olamaboro, Omala, Yagba East, and Yagba West LGAs.
The local governments where results are expected are Ibaji and Lokoja LGAs.
The incumbent governor and candidate of the All Progressives Congress (APC), Yahaya Bello, as well as the candidates of the Peoples Democratic Party (PDP) and Social Democratic Party (SDP), Musa Wada and Natasha Akpoti, are among the leading contenders in the election.
Of the results collated so far, it is a close battle between Bello who won 10 LGAs and Wada who claimed nine LGAs while Natasha has yet to win any local government.
However, the governor has so far polled 374,081 votes and taken the lead with over 200,000 votes as his PDP and SDP rivals scored 168,141 and 8,539 votes respectively.
However, the Peoples Democratic Party (PDP), yesterday rejected what it termed fictitious results being reeled out by the Independent National Electoral Commission, INEC, from Okene and other areas to favour the All Progressives Congress (APC).
PDP demanded the "immediate cancellation of such allocated results, particularly in Okene Local Government Area."
A statement by PDP's spokesperson, Kola Ologbondiyan, maintained that "nobody can accept the provocative alteration of results from polling units as well as allocation of fictitious votes, particularly the awarding of 112, 000 votes to APC in Okene."
PDP stated that the people of Kogi State have "glaring evidence of alterations of figures to reduce our vote of and allocate imported figures to the APC."
The party cautioned "INEC not to ever declare such mutilated results as they will not be accepted by the people."
"Our party hopes that this apparent moves to allocate fictitious results to the APC has no bearing with the allegations in the public space that Governor Yahaya Bello and the APC had compromised highly placed INEC officials with huge sums of money to alter result in favour of the APC.
"We, therefore, caution the INEC to note that any attempt to declare the figures being bandied for the APC will be a validation of the bribery allegation.
"The only way out is for INEC to cancel and drop the fictitious figures being bandied and declare only the results from votes cast and declared at the respective polling units," the statement added.
The PDP also raised objections to some of the results announced for the governorship election in Kogi State, in which the incumbent, Yahaya Bello is galloping away to victory.
Also, a coalition of civil society organisations have called for the rejection of results from areas where elections did not hold.
The coalition, representing various groups accredited by INEC as Observers for the Bayelsa election, made this call Sunday evening, at a press briefing in Yenagoa, as interim election report.
The election monitoring group said voting did not take place in Nembe and Ekeremor Local Government areas, including some units in Yenagoa, where violence marred the process.
Though, results from Ekeremor Local Government Area were still being expected, but INEC has collated the results presented from Nembe LGA, where the All Progressives Congress (APC) polled a total of 83,041 votes, leaving the ruling Peoples Democratic Party (PDP) with 784 votes.
But the observers said "Nembe LGA was the worst hit in pre-election and election related violence", stressing that, "Elections did not hold in Nembe LGA".
"On Wednesday, the 13th of November, 2019, a political party was having a campaign in Nembe LGA. Some blood thirsty gunmen came to the venue and opened fire without any provocation whatsoever, killing scores of law abiding Nigerians.
"Same gunmen prevented election from holding in Nembe LGA. Till the time of this briefing, there has been no arrests, no prosecution, thus increasing the impunity associated with committing such heinous crime as perpetrators are largely known and seen moving freely in such communities," the coalition stated.
The group also observed that, "In Yenagoa Ward 5, Epie 2 Ward 4, Apiffa 2 Ward 2 and Epie 3 Ward 6, elections did not hold.
"Some parts of Southern Ijaw were completely disrupted with violence. There was no elections in Ekeremor".
The observers expressed shock that, "Several communities in Bayelsa state were sacked, not due to flood or any natural disaster, but as a result of their affiliation to a particular political party", adding that, their interest was to preserve the democracy of Nigeria.
While berating the activities of the Nigerian security agencies in Bayelsa state, the observers want "politicians who sponsor, fund, aide or abate violence be made to face the full wrath of the law".
The observers also alleged that the fundamental human rights of citizens of Bayelsa, as enshrined in the Nigerian constitution, were grossly violated.
"What we saw in some LGAs in Bayelsa state is an aberration to this constitutional provision and grossly not in consonance with the provision of the Electoral Act 2010 as Amended.
"We observed that elections did not hold in some parts of Bayelsa State as it was grossly disrupted by violence, intimidation and ballot box snatching. In some instances, there were complete absence of voting materials and Ad hoc staff", the group added.
Present at the briefing are, Mr. S. B Bafunsho of Organization of Justice for Equity Sustenance; Dr. Isaac Onyike of Centre for Strategic Conflict Management and Comrade Peter Nwokolo of Citizens Rights & Leadership Awareness Initiative.
Others include, Sandra Osunde of Global Policy Advocacy & Leadership Initiative; Dr. Nwambu Gabriel and Rev. John Pofi of Reverend John Pofi Foundation.

Rivers People Celebrate Wike At 52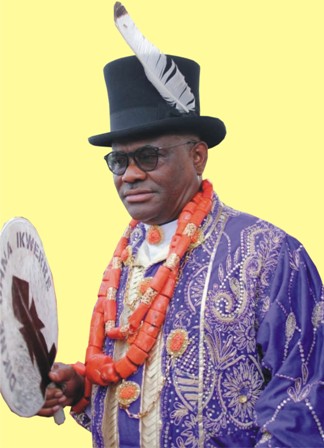 As Rivers State Governor, Chief Nyesom Wike marks his 52nd birthday today, both Rivers indigenes and people resident in the State have expressed myriad of opinions in celebrating the special day with the Governor.
There is no doubt that, so far, the greatest encomiums showered on the Governor have derived from his obsessive knack for massive infrastructural development across the state.
What baffles many observers is that the execution of such projects comes with the speed of a sprinter, regardless of the season. Their commissioning is always a marathon performed by notable politicians from across party lines. And, above all, these projects have proved to be of top-class quality.
In fact, it was during the commissioning of one of such people-oriented edifices that Nigeria's Vice President, Professor Yemi Osinbajo, of a rival political party and an unlikely source for such tangible praise, gave him the most fitting appellation of 'Mr. Projects'.
Obviously borrowing from this, one of our respondents, Mr. Edward Amatigha, said "Governor Wike is a good man. Look at the three flyovers he is constructing at a go; whereas his counterparts elsewhere are busy emptying their state treasuries into their personal bank accounts. The man is Mr. Projects, no doubt.
"As for his birthday on Friday, I join other well-meaning Rivers men and Nigerians in wishing him a happy celebration and God's continued guidance".
Amatigha, a bank clerk, wished the same level of infrastructural transformation could be achieved in his native Bayelsa State.
Chikwendu Nwokorogwu, a civil servant in Port Harcourt, sees Governor Wike as a blessing to the people of Rivers State and one of the best governors the state has had since its creation.
Nwokorogwu was particularly grateful to the Governor for his contributions to the health sector. She called on all Rivers people to celebrate their son who has done them well in all aspects of governance.
A trader, Mrs Ifeoma Chukwuemeka, referred to the Governor as a man of "timber and caliber"; a man of good taste and immense strength. She praised Wike for ensuring that traders enjoyed comfort while doing their business by building ultra-modern markets for them.
The food vendor wished him well on his new age while urging him to maintain his service delivery stance with the Rivers electorate as more goodies were being expected from the government.
Also speaking, Gabriel Ejiofor noted that "Governor Wike, beyond all reasonable doubt, is doing well, but I just pray that he becomes friendlier with the youths, because we have a lot to explore in our own state. God bless Wike! God bless Muhammadu Buhari! And God bless Nigeria!"
Muhammad Kadiri, who is of the Muslim community in Rivers State could not express his excitement and gratitude enough to Governor Wike. He saw the governor as a man of the people whose peaceful mien is very palpable across the state.
Kadiri said that Muslims in the state, who are mostly non-indigenes, still partake of the governor's generosity, even as non- Rivers people. According to him, they can access the health and educational facilities in the state and also do business without any fear of intimidation or molestation; all because the governor is very accommodating.
Mallam Muhammad appreciated Allah for Governor Wike's life and wished him well on the occasion of his birthday today.
On his part, a motorist, Anthony Chibor, paid special tribute to Governor Wike for inaugurating the task force on illegal parks and street trading in Port Harcourt. According to him, there is better traffic flow and an improved ease of doing business in the city.
He wished the Governor many years of success and advised him to remain focused while avoiding any temptation to be distracted by unnecessary political rantings and hate speeches from enemies of the state.
Also responding, Miss Goodness Idong, a student of Captain Elechi Amadi Polytechnic, Port Harcourt, opined that it is actually a double celebration for the state's chief excutive as his birthday anniversary falls in the same month as Jesus Christ's.
She assured that the governor's vision and support towards improving the standard of education in the state would not be in vain as it will surely serve to produce students who would become very sound future leaders.
Another trader, Mr. Cletus Nwankwo, said that Wike's good legacy at ensuring a better Rivers State is unrivaled. He described the state's helmsman as the "Governor of all governors", saying that his birthday would bring him good fortunes as the Heavens would surely shower him with multiple blessings.
For Elder John Chimezie, it was a very simple and apparently honest confession: "I like the governor's work. The truth is that I have never seen a governor like him. I wish him goodluck, long life, prosperity and a graceful birthday".
A civil servant who craved to be known simply as Mrs. D said she was always proud of Governor Wike's accomplishments as a politician.
"Politicians hardly keep their election promises. But in Governor Wike, Rivers people and, indeed, Nigerians have found a politician whose word has always been his bond; a man who has consistently matched words with prompt action. In fact, an Ekwueme (talk-and-do) governor," she eulogized.
By: Ibelema Jumbo, Ngozi Dennar, Chioma Peters & Odinakachi Oko

Strategise For Governorship, Wike Charges Ethnic Nationalities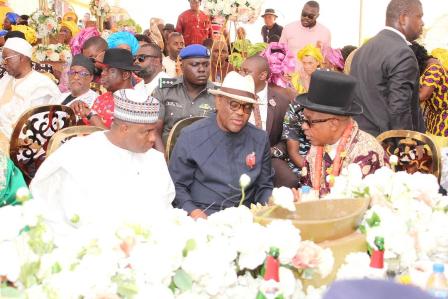 Governor of Rivers State, Chief Nyesom Wike, has called on ethnic nationalities seeking for the Governorship of the State to liaise with others, rather than take actions that will engender disunity in the state.
He urged the Kalabari Ethnic Nationality and their leaders to be strategic in their quest for Governorship, saying that the resort to needless propaganda will not work in their favour.
Speaking during a solidarity visit on Wednesday by the leaders and people of Kalabari Ethnic Nationality at the Government House, Port Harcourt, Wike charged them to "have a strategy to get the Governorship Position. Quietly sit down with other ethnic nationalities and work towards the seat.
"The Governorship seat cannot be gotten through the radio. It cannot be gotten through falsehood. There must be a strategy in place. Nobody gives you the Governorship Seat as a gift", he said.
Noting that if the Governorship seat is gotten as a gift, the people will not appreciate it, the Governor said the Governorship position in Rivers State is difficult to access because Abuja and other key leaders are interested in planting people.
"Abuja is interested; other states are also interested in who becomes the Rivers State Governor. They want to plant a Governor of Rivers State. God will not allow it", he said.
Governor Wike used the occasion to reiterate that no single ethnic nationality in Rivers State can make a Governor, noting that it takes the cooperation of all ethnic nationalities for a Governor to emerge.
The Governor warned ethnic nationalities against allowing criminals to act as their spokesmen, saying that when criminals assume the position of spokespersons, they only generate crises and threaten violence.
Commenting on Oil Mining Lease (OML) 25, Governor Wike said that the owners of Belema Oil embarked on deliberate falsehood to mislead Kalabari people on the role played by the Rivers State Government to resolve the impasse.
He said that the Chairman of Belema Oil met him and said that the Federal Government has agreed to extend the operating license of OML 25 to him, and that after the license was awarded to Shell, he urged Shell and the host communities to resolve their differences.
Governor Wike urged the Chairman of Belema Oil to work for his people instead of generating tension, saying that the State Government displayed good faith when it handed him Certificate of Occupancy for 15 hectares of land earlier revoked by the immediate past APC Administration in the State.
He urged Belema Oil to use her resources to develop riverine communities where they operate, instead of investing billions of naira in the north.
On OML 11, Governor Wike said the Rivers State Government is working for the interest of Rivers people, saying that the aim is to ensure that the host communities are joint owners of the oil facility.
Governor Wike said contrary to the negative falsehood by some politicians, his administration has executed key projects in Kalabari land, spreading across the three Local Government Areas of Kalabari Ethnic Nationality.
In the same vein, the Governor announced that his administration will commence the first phase of the Trans-Kalabari Road, and also promised the release of financial support for the families of those killed by the Nigerian Army during the Presidential election in Abonnema.
Earlier in an address, the Chairman of Greater Port Harcourt City Development Authority, Chief Ferdinand Alabraba commended the Rivers State Governor for his commitment to state-wide development.
While noting that Rivers people rewarded Governor Wike with a second term because of his outstanding performance during his first term, Alabraba said the visit of the Kalabari leaders was to uphold the Governor's doggedness towards the good of the State.
"We are here to celebrate your gallantry to uphold the common good of Rivers State. Nobody would have been able to stand the way you did, during the elections", he said.
He urged the Governor to compensate those negatively affected by the military invasion of Abonnema during the Presidential election.
Chief Alabraba said the performance of Governor Wike led to several awards with the climax last Saturday when the Ikwerre Ethnic Nationality honoured him as the "Dike Oha Ikwerre".
He commended the Governor for working for the peace of Kalabari Ethnic Nationality through his intervention during the crisis of OML 25 and the conflict between Eroton and host communities.
Also speaking, Bishop Ombo Isokariari said Kalabari people voted Governor Wike enmasse because of his commitment to good governance and projects delivery.
He lauded Governor Wike for standing with the Kalabari Ethnic Nationality at all times.
On his part, the Amayanabo of Abonnema, King Disrael Bob-Manuel, recalled the visit of Governor Wike to Abonnema a day after the military invaded the area during the Presidential Election, saying that the people appreciate the governor for his show of love and concern.
Speaking further, Governor Wike used the opportunity to call on Kalabari Leaders to prevail on the Amanyanabo of Kalabari, King Theophilus J.T. Princewill, not to allow himself to be used by external forces to create disunity in the State.
The Governor expressed regret that the Amanyanabo of Kalabari deliberately allowed the outgoing Bayelsa State Governor, Seriake Dickson, to use him to promote divisiveness.
He said: "I want to publicly lay a complain on the action of Amanyanabo of Kalabari. The next time it happens, I will act as a Governor.
"The Amanyanabo of Abonnema didn't do it; he called me on phone when the Governor of Bayelsa, Dickson tried to create problems in Rivers State."
Governor Wike said the outgoing Bayelsa State Governor visited the state, without getting in touch with the relevant authorities, under the guise of coming to see Ijaw people.
"He said he was coming to see Ijaw people in Rivers State and he would be hosted by the Amanyanabo of Kalabari and Amanyanabo of Abonnema.
"The Amayanabo of Abonnema called me and said how can that be? The Rivers State Governor did not call me. The Amanyanabo of Kalabari did not call me. What he did was to roll out drums to receive the Bayelsa State Governor ", Governor Wike said.
The Rivers State Governor informed the Kalabari Delegation, that should the Amanyanabo of Kalabari take such illegal action in future, he will face sanctions.
"That day I would have removed him, but I held myself. What they would do is to go to Radio and abuse me. But I am used to insults. I am trying to complain to you people.
"You can see how people are trying to divide a State. A fellow Governor would come from somewhere to create Division."
He said the outgoing Bayelsa State Governor professes love for Ijaw people in Rivers State, but is busy working to take the State's oil resources in Soku and Kula.
"Already, we have gone back to Court in relation to Soku oil wells. This is the man who is claiming Kula oil wells and Soku.
"I have gone back to court and we will reclaim the Soku Oil Wells for Rivers State. This is the same man you claim loves you and you roll out drums against Protocol", he said.
He reiterated that the Amanyanabo of Kalabari will face sanctions if he continues acts of Division.
"If any of such things happen again, I will take the necessary action. I will not listen to any further excuse. That is why I am saying this publicly. Tell him to respect constituted authority.
"It is not good for anyone to come and divide Rivers State, because the state is one. It is unfortunate what my colleague did. I handed him over to God and prayed for God to do his will", he said.
The Governor commended the peace initiative of the Amanyanabo of Abonnema and urged other Traditional Rulers to emulate him.
He said: "I thank the Amanyanabo of Abonnema for his peace initiative. I urge other Traditional Rulers to emulate him. Work towards peace amongst your people. You cannot live where there is no peace.
"It is impossible to have governance without peace. So you need peace in your domain."
The Governor, on behalf of the State Government, also offered to bury the late
prominent Kalabari son and philanthropist, High Chief O.B. Lulu Briggs, whose burial has been prolonged for close to a year over family feud.
Stating that the Rivers State Government is interested in according the late Philanthropist the respect he deserves, the Governor said, "I even told them (family) to let the Rivers State Government be responsible for the burial.
"Let the State Government take the corpse. Government will hold the corpse and give him a befitting burial. All I want is peace.
"How can a prominent son of Kalabari Land stay in the mortuary for one year and we are all here. Nobody can speak the truth.
Governor Wike called on the Kalabari leaders to set aside their differences and intervene to ensure that Chief O. B. Lulu Briggs is buried.
"They have divided themselves. You collect money here, you collect money there and you cannot speak the truth.
"I have intervened more than three to four times. Having meetings, but was disappointed by the wife. I have to say clearly to all of you. I have never received insult like that in my life", he said.
He stated that he told Chief Dumo Lulu Briggs and the widow of the late philanthropist to allow the love they have for Chief O.B Lulu Briggs influence them into allowing him to be buried, and they can continue the struggle for his property.
Governor Wike appealed to the Amanyanabo of Abonnema, King Disrael Bob-Manuel, and other leaders of the area to directly intervene to resolve the matter.

Minimum Wage: NLC Gives Govs Dec 31 Deadline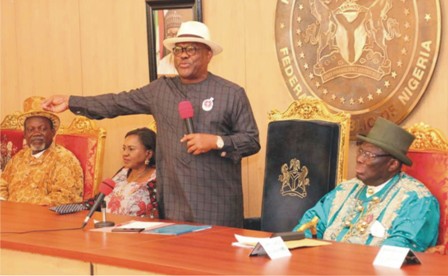 The Nigeria Labour Congress (NLC) says it cannot guarantee industrial peace and harmony, if state governors refuse to conclude negotiations and payment of the National Minimum Wage by December 31.
In a communiqué issued at the end of its meeting with state council chairmen on the implementation of the National Minimum Wage, the union said there were currently three implementation categories in which all states fell into.
The communiqué was jointly signed by the NLC President Dr Ayuba Wabba; NLC General Secretary, Emmanuel Ugboaja; and Abdulrafiu Adeniji, National Chairperson, Joint National Public Service Negotiating Council (Trade Union Side).
The communiqué noted that Kaduna, Kebbi, Lagos and Adamawa have commenced the implementation and payment of the new minimum wage, while Jigawa had concluded negotiations but yet to make its first payment to workers.
Meanwhile, President of the NLC, Ayuba Wabba, yesterday called on state governors to respect the law regarding implementation of the new minimum wage of N30,000.
Wabba spoke in Abuja at a one-day stakeholders' meeting on the implementation of the minimum wage at the state level.
Present at the meeting were the NLC chairmen at the state councils across Nigeria, Minister of Labour and Employment, Dr Chris Ngige, who was represented by a top official at the ministry, Franca Adigwe.
Wabba said the meeting was called to review situations in each state and take a decision towards ensuring implementation by all state governors. According to him, since the President, Major General Muhammadu Buhari (retd.), signed the New Minimum Wage Act to law, every state governor was bound to respect the new wage structure and negotiate with labour to decide what the consequential increase would be.
Wabba said the NLC was aware that some states had held negotiations while some had not begun talking with labour representatives in their states.
He said, "You are all aware that the process has been completed at the national level, including the issues of consequential adjustment and what is remaining is for the states and local governments to implement it.
"We have called a meeting of all the state council chairmen of the Nigeria Labour Congress as well as the Joint Public Service Negotiating Council and also the heads of service of selected states of the federation. So it's actually a social dialogue process to take stock of where we are in every state and we will also be able to take some decisions so that the implementation can be done seamlessly because we don't want any worker to be left behind.
"All of us are aware that from the day the President signed the minimum wage Act into law, it became enforceable. There is no excuse for any state to say that they are not going to respect a law that is actually based on the constitution.
"The national minimum wage is actually a constitutional issue; so clearly, it is about respecting our laws and also respecting international convention and procedures."