The Girl Child Has Great Potentials – Perm Sec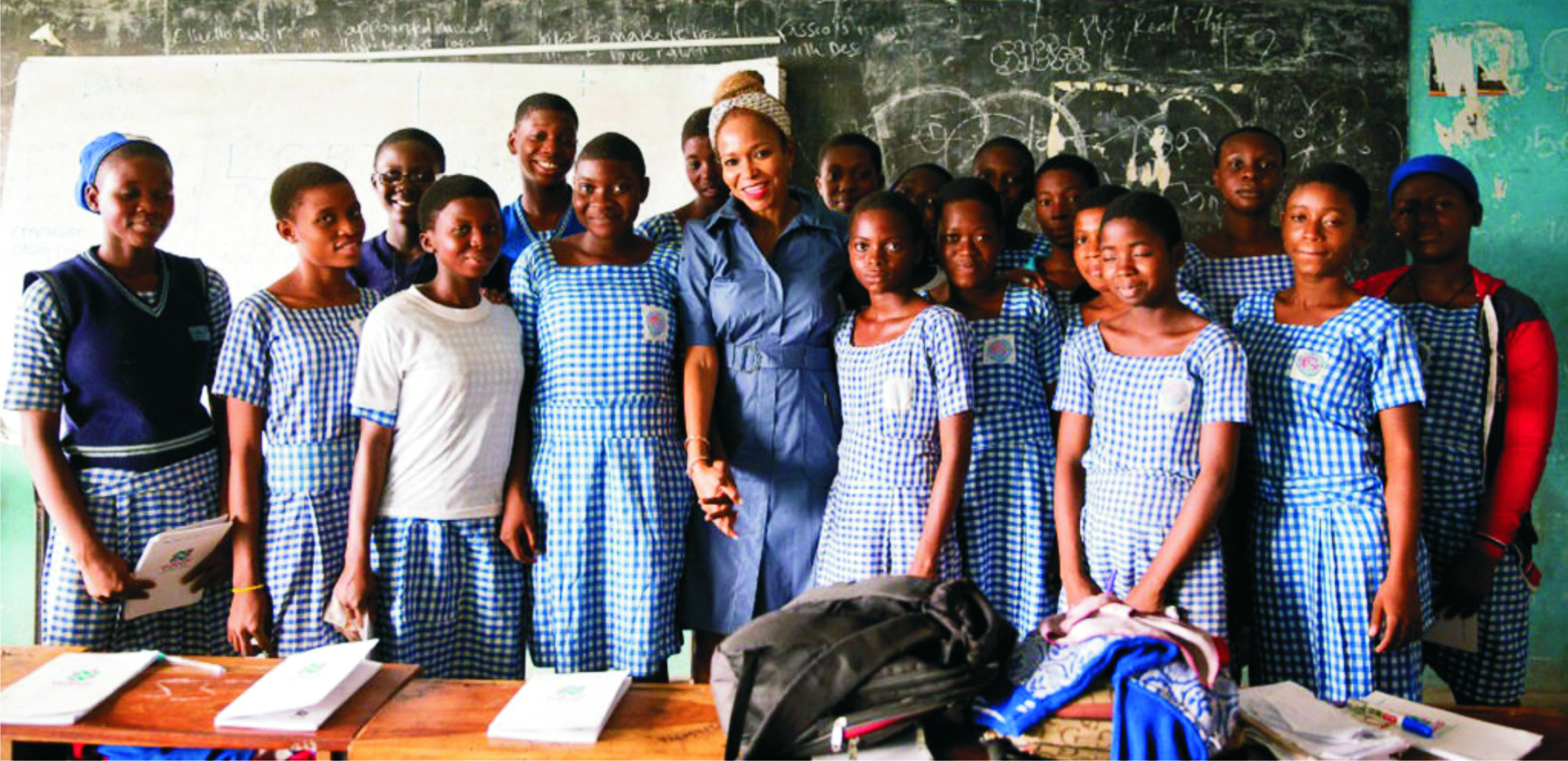 Since October 11, 2012, the day has been marked as the International Day of the Girl Child. Like the reason behind the marking of other international days, the United Nations, UN, has embraced the international day of the girl child as a powerful advocacy tool. It is used to highlight and address the needs and challenges girls face, while promoting girls' empowerment and the fulfillment of their human rights.
Issues like child marriage, education inequality, gender-based violence, reproductive health, climate change, self-esteem, and the very trending sexual harassment in schools and at homes, are being tackled by concerned individuals, non governmental organizations and governments. Girls are proving they are are indeed unscripted and unstoppable.
With the platform created by this yearly emphasis on issues affecting the girl-child, countries and states for which Nigeria is inclusive now boast of more girls attending and completing schools. Fewer are getting married or becoming mothers while still children, and more are gaining the skills they need to excel in the future world of work.
In furtherance of the course of the girl-child, the United Nation's Secretary-General, António Guterres, sued for efforts at harnessing her inate potential. "We need to uphold the equal rights, voices and influence of girls in our families, communities and nations. Girls can be powerful agents of change, and nothing should keep them from participating fully in all areas of life". He said.
This year, in total compliance, with the United Nations agenda for the girl- child, under the theme, "GirlForce: Unscripted and unstoppable", the Rivers State Ministry of Women Affairs, in collaboration with the Town Planning Film and Actors Academy , arranged a program which had five girls from each of the 23 Local Government Areas of the state to be sensitized on the act of film making.The girls would be trained in acting, directing, cinematography, general film making, script writing and film production.
The Permanent Secretary, Ministry of Women affairs, Mrs Atosemi Eson Teetito, said the act of film making training program which is designed to last for three months upon commencement, is an entirely new area of employment the ministry decided to lunch into for Rivers girls in order to showcase their untapped potentials and great skills to the world.
Announcing that girls are breaking the barriers and boundaries posed by stereotypes and succeeding in their chosen carriers, Teetito presents the girl child as one naturally endowed with great potentials to succeed in her chosen carrier despite many challenges, if properly mentored.
"Girls are emerging entrepreneurs, innovators of global movements and creating a world that is relevant for the girls of tomorrow to succeed", She said, calling on well meaning individuals to encourage girls everywhere to innovate and to take charge of their future.
Teetito further explained that her ministry used the opportunity, to raise its voice in support of the call to create more opportunities for girls in every sector, especially increase in access to girls education like their male counterparts.
She was of the view that such moves would totally eradicate all forms of gender based violence against women and girls as well as put an end to forced marriages of the girl child.
Meanwhile, the Director of the Town Planning Film and Actors Academy, Mr. Prince Ogbondah, has called on the youth; the girls in particular, to take advantage of the fast growing entertainment industry to cash into the business side of the industry especially the motion picture sector popularly known as Nollywood.
In her goodwill message, the vice chaiman of khana Local Government Area, Dr. Leton Ekoro, described such opportunities as rear , as she called on the girls to cash in and shot themselves to stardom.
Also speaking, the Director, Women Affairs Department, Ministry of Women Affairs, Dr. Camelita Agborubere, appealed to girls to see greatness in the opportunity available to them and utilize same.Agborubere assured the girls of the ministry's support, if they were determined to succeed through film making.
Sylvia ThankGod-Amadi & King Onunwor

Group Spoils 600 Ikwerre Widows In Rivers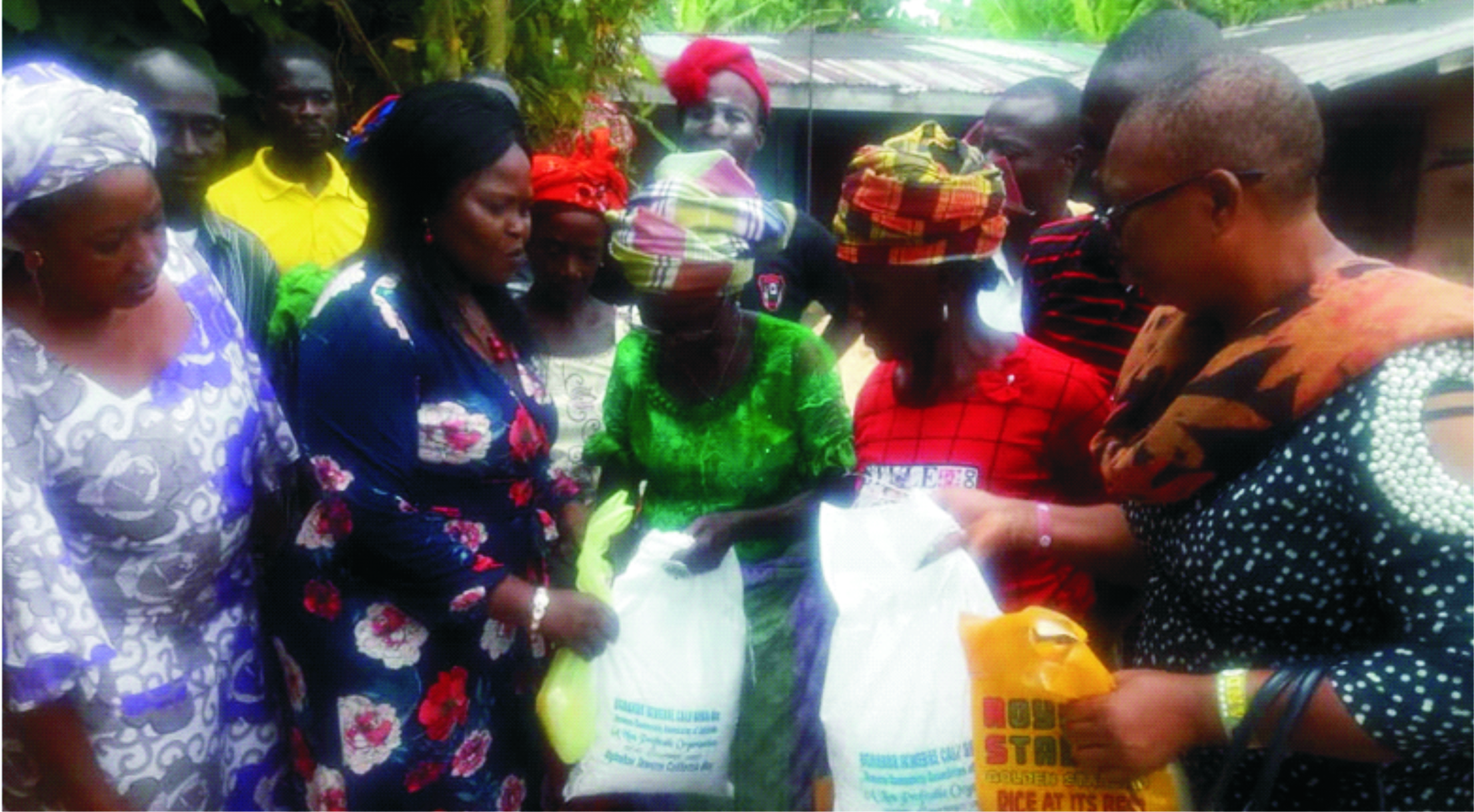 Over 600 widows recently received the goodwill from the Ikwerre Community Association of California, United States of America as part of the group's mandate.
Tagged, 'Ikwerre Widows Project', the association reached out to the widows in Rivers State as a way of putting smiles on the faces of the widows and other less privileged women from the Ikwerre ethnic nationality.
To this end, members of the association recently visited widows in Rumuewhor and Eli-Brada Communities all in Emohua Local Government Area of Rivers State with food items.
Presenting the food items to one of the happiest widows in Rumuewhor, the association's representative in Rivers State and Coordinator of the group, Dr Christiana Chukumati, said that the association remains sensitive to the plights of the less privileged in the society, especially the poor widows.
In an interview with The Tide at Eli-Brada Community, Dr (Mrs) Christiana Chukumati said the yearly visit to Ikwerre widows in their various communities was designed to demonstrate the determination of the association to give back to the society, adding that the gesture had been part of ways the Ikwerres in California positively give back to the society.
your father or mother, you have killed your past life. If you kill yourself, you have killed your present life but if you kill children you have killed your future, so if they are not properly guided on time, they will go astray".
Maintaining that education is key to developing the society, she remarked that if these children are engaged in meaningful ventures, the society would be free of crime, kidnapping and criminality, for an idle mind, she said, is the devil's workshop.
She therefore, advised parents and elders to collectively put their efforts together to train up children in the way of God so as to attract peace and harmony among the people of the community. She reiterated that it is only when good training is given to children, that youth restiveness, crime and criminal activities are curbed in the society at large.
While she appealed to Ikwerres in California not to relent in their God-given-vision, she called on well-meaning individuals in the state and country at large to emulate the gesture and replicate same to other widows, as well as build up Rivers State instead of helping to run it down
Also speaking, another California representative in Rivers State, Pastor Constance Walker, who commended the efforts of Ikwerre brothers and sisters in California at keeping the initiative afloat since its inception, charged the beneficiaries to undertake meaningful ventures in order to maintain their dignity and be able to cater for their children.
Citing Proverbs 22:6, the cleric enjoined widows to seek God' wisdom in the training of their children so that when they are old, they will never depart from it." She thanked the leaders of the two communities for the warm receptions accorded them.
Walker stressed on the need for women to be calm in times of trouble and pray for continuous peace in their communities in order to engender development, nothing that Ogbakor Ikwerre in California would do all they can to continuously support widows if peace continues to exist in Ikwerre communities.
One of the widows, Mrs Mary Okpara, in tears, commended the initiative, saying it is a good thing for the rich to remember the poor, especially at celebration season, but regrets that they have hardly received anything from anyone except from Ogbakor Ikwerre California.
She said: "This is the first time we are witnessing this kind of gesture, where widows who have been forgotten are remembered for good and given hope. God must bless this our people in California."
Beneficiaries could not hold back their joy as they thanked and prayed for their people in California and their representatives in the state.
Also speaking to The Tide, one of the beneficiaries and leader of the widows, Mrs Wikpe Josephine, thanked the Ogbakor Ikwerre in California for putting smiles on their faces and prayed that God continues to preserve and keep them alive to do more for them.
In her reactions, the coordinator of the widows, Mrs Helen Njigwum, said she was so glad that she could comfortably say that the days of begging during Christmas was over and extends her good will message to those in California, praying that celebration departs not from their households.
Another beneficiary, Mrs Happiness Ebulu recounted how she had been through rough times to the point that family meals was difficult to achive.
The Tide observed that in the two communities visited, the beneficiaries could not contain their joy as they broke into singing, jumping and dancing around the California representatives to express their gratitude.
In their separate reactions, the Nyeweli Rumuowhor, His Royal Highness (HRH), Oha Ikechi Igbukwu, expressed joy over the kind gestures shown by brothers and sisters in California.
Igbukwu added that the gesture was a welcome development, remarking that the visit availed the widows another opportunity of togetherness as well as put smiles on their faces.
He noted that he was excited when he received their letter on the planned visit to Rumuwhor, adding that the food items given to the widows was a big relief for Rumuowhor leadership.
Also in his response, the Acting Paramount Ruler of Eli-Brada, Ohar Abel Obilor, thanked the group for remembering widows in Eli-Brada, wishing that they do more. He prayed that God enlarge their coast to continue to reach out to the poor in the society.
Susan Serekara-Nwikhana

Promoting Beauty In Traditional Attires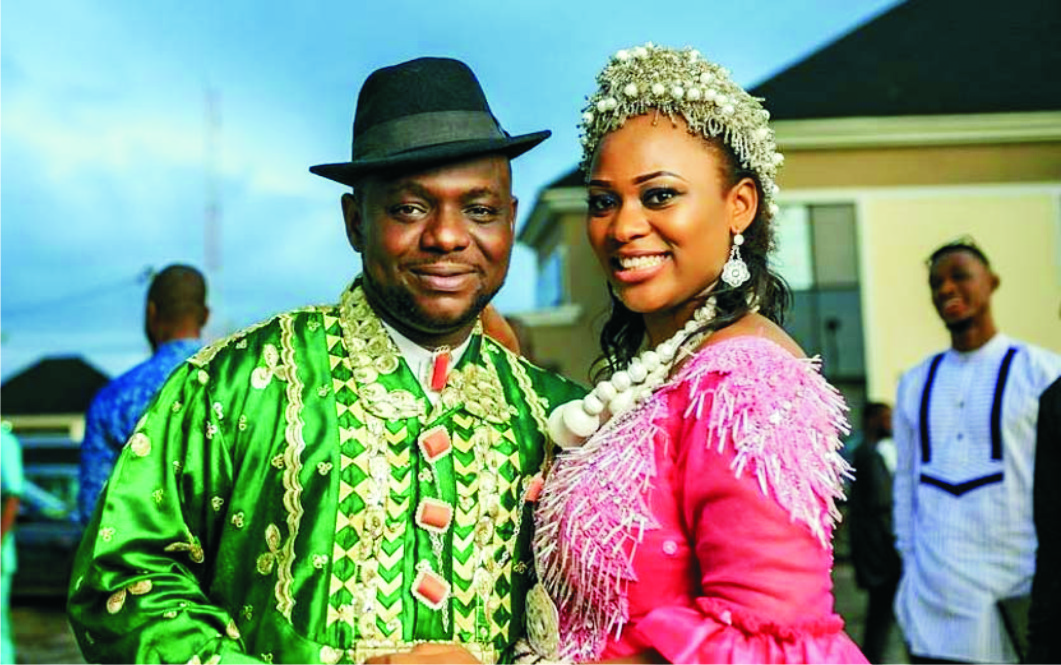 It is often said that women are more conspicous when it comes to fashion. This is so because they take out time to match colours to suit any occasion. Call it child dedication, wedding ceremonies, thanksgiving of every calibre, women are careful enough to select fabrics and colours that leave admirers wondering what heavenly creation is manifested on earth.
Due to the special attention they attach to fashion at every given moment, women have carved a niche for themselves as better handlers of fashion than their male counterparts. Today, you can hardly identify the true cultural background of some ladies by their attires.
The liberalisation culture of the fashion industry may have aided in the cross breeding attitude recently embibed in the fashion theatre, thereby enabling access to all into originally customised and traditionally based styles.
Leveraging on the current trend in the fashion world, Chioma Ubor (alias ADA OC), who recently tied the traditional nuptial knot with her heartthrob, Pastor Promise Nsiegbe, both of Ikwerre background, decided to do it the Kalabari way.
In her deep dark complexioned skin, every onlooker would have adjuged Chioma Ubor to have either hailed from Kalabari or Abua. Her emergence in a Kalabari attire on her traditional wedding helped to confuse her audience the more into believing that the Omerelu-born Ikwerre daughter was actually a Kalabari.
Although the choice of her traditional wedding attire added colour to the event, for Chioma, it was not just about the dressing, but an opportunity to showcase the rich cultural heritage of Rivers State. Ofcourse, as a fashion designer, being a practitioner in the industry with over a decade experience, it was not a difficult decision to make.
To some people, it is fashion on the parade, if not, why should a typical Ikwerre woman be donned in riverine attire on her traditional wedding day? But for others, it is an advent of urban life to the rural area, or a mere display of her talent as a designer.
However, such pattern of dressing, according to her, was to encourage unity in diversity.
She further explained that fashion is another modern peace weapon with the centrifugal force to bind people together.
She explained that the dynamism associated with fashion is another reason why no particular people or group could claim total ownership of any fashion and its design.
She believed that those who bother to claim ownership of any fashion may have in one way or the other copied it from another tribe centuries ago.
Come to think of that, several tribes in the country have a way of respecting or showing love to any one donned in their respective traditional attires, should such be sighted at any place other than their place of origin.
She explained that for those in business, being cladded in other's traditional attires has a special way of attracting customers in a systematic way. The fashion designer cum stylist, reasoned that such "intentional mistake", has the power to bring customers.
In her definition of fashion, Chioma said: "It is any dress style that could give the individual the needed fitness or match, irrespective of the season."
For her, fashion must not necessarily mean that which is en vogue and worn by sundry members of the public, but that which can give or put the wearers in a relaxed frame of mind each time they are donned on it.
Imagining the exorbitant price of materials and its designs in recent time, Chioma charges ladies, especially brides in the making to consider their financial strength before deciding on a particular style of traditional or white wedding attire to make.
The Ada Omerelu (now Ada Rumuwoji), refused to support the idea of postponing occasions like traditional weddings or child dedication ceremonies on grounds of inability to afford a choice or 'reigning' material to match the occasion.
She said such has a way of discouraging men, who, she said are impatient. For her, the best approach to adopt, is to embrace the situation and take bold step by appearing in the very available material or fashion.
Chioma, the designer of her own traditional wedding attire, calls on young ladies to make themselves available and indulge in those trades that have the capacity to address some immediate/ daily need of the family.
She pointed out that her family could not spend much in sewing, since there is a ready hand in the family. Citing children's school wears, Christmas and other festivities, she said that the only thing that will drain the family funds is the purchase of the materials.
She maintained that funds are the basic tool needed for family growth and so, must be jealously saved or frugally spent. The stylist further called on ladies to embrace the fashion industry, due to its juicy nature.
In our own clime, adorning oneself in traditional attire is gradually becoming an issue of cross pollination. People dress in traditional attires regardless of cultural background.
Those days, it was rare to see a northerner donned in any attire apart from his or her known traditional attire. But today, it is a common sight to see a southerner fully cladded with northern traditional attire and vice versa, as if to say, "I won't be left behind".
King Onunwor

Rivers Council Moves To Stop Violence Against Women
Following the realization of the fact that violence against women stops girls from reaching their potentials, Eleme Local Government Council has decided to put an end to gender-based violence.
This was demonstrated in a programme it organised in collaboration with the Rivers State Ministry of Women Affairs, in order to join the international communities that are working hard to transform attitudes towards perpetrating violence against women and girls.
As part of ways to increase more awareness on the rise in gender-based violence in Nigeria and to put an end to it, the local government Chairman, Hon Philip Okparaji, took campaign to his locality so as to put an end to the dreaded scourge.
Speaking during the programme titled: 16 Days of Activism Against Gender Based Violence (GBV) with the theme, "OrangeThe World: Generation Equality Stands Against Rape", last Tuesday, at Eleme LGA, the Chairman of the occasion and wife of the Eleme LGA Chairman, Hon Elera Phillip Okparaji, decried the patriarchal culture of the country which she said has become a global issue of discourse among the Eleme people as its negative activities are predominantly carried out on girls and women.
Mrs Okparaji listed some obnoxious practices carried out on girls and women as follows: Female Genital Mutilation, and forcing widows to drink water used in bathing their late husbands, shaving their heads as well as forcing them to get married to their late husbands' brothers among others.
She appealed to all those still engaged in these obnoxious activities to stop, adding that such practices increase the victims' chances of being vulnerable to diseases as well as making the young girls more promiscuous.
Mrs Okparaji stated that violence against women robs them of their self esteem. She expressed hope that the marking of the 16 Days of Activism Against violence and rape on women and girls in Eleme would finally put an end to it in the LGA, state, and country at large.
Also speakaing on the topic:" Gender-Based Violence Against Women And Girls, the Role of The Media", The Treasurer, Nigeria Association of Women Journalists (NAWOJ), Rivers State, Mrs Serekara-Nwikhana Susan, explained that the the media have numerous roles to play beginning with creating awareness on the negative implications of GBV and rape on girls and women so as to put an end to them.
Nwikhana stated that guardians to victims and victims themselves must ensure they break the silence by speaking out, adding that when you speak out the evil will be reduced, but refusing to speak out spreads the evil the more as perpetrators go Scot free.
Also speaking on the negative effect of Rape On women and Girls, Chief Dorathy Casca Ogosu one of the resource persons, stated that rape is condemnable crime, which culprit should be made to face 14 years imprisonment as a result of trauma and stigmatisation caused the victim.
Ogosu listed the negative effects of rape as Physical, mental and psychological, adding that the remedy to rape cases is early report to the police for immediate action.
Another resource person from National Orientation Agency (NOA), Mrs Charity Godchild, singled out homes as one major place where girls and young women often experience Gender-Based Violence which ranges from physical punishment to sexual, emotional and psychological harm.
She noted that acceptance of violence as a private affair often prevents others from intervening and prohibits girls and young women from reporting, she reiterated the need to break the silence and speak out against this dreaded scourge.
Charity also mentioned the school as a place where girls experience violence from sexual harassment, bullying and intimidation, adding that this violation of Girls' Rights, especially when committed by those in position of care or authority, can impact on girls' ability to continue and complete their education.
The NOA representative added that GBV occurs in all parts of the world, but the risk is higher where violence is normalized and where rigid concepts agenda exist, remarking that in many cultures, violence towards girls and young women is accepted as a social norm, but when it happens to the men it becomes political.
She maintained that this must be challenged as a matter of urgency especially in this part of the world where it is seen as a patriarchal issue, adding that the blame game, shame and stigma faced by victims must be eliminated as soon as possible.
Another speaker on Rape from the International Federation of Women Lawyers (FIDA), Rivers State, Barr Dada Dibiah stressed that girls must never be held responsible for the violence against them as it a sole responsibility of the perpetuator, who must be held accountable according to National or International Legislation.
By: Susan Serekara-Nwikhana