Yemi Alade's Woman Of Steel Set For Grammy Consideration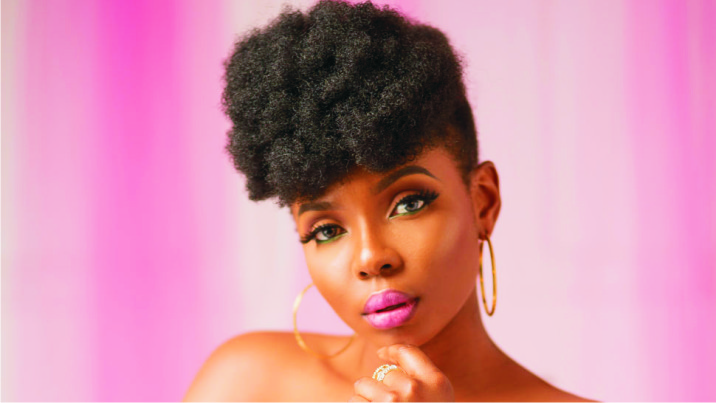 It's Grammy season and Yemi Alade is geared up. Her fourth studio album, 'Woman of Steel' has been submitted for consideration.
The album, which many consider her best yet, has 15 tracks. On October 6, 2019, the Nigerian superstar who recently signed a deal with Universal Music France made the announcement via her Twitter handle.
She wrote that, "We're up for Grammy Award Consideration! Reaching out to all voting members of @recordingacademy to consider my Album, #WomanofSteel for Best World Music Album! "This has been an incredible project and I would love to celebrate it with all of you."

Minister Explains Commercialisation Of Film Industry
The Federal Government says it is reforming and commercialising the Nigerian film corporation (NFC)to address the agency's teething challenges and repositioning for improved performance.
The minister of information and Culture, Alhaji Lai Mohammed made this known on Monday in Abuja while inaugurating a steering committee for the reform and commercialisation of the corporations.
He said the federal government has engaged the services of a Business Development Consultant to conduct a due diligence on the corporations and sector and recommend a strategy that is suitable for its Reformation and commercialisation.
Mohammed said the NFC which was established with a mandate to plan, promote. Organize and coordinate the development of Nigerian motion picture industry has not been able to meet up with its statutory functions.  He noted that since its establishment the corporation has faced several challenges including inability to engage in commercial film production.The minister said the law establishing NFC limits its operational functions such that it can not leverage on the private sector led growth of the industry.
He added that the National Film Institute (NFI),a unit of the NFC is not empowered to leverage its technical and professional capabilities for commercial purposes and revenue generation. He noted that the NFC civil service structure comes with bureaucratic limitations, budgetary constraints and operational inefficiency.
" A critical look at the existing organizational structure, shows that NFC has obsolete equipment with some dating back to colonial times", he said.
The minister noted that the reform of the corporation will help in efforts of government to reposition the nation's film industry , Nollywood and make Nigeia the capital of entertainment in Africa.
Relying on International Monetary Fund(IMF)data Mohammed said Nollywood is the second largest employer of labour and contributed to N893 billion to the Nation's Gross Domestic Product (GDP)in 2015.The minister noted that Nollywood could perform better if the NFC is restructured.
NFC established by Decree No 61 of 1979 is 100 percent owned by the federal government and has its registered office in Jos,Plateau State. It is established to distribute documentary films on different aspects of Nigeria's socio cultural and political life and produce film services for the federal government.
The corporation is to train young talented Nigerians in the act of film making, conduct research into Nigerian films and provide technical and financial support to film industry and practitioners. NFC is also established to regulate and organise professional practice in the film industry.

Five Most Followed Naija Lockdown Housemates On Instagram
The Big Brother Lockdown Season which kicked off on Sunday, July 19 ends on September 27. It  has been regarded as one of the most viewed editions since the show started.
Housemates of the reality TV show have automatically made name for themselves with all of them gathering massive followers even before they were evicted from  the show on social media. Some of them had less than 2k followers before getting into the house but now have massive following.
Laycon has the highest number of followers while Eric has the lowest number of followers. Laycon's wisdom and humble position have helped in winning the hearts of the viewers through his stay in the house.This has reflected in the rapid increase in his following in Instagram and Twitter.
Olamilekan 'Laycon' Agbeleshe is a 26 year old singer and rapper from Lagos.He's a graduate of Philosophy from the university of Lagos who started his musical journey early. He has emerged as the most followed BB Naija seasons housemates on social media. He currently has 1,154,000 followers on Instagram.
He is one of the five housemates left to contest for the N85 million prize on Sunday. Many people have predicted Laycon as the winner of this years Big Brother Naija.
Socialite Kiddwaya is the son of billionaire Terry Ways,kiddwaya's father,Terry is a popular known for his Italian luxury fashion label, Versace.Kiddwaya was evicted on Sunday 13,2020.He is the second most followed BB Naija lockdown housemate with 950,823 followers.
Rebecca 'Nengi' Hampson,22, is an entrepreneur from Bayelsa. She is a former model and MBGN top five contestants who loves learning new things,having fun,travelling, taking on new adventures and being true to her self. She is the first head of House in the lockdown season.
She is one of the five housemates left to contest for the N85 million prize on Sunday. Nengi is the third most followed with 319 followers.
Dorathy Bachor is a 24 year old entrepreneur from Lagos.She believes she is the only one who should make you smile.Her boldness moves proves she's an asset in Big Brother Naija lockdown season.
She is one of the five housemates left to contest for the N85 million prize on Sunday. She is the fifth most followed BB Naija housemate with 821,137 followers.
Erica Nlewdim is an actress who studied Business Administration at Covenant University and graduated at 19.She went further to study screen acting at the met film school in London.
On September 6,2020,Erica joined the list of disqualified housemates from the reality TV show after getting a third strike.She is the fourth most followed BB Naija housemate with 912,483 followers.

'Gospel Music, Critical To Evangelism'
A Pastor of the Redeemed Christian Church of God, Prince Borloo has described gospel music ministry as critical to evangelism and encouraged youths to use their creative talents for the service of God and humanity.
Prince Borloo, who is the Area Pastor in charge of  the Redeemed Christian Church of God,  Peters Boat,Ibeto road, Port Harcourt said the music ministry was not only pivotal to evangelism but also provides opportunities to develop full career as gospel artists.
Speaking to newsmen shortly after a thanksgiving service held at the Church auditorium, the Man of God  said, "God delights in praises and praises brings deliverance, healing, soul winning and uncommon break through in difficult situation", noting that the only worthwhile thing for a child of God to do was to elevate his name through the music ministry.
Drawing from a biblical point of view, he said David as a minister of God and a King used the music ministry to earn the heart of God, noting that same opportunity existed to attract divine blessings through the use of musical talents.
Prince Borloo who is also a renowned gospel artist with several albums to his credit said he was grateful to God for his ordination as a full pastor of the Redeemed Christian Church of God and urged christians to remain steadfast in their adversities and other challenges as challenges were the "raw materials for the promotion and elevation of the children of God"
Prince Borloo also emphasized the need to strengthen the music department of all churches as a basis of promoting the objectives of praises which is cardinal to Christianity.
He urged the youths to eschew violence and other anti social behaviours and become ambassadors of Christ to be useful in life.
In his homily, the guest speaker, Pastor Sunny James admonished christians to put their trust in God as divine providence was the only sustainable source of human needs and protection. He congratulated the celebrant over his ordination as a full pastor of the Redeemed Christian Church of God and wished him well in his service in the Lord's vineyard.
In his remark, a former chairman of Khana LGA, Hon Gordon To we described the celebrant as a man of multiple talents who has not hesitated to use his talents for the service of God and humanity.
By: Taneh Beemene