Female Novelist Emerges Nobel Laureate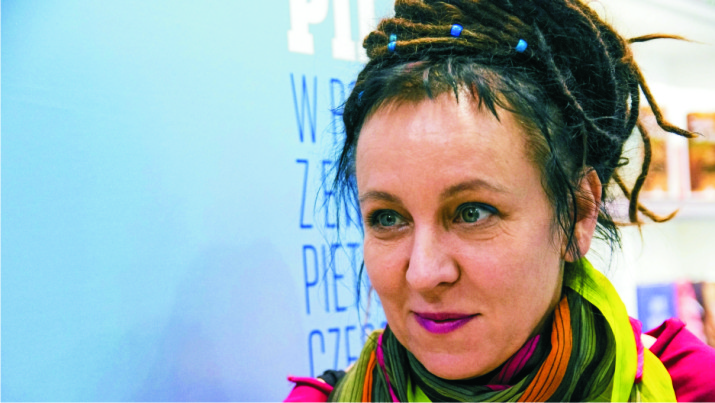 As the Swedish Academy finally announced laureates for 2018 and 2019, after scandal forced last year's award to be postponed, Olga Tokarczuk has been declared the winner of the 2018 Nobel Prize in Literature.
Born 29 January 1962 in Sulechów, Poland, Olga Tokarczuk, a Polish writer, activist, and public intellectual , was barely six years old, and living in the small town of Sulechów, when the Polish students protests of 1968 erupted. Her father's family were refugees from a part of Poland that is now in Ukraine. Both parents were teachers who "lived in an island of leftwing intellectuals, but not communists".
Although trained as a psychologist at the University of Warsaw, Olga, upon graduation took a hospital job as a specialist in addiction, married a fellow psychologist and gave birth to a son. But after five years, she decided she was too fragile to continue at the hospital. "I was working with one of my patients and realised I was much more disturbed than he was."
She left her job and published a collection of poetry, quickly followed by a novel; The Journey of the People of the Book – a parable set in 17th-century France – which won a prize for best debut. Though the books, and the prizes, kept rolling in, in her mid 30s, Tokarczuk hit a crisis and decided she needed to take some time out to travel. She became particularly noted for the mythical tone of her writing as she has published several novels, as well as other books with shorter prose works.
Today, OlgaTokarczuk has been described as one of the most critically acclaimed and commercially successful authors of her generation.With her declaration as the winner of the 2018 Nobel prize coupled with the 2018 winner of the Man Booker International Prize for her novel; Flights, she becomes the first Polish writer to do so.
A mother, and wife to Roman Fingas, when she was hotly tipped to win the Man Booker International prize last year, Olga Tokarczuk considered herself " very naive"as she talked about facing controversy at home and the armed bodyguards hired to protect her.
A literary star in Poland, Olga's sixth novel; Flights, could best be described by any one as her stepping stone to greatness. Not as though Olga had not featured any work translated in English language, Flights highlighted her as probably one of the greatest living writers any scholar would love to meet.
Adam Mars-Jones, once wrote a highly complimentary review of Flights in the London Review of Books. "It could almost be an inventory of the ways narrative can serve a writer short of, and beyond, telling a story," he said. "The book's prose is a lucid medium in which narrative crystals grow to an ideal size, independent structures not disturbing the balance of the whole."
Tokarczuk prefers an astronomical metaphor, explaining that, just as the ancients looked at stars in the sky and found ways to group them and then to relate them to the shapes of creatures or figures, so what she calls her "constellation novels" throw stories, essays and sketches into orbit, allowing the reader's imagination to form them into meaningful shapes.
She is currently best known in Poland for a 900-page historical epic called The Books of Jacob published in 2014. The Books of Jacob tells the story of Jakub Frank, a Jewish-born religious leader who led the forcible conversion of fellow Jews to Catholicism in the 18th century. The novel itself was well received, selling 170,000 copies in hardback and winning her a second Nike award, known as "the Polish Booker".
In her naivety, thinking she would be able to discuss the dark areas in Poland's history, Tokarczuk was branded a 'targowiczanin', an ancient term for traitor when she outraged rightwing patriots by saying that, contrary to its self-image as a plucky survivor of oppression, Poland itself had committed "horrendous acts" of colonisation at times in its history. A reason for which her publisher had to hire bodyguards for a while to protect her.
She has long been one of Poland's highest profile writers, a vegetarian feminist in an increasingly reactionary, patriarchal country, and a public intellectual whose every utterance can make news headlines.
Call her an intelligent, brilliant or controversial artiste, Olga Tokarczuk has not only made her mark in the literary world, she has boosted the ego of women as a worthy ambassador of the folk.
Sylvia ThankGod-Amadi

NAWOJ Seeks End To Sexual Harassment Of Members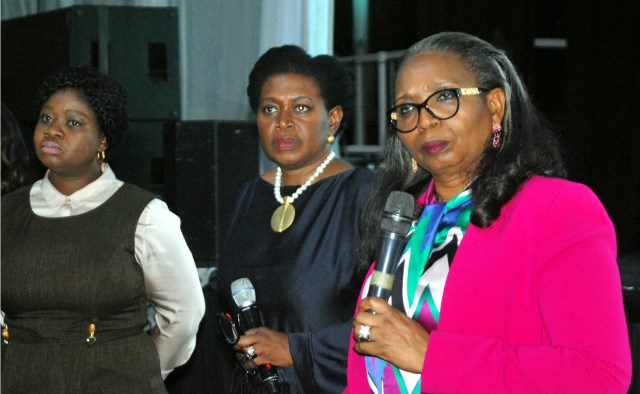 Female journalists in Nigeria have been advised to report all forms of sexual harassment meted against them in the course of discharging their duties.
Speaking during a two-day training programme organised by the Nigeria Association of Women Journalists in collaboration with the Norwejian Union of Journalists (NORSK), one of the facilitators on "Combating Sexual Harassment In Work Place and Safety In Field", Mrs Rafat Salami, said there was need for media houses to have a sexual harassment policy in their offices as well as ensuring that it is listed as misconduct.
Salami noted that the reason while we have unions is to be able to fight for the rights of workers, especially when female journalists are being harassed in their places of work. She warned women against raising false accusation against men on rape as they stand the risk to be arrested and prosecuted.
Also speaking, the Permanent Secretary, Ministry of Information and Communication, Pastor Paulinus Nsirim, stated that female journalists have a critical role in setting agenda as concerning gender inequality.
Nsirim stated further that NAWOJ does not have statistics of work done so far, adding that while they celebrate their last 30th anniversary they ought to have shown statistics of work done on advocacies and achievements recorded so far.
He charged NAWOJ to celebrate leaders who fought for the rights of women, citing the Rivers State Governor, Chief Nyesom Wike, as a case study. Nsirim further charged female journalists to look towards the incidences of sexual harassment on female journalists with a view to developing database, so that registered journalists can easily be accessed at anytime in case of molestation.
Also speaking, the Permanent Secretary, Ministry of Women Affairs, Mrs Atosemi Teetito, described the theme of the training as apt and timely, adding that the Ministry of Women Affairs is so passionate about discrimination against women and girls.
The Permanent Secretary, who was represented by a director in the ministry, Dr Carmelita Agbonbere, noted that last Monday marked the beginning of 16 days of activism against gender-based violence, she stressed that it is an international campaign to challenge violence against women and girls.
Teetito called for global action to increase awareness on gender-based violence and sexual harassment on female journalists within workplaces, adding that such acts must stop. She urged female journalists to stand firm and maintain their dignity no matter the cost.
In their separate presentations, the facilitator on Gender Equity And Safety, Mainstreaming, Making Your Gender Analysis, Mrs Veronica Ogbole, revealed that the Nigeria Sexual Offender Register has been launched yesterday by the Vice President, Yemi Osinbanjo so all sexual harrassment issues can be reported.
Ogbole commended the VP and Federal Ministry of Women Affairs for taking that bold step in launching the offenders register, adding that offenders have been getting away because they know that they are not being reported or prosecuted.
She urged that victims take full advantage of the development, while calling on the ministry to ensure full implementation.
Earlier in her welcome address, the Chairman, Rivers State Chapter of Nigeria Association of Women Journalists (NAWOJ), Mrs Lilian Ogabu-Okonkwo, had advised female journalists in the state to train themselves so they can improve, build themselves to have an edge over the men. She stated that only female journalists can report issues of sexual harassment and all forms of molestation better than others.
Meanwhile, Chairman of the occasion, Mr Chidi Okoro, had said that gender equity leads to peace in some parts of Africa, he regretted that in Nigeria, positions are still dominated by men.
By: Susan Serekara-Nwikhana

OUR MENU Igbo Abacha (Full Option)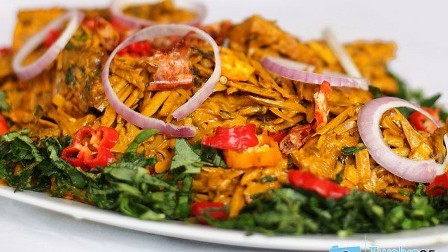 With Abacha, the more ingredients you use, the tastier and more "complete" it will be. So use as many as you can lay your hands on.
3 handfuls abacha
2 cups ugba (ukpaka)
30 cl red palm oil
2 tablespoons Powdered Potash (food tenderizer)
Fish | Mackerel/Dry Fish/Stockfish
2 onions
Salt and habanero pepper (to taste)
4 tablespoons ground crayfish
2 stock cubes (Knorr)
2 teaspoons ground Ehu seeds (Calabash Nutmeg)
Garden Eggs.
Garden Egg leaves
Ogiri Igbo (castor seed paste)
Other meat and vegetables for the Abacha
3 Fresh Utazi leaves (Gongronema latifolium)
Ponmo / Kanda (cow skin)
Notes on the ingredients:
1. Abacha is the main ingredient. Abacha is made by boiling and grating/shredding cassava tubers. Click here to see how to make abacha.
2. Ukpaka or Ugba is shredded oil bean seeds. It is compulsory for me but if you do not have it, you can skip it.
3. Red Palm Oil must be used when preparing abacha. Other oils are not acceptable.
4. You must add a green leafy vegetable. Garden Egg leaves are used for abacha. If you do not have it, use leafy spinach especially the baby ones. Very good alternative.
5. At least one type of fish must be used. For abacha you can use stockfish (dry cod), dry fish (dry cat fish, mangala), fried mackerel (fried titus) and smoked fish.
6. Crayfish much be used, click here to see how to prepare crayfish (for those outside Nigeria).
7. Pepper must be used and you can either add habanero pepper (recommended) or dry cayenne pepper. Habanero pepper is atarodo, atarugu or ose oyibo. Black pepper is not a good fit for abacha.
8. Add ogiri Igbo for the classic traditional taste but if you do not have it, add stock cubes. One of these must be used unless you are really really allergic to both.
9. Add garden egg. It is great in abacha but not compulsory.
10. Edible potash: akanwu, kaun, keun is what makes palm oil curdle and it is a must. If you do not have it or you do not want to eat edible potash, baking soda (bicarbonate of soda) has similar properties. Click here for more information.
Before you Make Abacha
All the work of making Abacha goes to preparing the ingredients.
1. Soak the dry fish in cool water and set aside to soften.
2. Soak the abacha for 2 minutes in cool water and put in a sieve to drain.
3. Rinse the stockfish and cook till soft. I use a pressure pot for this. Debone when it is soft.
4. Mix the edible potash with some water, stir and set aside.
5. When the dry fish is soft, clean and debone. Then break into small pieces.
6. Cut one of the onions into tiny pieces and cut the other into rings. See the video for what I mean.
7. Rinse the leafy vegetable, cut some into tiny pieces, some into thin stripes and leave some leaves whole.
8. Rinse the ukpaka and put in a sieve to drain.
9. Cut some garden egg into tiny pieces and some into thin discs.
10. Crack open the ehu seeds and grind with a spice grinder.
11. Melt the palm oil in a sizeable pot over low heat.

20 Students To Participate In STEEM Award Competition
About 20 secondary school students from Okirika, Ogu/Bolo and Port Harcourt Local Government Areas of Rivers State are expected to participate in tomorrow's maiden edition of Group Capt John Ibiware Ben Kalio (rtd) Science Technology, Entrepreneur, English Language and Mathematics (STEEM) Quiz Competition.
The STEEM competition award is an extension of the Group Capt J.I Ben Kalio (rtd) Essay Competition Scholarship Scheme which commenced in 2005.
A press statement by the organising committee signed by Mr Manasseh Jaja for the President /Founder of Green Foundation, Group Capt J. I. Ben Kalio indicates that the competition will hold tomorrow at Ibaka Comprehensive Secondary School in Okrika.
The statement said the schools have been categorised into six groups, adding that 20 students are expected to participate in the competition from all the selected secondary schools.