Dealing With Domestic Abuse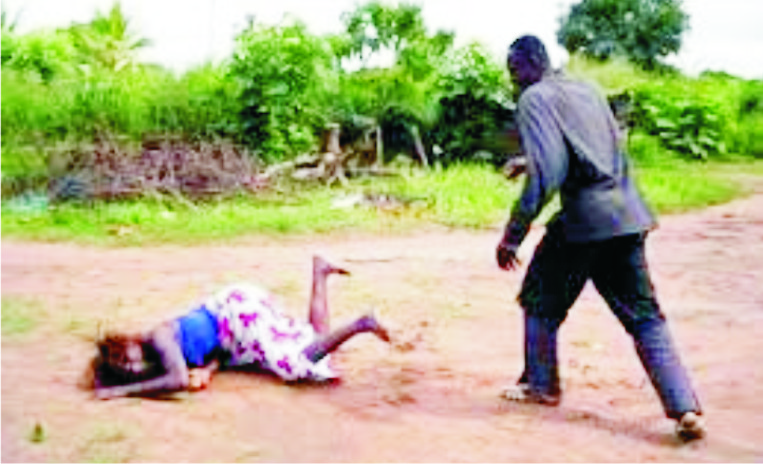 We are tired of cases of people maiming, beating and subjecting to hunger, or all manner of hardship, people they are obligated to love and protect. Some cases appear so bizarre that one is forced to ask if the perpetrators were actually in the right frame of mind at the time of the act.
When people talk about domestic abuse,they often focus on domestic violence. Domestic abuse has to do with any attempt by one party in an intimate relationship, or marriage, to dominate and control the other. According to Dr Humphrey Amadi of ' Help Guide To Mental Health And Welness', whether abuse or violence, the purpose is basically to gain and maintain total control over the other.
An abuser uses fear, guilt and intimidation to wear down a victim and keep same under control. While abuse remains no person's portion, it occurs across all ages, ethnic backgrounds and all social levels as well as all sexes, especially verbal or emotional.
From threat and verbal assault, an abuse could escalate to violence. Physical injury poses the most obvious danger, this is worsened by the emotional and accompanying psychological consequences.
Abusive relationships do not only lead to anxiety and depression, it also destroys self worth, leaving victims lonely and helpless. Prof. Nkem Agbaso of the Department of Guidance and Counseling, University of Uyo, once declared that ' no one wishes to endure such kind of pain'.
For Dr. Nikki Williams, a psychologist, when a partner becomes unussually fearful of the other, to the point of feeling like walking on egg shell around him, constantly watching what to say or do in order to avoid being attacked, it is indicative of a relationship prone to abuse.
Dr Williams enjoins couples to look out for occasions when a party in a relationship begins to despise the dignity of a mate, to the point of exerting supremacy, and a feeling of self loathing, helplessness and desperation. It could also take the form of being afraid of one's partner, avoiding certain topics for fears of annoying a partner. She warned.
According to the psychologist, being a victim or merely witnessing a scene of domestic abuse in childhood, can turn one aggressive in life. Such behavior could as well be learned while growing up in a family with abusive parents or relatives.
It is important to note that stress and aggression occasioned by economic problems, often lead to domestic violence. A high level of unemployment contributes to the point that people quarrel in families due to lack of basic needs.
Again, alcohol and narcotics have also been fingered as factors triggering domestic abuse. Most people who are addicted to the above hardly control their abusive instinct. Unfortunately, alcohol and other related drugs are wide spreading in Nigeria, a reason why domestic abuse and violence have become common.
Even where alcohol and other drugs are in short supply, some pockets of psychological disorder as a result of long period depression, could still produce violence. This is why it is important that people care about what family members or partners in relationship go through.
Excessive suspicion, distrust and jealousy cannot be exonerated from the catalysts of domestic abuse. Most break-ups in relationship today, are courtesy of it. Above all Dr. Williams warned that whoever wishes for a lasting happy relationship, must in addition to being wary of all so- outlined, guide against anger.
Dr. Angella Amadi, a psychologist, identified physical violence amongst couples in Nigeria as most worrisome. It includes beating, slapping, rape, murder, kicking, rejecting to eat, not willing to shoulder responsibilities, and denying partners sex at will. She also identified acid baths as a form of violence which has received a lot of attention in Nigeria. Sexual violence in Nigeria largely goes unreported because of the burden of proof necessary for conviction as well as social stigma it brings. The common loss of Women's rights upon marriage in sub-Sahara Africa and the implicit obedience and deference towards men is socially encouraged in the society.
Dr. Angella stated that infertility is a serious problem as over 40 percent of women who visited her for counseling often complain bitterly about their husbands unruly behavior in relation to infertility. The perceptions of domestic violence varies based on religion, and class. The Tivs see wife battery as a sign of love " that should be encouraged. She said: "if you are not yet beaten by your husband, then you do know the joy of marriage, meaning you are not yet married." All the major ethnic groups in Nigeria have a strong patriarchal societal structures that lead to justification of domestic violence as inherent right of a husband. In her study in the nation's capital Abuja, she explained that while domestic violence is a violation of fundamental human rights which the Nigerian constitution is against, there are still provisions that tend to legalise it. The provision of the Penal code application in the Northern part of Nigeria specifically encourages violence against women. Underneath its provisions, the beating of a wife for the purpose of correction is legal by the use of (section 55 (1) (d) of the penal code.
Dr. Martins Oyeyidah, a medical consultant proffers solutions to reduce domestic abuse and violence in Nigeria. "The first step to action is to familiarize individuals and the community with the possible signs and indicators of domestic violence." These signs can vary and do always come with physical symptoms because domestic violence is not just limited to physical attacks such as beatings. Domestic abuse also affects every level and demography in society. So there is no typical victim despite the stereotypes. Someone who may not appear to be a victim of domestic violence may well be suffering in silence.
Nigerian women should rise to the occasion and support the home by engaging in activities that will bring productivity in the home. More than one-third of women and one in 10 men have experienced intimate partner violence in their life time, according to the National intimate partner and sexual violence survey.
Sometimes violence begins early in a relationship and other times it takes months or years to appear. It could be the jealous type, being jealous of your friends or time you spent outside.
"The lack of discussions of domestic issues creates a space in which an ostensibly socially unacceptable behaviour becomes allowable and even common place. Because conversations about domestic violence are off limit. Many women do not share abuse incidents with anyone. The taboo surrendering domestic violence discussion and accurate data reporting. It will be necessary to remove the stigma around domestic violence", Dr Martins maintained.
He further suggested that this can be achieved through the creation of government -sponsored community programmes that directly address physical and psychological violence.
Mr. Frank Domino, a psychologist at a health Centre in Rumuigbo, Port Harcourt, observed social structure as the disparate status between men and women, as men have higher status in Nigeria than women. He stated that women should break out of traditionally engrained gender roles and expectations. With an increased sense of status, Nigerian women will no longer be bound to expected roles acquiescence. Given a voice, women will be able to challenge the established differences in status between men and women.
Igbe is a Freelancer in Port Harcourt.
Emeka Igbe

Girl Guides Move To Eliminate Violence Against Women Take Campaign To Rivers Community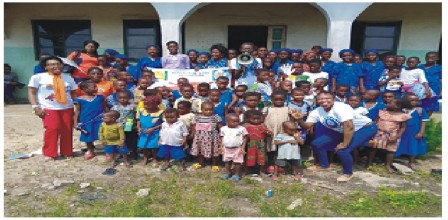 As the United Nations marks its 16 days of activism to eliminate gender-based violence, members of the Nigeria Girl Guides, Rivers State, last week undertook an advocacy visit to Rumuewhor Community in Emohua Local Government Area of Rivers State.
In interactive fora with pupils of the State School 1 and 2, and students of Odegu Senior Secondary School Rumuewhor respectively, the State Commissioner of Nigeria Girl Guides Rivers State, Barrister Daba Harry, told the audience that they were in the community to sensitize people on the need to key into the United Nations Initiative at the moment.
Explaining that the UN uses the period between November 25, through December 20, to reawken the world's consciousness towards the elimination of violence in the society, especially the ones perpetrated against women, Barrister Harry said, the mission of her organisation at the moment was basically to stop violence, increase peace, break the silence and speak out for the girls' rights.
She harped on the reality of violence in our society, understanding the nature of violence and the need to avoid it.
In her own speech, the sponsor of the visit, who doubles as the matron of Nigeria Girl Guides Rumuewhor, and member of Trefoil Guild, Barrister (Hon) Uchenda Bibian Okogbule, called on the pupils and students respectively, not to only avoid violent tendencies, but also speak out against any attempt at violating their right, especially their sexual right.
She advised that they seek the intervention of the federation of women lawyers in the state, (FIDA) should they be violated by any person any time.
Barrister Okogbule, while emphasising the importance of the visit, which she also considers her own way of giving back to the society and her community in particular, said although this may not have been the organisation's maiden visit to the community, it was their first school to school visit.
Meanwhile, the principal of Odegu Community Senior Secondary School, Mr James Anwanya, on behalf of his members of staff, had expressed satisfaction at the choice of Rumuewhor Community for the advocacy visit. He said it is an indication that Rumuewhor Community is still hopeful of better things ahead.
Mr Anwanya poured encomiums on the convener of the program, Barrister Okogbule, for carrying the community along, recapping her previous efforts at ensuring that the community is represented in the scheme of things.
Highlights of the visit included lecture on menstrual hygeine management and a lively interactive session with the students as well as offer of automatic registration of interested persons into the Nigeria Girl Guides.
It will be recalled that Girl Guides is a movement found worldwide, which was originally and still largely designed for girls and women only. This organisation was introduced in 1909.
By: Sylvia ThankGod-Amadi

Monarch's Wife Tasks NGOs, Others On Youth Employment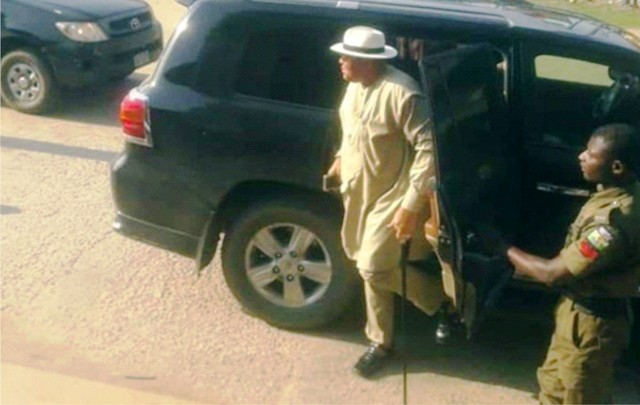 First Lady of Opobo Kingdom, Her Majesty, Queen Prudence Daneson Jaja, has called on Non-Governmental Organisations (NGOs) and the philanthropists to support Federal Government's efforts at addressing youth unemployment in Nigeria, which discourages social ills that paint the country black.
Jaja made the appeal recently while speaking at the 2019 Centralized Convention of a Non-Governmental Organization (NGO), the Opobo Women Welfare Association (OWWA), with the theme: "In time like this" held at Opobo Town, where about 150 youths were financially empowered, in addition to other gift items. She said that the beneficiaries who were youths from the eleven wards of Opobo/Nkoro Local Government Area of Rivers State were enrolled for training in various vocations having realized that government alone could not create employment for millions of Nigerian youths she enjoined them to make good use of the empowerment given to them.
According to her, "collective efforts of government, well-meaning individuals, philanthropists, NGOs and other stakeholders are required to address the alarming rate of unemployment in the country".
Queen Jaja, said that with the Federal and State Government's several empowerment programs, more opportunities had been created for the youths who are willing and ready to become self-employed, rather than taking to crime and other unholy means of survival, decrying the practice of using youths by some wealthy individuals to amass wealth, build houses, ride exotic cars and engage in other unproductive acts, which she regards as misplaced priorities.
In her words, "touching the lives of the less privileged, creating jobs through empowerment in various forms and sponsoring unemployed youths to make them self-reliant are legacies for which they will be forever remembered".
She pleaded with well-meaning Nigerians to rise up and pay attention to the worrisome unemployment challenges nationwide, appealing for collaboration by all stakeholders to mitigate the unemployment rate among youths.
Also speaking at the event, President of the group, Ama-Opu-Orubo Felicia Stephen Pepple, appealed to government at all levels to include youths and the less privileged in the society in their policies and programs in order to quell the upheavals beclouding the nation, adding, "this is the time the attention of our leaders at all levels are needed to address the escalating feud in Nigeria which is borne out of unemployment of the youths, as well as their empowerment. Greed and avarice are the twin relations of mal-administration and fracas hovering in and around Nigeria of recent".
She further admonished politicians to shun the habit of using Nigerian youths during elections to cause mayhem in the country and later abandon them, noting that, "a hungry man is an angry man." The youths she insists, should be encouraged by way of empowering them with scholarships, grants and other necessities of life for them to turn away from social ills, such as; rape, armed robbery, kidnapping, killings, drug abuse and drunkenness among others.
Pepple used the opportunity to advise the youths especially the recipients of the empowerment largesse to utilize them for their good, instead of using it for other purposes irrelevant to the society.
Meanwhile, Ama-Opu-Orubo Felicia Pepple, has asked the National Assembly to expedite action in implementing the violence against person prohibition bill while calling for twenty years jail term for anyone guilty of raping a girl less than fourteen years.
The group leader also called on the Federal Government to quickly give legal backing to the law so that offenders would not go unpunished, adding that the problem of Nigeria is not in law making but implementation.
She, however, said that the current laws which seek to protect the right of citizens in cases of this nature do not go far enough, adding that the punishments provided by existing laws was inadequate in light of present realities.
Pepple, therefore, implored the Federal Government to show concern on the plight of sexually abused people in the country. She stressed that it is imperative to establish a commission to handle the issue of rape properly and suggested that officers that would man the commission should be experts from relevant disciplines.
By: Bethel Toby & Patience Mecha

NAWOJ Seeks End To Sexual Harassment Of Members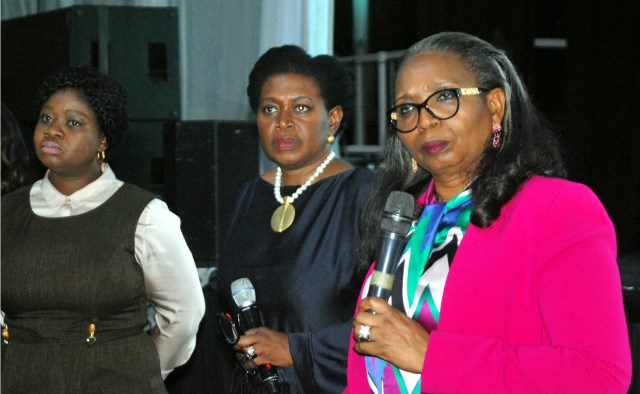 Female journalists in Nigeria have been advised to report all forms of sexual harassment meted against them in the course of discharging their duties.
Speaking during a two-day training programme organised by the Nigeria Association of Women Journalists in collaboration with the Norwejian Union of Journalists (NORSK), one of the facilitators on "Combating Sexual Harassment In Work Place and Safety In Field", Mrs Rafat Salami, said there was need for media houses to have a sexual harassment policy in their offices as well as ensuring that it is listed as misconduct.
Salami noted that the reason while we have unions is to be able to fight for the rights of workers, especially when female journalists are being harassed in their places of work. She warned women against raising false accusation against men on rape as they stand the risk to be arrested and prosecuted.
Also speaking, the Permanent Secretary, Ministry of Information and Communication, Pastor Paulinus Nsirim, stated that female journalists have a critical role in setting agenda as concerning gender inequality.
Nsirim stated further that NAWOJ does not have statistics of work done so far, adding that while they celebrate their last 30th anniversary they ought to have shown statistics of work done on advocacies and achievements recorded so far.
He charged NAWOJ to celebrate leaders who fought for the rights of women, citing the Rivers State Governor, Chief Nyesom Wike, as a case study. Nsirim further charged female journalists to look towards the incidences of sexual harassment on female journalists with a view to developing database, so that registered journalists can easily be accessed at anytime in case of molestation.
Also speaking, the Permanent Secretary, Ministry of Women Affairs, Mrs Atosemi Teetito, described the theme of the training as apt and timely, adding that the Ministry of Women Affairs is so passionate about discrimination against women and girls.
The Permanent Secretary, who was represented by a director in the ministry, Dr Carmelita Agbonbere, noted that last Monday marked the beginning of 16 days of activism against gender-based violence, she stressed that it is an international campaign to challenge violence against women and girls.
Teetito called for global action to increase awareness on gender-based violence and sexual harassment on female journalists within workplaces, adding that such acts must stop. She urged female journalists to stand firm and maintain their dignity no matter the cost.
In their separate presentations, the facilitator on Gender Equity And Safety, Mainstreaming, Making Your Gender Analysis, Mrs Veronica Ogbole, revealed that the Nigeria Sexual Offender Register has been launched yesterday by the Vice President, Yemi Osinbanjo so all sexual harrassment issues can be reported.
Ogbole commended the VP and Federal Ministry of Women Affairs for taking that bold step in launching the offenders register, adding that offenders have been getting away because they know that they are not being reported or prosecuted.
She urged that victims take full advantage of the development, while calling on the ministry to ensure full implementation.
Earlier in her welcome address, the Chairman, Rivers State Chapter of Nigeria Association of Women Journalists (NAWOJ), Mrs Lilian Ogabu-Okonkwo, had advised female journalists in the state to train themselves so they can improve, build themselves to have an edge over the men. She stated that only female journalists can report issues of sexual harassment and all forms of molestation better than others.
Meanwhile, Chairman of the occasion, Mr Chidi Okoro, had said that gender equity leads to peace in some parts of Africa, he regretted that in Nigeria, positions are still dominated by men.
By: Susan Serekara-Nwikhana