Lawmaker Wants Quality Health Centres In LGAs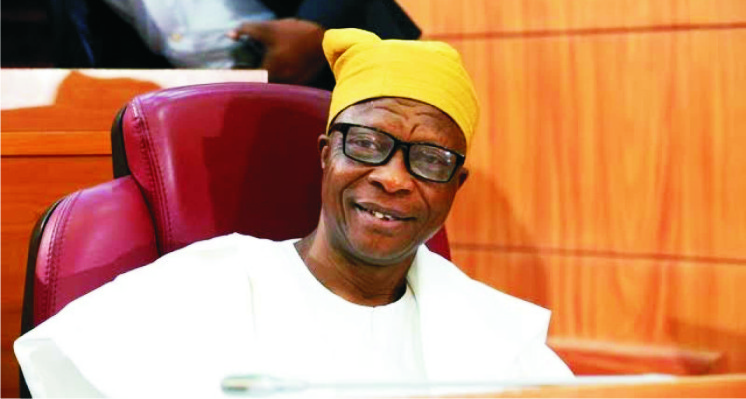 A Lagos lawmaker, Mr Bisi Yusuff, last Monday, urged the federal and state governments to provide quality primary healthcare centres (PHCs) for local governments in the country to address the health challenges of the people.
Yusuff, a third-term lawmaker, representing Alimosho Constituency I in the state House of Assembly, made the plea at the grand finale of the seventh edition of free health mission by his foundation "Prince Hope Turns to Reality Foundation".
The lawmaker, who noted that the annual outreach was to mark his birthday, added that with the number of patients who besieged the six venues of the health mission in Alimosho council area, there was a lot to be done in the area of primary healthcare.
He said that the gesture was geared towards creating a system that would continually support the most vulnerable in the society, increase access to quality healthcare, better education and improved social wellbeing.
"We have three levels of government, and the primary healthcare centres (PHCs) belong to the local governments, hence the need to empower the government at the grassroots to provide quality primary healthcare for the people", he said.
"They should focus on this seriously. As a former local government chairman, I established many PHCs and today, three of them have turned to semi-general hospitals.
"This is what we are talking about. They (government at the grassroots) should spend part of their resources on this," he said.
According to him, the mission has been able to attend to over 300 surgical operations, while the target is about 500, with 25 doctors and surgeons on ground.
Yusuff added: "All praises and adoration go to the Almighty. I was marvelled with the success of this year's edition.
"People came in multitude from far and near, which shows that we have a long way to go in healthcare in Nigeria. I give the doctors credit for what they have done for me.
"About three people came with hunchbacks that were as big as calabash and they were removed. One of them had had his own hunchback for over 35 years. It was a perfect job."
He said that the mission, which lasted for five days, began from Ipaja-Ayobo Local Council Development Area (LCDA), the permanent venue for all surgeries, and later extended to other LCDAs in Alimosho constituency.
The lawmaker said that the health mission covered hernia, ganglion, lumpectomy, keloid and other operations, while free eye screening and eye glasses were provided to those having eye challenges.
According to him, the mission also covers checking of blood pressure, treatment of malaria, HIV, Hepatitis and inoculation, among others, adding that more than 30,000 people have so far been attended to.
He challenged health professionals to find cure for some rampant diseases, adding "we should know the root cause of diseases like hernia, keloid and others.
"We must have research centres to know the causes of these diseases. I challenge the professors of medicine and medical experts to look into this," he said.
An 11-year-old beneficiary of hernia surgery, Isaiah Ibiyeye, who came from Ojo constituency, told newsmen that the lawmaker had successfully borne the burden of his parents through the free health mission.
Ibiyeye, a Basic Five student, who prayed for the lawmaker, urged him to continue with his good work for the less-privileged.
The mother of young Ibiyeye, Mrs Adeola Ibiyeye, who noted that the lawmaker had carried a burden of more than N40, 000 for her family, urged other politicians to always remember the masses.
Also speaking, Mr Kamarudeen Tijani, a beneficiary of Lipoma surgery, said that he had been suffering from the ailment since 1996, urging the lawmaker to continue to help the vulnerable.
NPC Wants Increased Support For Women, Girls' Bodily Autonomy
The Executive Chairman, National Population Commission (NPC), Alhaji Isa Kwarra, has called for increased support for women and girls' bodily autonomy.
Kwarra made the call at a news conference on the State of the World Population (SWOP) with the theme "My body is my own: Claiming the Right to Autonomy and Self Determination" in Abuja, last Monday.
The NPC chairman emphasised the need for women and girls to make choices about their bodies, including when to marry.
He said "denying women and girls right of bodily autonomy translates to denying them rights to choices that shape their existence.
"Women and girls should have right to decide when to start having children, how to space the births of the children, decide on the number of children they wish to have."
Kwarra, who described women's equitable access to healthcare services without fear or violence as inalienable rights of women, condemned coercion or the practice of having someone else to decide for them.
He frowned at the practice of allowing women and girls face constraints in exercising their rights from birth to opportunities of taking decisions that should shape their lives and future.
He emphasised the importance of education for women and girls, noting that investing in girls' education was the most effective way of generating significant economic return and progress of nations.
He reiterated the need for upholding bodily autonomy for women and girls to enhance Nigeria's prospects to achieving Sustainable Development Goals (SDGs).
The Chairman, House of Representatives Committee on Population, Mr Lawal Idris, commended the National Population Commission (NPC) and the UN Population Fund (UNFPA) for timely launch of SWOP.
Idris promised to continue to work in synergy with both the population commission and the UNFPA toward giving women and girls access to Sexual and Reproductive Health Rights (SRHS) essential for attaining Demographic Dividends (DD).
According to him, girl child education is paramount in the development of the country.
The Executive Director, Education as Vaccine (EVA), Ms Buky Williams, stressed the need for women and girls to access education, noting that the measure would assist in ending child marriage and its consequences.
Williams regretted that child marriage and women's denial of access to Sexual and Reproductive Health Rights was responsible for high maternal mortality.
80% Of People Use Herbal Medicine – Expert
The World Health Organisation (WHO) has estimated that about 80% of the world's population use some form of herbal medicine.
Prof Stephen Offor , made this revelation while delivering his inaugural lecture recently, at the auditorium of the Ignatius Ajuru University of Education in Rivers State.
According to him, research has proved that over 120 most commonly prescribed modern drugs, and one-fourth of all conventional pharmaceuticals, use at least one active ingredient derived from plants.
His lecture titled 'The Grader of Plants, Our Life and Our Environment", also disclosed that 25 percent of global prescription drugs are directly derived from plants.
Prof Offor stated further that plants produce a diverse range of bioactive molecules and secondary metabolites which are very rich resources of different types of medicine.
He noted that roughly 50,000 species of higher plants have been used medicinally, thereby affirming the global increase in the use of medicinal plants.
He explained that plants like turmeric, ginger, garlic, bitter leaf, and guava leaf are good botanical detoxitiers, immine boosters, and natural antioxidants.
He also posited that natural plant-based food preservations are generally cheaper, biologically and environmentally safer when compared to chemical preservatives.
Describing the plant as good source of renewable bio-duel like bioethanol and biodiesel, he noted that they do not emit harmful gases and are less expensive.
He noted that if such energy resources are optimally maximized, they could be used for cooking, boiling water, and heating homes and work places.
While attributing the dramatic rise in green-house gases, drought, and global warming to increased deforestation and fossil fuel combustion, he hinted that 707 out of 4,600 plant species are endangened due to environmental degradation and climate change.
Prof Offor further explained that trees and other vegetation directly remove many gaseons and particulate pollutants from the air, reduces greenhouse effect, and serve as erosion and flood control, while also improving air and water quality.
He added that a single large tree could transpire up to 100 gallons of water a day, thereby producing a cooling effect similar to five average air conditioners running for twenty hours.
Another way plants could be useful to man is in eco-remediation, a process that involves the use of locally adapted plant species to clean-up heavy metals and petroleum hydrocarbons from contaminated soil and ground water.
In his submission, he called for the establishment of functional plant research centres in all the states of the federation, plant conservation, and proper environmental education.
He also made case for establishment of a herbarium and botanical garden in the university, while also urging got to find conservation programmed.
Meanwhile, the Vice Chancellor, Prof Ojo-Mekuri Ndimele, in his remarks, said the lecture was a validation that plant conservation would enhance quality life for human kind.
The VC noted that research is the foundation of academics, adding that his administration is building a standard centre for research and development as he extolled the inaugural lecturer for his competence.
By: Sogbeba Dokubo
Health Benefits Of Eating Apples
Apples are quite expensive in the African Clime. Except
in South Africa where its grown commercially, in other parts apple come in varieties.
Naturally apple is one of natures richest fruits in terms of nutrient and usage. Its best consumed raw so one can enjoy the huge antioxidants and other flavonoids that helps build the body. Below are its many uses:
Tackles High blood Pressure:
Savor a juicy apple and you may help keep your ticker healthy in the process. "Studies have linked apple consumption with reduced risk of cardiovascular disease, which may be related to the cholesterol-lowering benefits of the soluble fiber found in apples," say researchers.
Soluble fiber dissolves in water to form a gellike material, according to the Mayo Clinic. According to the University of Illinois, soluble fiber helps prevent cholesterol buildup in the lining of blood vessel walls, therefore lowering the incidence of atherosclerosis (restricted blood flow in the arteries due to plaque buildup) and heart disease. It can also help lower blood pressure levels. A study found that a higher intake of soluble fiber was associated with a decreased cardiovascular disease risk.
Research shows that eating apples (or pears) regularly was associated with a 52 percent lower stroke risk. Furthermore, a study published in February 2020 in The American Journal of Clinical Nutrition found that eating two apples a day helped study participants lower both their LDL ("bad") cholesterol and triglyceride levels.
Eating Foods With Fiber, Including Apples, Can Aid Digestion
You've likely heard that fiber is good for digestion — and what you've heard is true! According to Harvard Health Publishing, both types of fiber (soluble and insoluble, which means it can't be absorbed in water) are important for digestion. And you're in luck — apples have both types, according to the University of Illinois.
Soluble fiber helps slow down digestion, allowing you to feel full, and also slows the digestion of glucose, which helps control your blood sugar. Meanwhile, insoluble fiber can help move food through your system and aid with constipation and regularity, per Harvard.
Just be sure to eat the apple skin, which contains much of the apple's insoluble fiber, according to the University of Illinois in the USA.
Apples Can Support a Healthy Immune System
Who doesn't want a stronger immune system going into autumn? Apples might be an important tool in your immune-supporting tool kit.
According to research in animals, a diet filled with soluble fiber helped convert immune cells that were pro-inflammatory into anti-inflammatory and immune-supporting ones. Another animal study, published in May 2018 in the journal Immunity, found that a diet high in dietary fiber protected mice against the flu. Whether those effects would be seen in humans is unclear until there are more studies.
Still, there's reason to believe that apples may bolster immunity, in part because they contain immune-boosting vitamin C. A review published in November 2017 in the journal Nutrients found that vitamin C plays many roles in helping the immune system function, such as by strengthening the epithelial (a type of tissue) barrier against pathogens and guarding against environmental oxidative stress, such as pollution to radiation, according to research.
It's Diabetic-Friendly Fruit
If you have type 2 diabetes, consider adding apples to your diet. Sure, they're a fruit, but it's a common misconception that people with diabetes can't eat fruit.
In this case, apples' soluble fiber can help slow the absorption of sugar into the bloodstream and may improve blood sugar levels, the Mayo Clinic notes. Plus, per Mayo, a healthy diet that includes insoluble fiber can lower your odds of developing type 2 diabetes in the first place.
Furthermore, a study of people with type 2 diabetes published in August 2016 in Experimental and Therapeutic Medicine found that regularly consuming soluble fiber helped reduce insulin resistance and improved blood sugar and triglyceride levels.
The Antioxidants in Apples May Play a Role in Cancer Prevention
While there's no one surefire way to prevent cancer, apples could help play a role. "Apples may reduce the risk of certain cancers, which researchers speculate is related to the antioxidants found in apples," says Anzlovar. Research suggests that apples have a very high level of antioxidants, and in laboratory studies, these antioxidants have been shown to limit cancer cell growth.
A review published in October 2016 in Public Health Nutrition found that eating apples regularly is associated with a reduced risk of certain cancers, including colorectal, oral cavity, esophageal, and breast cancers.
The fiber in apples may provide cancer-preventing perks. A study published in March 2016 in the journal Pediatrics found that women who ate more high-fiber foods during adolescence and young adulthood (especially lots of fruits and vegetables) had a lower breast cancer risk later in life.
And another study, published in January 2019 in the journal The Lancet, found that a diet high in dietary fiber could protect against colorectal cancer and breast cancer, as well as type 2 diabetes and cardiovascular disease.
6. Apples Can Support Healthy Weight Loss
A diet rich in fruit (and vegetables) can help you maintain a healthy weight — or shed pounds — according to the Centers for Disease Control and Prevention.
Because apples are filled with dietary fiber, they are high on this list. "Fiber slows digestion and the rise of blood sugar, keeping you satiated and less likely to overeat," says Levinson.
According to that study in The Lancet, people who ate the most fiber had a significantly lower body weight. Research shows that overweight women who ate three apples a day lost 1.22 kg (2.7 pounds) after 12 weeks.
At only 95 calories for a medium-sized apple, this fruit is one you'll want to keep on hand when sweet cravings strike.
Apples May Help Prevent Alzheimer's Disease
Time to start eating more apples and other flavonoid-rich foods like berries and tea. Research published in August 2020 in The American Journal of Clinical Nutrition found that adults age 50 and older who included only a small amount of flavonoid-rich foods like berries, apples, and tea in their diet were a whopping 2 to 4 times more likely to develop Alzheimer's disease and related types of dementia over 20 years compared with people who ate more flavonoid-rich foods.
On top of that, a review published in January 2020 in the journal Biomolecules found that quercetin, a flavonoid found in apples, protects neurons from oxidative damage and contains other anti-Alzheimer's disease properties, too.
By Kevin Nengia