Tackling Sex-For-Gold Enterprises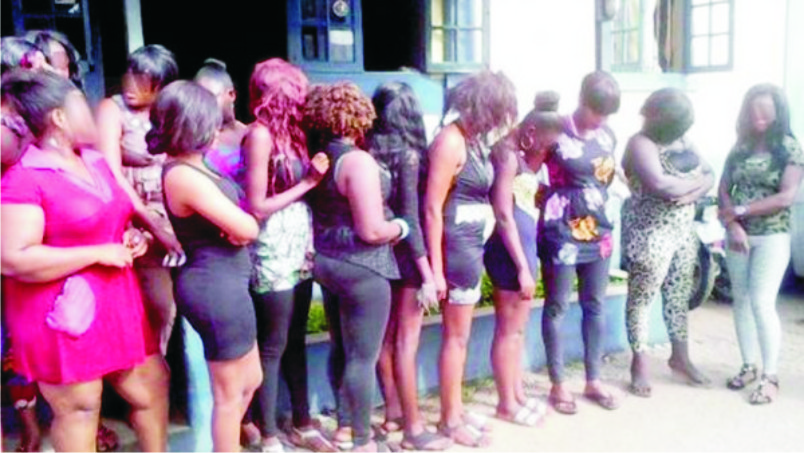 There were startling revelations recently on how Nigerian girls were used as sex slaves in some West African countries. The Director-General of National Agency for the Prohibition of Trafficking in Persons (NAPTIP), Julie Okah-Donli, let the cat out of the bag when she said that over 20,000 Nigerian girls were in Mali working as sex slaves.
Nigerian Ambassador to Burkina Faso, Ramatu Ahmed, re-echoed that over 10,000 Nigerian girls were working as sex slaves in that country.
Those who commented on the issue decried the resurgence of slavery, that was abolished in 1833, via the Slavery Abolition Act, in another guise and called for urgent measures to tackle this menace headlong.
Some time last year, Okah-Donli disclosed that over 20,000 Nigerian girls were in Mali working as sex slaves.
Addressing the ECOWAS Parliament, she said that the girls were sold for between N210,000 and N240,000 and expected to pay back about N1.2million through sex slaving before regaining their freedom.
She told the parliament. "Some of the girls arrived in their school uniforms, meaning that they were kidnapped on their way to or from school.
"There are more than one million Nigerians residing in Mali; about 20,000 of these Nigerians are girls believed to be victims of trafficking and the number increases by 50 per day.
"Many victims are deceived to leave their livelihoods in Nigeria for greener pastures in Mali.
"Some of the victims were abducted from Nigeria, including those that arrived in their school uniforms," she said.
Okah-Donli who led a fact-finding mission to Mali disclosed that though the girls were forced into sex slavery; after regaining their freedom, they decided to become "madams of their own to deal in new girls.''
She said that some of the girls were unwilling to return to Nigeria as they were now used to the "sex for gold trade.''
Okah-Donli said that many of the victims who were rescued in 2011 and some others in 2017 came back to Nigeria, only to return with more girls.
"The traffic madams are well known to the Nigerian community, but they are afraid to report them because of the complicity of the Malian security agencies, especially the gendarmerie that assist the traffickers to carry out their activities.
"Nigerian victims are way-billed from a motor-park in Cotonou, dropped at Sikasso near the border with Burkina Faso, from where they are picked by Malian gendarmerie for delivery to their madams.
"The Malian authorities collect taxes from the victims on a weekly basis and sell condoms and other medications compulsorily to their victims every month.
"Malian women are already grumbling that Nigerian girls are taking their men and there are fears of imminent xenophobic attacks.
"Three Nigerian girls were killed between November and December 2018,'' Okah-Donli said.
Ahmed, in her testimony said that the sex trade business has become a source of serious concern to the Nigerian Embassy in Burkina Faso.
She said that the girls were deceived with job opportunities only to arrive and discover that they must go through the horror of sex slaving.
"The spate of human trafficking here in Burkina Faso is a big concern to the embassy because at present, we have nothing less than 10,000 Nigerian girls who have been trafficked into Burkina Faso as commercial sex workers.
Ahmed said that the embassy was partnering the International Organisation on Migration (IOM) office in Ouagadougou to assist in the voluntary repatriation of victims of trafficking.
She said that: "200 girls have been repatriated to Nigeria  by the embassy,  this is apart from the ones that ran to the churches , some to other Civil Society Organisations(CSOs) and the International Organisations on Migration (IOM).''
Beyond repatriation, Ahmed insists that Nigerian parents must play their role by closely monitoring their children, so that they are not swayed into accepting deceitful promises of greener pastures abroad.
For the anti-trafficking agency, a multi-stakeholders approach has been adopted with a recent partnership with the United Nations Office on Drugs and Crime (UNODC) to establish a taskforce to fight human trafficking.
To check trafficking of girls for sex slavery, Okah-Donli recommended among other things, that Nigeria should sign a Memorandum of Understanding ( MoU) with Mali, Burkina Faso, Benin Republic, Guinea and Senegal.
"There is need for comprehensive sensitisation of rescued victims before repatriation and a comprehensive blueprint worked out for tracing, empowerment and rehabilitation of victims," Okah-Donli said.
The NAPTIP boss also suggested that the ECOWAS Protocol on Free Movement of Persons and Goods should be properly implemented such that other nationals are not harassed in other ECOWAS countries.
Nwoko writes for News Agency of Nigeria.
Ifeanyi Nwoko

Of Wives And Jobless Husbands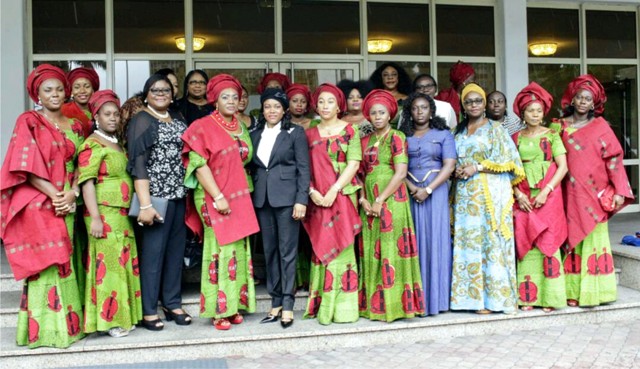 Men are naturally created to be superior and authoritative over women. This nature permeates virtually every aspect of life with marriage inclusive.
As the 'higher being', the man and ofcourse, the husband, shoulders the responsibilities of his home leaving the woman (wife) with that of conjugal, child- rearing and home chores.
However, as the time progresses, society gets tougher denying the man of his natural image or duties. It takes empowerment or employment to man the affairs of the family and where this is absent even for the married man, life must continue amidst its rigors and challenges.
Around the 80's, this situation was not 50 popular until recently when it assumed an unprecedented dimension leaving in its trail, the tales of bitterness, sorrow, malice, rancour and chaos in most homes.
As natural and common as it is that the man is 'incharge' of his home, a closer view reveals that most married men especially of the below average class are either idle, near jobless or even both.
This situation naturally increases the job description of the wife in a geometric progression. This is one of the reasons for which wives with babies of less than two months old are sometimes seen under the hot scorching sun or in the thundering rain struggling to sell off their tray-pepper, salt, kerosene or even plantain just to ensure that the family feed for the day.
Ordinarily, love conquers it all but when the reverse is the case, there is no limit to the level of havoc or misfortune this can cause the home. It is worse when pride is present in the life of the couple and where this abound in marriage, heaven alone can settle the scores.
For the man who clings unto his natural self, the impact is more destructive to the marriage.
As much as he feels that whatever he does for the up-keep of the home (things that would be done even when he has the job) is as a result of his incapacitated situation, some with little or no conscience become bullies, even cheats. Putting on a unique carriage that betrays their appearances outside their homes, they go as far as settling with sugar mummies (popularly known as Sisi Eko), spending on other ladies yet leaving their wives and children vulnerable to hard life. Others, however, who are humane and humble contribute their best efforts to seeing that the family scales through the period – a plus to the love and development of the family.
The women too have their own package. The woman does not naturally seem fulfilled when she is spending her own money. She rather prefers that whether she has or not, the man spends on her and when the expectation is less, she resorts to ill-exhibitions.
Imagine this scenario: a wife fends for the family always leaving her husband and kids at home. Rather than having someone (even a maid) help out in some of the house chores, she expects her husband to perform the duties to keep himself busy. Each day she returns home and finds fault in her husband's performed duties, scolds and calls him all sorts of ill-names.
One evening, one of the children, a boy of about four years old was pressed and calling on the father's attention to help him out, he said, "mumu daddy, I wan shit". The father still dared not touch the child because doing so would let heaven loose on the home that night.
As disgusting and annoying as this is, that was the result of the running-mouth, self-acclaimed super woman on her husband and children. All these acts ofcourse, certainly will neither help the couple nor the children who are the future homes and couples.
But, some other women are different and remain what they should be to their husbands. Though difficult to cope with such situation in today's setting where there is a high level of social and marital competition among women/wives, they have strived to letting no love lost between them and their spouses. They depend more on directives of their husbands in disbursing their earnings/salaries without grumbling.
Success is never achieved through strife. To move the family which is the extension of the society, it must be devoid of such egoistic feelings and in this case, of a Superwoman.
Gifts are different, the same with level of patience and tolerance in homes and marriages.
Faced with such situation is hard but it behoves on the woman to handle it with care and caution for the future of herself and her family.
A 'real' woman would not capitalize on the jobless condition of her husband and neglect her duties as a wife. Even in the faces of that, treat your husband as the man that he is. This will certainly attract love, respect, affection and dignity from the real husband.
Forget about complex. Rather than feeling inferior, own up to your situation and strive to go higher.
What's the point gossiping your husband with your friends. Certainly not for empathy or even sympathy because they would have nothing to offer except feeling like 'Lord' over you and leaving you to relax in the arms of your shame and complex.
Do not let the children understand the situation. As a matter of fact, for their own good in the future, make them believe that everything is coming from daddy in order to avoid their feelings of having a worthless and irresponsible daddy.
Scamp for job opportunities for him. This should however, not lead you into promiscuity as some men would like to take advantage of your situation.
Change is permanent. Depending on your views and actions, the situation may not last long.
Remember that nature cannot be cheated. That you are fending for the family does not change the natural thus, trade settle and win the race.
In marriage, it has been proven that humility and submissiveness on the part of the wife conquers it all.
By: Lady Levi Usende

Girl Guides Move To Eliminate Violence Against Women Take Campaign To Rivers Community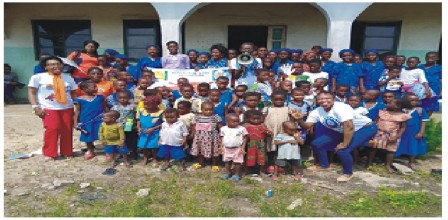 As the United Nations marks its 16 days of activism to eliminate gender-based violence, members of the Nigeria Girl Guides, Rivers State, last week undertook an advocacy visit to Rumuewhor Community in Emohua Local Government Area of Rivers State.
In interactive fora with pupils of the State School 1 and 2, and students of Odegu Senior Secondary School Rumuewhor respectively, the State Commissioner of Nigeria Girl Guides Rivers State, Barrister Daba Harry, told the audience that they were in the community to sensitize people on the need to key into the United Nations Initiative at the moment.
Explaining that the UN uses the period between November 25, through December 20, to reawken the world's consciousness towards the elimination of violence in the society, especially the ones perpetrated against women, Barrister Harry said, the mission of her organisation at the moment was basically to stop violence, increase peace, break the silence and speak out for the girls' rights.
She harped on the reality of violence in our society, understanding the nature of violence and the need to avoid it.
In her own speech, the sponsor of the visit, who doubles as the matron of Nigeria Girl Guides Rumuewhor, and member of Trefoil Guild, Barrister (Hon) Uchenda Bibian Okogbule, called on the pupils and students respectively, not to only avoid violent tendencies, but also speak out against any attempt at violating their right, especially their sexual right.
She advised that they seek the intervention of the federation of women lawyers in the state, (FIDA) should they be violated by any person any time.
Barrister Okogbule, while emphasising the importance of the visit, which she also considers her own way of giving back to the society and her community in particular, said although this may not have been the organisation's maiden visit to the community, it was their first school to school visit.
Meanwhile, the principal of Odegu Community Senior Secondary School, Mr James Anwanya, on behalf of his members of staff, had expressed satisfaction at the choice of Rumuewhor Community for the advocacy visit. He said it is an indication that Rumuewhor Community is still hopeful of better things ahead.
Mr Anwanya poured encomiums on the convener of the program, Barrister Okogbule, for carrying the community along, recapping her previous efforts at ensuring that the community is represented in the scheme of things.
Highlights of the visit included lecture on menstrual hygeine management and a lively interactive session with the students as well as offer of automatic registration of interested persons into the Nigeria Girl Guides.
It will be recalled that Girl Guides is a movement found worldwide, which was originally and still largely designed for girls and women only. This organisation was introduced in 1909.
By: Sylvia ThankGod-Amadi

Monarch's Wife Tasks NGOs, Others On Youth Employment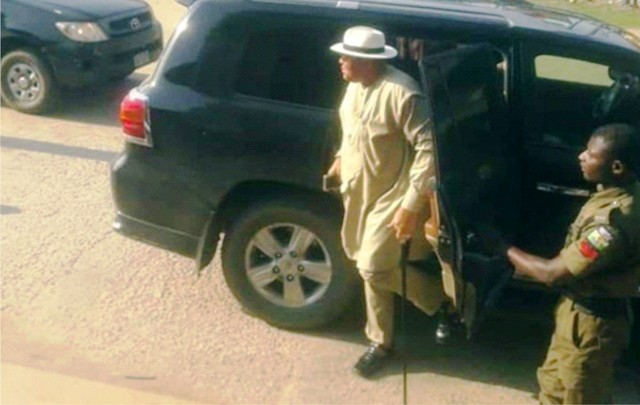 First Lady of Opobo Kingdom, Her Majesty, Queen Prudence Daneson Jaja, has called on Non-Governmental Organisations (NGOs) and the philanthropists to support Federal Government's efforts at addressing youth unemployment in Nigeria, which discourages social ills that paint the country black.
Jaja made the appeal recently while speaking at the 2019 Centralized Convention of a Non-Governmental Organization (NGO), the Opobo Women Welfare Association (OWWA), with the theme: "In time like this" held at Opobo Town, where about 150 youths were financially empowered, in addition to other gift items. She said that the beneficiaries who were youths from the eleven wards of Opobo/Nkoro Local Government Area of Rivers State were enrolled for training in various vocations having realized that government alone could not create employment for millions of Nigerian youths she enjoined them to make good use of the empowerment given to them.
According to her, "collective efforts of government, well-meaning individuals, philanthropists, NGOs and other stakeholders are required to address the alarming rate of unemployment in the country".
Queen Jaja, said that with the Federal and State Government's several empowerment programs, more opportunities had been created for the youths who are willing and ready to become self-employed, rather than taking to crime and other unholy means of survival, decrying the practice of using youths by some wealthy individuals to amass wealth, build houses, ride exotic cars and engage in other unproductive acts, which she regards as misplaced priorities.
In her words, "touching the lives of the less privileged, creating jobs through empowerment in various forms and sponsoring unemployed youths to make them self-reliant are legacies for which they will be forever remembered".
She pleaded with well-meaning Nigerians to rise up and pay attention to the worrisome unemployment challenges nationwide, appealing for collaboration by all stakeholders to mitigate the unemployment rate among youths.
Also speaking at the event, President of the group, Ama-Opu-Orubo Felicia Stephen Pepple, appealed to government at all levels to include youths and the less privileged in the society in their policies and programs in order to quell the upheavals beclouding the nation, adding, "this is the time the attention of our leaders at all levels are needed to address the escalating feud in Nigeria which is borne out of unemployment of the youths, as well as their empowerment. Greed and avarice are the twin relations of mal-administration and fracas hovering in and around Nigeria of recent".
She further admonished politicians to shun the habit of using Nigerian youths during elections to cause mayhem in the country and later abandon them, noting that, "a hungry man is an angry man." The youths she insists, should be encouraged by way of empowering them with scholarships, grants and other necessities of life for them to turn away from social ills, such as; rape, armed robbery, kidnapping, killings, drug abuse and drunkenness among others.
Pepple used the opportunity to advise the youths especially the recipients of the empowerment largesse to utilize them for their good, instead of using it for other purposes irrelevant to the society.
Meanwhile, Ama-Opu-Orubo Felicia Pepple, has asked the National Assembly to expedite action in implementing the violence against person prohibition bill while calling for twenty years jail term for anyone guilty of raping a girl less than fourteen years.
The group leader also called on the Federal Government to quickly give legal backing to the law so that offenders would not go unpunished, adding that the problem of Nigeria is not in law making but implementation.
She, however, said that the current laws which seek to protect the right of citizens in cases of this nature do not go far enough, adding that the punishments provided by existing laws was inadequate in light of present realities.
Pepple, therefore, implored the Federal Government to show concern on the plight of sexually abused people in the country. She stressed that it is imperative to establish a commission to handle the issue of rape properly and suggested that officers that would man the commission should be experts from relevant disciplines.
By: Bethel Toby & Patience Mecha