N148bn Funds For Roads: Wike Slams Buhari, APC, FG Over Deliberate Neglect Of Rivers …Says Real Madrid Football Academy Has Come To Fruition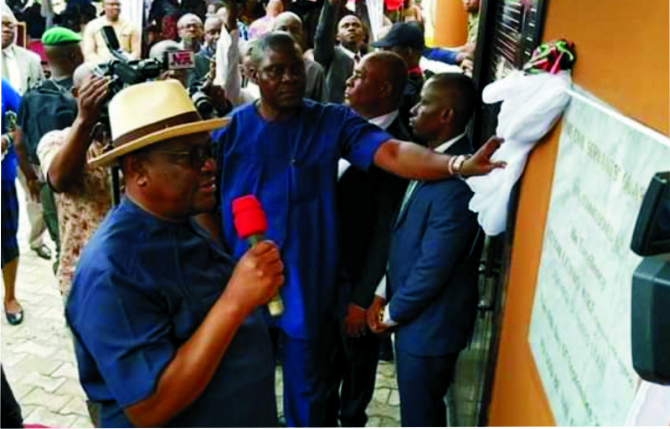 The Rivers State Governor, Chief Nyesom Wike, has berated the Federal Government for deliberately neglecting Rivers State in the recent release of N148billion for roads' construction across the country.
Wike declared that the action of the Federal Government was the most shameful act of marginalisation in a federation where Rivers State contributes to the financial sustenance of the country.
The governor said this before commissioning the new Rivers State Civil Servants' Quarters at Amassoma Street in Port Harcourt, yesterday.
He said Rivers politicians in APC should be able to plead with the Federal Government to site projects in Rivers State to expand their political relevance.
According to Wike, "The Federal Government released N148billion for the construction of roads and it did not consider one road in Rivers State. Look at the condition of the East-West Road.
"Shame on those who say they are working with the current Federal Government, but cannot protect the interest of Rivers State in that government.
"We are producing oil that finances projects in the country and the Federal Government can release N148billion for roads and Rivers State was neglected. You are working with the Federal Government and you cannot attract projects to Rivers State. Anyone who is in APC and is from Rivers State, shame on you.
"You are there; you cannot even say for my sake, help me and give me one road, so, I can go home and tell my people this is what I brought to Rivers State.
"What offence has Rivers State committed in this country that this Federal Government cannot for one day remember the state? They have our son who was their director general. If for nothing, since he was your director general, help him and do one project for his people.
"Tomorrow, you will say Rivers people should vote for you. Which vote? We won't do that. Nobody is a slave. We are not slaves. We cannot be conquered by anybody", Wike added.
Similarly, the Rivers State Governor, Chief Nyesom Wike has expressed happiness that the Real Madrid Football Academy has become a reality, saying that major international football stars will be groomed at the facility.
Addressing journalists, yesterday, after inspecting the Real Madrid Football Academy in readiness for the commissioning programme on Saturday, Wike said that all the facilities have been put in place for the successful take off of the academy.
"The administrator in charge of Africa and Asia for Real Madrid will be in Port Harcourt on Thursday night. Governor Seyi Makinde of Oyo State will be commissioning the project on Saturday.
"When we promised that we will set up a Real Madrid Football Academy that will help groom international stars in the area of football, so many people played politics and said that it was fake.
"We are happy that it has come to fruition. We have sent people to Madrid and they have been trained as instructors and coaches. We also sent the players of Banham Model Primary School, winners of Channels Television Kids Cup to Madrid for training. They will form the first set of students", he said.
The governor said the development of the Real Madrid Football Academy was a confirmation that his administration was serious with keeping promises made to Rivers people.
He said that on Saturday, Nigerians will watch live on television to excellent facility that will produce the next set of international soccer stars.
Also yesterday, the governor visited the Judges' Quarters, which would be commissioned by the administration in October, 2019.
He said: "Rivers State has provided the basic infrastructure for the Judiciary. Anybody who comes here will attest to the fact that Rivers State has provided quality infrastructure for the Judiciary to do their work as expected".
The governor later inspected the Fruit Garden Market built by his administration after the initial market was gutted by fire.
The Fruit Garden Market would be commissioned next week.
Boko Haram Killed 847 Soldiers, Buried In Borno Cemetery, Ndume Reveals …48 Doctors Abducted In Two Years, NMA Laments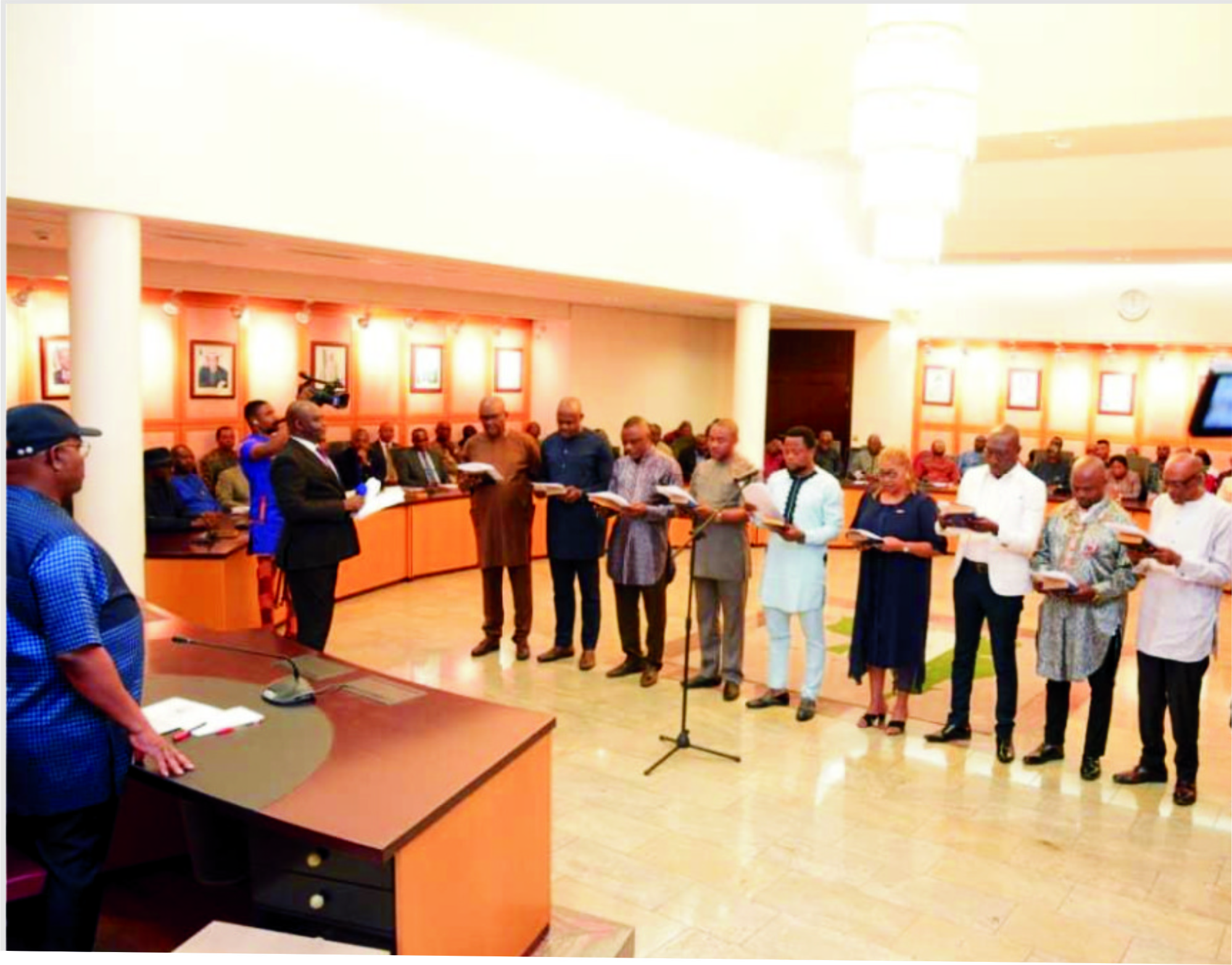 The Chairman, Senate Committee on Army, Senator Ali Ndume, said on yesterday that 847 Nigerian soldiers killed by the Boko Haram terrorists from 2013 till date were buried in the Military cemetery located in Maiduguri, the Borno State capital.
He said the figure did not include other soldiers killed by the insurgents and buried in other military cemeteries located in other parts of the North-East geopolitical zone.
Ndume, who stated this while briefing journalists in Abuja on the findings by his colleagues who recently returned from Maiduguri, however, denied reports of mass burial of soldiers killed by the terrorists.
He also said the Senate panel was already investigating allegations that some non-governmental agencies operating in the North-East were providing useful information to the Boko Haram leaders.
Ndume also dismissed claims of the existence of mass graves where soldiers killed by Boko Haram insurgents had been buried.
He said during the visit of his committee to theatre commands in Borno State, it was discovered that soldiers were under-equipped to confront the insurgents.
Ndume also decried the inadequate number of soldiers confronting insurgents.
He called on the government to recruit more men into the service to aid the fight.
However, as the Chairman, Senate Committee on Army, Senator Ali Ndume, yesterday, alleged that a total number of 847 soldiers were killed and buried in the military cemetery in Maiduguri, the Borno State capital, the Nigerian Army has challenged him to provide a proof to substantiate his statement.
Ndume had reported that 840 Nigerian soldiers were killed by Boko Haram terrorists from 2013 till date, noting that other soldiers killed by the same insurgents, and were buried in other military cemeteries are not inclusive.
But in a repost by Army's spokesman, Col Sagir Musa, the Nigerian Army quashed the allegation, and challenged Ndume to provide a proof to substantiate his statement.
Musa said, "If he says so, then, he should substantiate. What is his source? Let him provide it".
Similarly, the Nigerian Medical Association (NMA) has raised the alarm that no fewer than 48 medical doctors have been abducted across the country in the last two years.
Its National President, Dr Francis Faduyile, who said this in Akure during the association's 2019 Physicians Week, described the development as worrisome and unacceptable.
Faduyile lamented that "Some of our members that were kidnapped in some cases even died in the kidnappers' den.
"At least, two doctors have been kidnapped in two-third of the states across the country within the last two years.
"It is worthy of note that all is not well with Nigerian doctors, the kidnapping of our members in the course of discharging their duties to the Nigerian state with some still in captivity.
"Incessant harassment/assaults by patients and their relations and the unfortunate maltreatment by employers (government), ranging from poor general working environment and emoluments to irregular payment of salaries with arrears running to 12 months or more in some states.
"Our members, two in number, kidnapped in Taraba in the last six months have not been released by their abductors.
Faduyile, therefore, appealed to government at all level to be more responsive and responsible to the welfare of Nigerian physicians who are making selfless sacrifices to sustain healthcare delivery in the country amidst challenges, including incessant harassment, kidnapping in the line of duty.
"The abysmal physicians to patients ratio and rise in brain drain brought about mainly by the poor general working condition in the health sector".
He said the theme of this year's Physicians Week, "Care of the Unknown Patient" was chosen to bring to fore issues affecting Nigerians who suddenly find themselves in an unconscious state from traumatic cause to majorly road traffic accident or medical conditions.
The NMA regretted that the government "has not deemed it pertinent to accord the desired attention and value to this category of patients.
"There is a lack of commitment to the implementation of the National Health Act which provides for the care of patients in an emergency situation.
"There is no enduring policy to cater for victims of a road traffic accident which accounts for large numbers of unknown patients".
Faduyile equally lamented that there is no policy statement that clearly addresses the various components of the emergency care service for victims of gunshot injury.
The association, therefore, called for "an enduring and unambiguous policy statement that takes into consideration the critical aspects of care in an emergency.
"We advocate for the provision of defibrillators at the strategic public arena and health facilities for the prompt care of patients with a heart attack and related conditions either in the hospital setting or before taking such patients to a health care facilities for proper care", he added.
Recover Govt Property From Illegal Occupants, Wike Charges Task Force …Explains Focus On Massive Urban Renewal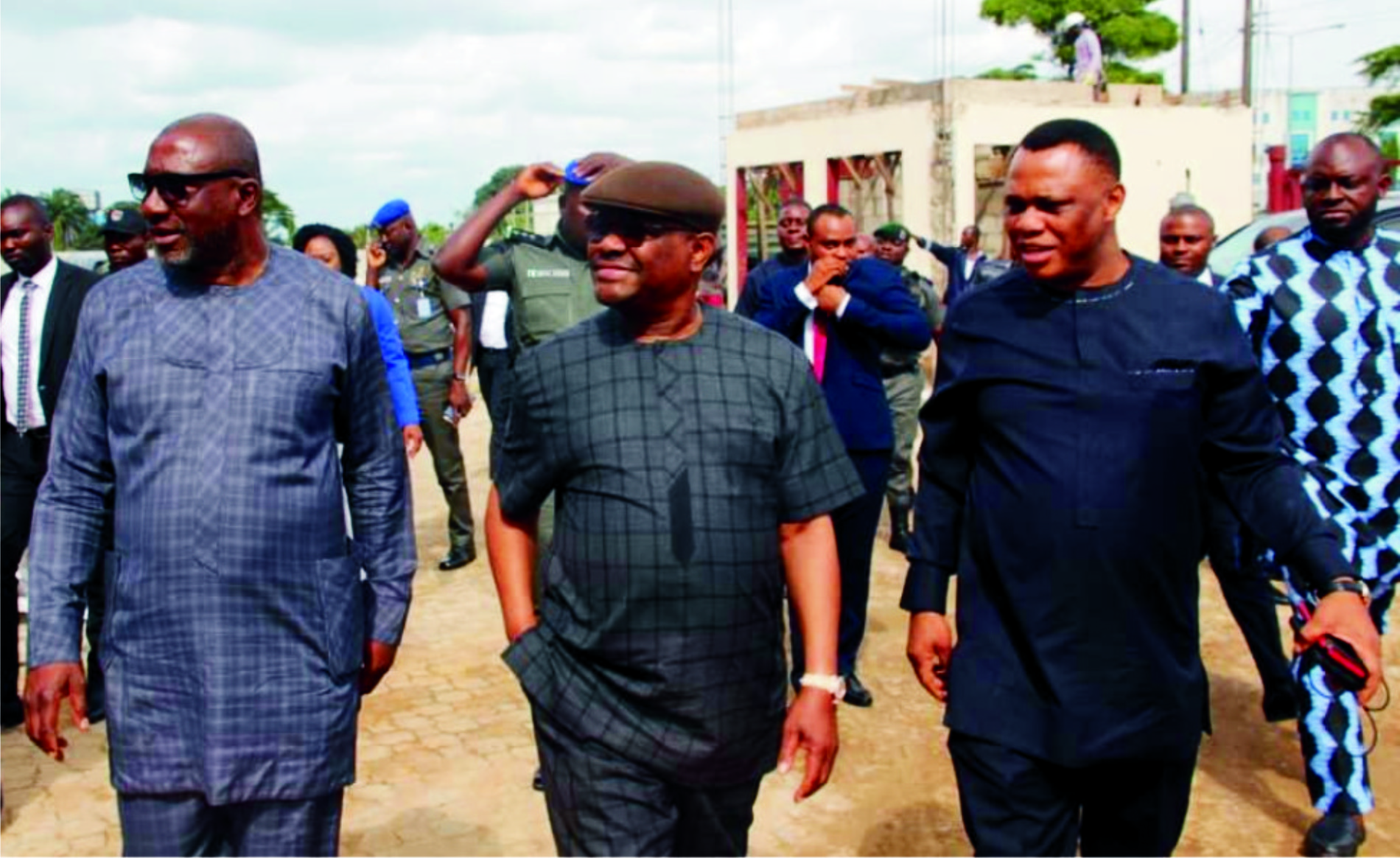 The Rivers State Governor, Chief Nyesom Wike has inaugurated the state Task Force for the Recovery of Government Properties, with a charge to members of the task force to work diligently for the state.
Inaugurating the committee in Government House, Port Harcourt, last Monday, Wike said several permanent secretaries and top civil servants have retired from service, but were still illegally occupying government quarters.
Wike noted that several attempts to ensure that they vacate government quarters, so that serving officers can reside in such houses have met with resistance from the retired senior civil servants.
"You are by this inauguration required to recover all government properties illegally occupied by some persons.
"There are many civil servants who have retired from service, but are still occupying government buildings several years after retirement. This has made it difficult for those in service to have official quarters allocated to them", he said.
The governor told members of the task force that they would face challenges while carrying out their responsibilities, and advised them to be firm.
He assured that the Rivers State Government would provide the required security and logistical support for them to carry out their functions.
Wike said that some top civil servants have gone as far as taking illegal measures to own government properties, noting that in some blocks of flats, some have gone to illegally acquire Certificates of Occupancy (CoOs).
"If you are a civil servant, you already know when you are to retire. Therefore, you have to plan for retirement.
"It is regrettable that some civil servants even fail to maintain government buildings where they reside. Do this assignment diligently. Except there is a clear court order, recover government buildings that have been illegally occupied", he directed members of the task force.
The governor also charged the task force to locate government lands that have been illegally occupied and recover same.
Responding, Chairman of the Task Force for the Recovery of Government Properties, Barrister Rufus Godwins appreciated the governor for the confidence reposed in the members to carry out the important responsibility.
Godwins, who is also the Head of Service, assured the Rivers State governor that the task force would locate, identify and recover all government properties illegally occupied.
He said where the task force meets resistance; it would recommend prosecution of the affected persons to the office of the Attorney General of Rivers State.
Meanwhile, the Rivers State Governor, Chief Nyesom Wike has explained that the ongoing urban renewal of Port Harcourt City and adjoining towns of the state capital was aimed at returning the city to its Garden City status.
Speaking after inspecting ongoing projects, last Monday, Wike said that his administration was committed to reconstructing key roads in the state capital to ease traffic congestion and boost the economy.
He said because his administration was committed to constructing roads that would last, adding that 70 per cent of the urban renewal scheme would be handled by a Nigerian-based international construction company.
"We are working hard to return Port Harcourt City to its Garden City status. That is why we have embarked on massive urban renewal across the state capital.
"Seventy per cent of the roads under construction will be handled by international construction company, Julius Berger. We are committed to delivering roads that will last for the people of the state", he said.
On one of the roads under construction near the Polo Club, Port Harcourt, Wike said that he would invite the management of Polo Club to work towards removing the shanties that deface the area.
He said if the management of Polo Club fails to act, the state government would be compelled to take tough action.
"We cannot allow the kind of shanties that I am seeing here. I have sent for the President of Port Harcourt Polo Club to come and give them notice to quit", he said.
The governor said that the Judges' Quarters have already been completed, while contractors were concluding work on the external services, especially the drainage system.
He said that the Mother and Child Hospital would be completed by the end of the year, and commended the quality of work done by the contractors.
Wike was accompanied on the project inspection by the Rivers State Chairman of PDP, Bro Felix Obuah and Senator Olaka Nwogu.
Super Eagles' Future Very Bright -Rohr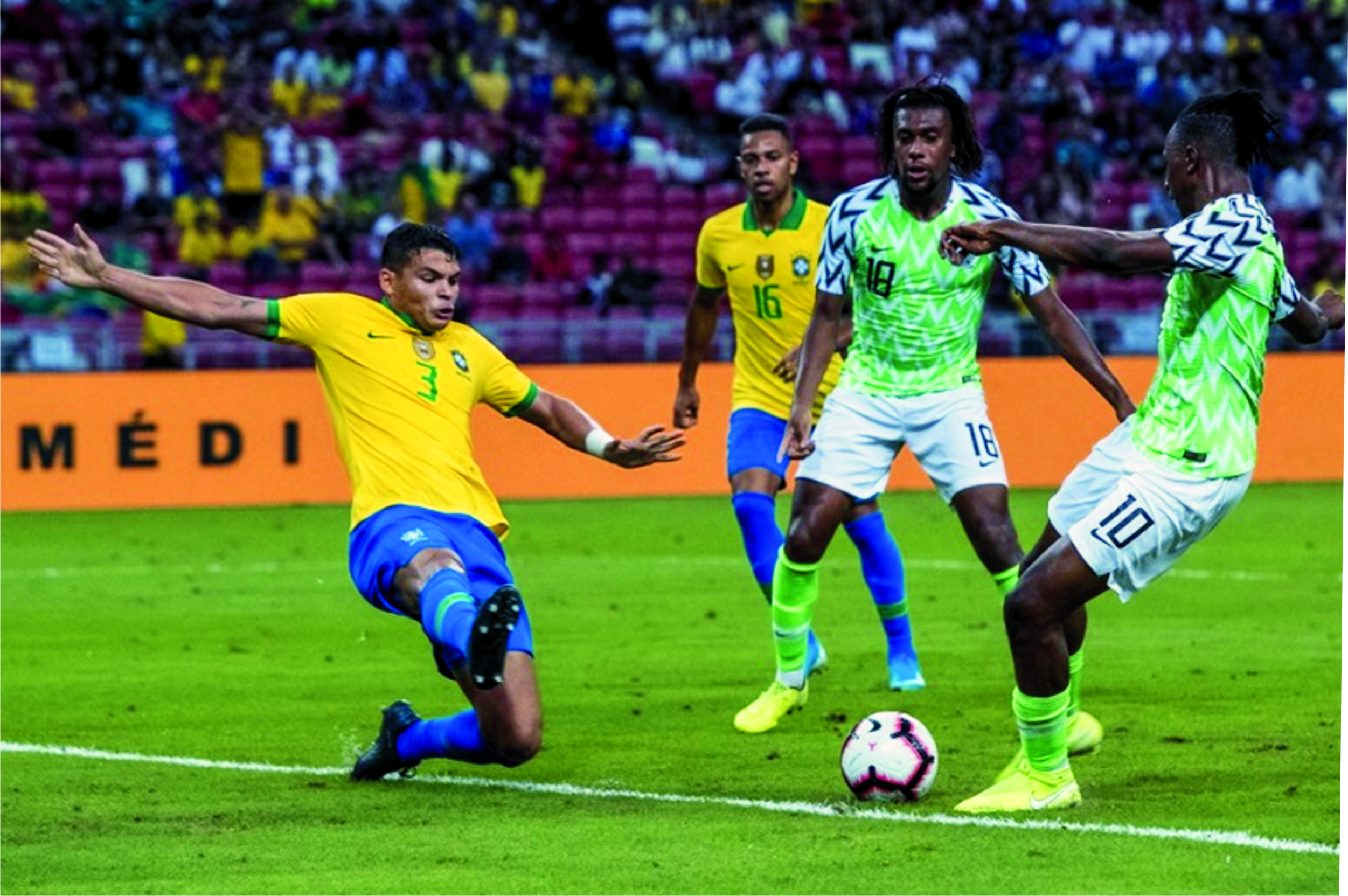 Nigeria national team coach, Gernot Rohr, believes that the Super Eagles have 'good future' after they played out a 1-1 draw against Brazil in last Sunday's international friendly in Singapore.
The 66-year-old German tactician paraded a young team against the five-time world champions, following a spate of withdrawals by some of his experienced players, including Captain Ahmed Musa.
The team, however, gave a good account of themselves with Joe Aribo, making his second appearance for the Super Eagles, scoring the opening goal in the 35th minute before Casemiro's second-half effort saved the South American champions from defeat.
The draw is the second in a row for the Brazilians after they were held by Senegal in last week's friendly outing.
Rohr is impressed with the performance of his side but admitted the three-time African champions still have to improve.
"It was tough for us as the second game because Brazil would not have wanted to leave Singapore without winning, and it feels very good to know that we can play so well against some of the biggest names in football," Rohr said in a post-match press conference.
"We didn't have our best team here, but our wingers gave Brazil a lot of problems on the counter-attack and I am proud of our players. They can have a good future.
"We can still improve in defending set-pieces. We have height, with players as tall as two metres, but we have to be better in the air.
"It is not enough just to have good size, they need to jump well with good timing."
Rohr believes African football is improving after both Nigeria and Senegal avoided defeat against the world number three.
"These results are good for African football when Senegal and Nigeria did not lose to Brazil, one of the strongest teams in the world," he added.
Nigeria will hope to secure good results when they take on Benin Republic and Lesotho in Africa Cup of Nations qualifying games in November.