Why Apollo Hospital of Delhi is the most recommended hospital?
Established in the year 1995 in Indraprashtha, Delhi; Apollo hospital finds its name among the best hospitals in India. The hospital is a part of the Apollo group of hospitals, which is India's largest healthcare chain. Apollo is the second largest hospital present in Delhi.
The hospital is built over 15 acres of land and still has 600,000 square feet of extendable built-up area. The hospital provides 695 beds with an expandable capacity of up to 1,000 beds. The hospital is well-equipped with modern technology and strives to provide the best medical assistance to its patients.
Apollo hospital, Delhi has more than 50 specializations under one roof; some of which are-
Spine
Orthopedics
Cancer
Nephrology
Urology
Bariatric surgery
Colorectal Surgery
Cancer
Gastroenterology
Catering to the multiple fields, the hospital houses a panel of more than 150 specialists who are well qualified and experienced in their respective specializations. They are adept in performing various medical procedures, a few of which are:
Cancer treatment
Knee replacement
Minimally invasive cardiac surgery
Cosmetic & Maxillofacial Surgery
Hand microsurgery
Bone marrow transplants
Hip Arthroscopy
Trans-oral robotic surgery
Optical coherence tomography
Infertility care
The hospital staff strives to ensure that the patients are catered to with utmost care and comfort. Thus, the hospital is equipped with state- of the art amenities including:
Diagnostics labs
Operation Theater
Canteens
OPD
X-ray labs
Ambulance service
Patient counseling
Growth & Development Evaluation/ Management
What makes Apollo Hospital, Delhi the most appropriate option to get treatment?
Apollo hospital in Delhi is one of the best hospitals owing to its state-of-the-art facilities and accreditations. With more than 50 specialties, experienced doctors, and the highest number of ICU beds as compared to other private hospitals; Apollo hospital is one of the best diagnostic and treatment centers in Delhi.
Apollo has the largest sleep lab in Asia as well as the largest number of dialysis units in India.
6 beds are only dedicated to the bone marrow transplant unit with strict infection control practices.
Doctors at Apollo make use of the most cutting edge medical technology such as PET-CT, PET-MR, BrainLab Navigation System, Tilting MRI, Hyperbaric Chamber, 3- Tesla MRI, 128 Slice CT Scanner, DSA lab, portable CT scanner, and Vinci robotic surgery system to provide the most advanced care for its patients.
Records:
The hospital holds the record of-
Performing first liver transplant in India in the year 1998
It is known to have one of the busiest liver and kidney transplant units in the country
The hospital is known for successfully performing a split liver transplant in two adult patients- first in Delhi and second in India.
Awards and accredits:
It was ranked 6th best private hospital in India for Cardiology by the WEEK-A C Nielsen, Best Hospital Survey 2013
It won the FICCI Healthcare Excellence Awards for its operational excellence in the year 2013. The award was given for the project 'Project Ulcers- Zero Tolerance'
It was ranked the 8th best private hospital in India for Diabetology by the WEEK-A C Nielsen, Best Hospital Survey 2013
It was ranked as the 4th best private hospital in India for Pediatrics by the WEEK-A C Nielsen, Best Hospital Survey 2013.
It was ranked the 5th best private hospital in India for Neurology Pediatrics by the WEEK-A C Nielsen, Best Hospital Survey 2013.
The hospital was JCI re-accredited for the fourth time consecutively in the year 2011.
The doctors at Indraprastha Apollo Hospital are experienced and skilled in their respective specializations. The doctors are supported by a team of skilled nurses and well-trained paramedics staff making it one of the most recommended hospitals in Delhi.

We are at the peak of the rainy season again with its accompanying ailments such as cold, catarrh, cough and fever.
As usual, many people will be battling with how to curb the challenge now worsened with the spread of Covid 19. In short, most of the symptoms of coronavirus like sneezing and coughing can be confusing and instil fear into some people this period.
The challenge is compounded by lifestyle especially for those who are used to sleeping in air-conditioned rooms and fans. These can compound our cold symptoms.
Other sources of cold in most homes and offices include tiles and poor aeration. The tiles are usually cold and exposure to them can increase cold in the body. Therefore one is advised to put on foot wears or socks since our foot contact cold.
Poorly aerated homes can cause ailment. The body needs fresh air to function properly.  As the body becomes oxygenated it is able to withstand diseases. Poorly aerated homes can lead to fungus related like catarrh, headaches and fever.
There are also some home remedies that would help you tackle common cold and cough this season. Besides treating common cold and cough effectively, these home remedies are also free from any side-effects. Below are some time tested remedies that will help you treat common cold and cough this season.
Ginger tea:
Ginger tea not only tastes good but also helps in treating common cold and cough. The tea helps in drying running and dripping nose, thus expelling phlegm from the respiratory tract. Among various health benefits of ginger, it is known to soothe common cold and speeds up the recovery process.
Mixture of lemon, cinnamon and honey:
Another effective home remedy for common cold and cough is a mixture of lemon, cinnamon and honey. This syrup effectively cures cold and cough.
How to make the syrup: In half spoon of honey, add a few drop of lemon and a pinch of cinnamon. Have this syrup twice a day to cure common cold and cough.
Drink luke-warm water often:
Drink luke-warm water frequently as it helps in fighting against common cold, cough and sore throat. Warm water reduces inflammation in the throat and helps in replenishing the fluids and infection out of the body.
Milk and turmeric:
An essential ingredient found in almost all Indian kitchens, turmeric has a strong antioxidant which helps in treating many health problems. Turmeric mixed in warm milk is a popular and effective way to fight against cold and cough. Drinking a glass of warm turmeric milk before sleeping helps in faster recovery from cold and cough.
Gargle with salt-water:
This is an age-old therapy that effectively treats cough and cold. Adding turmeric in this salt-water is also beneficial. Honey and brandy.
Brandy is known to keep your chest warm as it increases body's temperature and mixing honey in brandy helps in fighting a cough. Just a teaspoon of brandy mixed with few drops of honey improves cough and common cold. spiced tea. cloves, ginger and black pepper: While peparing your tea and this spiced tea is great for your health. These three ingredients play an important role in fighting a common cold and cough.
Honey, lime juice and warm water:
This is a perfect dose to improve digestion and for the circulation system. Adding honey to luke-lime water is the best solution in controlling common cold and cough.
Flaxseeds for cold and cough:
Flaxseeds are another effective remedy to cure common cold and cough. You can boil flaxseeds until it thickens and strain it. Add a few drops of lime juice and honey to it and consume the mixture for cold and cough relief. Ginger and salt cut ginger into small pieces and add salt to it. Chew these ginger pieces to fight cold, cough and a sore throat.
Sauté garlic:
Sauté a few garlic cloves in milk and consume this when warm. This can be a bitter concoction but has a great soothing impact for common cold and cough. Jaggery solution boil water with black pepper, cumin and jaggery to it. Consume this solution when warm and it will give you relief from chest congestion.
Carrot juice:
This uncommon home remedy is great to fight common cold and cough. It may sound strange but this interesting drink helps in relieving common cold and cough.

The Best Ways to Lose More Body Weight
More people have become more aware of their overall wellbeing. This mainly indicates that they have good health. Today's lifestyle, where we tend not to exercise because of being busy at work or taking care of our families, has made many people gain weight. The fitness industry is currently worth a lot of money because of the large number of people who are willing to exercise in gyms and at home. Gaining weight can be easy, but losing it may be challenging for many people. Here are some of the exercises and ways you can lose weight.
Walking
Walking is a normal activity that all of us do every day. What many people may not know is that walking is effective in weight loss. Most workouts that many people are told to do tend to be strenuous and require a lot of energy, but this is not the case for walking. Walking for about thirty minutes a day can help you lose a significant amount of excess body fat. Those who cannot run because of various reasons should consider walking instead. Motivation is essential in helping you walk for long distances or more briskly. You should consider forming or joining walking groups to get the much-needed motivation.
Running
Running is considered one of the best ways to lose weight fast. In a way, running works like walking but has better results. When running, your body uses a lot of energy, burning more calories in the process. If you are new to running, you should consider running a shorter distance and then gradually increase as your body progresses. You need to be careful since it is easy to get injuries or joint pains when running, especially on rough terrain.
Weight Training
Those that wish to lose weight tend to only focus on cardio exercises. Though cardio is essential, you should consider weight training. Weight training is effective in body weight loss. Consider incorporating weightlifting into your routine. Unlike most cardio exercises, you can burn more calories after the workout, and this is because weight training raises your resting metabolic rate. It is crucial when weight training to start with a weight that you are comfortable with, and once your body is more capable, you can gradually increase the weights. You should not be afraid of heavy weights because the more you lift, the stronger you become and the more muscles you build. Using products from 120kgs when weight training will bring you more results.
Cycling
Just like running, cycling is also essential if you wish to lose weight. Cycling can be done by anyone regardless of their ages or fitness level. Through this form of cardio, you can not only lose weight but also improve your heart health. Nowadays, you can cycle at a gym or from the comfort of your home by using stationary bikes.
Conclusion
Watching what you eat is also essential for weight loss. Make sure that you spend a significant time of your day exercising for you to achieve your body goals faster.

HIV Prevention: Group Wants FG To Include PrEP In NHIS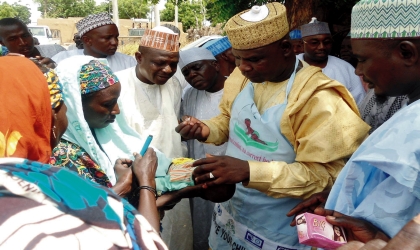 The New HIV Vaccine and Microbicides Advocacy Society (NHVMAS) yesterday urged the Federal Government to include oral Pre-exposure prophylaxis (PrEP), a HIV prevention drug, in the National Health Insurance Scheme (NHIS).
Mrs Florita Durueke, Executive Director, NHVMAS, made the call during a weekly online training for journalists on HIV prevention research.
Durueke said that including PrEP in the services of NHIS would reduce the cost and promote easy access to the drug to prevent HIV infection.
She described oral PrEP as a pill taken by an uninfected or HIV negative patient daily to prevent infection.
According to her, the drug offers protection or reduces the risk of HIV infection by 96 per cent when used consistently and correctly.
According to her, PrEP works for high risk persons such as people with multiple sexual partners, female sex workers, men who have sex with men, partners of infected patients and sexually active adolescents.
"Nigeria is still struggling with PrEP access for those at substantial risk of HIV infections.
"The main challenge with PrEP is that it is expensive; one month supply of PrEP costs about N500,000 or more.
"African countries such South Africa, Kenya, Uganda, Zimbabwe and Tanzania have thousands of persons taking PrEP because they have PrEP Access Programmes in place.
"However, in Nigeria where about 1.9 million people are living with HIV, only an estimated 400 to 600 people at high risk of infection are currently taking PrEP, " she said.
Durueke said that the situation placed Nigeria at the bottom of African countries that recommended PrEP in national guidelines.
"It is contributing to the burden of HIV in the country," she said.
Durueke urged the Federal Government to consider public financing or partnership with local and foreign donors for PrEP access.
She urged that the cost should be subsidised for those at a very high risk of HIV infection.
"If we can also push it into NHIS, the cost burden will not be much on patients.
"This will increase community demand for PrEP from people at risk of infection," she said.
Also speaking, Mr Oluwatosin Alaka, Programme Coordinator at NHVMAS, said the national roadmap on PrEP access in Nigeria was still at the draft stage as at May 2019.
"Nigeria needs to move fast to get PrEP access and roll it out to target population, so that we are not left out in the fight against HIV prevention response," he said.
The News Agency of Nigeria (NAN) reports that in 2014, the World Health Organisation (WHO) first recommended offering PrEP to only men who have sex with men.
However, based on further evidence of the effectiveness and acceptability of PrEP, in September 2015, WHO recommended that people at substantial risk of HIV infection should be offered PrEP as an additional prevention choice, as part of comprehensive prevention.