100 Days In Office: Wike Remains Nigeria's Best Performing Governor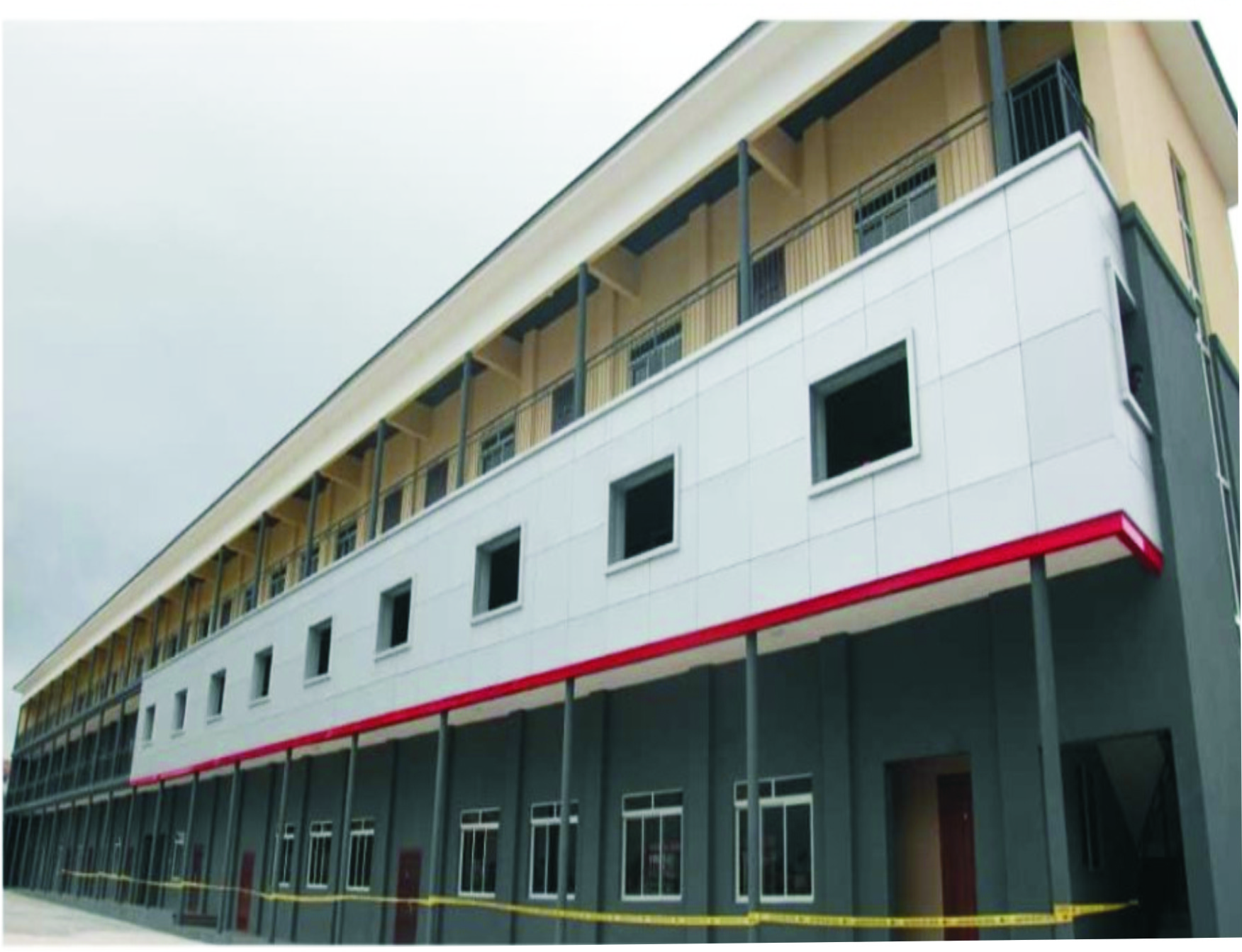 After the first 100 days of his well deserved second term, Rivers State Governor, Nyesom Ezenwo Wike has lived up to the expectations of the people of the State. By far, he remains the best performing Governor in Nigeria. This is a position he intends to maintain till the expiration of his second mandate.
Right from the beginning of his second term, Governor Wike set out with an agenda to maintain the good works of his administration. All through the key sectors, the Rivers State Governor continued to deliver the very best for Rivers people.
Taking his oath for a second term, Governor Wike outlined the key areas that his government would concentrate on to improve the living standard of the people. On his inauguration day, Governor Wike assured Rivers people that he will tackle security, environmental sanitation, job creation, further infrastructural development, quality education for the people, improve healthcare, develop agriculture and economic development.
Since May 29, 2019, Governor Wike has kept his promise to the people of Rivers State. He has continued with infrastructural development, enhanced the state's security architecture, developed a framework for environmental sanitation and set the framework for general economic development.
His commitment to the rapid growth of Rivers State is growing by the day. The results of his administration's investments are visible, even to the most critical opponents.
There are pointers that Governor Wike will continue to wax stronger in governance as he progresses in his second term. He has launched key programmes in the education, health and security sectors of the economy.
EDUCATION
One of the key achievements in the first one hundred days of Governor Wike's second term is the abolishment of all forms of fees and levies in primary and secondary schools.
The Governor explained that his administration abolished all forms of fees to encourage less privileged parents to send their children to school.
By 2020, the Rivers State Government will commence the payment of fees for the Unified Tertiary Matriculation Examination (UTME) of Joint Admission Matriculation Board (JAMB) forms for all indigenes and non-indigenes in the state.
To improve the quality of education in the state, Governor Wike established the Committee for Accreditation and Approval of Private Schools. This committee has led to private schools improving the standard of their staff and facilities.
For public schools, Governor Wike has continued to develop quality facilities in the Basic, Senior Secondary and the Tertiary Education levels. Some of the projects executed across the education sector would be inaugurated as part of the governor's first 100days.
HEALTH
The Health sector has received a major boost in Governor Wike's First 100days in his second term . The administration has commenced the process of equipping recently completed Zonal Hospitals to take quality tertiary healthcare closer to the people.
The Zonal Hospital, Degema and Zonal Hospital, Bori, have been completed and the equipping process is ongoing. The final construction works at the Mother and Child Hospital are ongoing. The equipment of the Hospital are on ground for installation.
Governor Wike abolished the payment of user-fees for persons living with HIV/AIDS to ensure that more persons access treatment at state-owned health facilities. Governor Wike said that the state government will take over the payment of the user-fees to encourage more Rivers people to seek treatment for HIV/AIDS.
In the last 100days, the Rivers State Government has enterred into a partnership with the United States Centre for Disease Control to fight the spread of HIV/AIDS.
Rivers State Governor, Nyesom Ezenwo Wike commended the United States Government for working with the State Government to reduce the prevalence of HIV/AIDS in the State.
Under this partnership, the U.S. President's Emergency Plan for AIDS Relief (PEPFAR) administered by the U.S. Center for Disease Control (CDC), U.S. Department of Defense, and U.S. Agency for International Development (USAID) is implementing an Anti-Retroviral Treatment (ART) surge program in Rivers state to identify and provide treatment to approximately 180,000 PLHIV who have not previously received such.
Governor Wike has approved the commencement of public ambulance service by the State Ministry of Health. The Ambulances would be parked at strategic locations in major towns for the purpose of responding to distress calls. The phone numbers of the ambulance service have been circulated.
ECONOMIC DEVELOPMENT
In the course of the first 100 days in office, Governor Wike has executed two key projects that will enhance the economic development of Rivers State.
The Fruit Garden Market and the Rumuwoji (Mile One) Market in the heart of Port Harcourt, are two projects that will help in empowering traders, promote safety and environmental sanitation. The Markets are set for business after Commissioning and the traders are happy.
PROMOTION OF SECURITY
Across the country, insecurity has become the order of the day. This further heightened by the failure of the Federal Government to properly fund the Federal Security agencies.
To promote security of lives and property in the state, Governor Wike launched a new security architecture, codenamed Operation Sting. This is a modern security outfit with the relevant technology, funding and logistics to tackle insecurity.
The State Government donated 116 Patrol Vans fitted with communication equipment to Operation Sting. The Administration also donated 8 armoured fitted gunboats, to tighten coastal security and protect the state's waterways from the activities of criminals; 2 Armoured Personnel Carriers for Police swift response actions; 450 hand-held mobile radios to enhance communication.
TASK FORCE ON STREET TRADING, ILLEGAL MARKETS AND MOTOR PARKS
In a bid to sanitise the streets and return Port Harcourt to its Garden City status, Governor Wike inaugurated the State Government's Task Force on Street Trading, Illegal Markets and Motor Parks.
Inaugurating the Task Force   at the Government House Port Harcourt, Governor Wike said that the Task Force is a product of law, following his assent of the Rivers State Street Trading, Illegal Markets & Motor Parks (Prohibition) Bill No. 8 of 2019 .
The operatives of the Task Force were profiled by the Department of State Services and the Police.
The Task Force has started work. The results of their work have gladdened the hearts of Rivers people, with Port Harcourt and Obio/Akpor Local Government Areas regaining their beauty. The streets are wearing a new look with sanity and security .
Closely linked to this achievement is the improvement of environmental sanitation in the state capital.
COMMISSIONING OF PROJECTS
As part of the 100days in office, Governor Wike will inaugurate some completed projects in different parts of the state. These projects emphasise the importance of accountability and service to the people.
The projects lined up for inauguration include: Bonny Street, AdakaBoro/Elliot Henry Streets, Community Secondary School, Ubima Birabi Street , Rumukwurusi Elelenwo – Akpajo road and Sea bed Model School.
Others are: Rumuwoji Market, –   Government Craft Centre, Civil Servants Quarters, Real Madrid Academy; SUG Secretariat RSU , Fruit Garden Market , Rivers State NLC Labour Secretariat and Shell Location Road, Rumuepirikom.
MORE PROJECTS CLOSE TO INAUGURATION
After the first 100days of the second term, the Wike Administration will roll out another set of major projects undergoing finishing touches. These projects include the Mother and Child Hospital, the Government Secondary School, Abua, the Zonal Hospitals in Bori, Degema and Ahoada, Judges Quarters among others.
STILL RECREATING RIVERS STATE
The first 100days of Governor Wike's second term has shown that the administration is still recreating the state. He is still in the business of building a new Rivers State.
The Governor is carefully applying scarce resources to ensure Rivers State gets value for money. It is obvious that the State is on the right path to the consolidation of development. Truly, Rivers people were right to insist of the re-election of Governor Wike.
YOUTH DEVELOPMENT: NIGERIAN AMBA-SSADOR TO SPAIN APPLAUDS GOVERNOR WIKE
The Nigerian Ambassador to Spain, Susan Aderonke Folarin has commended the Rivers State Governor Nyesom Wike for his love for children.
She also applauded the governor for investing in the development of youths and also ensuring that the talents abound them do not go to waste.
Ambassador Folarin gave the commendation when she played host to the players of Banham Model School Port Harcourt who have been sponsored by the Rivers State Government on a two-week training programme to the prestigious Real Madrid Academy, Spain.
She urged the boys to be good Ambassadors of Nigeria wherever the future takes them.
Ambassador Folarin did not forget to applaud the efforts of their sponsor and Governor of Rivers State, Nyesom Wike.
While thanking God for the privileges they've enjoyed, the boys also did not forget to thank the Rivers State Government for investing in them.
With their visit finally over, the boys then proceeded then headed back to the Real Maddrid Academy to continue with their training programme.
WE ARE DEVEL-OPING PORT HARCOURT PLEASURE PARK INTO A WORLD TOURIST ATTRACTION SAYS GOVERNOR WIKE
Rivers State Governor, Nyesom Ezenwo Wike has declared that his administration is developing the Port Harcourt Pleasure Park into a major global tourist attraction.
Addressing journalists on Friday after inspecting the Port Harcourt Pleasure Park Cinema completed by his administration, Governor Wike said that key facilities are being developed to improve the quality of experience at the Park.
He described the new Cinema Constructed within the Park as a five star facility that raises the standard of entertainment available to people in the Niger Delta.
"We have just completed a five-star cinema within the Port Harcourt Pleasure Park. This cinema is about the best in the country.
"It will offer first class entertainment to the people of the region and beyond. Instead of going to Dubai for relaxation and tourism, you come over to Port Harcourt to enjoy the pleasure of this Park ", he said.
Governor Wike said that the Rivers State Government will continue to develop new facilities that will complement existing structures within the Port Harcourt Pleasure Park.
The Governor said that the new Cinema would be thrown open to the Public after the Commissioning programme on September 11, 2019.
He said that his administration is determined to ensure that the beauty of Port Harcourt is restored and Port Harcourt made a major tourism destination in the country.
Governor Wike expressed happiness that sanity is returning to the streets of Port Harcourt, with the Task Force on Street Trading, Illegal markets and motor Parks doing a splendid job.
Governor Wike also inspected ongoing projects in GRA and other parts of Port Harcourt and Obio/Akpor Local Government Areas.
He said that the administration will roll out several projects to mark the first one hundred days of his second term.
Nwakaudu is Special Assistant to Rivers State Governor on Electronic Media.

Innovation, Creativity'll Take State Media To Productivity, Profitability -Nsirim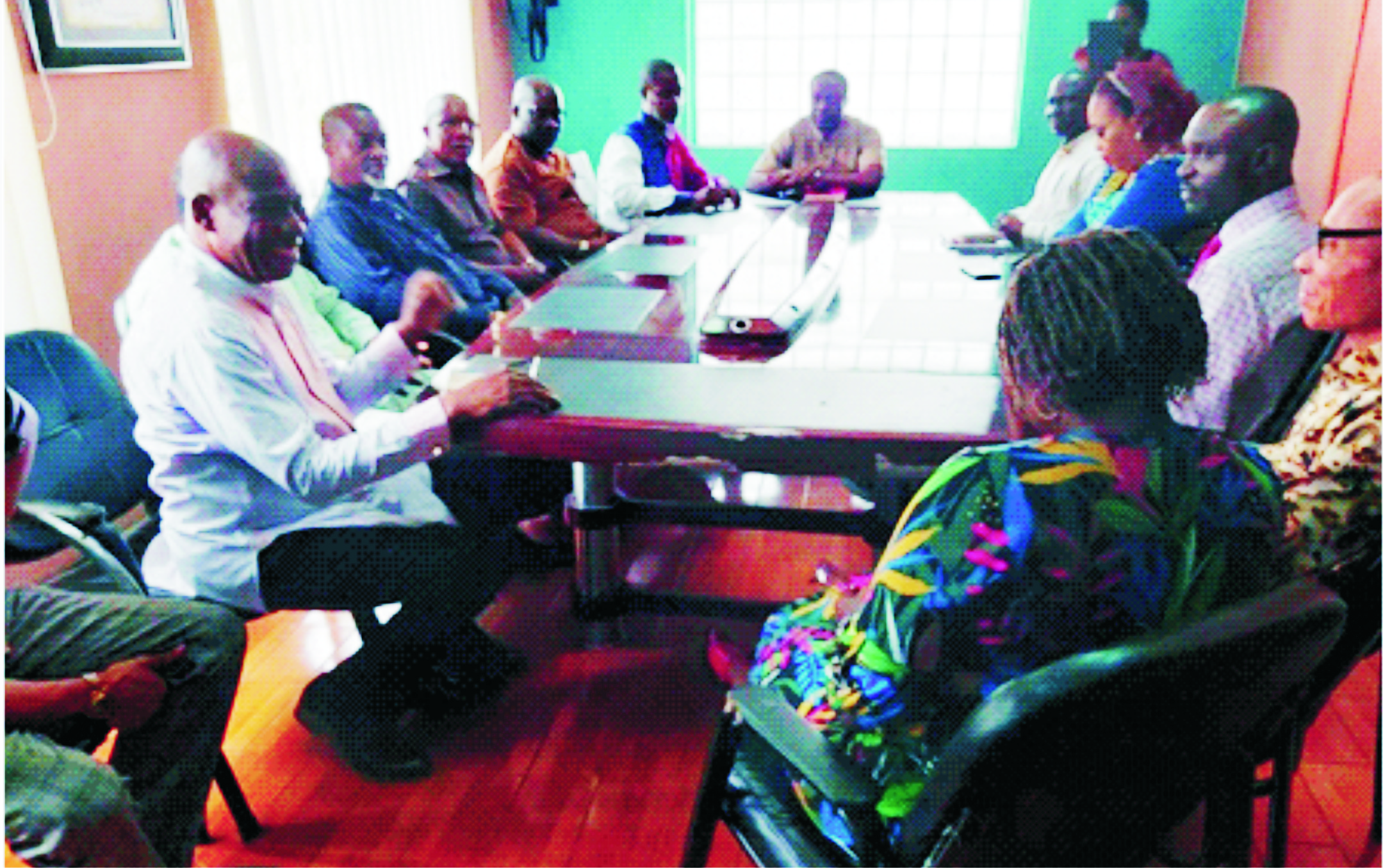 In attendance at the meeting were various directors from the ministry, RSNC, and Government Printing Press as well as Editors, and other categories of staff, while other highlights of the visit included a closed door meeting with the management of RSNC, interactive session with the Editorial Board of The Tide Newspaper, and inspection of facilities at RSNC and GPP.
At both RSBC and Garden City Radio, the commissioner called on the managements and staff to do everything possible to up their game in order to perform creditably towards achieving the NEW Development Vision of the state Governor, Chief Nyesom Wike, and restated that his appointment was a collective promotion for the entire journalists in the state, particularly those working in the government-owned media.
The commissioner stated that he shared in the pain of the state media houses as there were challenges facing government-owned media houses, but added as an optimist, he believed that "if we work together to support His Excellency, the Governor of Rivers State, Chief Nyesom Wike, things will change for good in government-owned media houses".
He emphasized that in every challenge, he sees opportunities for greater efficiency and productivity, adding that it was the reason why he has challenged both management and staff of the organizations on the need to be creative and innovative. "We need to have a re-orientation and begin to utilize what we have to make a mark. And the charge I have given to these organizations, as a commissioner, I will be demanding productivity, efficiency and improvement in news content, programming, better administration, and of course, profitability. These things are achievable, if we all galvanise our potentials. As staff of these media houses, if we galvanise our potentials, we can rewrite the story that I am seeing today", Nsirim added.
He challenged those in the government-owned media in the state to change their attitudes to work, adding that it would no longer be business as usual. "The time we are now demands enough innovation and creativity", he said, adding that "everyone must join forces to make a difference in my administration. It is not going to be business as usual. So, it is either you fit-in or you fit-out. If you don't put in your best, divinity will not smile at you, because hard work pays. Only hard-working staff will be my friends.
"We want to know the input every staff is making towards greater achievement. Programming, content, and revenue generation must improve. We are a family, and I'm expecting greater productivity in content and programmes," the commissioner emphasised.
"I am not just coming because I want to fulfill all righteousness. I want results. I want if I leave here today, from Monday, I am seeing things happening differently. I have challenged News and Current Affairs, Commercial, and even Administration, Programmes that there are creative things we can do to change the fortunes of this place, and as such, there will be no room for indolent staff. We are going to apply the rules to make sure that people stand on their toes and work. So, when my friend issues you disciplinary measures, if you are indolent, nobody should come and cry to me.
"I said this to my staff: we are human beings, we have challenges. If anybody has a challenge and as a result, he or she can't come to work, let your head of department know, but let's not take it for granted that it is government work and whether I come or not, I will be paid salary. That has to stop."
"The ultimate goal is for us to reposition RSTV, Rivers State Newspaper Corporation (RSNC), Rivers State Broadcasting Corporation (RSBC). Yes, there are challenges of equipment and transmitter, but my charge to all the state media houses is that within the limit of what we have, we need to demonstrate to the people of Rivers State that we have the potential to deliver.
"I told them at the management that from this station came out evergreen household jingles. Can't we replicate new ones? All of you standing and looking at me here are men and women with potentials, we can recreate those things. They are evergreen, 'Love Rivers State or leave her alone. Don't pull her down'. We can recreate those things," he added.
"In my work in this life I have found out that if you put in your best, reward comes, sometimes it might not come from the angle that you are expecting, but if you don't put in your best divinity will not smile at you. We are a family so am expecting greater productivity, greater revenue, greater programme content and better attitude to work beginning from tomorrow and we will set the examination."
"I want to be a commissioner for information that will leave a worthy legacy for information management in Rivers State, and if all of you looking at me want me to succeed, then you need to roll up your sleeves to work."
"So, we are in a new dawn in information management and everyone that is in the state media house must remove the cap of being a public servant, and put on the cap of professionalism and profitability. The media industry is one industry where, if you decide to be creative and innovative, you will be sought after. That is what I have seen. I am an industry person. I started as a core Reporter. When some people were looking for brown envelopes, we were looking for professional excellence. I have not seen any journalist, who says to himself: I want to make a career in journalism, and gets disappointed. So, you have a reach the platform to show people of Rivers State that you are here to announce yourself in the market," he added.
Nsirim also said that the state Governor, Chief Nyesom Wike, has come to reshape the destiny of the state for the better, adding that it was for this reason that the governor has turned the state into a huge construction site. He explained that it was also for the same reason that some detractors of the governor seek to de-market the state with a view to scaring away investors, in order to have perceived good reason for doing what they are doing.
"If in the present harsh climate that we find ourselves, the governor will start to build three flyover projects at the cost of N21billion, and they are being constructed simultaneously, and he has released 70 per cent of that amount to Julius Berger, I don't know what other proof people want. Where has any governor tried it in this country?" Nsirim said, and explained that the vision of the governor was to make the state a destination of choice, towards which the state-owned media need to up their game.
"He (Wike) is a man, who has come to reshape our destiny, make Rivers State a destination of choice. So, we must collectively use our various media organs to support the 'NEW Rivers Vision' of His Excellency. What I have come to do is to get us to have a change of mind-set, re-orientation to tell ourselves that in the present circumstance, we can still make ourselves relevant. The ultimate goal is for us to reposition Rivers State Broadcasting Corporation, in the face of challenges of equipment and transmitter.
"My charge to all the state media houses is that within the limit of what we have, we need to demonstrate to the people of Rivers State that we have the potential to deliver. In my work in this life, I have found out that if you put in your best, reward comes. Sometimes, it might not come from the angle you expect it. If you don't give, you will not get, and it translates to work. If you don't put in your best, divinity will not smile at you. Towards this end, my expectation is that the RSBC will come up with deliberately planned enlightenment programmes and jingles that will make people understand that demarketing the state is something we should reject totally", Nsirim added.
On his part, Chairman of Nigeria Union of Journalists (NUJ), Radio Rivers Chapel, Comrade Walson Ibim Asako, congratulated the commissioner on his appointment, saying that it was the dream of journalists in the state for one of their own to occupy the position. He, however, appealed to the commissioner to resolve what he termed "demarketing of the state-owned media" by most government officials who prefer to patronise other media houses, particularly privately-owned outfits, instead of the state government-owned.
Asako appealed to the commissioner for more patronage from government officials in order for government-owned media houses to be able to generate the needed revenue for the state. He promised that union leaders would ensure that staff adhered to all directives given by management, noting that defaulters would be allowed to face disciplinary measures without interference of the union leaders.
The NUJ chapel chairman regretted that it is saddening that Rivers State Government officials will ask questions such as: Is Radio Rivers working? Is The Tide functioning? Is RSTV working?, explained that to generate more revenue, government officials should stop taking adverts to private media houses, but rather patronize government-owned media houses, stressing that 95 per cent of news and adverts used by government-owned media houses were from government. He appealed that the campaign, #Our State, Our Responsibility should also focus on government officials, so as to sensitise them on the need to patronize government-owned media outfits, because to him, money spent on government-owned media houses is an investment in the development of the state.
Also speaking, the immediate past state Chairman of RATTAWU, Ope Erekosima, expressed happiness that among all the commissioners sworn-in by the governor, Nsirim, was one person who has grown from the ranks in the civil service, rising to the position of director and permanent secretary, before his recent appointment as commissioner.
Erekosima pointed out that the issues and challenges facing state-owned media houses were things the commissioner was abreast of, adding that there was need for the training and retraining of media workers as well as ensuring that the equipment lying fallow for long in Radio Rivers were put to use. She lamented the epileptic power supply in Nigeria, regretting that all stories that would have been handled by government-owned media houses were taken to private media outfits due to insufficient fund to fuel the station's power generating plant.
Erekosima appealed to the commissioner to do the needful, so that government-owned media houses can feel the impact of the present administration during his reign as commissioner.
In his remark, General Manager of RSBC, Sampson Fiberesima thanked the commissioner for the visit, and assured that the station would continue to do its best to promote the policies and programmes of government.
Similarly, General Manager of Garden City Radio, Dagogo Ezekiel-Hart assured that the charge given by the commissioner would be carried out, and urged staff of the organization to brace up for more work.
Ezekiel-Hart said, "We have internalized all you have said, we will do the best we can. The issues you have talked on today are basically focused on the reformation we have been harping on. I expect that we would take what you have said, build on it, and not surprise you, but ourselves.
"We should all understand our limits, and if we go beyond the, it's bad. And knowing full well that you will be our backbone as you have been for these number of years as permanent secretary and head of the ministry, we expect to see more of your support in return. We won't fail the ministry, we won't fail Garden City Radio, and we won't fail ourselves", Ezekiel-Hart added.
Having concluded his tour of the state government-owned media outfits, and given his directives, the onus is now on the management and staff of the media organs to bring to manifest reality, the set targets of the commissioner, and indeed, the Rivers State Government. That is what the media houses will be struggling to achieve in the coming weeks and months, even with the challenging working environment.

Innovation, Creativity'll Take State Media To Productivity,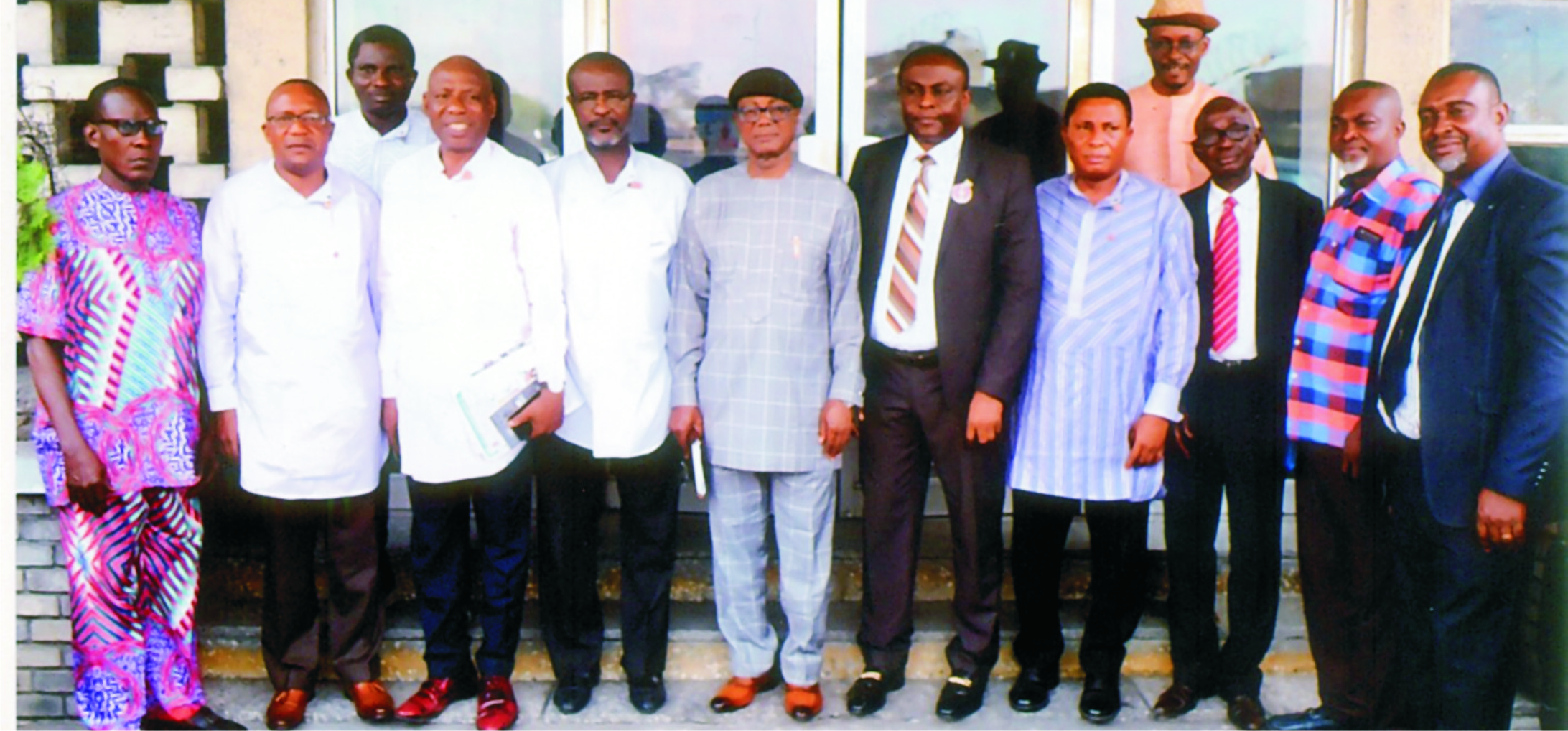 The Rivers State Governor, Chief Nyesom Wike, has been described as a visionary leader for looking inward in appointing a professional, versatile and experienced journalist, Pastor Paulinus Nsirim, as the Commissioner for Information and Communications in the state. Nsirim, who is a former chairman, Rivers State Council of the Nigeria Union of Journalists (NUJ), and current Chairman, Rivers State Chapter of the Nigerian Institute of Public Relations (NIPR), was a two-time Chief Press Secretary to Rivers State Governors, Captain Sam Ewang and Sir Celestine Omehia, respectively; and rose from the ranks in the profession and the state civil service: He began as a Reporter in The Tide, then joined defunct SUNRAY Newspapers, before returning to the Ministry of Information and Communications where he rose from the position of UNICEF Desk Officer to become Director, and later, Permanent Secretary.
As one who has carved a niche for himself in the journalism profession and exceptionally managed information at different levels, Nsirim's appointment did not come as a surprise because he had been prepared to hit the ground running on day one. Thus, immediately after his swearing-in by Governor Nyesom Wike on Monday, December 30, 2019, the commissioner swiftly approved a work plan aimed at repositioning the state's information and communications management apparatus for greater efficiency, productivity and profitability.
To kick-start the onerous journey, he swung into action by visiting the state NUJ Press Centre to enlist the leadership of journalism community's holistic support to enable him succeed. And in appreciating the appointment by the governor and the commissioner's visit to show solidarity, Chairman of the state Council of NUJ, Stanley Job Stanley, assured Nsirim of members' total cooperation.
He returned to the ministry where he held a closed door meeting with all directors on January 2, 2020, to chart the way forward. He also met with all information officers, during which he challenged them to be creative in the performance of their duties, cautioning against indiscipline and laxity. In fact, Nsirim particularly charged the information officers to regularly analyse government policies and programmes as there affect their ministries, departments and agencies as well as local government areas with a view to sensitizing, enlightening, informing, and educating the populace to enable them key in and partner with government to achieve set goals of guaranteeing peace, facilitating governance and sustaining development at all levels.
Having began by consolidating on the foundational basis for success, Nsirim also decided that the journey won't be easy without carrying the state government-owned media houses along. Consequently, he embarked on the media tour with a visit to Rivers State Television (RSTV) January 7, 2020; Rivers State Newspaper Corporation (RSNC) and Government Printing Press (GPP) on January 9, 2020; and Rivers State Radio Broadcasting Corporation (RSRBC) and Garden City FM Radio on January 10, 2020.
At the RSTV in Elelenwo, Nsirim read the riot act to both management and staff, noting that discipline and creativity must be entrenched to give the station edge in the ever-competitive media space, boost productivity and profitability. While commending the General Manager of RSTV, Dafini Gogo-Abbey, management and staff for their efforts in publicizing government policies and programmes, he reminded them that more still needs to be done, especially in galvanising efforts to rewrite the negative narrative promoted by detractors to demarket the state, scare away investors and tourists and slow down the pace of development in the state.
Nsirim said, "I am convinced as commissioner for information, that we have the right professionals in the various departments of this organization who have the requisite training and experience to deliver on assignments. My job is to make you re-orientate yourselves, wake up every one that is sleeping, and to say to us that we need to roll up our sleeves for more work. We are privileged at this time in the history of Rivers State that we have a governor who is passionate to make Rivers State the destination of choice by rebuilding infrastructure, paying attention to education, healthcare delivery, agriculture, and manpower development, among others.
"And he is putting everything into ensuring that the NEW Rivers Vision Blueprint he enunciated when he took the oath of office in 2015 is implemented to the letter. We have a governor who does not speak from both sides of the mouth. What he says he will do, he has done and will continue to do.
"He has shown Rivers people that his second tenure will be like a first tenure. His Excellency wants Rivers State to be a pride of all of us, and he has demonstrated that with his style of governance. Your role is to use Rivers State Television to key into that development agenda.
"To key into that development agenda, you must be professional, you must be dedicated, you need to do a lot of re-orientation and personal development. If we do that collectively, we will be making a mark. And I am proud to say that when we celebrated 100 days in office of the governor's second tenure, we were one state in the federation that had projects to be commissioned, and we did that for three weeks. His Excellency was on the road commissioning people-oriented projects. With a man that has that kind of vision, those of us in the media parastatals have a critical role to play. Now that the 2020 Budget has been announced, what are you going to do as a media house to ensure that the people for whom the budget is meant for get what they are supposed to get?", he asked.
The commissioner said he expects that workers in the state television outfit begin to do sectoral analysis of the budget to help sell the programmes and policies of the administration to the larger population, and tasked them too be proactive.
"We are in a new dawn that calls for creativity and innovation", he stated, assuring that workers' welfare will be given priority but urged them to show their professionalism by making RSTV the viewers' preferred choice. "We will not tolerate indiscipline. I had to hold a meeting with the management team before this general meeting, and I have empowered them to act decisively.
"I have empowered the management to utilize disciplinary measures to ensure that those who think that this is a place where you can come and do anything you like; earn salary and go, stops. If you are a member of staff here and you are part of those who are not dedicated to their duties, then you are going to be in trouble because I have told the management to draw up an appraisal system for this organization.
"Because it a public communication outfit does not mean that we won't make profit. It doesn't mean that we can't shine like other television houses. The television house is a platform for creativity. If any staff here is creative, you will be sought after. The media house is a place where you can stir up your potential and distinguish yourself, if you are creative. The times now call for personal development", he said, adding, "I would like to see more creativity and healthy competition. Television is glamour right from the dressing of news casters to diction. You need to understand that this promotion that His Excellency gave to me is our collective promotion, so we must reciprocate through improved performance. We can't thank him enough.
"If you understand that this is the first time in our ministry where somebody will rise from the ranks, get to be permanent secretary and now commissioner, then you will realise that there is reason for this appointment: confidence and trust in our ability to excel. And because it is so, we can't afford to let His Excellency down. We all need to redouble our efforts. So, I am going to demand from RSTV better programming and content. I am going to demand from the news casters to dress with class. I am demanding professional competence from RSTV".
Noting that he expects to see changes immediately, Nsirim urged them to show commitment and dedication with the little resources that are available to them. "I have found out in my working career that what makes people stand out is when they are able to manage the little they have and show that they have potentials, and then, people will recognize them. We must be proactive as media houses, the platform you have accommodates lots of creativity and hard work. I want to see competition among those in programmes and other core areas, and we will be ready to partner the management of the station to honour those that are creative," he added.
Earlier, General Manager of RSTV, Defini Gogo-Abbey, welcomed Nsirim to the organization, saying that many in the state-owned media have been asking for a commissioner that they can call their own.
"Most of us have been asking God to give us a commissioner, and that Lord, when you are giving us a commissioner, let him or her be a commissioner that will understand us. Let him be a commissioner that you will send to us. We thank God today that He has sent us a commissioner. He is not just a commissioner; he is a son of God, who, I guess is a commissioner for this time to work with Governor Nyesom Wike, Mr. Project".
She described Nsirim as a thorough professional and somebody that knows the state-owned media and the peculiar circumstances facing them, just as he she pledged the commitment of the management and staff to continue to promote the activities of the state government with professionalism.
At the RSNC and GPP, Nsirim said that his familiarisation visit to government-owned media houses should not be seen as a ritual but designed to challenge the media houses on the urgent need to reposition themselves for greater productivity and profitability. He charged both management and staff on innovative, creative and productive ideas and strategies to move the organisations to the next level, and particularly noted that with innovative ideas, everyone has the potential to recreate The Tide Newspaper to achieve enviable heights never before imagined.
He reminded the workers that ideas rule the world and not money, and further charged the workers to think out-of-the-box, saying that he does not see any reason why the newspaper should not be on the newsstand on a daily basis, given the quality of manpower available.
"Let me challenge the men and women here that we have the potential to turn things around in The Tide Newspaper as part of ways to let government know that we are keying into the NEW Rivers Vision's development agenda", Nsirim emphasised, adding that the Editorial staff, as the rallying point of the flagship newspaper in the Niger Delta region, should lead the way in creating solid editorial content to drive the positive pro-development and investment message of the government and people of the state to the outside world. "I am expecting deeper editorial content on the policies and programmes of the state government," he stressed.
"At RSTV the other day, somebody asked me when are we going to celebrate improvement of the state media houses? Let me tell us one thing: I am a family person and there are so many state newspapers that have closed down. I hope we are aware? They are no longer operating. If government has kept this place open, and the governor is still paying salaries, we shouldn't wish it away. That is a major contribution. I know so many of us here don't have less than five dependants, and this job you have here is helping you to maintain your dependants.
"The issue usually is: we need equipment. I have challenged even the RSTV because I am a family person. I have asked them: what you have now, what are you doing with the little that you have? We shouldn't be like that man in the Bible that was given one talent. We know the story. That parable teaches a lot of lessons, all of us here can use what we have to make this newspaper the pride of Rivers people.
"I was here when we were printing 12,000 to 16,000 copies daily. In fact, we were running two editions, and circulating all over the country. We had Weekend Tide and Sunday Tide. I worked here to the point I was producing three pages every day. I produce my 'Political' page; I produce 'Weekend Personality' and also produce 'Faces and Ideas' on Sunday in this organization. We can go back to those olden days. It's possible!" he stated.
Admonishing those in Advert Department to work hard to generate more revenue in 2020 than in 2019, as the viability of the corporation depends greatly on their ability to perform, Nsirim said, "I need to see a radical difference on how it was last year, and now. We can't afford not to make progress this year in this corporation. We demand from you, beginning from tomorrow, greater productivity and efficiency. We are also going to be demanding profitability from you. If you generated N10.00 last year, I expect that this year, you generate N20.00. There is no excuse for failure. I won't tell the governor now that because he has not given me money, then I will not work as commissioner. So it is for all of you.
"Those in Advert or you call it Business Development; you must generate money this year. The first assessment for all the media houses is happening this first quarter, between now and March. I must see a radical difference between how it was last year and now.
"We must demonstrate to the present administration that we are keying into its development agenda. What is happening here in Rivers State within the past four and half years is like a revolution. You will recall that in early 2015, he was told 'we will see where he will get money to pay salaries. We all were owed salaries for three months then. When he came in as governor, he cleared those arrears, has been consistently paying our salaries, and has turned Rivers State to a construction site", Nsirim noted.
The commissioner urged all management and staff of both RSNC and GPP to reciprocate government's kind gesture in ensuring regular payment of salaries so as to make him leave shining legacies at the end of his tenure. Towards achieving the NEW Vision of the Rivers State Governor, Chief Nyesom Wike, Nsirim also charged the workers to justify the governor's confidence in them by redoubling their efforts for improved productivity. The commissioner noted that the governor's decision to appoint a professional journalist that has grown through the ranks in the ministry as commissioner amounts to a vote of confidence in journalists in the state, which needs to be justified.
"The governor has made a strong statement by looking within our rank and file, and deciding that we have the potential to produce a commissioner (for information). What that means is that we must justify that confidence. In justifying that confidence, we have to change our mind-set towards our work in order to be more productive", he stressed.
While noting that this is the first time such appointment has been made in the history of the ministry, Nsirim harped on the hackneyed common mind-set of staff who feel that working for a government-owned media means doing anything they like, saying that he believes that The Tide has the quality of men and women needed to recreate the newspaper and make it the envy of the world. "Everyone has the potential to recreate this organisation. The idea that this is a government parastatal, so, people can come to work any time they like has to stop. It is time for productivity. It's only someone that doesn't want to make progress that will keep doing something the same way repeatedly, and expect better result", he said.
Nsirim, therefore, directed heads of all departments to draw up a template for appraisal of staff's performance, saying that such templates should take cognisance of each department's peculiar circumstances and functions. "If you are in Advert, your template will be different from those in Administration and Editorial", he said, and tasked the various departments to complement each other while exhibiting the highest competitive character.
Noting some key challenges experienced by staff, such as obsolete equipment and depleting manpower, the commissioner charged staff to do their best with what is available to justify being given attention. "We are going to work collectively to show the world that this is a government-owned newspaper house where we can excel, be productive, and make profit. His Excellency is desirous to make Rivers State the destination of choice in this country, and he is not paying lip service to it. He is rather building the right environment, providing the appropriate infrastructure to promote health care, education, agriculture, and improving human capital development. I'm challenging both management and staff to think outside the box, be creative and innovative. Let's demonstrate to the world that we have men and women in these organisations that have the potentials to turn things around. We are demanding from you greater productivity and efficiency", the commissioner added.
"My tenure must make a difference. That is why I have come to challenge everybody now that we need to roll up our sleeves to work. It is when you work well that you become my friends. The general manager is my personal friend and my boss, and I am demanding a lot from him. So, he is going to push the heat to you. When he pushes the heat to you, don't think that he hates you, we want results. The truth of the matter is: if we throw away the cap and that mentality that 'this is a public corporation', and make up our minds to work, we will succeed, because there is a spiritual import about synergy.
"There are so many people, let me say 20% of the population of this place just come to earn salary. There is nothing that is happening here that I don't know. Of course, you know I should know. I can even call names department-by-department because here is my family. So, my appeal to everyone is that it is not going to be as it used to be. The Tide newspaper must be repositioned. We won't stop at three editions per week anymore because we shouldn't be publishing stale news. So, whatever it will take you to reorganize and bring everybody on the same page to make sure that we have more editions of The Tide, do it. The work is starting tomorrow, not next week, not next month.
"I don't want to hear anything about challenges. I don't want to lose the fire power to succeed. We are in a hurry to develop the state. The governor is in a hurry to develop the state. So, let's keep aside the challenges confronting the corporation. I have talked with management heart-to-heart, and you will see things happening here from tomorrow because it is possible", Nsirim said.
In his remarks on behalf of staff of Editorial Department, Chairman, Nigeria Union of Journalists (NUJ), The Tide Chapel, Comrade Amadi Akujobi, thanked the commissioner for the visit, describing it as home-coming to celebrate his appointment with his colleagues and family members, as according to him, the commissioner began his journalism career from The Tide.
Akujobi harped on the need for more training and retraining of journalists to sharpen their skills and competences on emerging trends in the profession, saying that as a dynamic profession, it was vital for Reporters and Editors to undertake regular retraining to enable them compete favourably in the technology-driven media industry.
Also speaking on behalf of the RSNC Chapter of National Union of Printing, Publishing and Paper Products Workers (NUPPPPROW), the National Vice President of the union, Comrade Godwin Williamson, noted the various welfare initiatives of the new management designed to motivate workers for improved productivity, but solicited for more government attention to address the poor conditions of working tools in both organisations.
Williamson, who is also the state chairman of NUPPPPROW, explained that although both media outfits have quality and competent staff to take the agenda of government to the next level, but regretted that the lack of modern equipment and technology has undermined their productivity and obliterated profitability in a highly competitive media space.
Also speaking, the General Manager of RSNC, Mr. Vincent Ake, re-echoed the charge given by the commissioner, and called on staff to be ready for more work. "The commissioner has come, and he has charged us to worker harder. He has said we should roll up our sleeves, and do the much we can to ensure that the newspaper is sustained. And everybody should be ready to work because there is no food for a lazy man.
"Everybody should be innovative in whichever area you are. I am open to innovation. All we need is let the ideas come in, and we will implement them," Ake stated, and assured staff that the management would organise training and retraining programmes to sharpen their skills and competences for greater productivity.
He explained that the welfare initiatives of the present dispensation were part of a deliberate policy to motivate staff to put in their best to fast-track the capacity and ability of the corporation to break even and step into an era of profitability. Ake, therefore, thanked the commissioner for coming, just as he reminded him that The Tide was his home, and he should be free to visit anytime.
Susan Serekara-Nwikhana

Mischief Remains Inferior To Strategy, Performance And Acceptance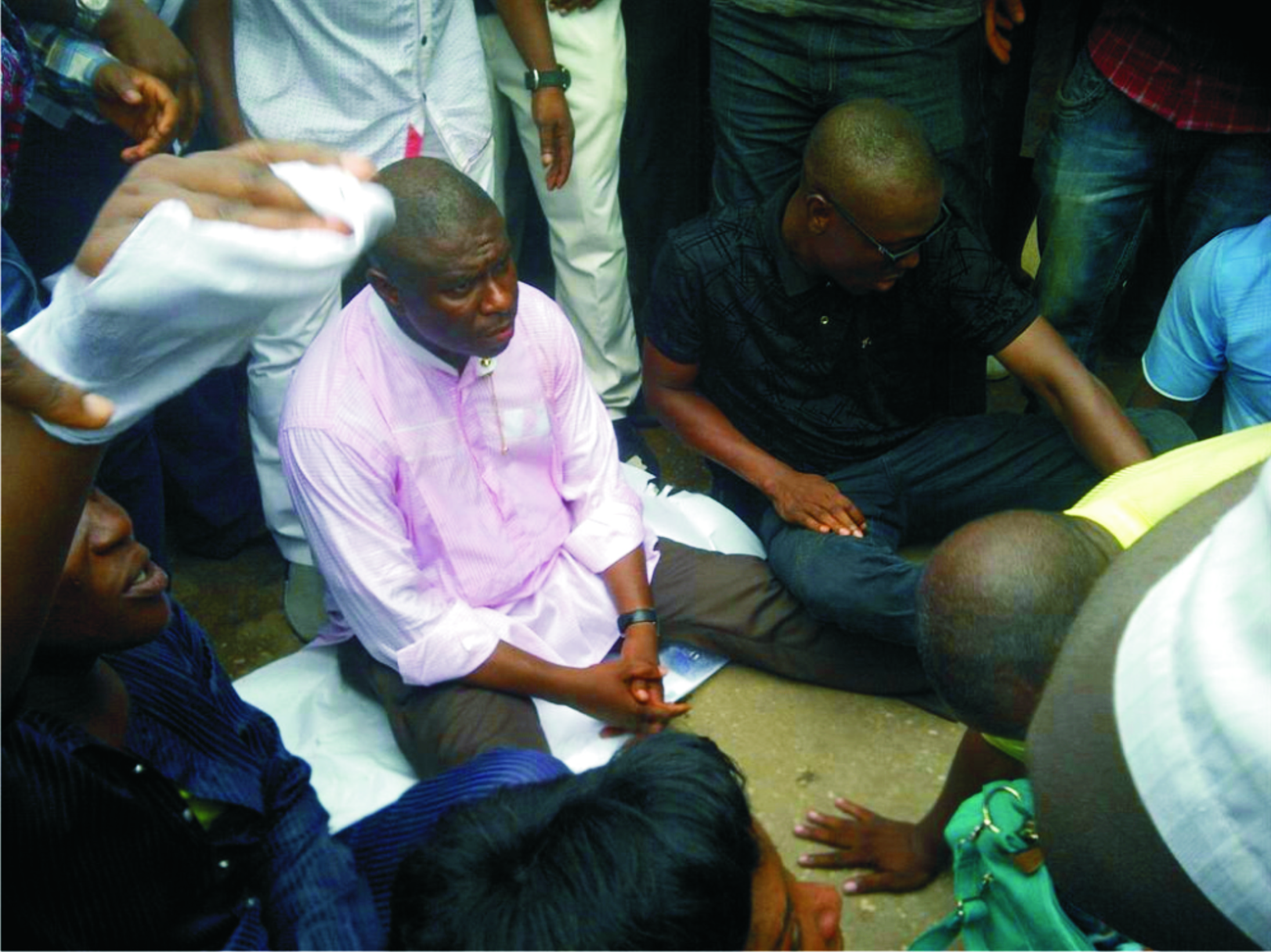 Since the immediate past failed Rivers State Governor,  Chibuike Rotimi Amaechi imposed his political godson on his fractured party for the 2015 governorship election,  Dakuku Peterside has been oscillating round the political firmament , spewing mischief in order to remain relevant.
If he is not engaged in ethnic name dropping,  he is bragging about his party's control of the levers of State violence to abduct the political structure of Rivers State.  There was a time when Dakuku Peterside and his Oga were struggling to outdo each other in the circulation of mischievous falsehood  on different Radio Stations around Port Harcourt.
For the moribund Rivers APC and her members,  the only ticket to gaining the approval of the immediate past Rivers State Governor is to formulate and sustain mischief against Governor Wike.  For Amaechi to choose you, you must generate a mind-boggling mischief.
They have never defended the interest of Rivers State anywhere.  They have just one objective.  To insult Governor Wike and sponsor endless mischief.
If you are chosen, then you must continue to generate lies and mischief with the name of Governor Wike.  As such, APC leaders continue to run in circles, never focusing on the issue of development.
Dakuku Peterside has forgotten so soon the favour done to him by Governor Wike.  As Commissioner of Works, Peterside denied his maternal home access to road. After spending eight years in Government, the Amaechi Administration left the Ogoni-Andoni-Opobo-Nkoro Unity Road unattended to.  They focused on needless propaganda and the use of Rivers resources to fund APC National Campaigns.  Governor Wike has linked Opobo Kingdom to the rest of Rivers State.
Despite dealing horribly with his maternal home, Dakuku Peterside followed Amaechi to Bori for a political function where he resorted to lies. This was an APC function.  Dakuku Peterside told the APC faithful that Governor Wike has done nothing for the area. The few supporters at the poorly  attended rally  erupted in anger. They were about to disrupt the rally  when Amaechi intervened,  snatched the microphone from Dakuku Peterside and confessed before the rally that Governor Wike's  dualisation of the Sakpenwa-Bori Road was an excellent contribution to the economic development of the State.
Dakuku Peterside is at his game again.  He has started the sponsorship of mischief through the APC Social Media Outlets.  In some instances,  he engages some misguided ethnic officials.
Imagine Dakuku Peterside acquiring a video and doctoring same to create room for the promotion of a campaign of  calumny against Governor Wike.  They take advantage of the fact that most Nigerians will not engage in simple content analysis.
In the video that Dakuku Peterside obtained and circulated,  Governor Wike was basically responding to issues  raised by the Chairman of Rivers State Council of Traditional Rulers and Amanyanabo of Opobo,  King Douglas Dandeson Jaja.  One of the issues centred on the Recognition of Traditional Rulers and the attempts by some unrecognised Traditional Rulers to usurp the functions of the Rivers State Council of Traditional Rulers.
Governor Wike took out time to explain the actions that his Administration will take to ensure that the infractions by unrecognised Traditional Rulers are resolved.  This function was handed over to the Attorney General of Rivers State.  Of course,  nobody expects a mischief maker to highlight these area.
At this time, Dakuku Peterside and other APC Factional groups had started sponsoring falsehood that Governor Wike was promoting an anti-Ijaw agenda.  Governor Wike took out time to debunk this lie.
He said: "I will continue to protect the assets of Rivers State.  My goal is to protect the interest of Rivers State and her people.
"We are defending Rivers ownership of Soku Oil Wells.  Soku Oil Wells are situated  in Akuku-Toru Local Government Area of Rivers State. I am saying no, we will not allow a neighbouring state take over what belongs to our people.
"We don't  have any anti-Ijaw Agenda. If there is anyone with anti-Ijaw agenda,  it is those coming from outside to claim Soku Oil Wells that belong to Rivers State.  You want to take what belongs to our state and you want us to fold our hands.
"Rivers State is one. Nobody can divide this state. As Governor, I will not agree for any outsider to take what belongs to Rivers State.  I will protect what belongs to our state."
Generally,  it was a frank meeting.  A meeting that focused on the overall development of Rivers State.
Since 2015, Governor Wike has made the engagement with Traditional Rulers a key part of his administration.  His immediate past predecessor never accorded the Traditional Institution this type of respect. Every quarter, Governor Wike attends the meeting of the Rivers State Council of Traditional Rulers.  There is no GOVERNOR in Nigeria  that engages with his State's Traditional Rulers like Governor Wike.  No , not one. Let the APC sponsored mercenaries bring out and show any other Governor that has met with a recognised Traditional Rulers Council in his state on three separate occasions. For Governor Wike,  it is every Quarter.
The immediate past APC Administration in Rivers State destroyed the entire Traditional Institution.  Traditional Institution was weakened beyond measure and their Secretariat was left desolate.  It took the intervention of Governor Wike for this story to change.
Governor Wike constructed an ultra-modern Secretariat for the Rivers State Council of Traditional Rulers.  Whilst the construction lasted,  the Rivers State Council of Traditional Rulers met inside the Banquet Hall of the Government House,  Port Harcourt. Under Amaechi, it was only his faction of the State Assembly that enjoyed this privilege.
It is embarrassing that Dakuku Peterside,  a major player in the Amaechi faction finds expression only in mischief.  After losing the 2015 General Election,  Dakuku Peterside begged the Former APC National Chairman,  Dr John Oyegun to assist him prevail on President Muhammadu Buhari for REHABILITATION.  He was appointed Director General of NIMASA.  According to his political godfather,  Amaechi,  NIMASA's  funds are in dollars.  After 4 years at NIMASA,  Dakuku Peterside believes that the only thing Rivers State deserves is occasional PRESS STATEMENTS  to insult Governor Wike.  Not even his maternal home has received any benefits from  Dakuku Peterside.
He is not alone in this failure to perform.  The Minister of Transportation has attracted nothing to Rivers State,  aside the repeated attempts to rig elections in Rivers State. Nothing positive has been attracted to Rivers State by this team. They were in control of NDDC for four years and even the APC Federal Government is so disheartened that an audit has been ordered.
For several years, they have been involved in deliberate falsehood and manipulation of information, to no end. Every mischievous plot ends in failure. This route will not shake the support base of Governor Wike.
Dakuku Peterside and his faction of Rivers APC over the years engaged social and traditional media agents to concoct misleading stories about Rivers State and de-market the State.  Yet, Rivers people continue to stand with the best performing Governor of Nigeria.
Dakuku Peterside,  his political godfather and their co-travellers must understand that propaganda,  mischief and falsehood have their limit. When faced with performance and pro-people leadership, these anti-development elements fade out.
Governor Wike is firmly rooted with the people.  He  interacts with them daily and effectively uses Rivers mandate for the development of Rivers State.  They love him because of his high performance level and defence of Rivers interest.
Political gossip and falsehood only gains traction for a while.  After that, the reality of rejection remains.  Unless Dakuku Peterside cultivates the virtue of performance and service to Rivers people,  he will continue to grope in political darkness.  There is no political leverage in political mischief,  other than sadistic momentary pleasure.
Wakaudu is Special Adviser to the Governor on Electronic Media
Simeon Nwakaudu