Buhari, Taking Nigeria 30 Years Behind, ACF's Scribe Laments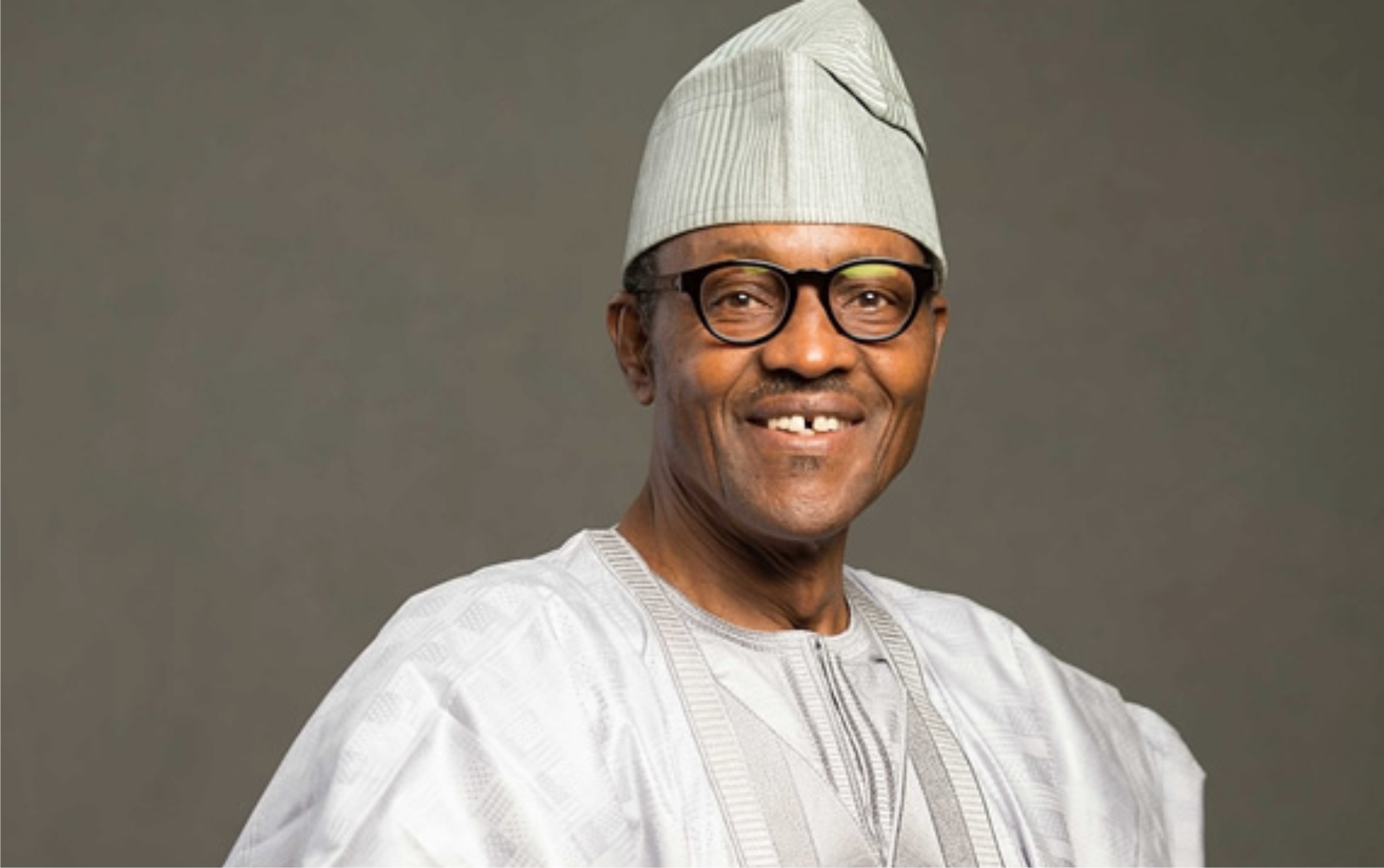 The current Secretary of the Arewa Consultative Forum (ACF) and the former Senator representing Adamawa Central, Abubakar Girei, has said that the present administration of Muhammadu Buhari has taken Nigeria 30 years behind.
He made the remarks during an interview with newsmen in Yola, Adamawa State, yesterday.
"We should be comparing ourselves with Singapore, China, etc. Look at where we are living: 20, 30 years behind where we should be as a country in terms of progress and development, so, leadership is very important", he said.
Giving his assessment of the alarming security challenges in the country under President Muhammadu Buhari, he said: "We should not localise the problems with security in the country to Buhari because it is now that we have a change of government and a government that is dealing with it seriously.
"We have not been having good governance in this country since 1999; it was in 2015 that we had a serious government that is committed to transforming the country.
"Notably, the security has spread to other parts of the country but Boko Haram, this government has dealt with it decisively, but we cannot deny that other forms of insecurity have spread to other parts of the country but all these security challenges are the handiwork of looters, political money bags, failed politicians and their surrogates like Sowore.
He elaborates that, "as a resident of Yola, and an indigene of Adamawa, we know the difference.
"I could not go for a condolence visit at Mubi because of insecurity and even within Yola; going to the mosque was a problem, there are security men everywhere, you have to be frisked and searched just because you want to pray.
"But whether Boko Haram has been defeated completely or not is a different matter, but we have different challenges other than Boko Haram and these are sponsored."
On his assessment of the President Buhari-led government he said: "We as Nigerians know full well that we are living far behind our time.
"In 2015, when Nigerians trooped out and voted Muhammadu Buhari, we were full of high expectations, I for one thought that by the end of Buhari's first term, Nigeria will be an El Dorado but we are not seeing it today, so I am very worried.
"Even though the insecurity situation has changed, one would have expected so much such that the country would have moved far beyond where we are today but the government is not listening because so many people have offered useful advice to this government but they have not utilised it.
"For example, we are practising democracy and in a multi-party democracy like ours, I would have expected that Buhari and members of his government would be looking for political solutions to problems bedevilling this country instead of giving military approach to issues because I strongly believe that most of the problems are engineered by the political enemies of this government.
"This is a democratically-elected government, elected for a second term but does not find it necessary to have a national political adviser, that is disturbing for me, because to me the government does not seem to accord premium to finding political solutions to its problems and unless they have politicians who would help them find in- roads to these problems politically, they would find it difficult to make progress.
"So, I will first of all advise Buhari to find political solutions to problems and place premium on it more than the military approach.
"Secondly, we have very serious economic and social challenges that are very clear to everybody.
"The Almajiri issue that has been lingering for decades is something this government can wipe out in two years if they are serious, am saying this because I'm part of the think-tank with the northern governors that has come up with solutions to addressing these issues and dealing decisively with the issue of out-of-school children and poverty is also crucial.
"When these issues are addressed, we would be wiping out the recruitment base for all these security challenges.
"Thirdly, it is important that this government addresses the problem of poverty.
"This government must be praised for some of the initiative introduced in addressing poverty which has not been given proper attention before now, but this government is doing it but they should be more serious about it and they must work in tandem with state governors to address poverty at the grassroots."
Girei dropped a bombshell for the Peoples Democratic Party (PDP) in Adamawa State saying, the current Governor of Adamawa, Ahmadu Umaru Fintiri will dump the PDP for APC, and will be the joker for the party's victory in 2023.
Girei said he and some APC patriots in Adamawa State have made Fintiri the fulcrum of their grand master plan towards reviving the party's fortunes and reclaiming the state in 2023.
Speaking on the fortunes of APC in Adamawa State, having lost the 2019 elections, Girei said: "I am an optimist and we are working hard to revive the party.
"The APC in Adamawa was destroyed by APC members in including the former governor, Mohammed Umaru Jibrilla.
"The few people in the party secretariat who supported him to implode the party's fortunes are all regretting it now because we told them severally that any attempt to field Jibrilla Bindow as candidate of the party will lead to the implosion of the party because we already gauged the mood that Adamawa people will not vote for Bindow and thus APC will loose; unfortunately, they did not listen to us and they are all regretting it now.
"But as I said earlier, we are working hard to rebuild our party but not only rebuild our party but regain its lost glory.
"But fortunately also for us, we are very lucky in a way because we have succeeded in throwing away the useless government of Bindow and we now have a very progressive, dynamic, transparent, sincere young man as governor, who is working hard to rebuild the state and put it on a sound footing.
"One of our targets is to bring him back to APC for the party to win the state in 2023.
"We that are patriotic, dedicated and loyal members of the APC, are doing our very best to re-engineer this party and one of the best ways we think we can do this now, having seen this progressive governor in the opposition party is to bring him to our party and win the 2023 elections with him as the governor, as am already sure we will maintain the power at the federal level."
Also speaking on the botched RevolutionNow protest, Girei said: "This thing they call RevolutionNow is a ruse because to the best of my knowledge, a revolution is always driven by the people and citizens of a country not by a failed politician.
"This movement was obviously instigated by the looters and criminals who are so scared of Buhari's stance to clampdown on corruption in his second term.
"Some of them were so corrupt that they would spend N14billion on jewellery, these kind of people would spend much more for the Sowore's of this world, so Buhari should be commended."
He added that: "It is unfortunate that our laws are still defective and have not created room for a stiff penalties and even when I was a member of the legislature.
"There is clear a difference between civil protest and a violent protest; a protest that was aimed at bringing government down is not good.
"People have been protesting in this country before, but Sowore said he wanted to bring down the roof, destroy federal, state and local government; while he has the right to protest, his right must not be allowed to trample on other people's rights who want to live in peace.
"This protest is just an opportunity to create mayhem and lawlessness, and just like El Zakzaky and his men have said it openly that they are out to kill, so police had to do their jobs and prevent the breakdown of law and order."
The ACF scribe explained that, "this protest was invented by those who are trying to protect their loot and that of their masters."
Joining APC'll Diminish Your Political Stature, PGF Warns Jonathan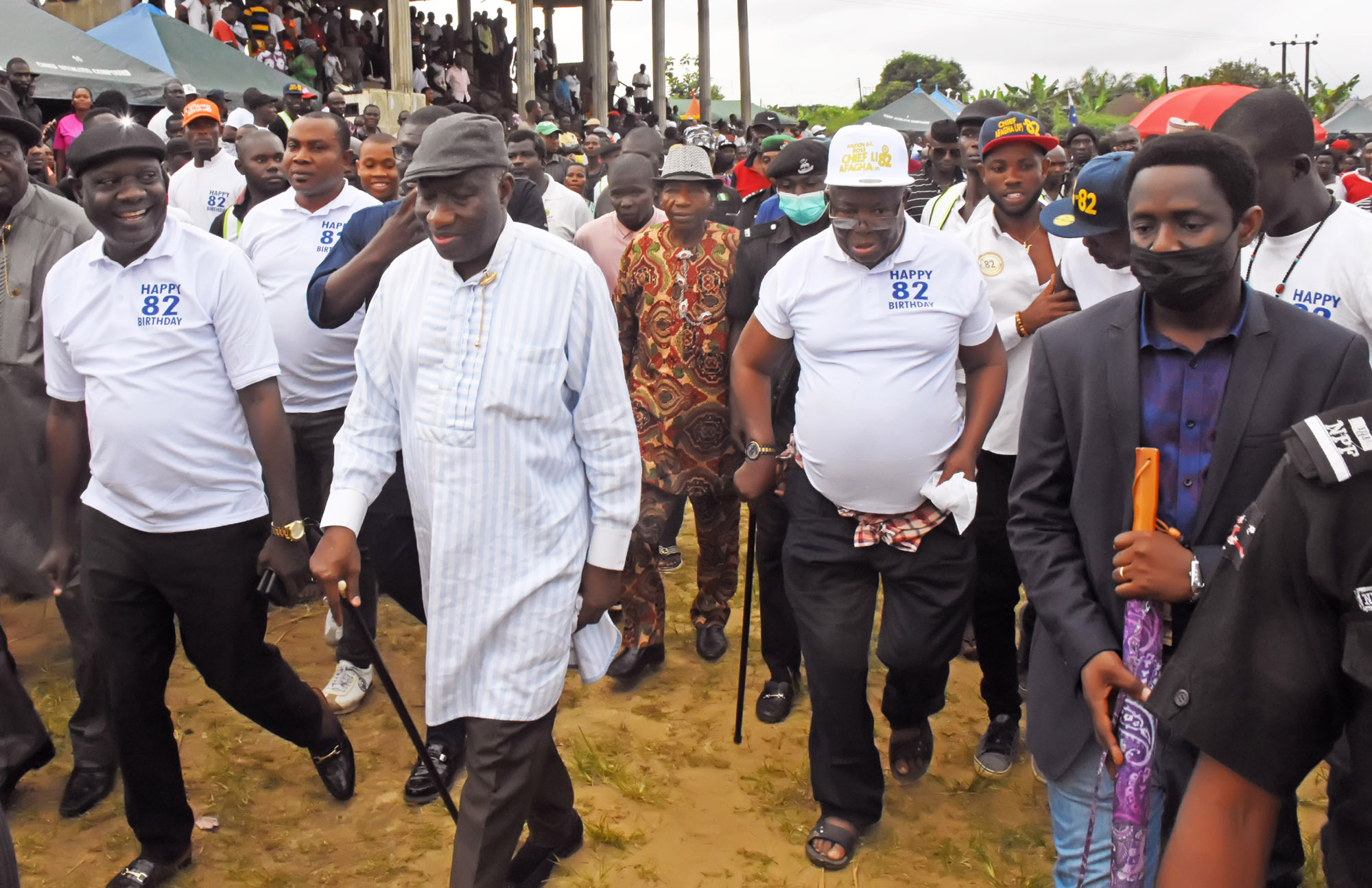 The Director-General of the Progressive Governors' Forum PGF, Salihu Moh. Lukman has cautioned ex-President Goodluck Jonathan against leaving his current Peoples Democratic Party PDP for the ruling All Progressives Congress APC, saying any such move would only serve to diminish his political stature as an elder statesman.
Lukman made the caution in a statement titled, "APC's High-Profile Membership Recruitment and Issues for 2023″ issued Sunday in Abuja.
He also faulted the 'red-carpet' reception offered a former critic of the current administration, Chief Femi Fani Kayode, who last week defected to the APC, but advised aggrieved party members against protesting the gesture saying if President Muhammadu Buhari and party leaders have accepted Mr Kayode, then party members should not be more catholic than the Pope.
Lukman said; "Part of the reason why high-profile membership recruitments by political parties in Nigeria attracts a lot of debate, attention, and controversy, is that it hardly comes without any ambition to contest the election by those joining the party. Although in the case of Mr Fani-Kayode, no one can associate it with the ambition to contest the election, which is why many questioned his electoral value, with 2023 elections less than two years away, and with the APC leadership efficiently succeeding to win so many high-profile leaders joining the party, there has been lots of speculation in terms of what all the high-profile membership recruitment into APC represents.
"Partly because President Buhari will be completing his 2nd term and therefore ineligible to contest, the question of who will emerge as the Presidential candidate of the APC for 2023 is quite open.
"Two of the Governors who recently joined the APC from the PDP are speculated to have done so because of ambition for 2023. And since the 2019 Bayelsa State Governorship election, when APC leaders met former President Goodluck Jonathan to lobby support for APC candidate, Mr David Lyon, there have been speculations that he (former President Jonathan) will also be joining the APC.
"Some have even alleged that as part of the negotiations, former President Jonathan has already been offered the APC Presidential ticket for 2023. Amid the controversy around Mr Fani-Kayode, the Secretary of the APC Caretaker Committee, Sen. John James Akpanudoedehe, is reported to have confirmed that anyone who joins the party will be free to contest.
However, it is important that the issue of high-profile membership recruitment by APC is clarified beyond the narrow expectations of the electoral contests.
Why should the objective of recruiting high-profile members be reduced to the issue of contesting elections? Assuming someone like former President Jonathan agrees to join the APC and he fails to emerge as the Presidential Candidate of the party for the 2023 election, what will happen to him?
"As Nigerians, we must begin to take steps to protect our leaders. As APC members, we have campaigned against former President Jonathan in 2015.
"As President, former President Jonathan made every effort to block the emergence of APC in 2013. But those should not be the reference point.
"The reference point should be the historic decision of former President Jonathan to concede defeat in 2015 even before the final votes were counted.
"With that, former President Jonathan ranked himself as one of those who fought and defended Nigeria's democracy. On no account, therefore, should any political party be allowed to push former President Jonathan to diminish his stature, either as an aspirant or a candidate for any office. Doing so will mean that we want him to gamble away all his legendary achievements.
"It is sad enough that PDP leaders, being who they are, don't recognise and respect former President Jonathan's deservedly political stature. No doubt, every speculation about the possibility of former President Jonathan joining the APC has to do with the reality of being unappreciated by PDP leadership.
"Negotiating to bring him into APC should not be based on aspiring for any office. It must be recognised that former President Jonathan, and indeed every former President, is beyond holding any office in the land. Bringing former Presidents to that level will amount to diminishing their political stature.
"Already, President Buhari is doing excellently well by delegating some high-profile diplomatic responsibilities to former President Jonathan. One of the failures of PDP is the inability to create responsibilities that can match the statures of former Presidents. Inability to create responsibilities for former Presidents is perhaps what accounts for the overbearing restlessness of former President Olusegun Obasanjo.
"With President Buhari scheduled to end his tenure in 2023, less than two years away, negotiations to recruit former President Jonathan into APC must be used to settle the question of the roles of former Presidents within the APC.
"APC must not allow the situation to emerge whereby party leaders and members-only respect elected and appointed functionaries.
"Part of the lessons from the challenges created under the last National Working Committee led by Comrade Adams Oshiomhole had to do with the absence of Board of Trustees.
"Is it possible therefore to organise the APC Board of Trustees' and get former Presidents to provide the needed moral leadership that can serve as a check to both party leaders and elected functionaries of the party?
"Having former Presidents discharging persuasive moral responsibilities as leaders of Board of Trustees would strengthen the capacity of party leaders and members to influence decisions of elected functionaries. Just imagine two former serving Presidents of the standings of President Buhari and former President Jonathan working in harmony towards a common political goal. It will take a rascally elected functionary at whatever level to ignore their recommendations. On the other hand, the big risk is when they are unable to work in harmony.
"That will tear the party apart and may potentially destroy the party. There is the need, therefore, to broaden consultations and agree on everything required to ensure that the framework of operations of the APC Board of Trustees guarantees that former serving Presidents can work in harmony", he stated.
On My Fani Kayode, the PGF DG said; "Almost every member of APC is angry that our leaders have brought someone like Mr Fani-Kayode into our party. This is made worse by the red-carpet reception given to him, which he doesn't deserve. But since it has happened, there is no need to cry over spilt milk.
"What is very clear is that our leaders, especially President Buhari have forgiven Mr Fani-Kayode and embrace him as one of us. As members of APC, our anger with Mr Fani-Kayode is that he has abused the APC, President Buhari and virtually every leader of the party.
"For instance, he claimed that the 'emergence of Buhari in 2015 annihilated Nigeria and plunged her into darkness, death and destruction. He came to steal, kill and destroy and for the last disastrous 5 years that is all he has done.' More than this, he has said unprintable things against the APC and all its leaders.
"At this point, therefore, if with all these, our leaders can accept Mr Fani-Kayode into the party, APC members should not be more Catholic than the Pope. Why should APC members be sad that our leaders are magnanimous? Perhaps, because of the red-carpet reception, which many committed APC members cannot even dream of, it should be legitimate to feel unappreciated like Mr Joe Igbokwe had cried out.
"But as APC members, especially those who have been in the party since its formation in 2013 and have endured all the challenges of being loyal members, we must always be reminded that our commitment is to contribute in whatever way and manner possible to change Nigeria for the better.
"If, therefore, someone like Mr Fani-Kayode, who is considered unreliable, and therefore, not qualified to be a member, would seek for forgiveness from our leaders, based on which they extended their arms to him, members of the APC should also show understanding".
Gunmen Kidnap Three, Kill Three Policemen, Three Others In Three States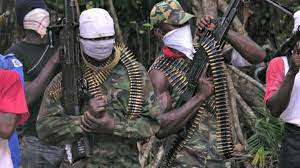 Suspected Fulani herdsmen have kidnapped students of Abia State University, Uturu, Abia State; shot and killed a student of Marist Comprehensive Academy, Uturu; while another group also attacked ECWA church in Kogi State, killing one person and kidnapping two others.
Also, gunmen, yesterday, killed three policemen on duty in Onitsha, the commercial city of Anambra State, and further injured two others before setting their patrol vehicle ablaze.
The Fulani herdsmen also robbed motorists and passengers who were en route to Port Harcourt from Enugu and from Okigwe town to Enugu, respectively.
In a statement, yesterday morning, Marist confirmed the killing of one of its students.
The statement read, "Some students from Marist Comprehensive Academy, Uturu, Abia State, were attacked by armed bandits around IhubeRoad in Okigwe LGA on their way from a final religious procession of some Marist brothers.
"In the course of the robbery attack, one student in the person of Edeh Donald was shot and he later died.
"Three other students were injured. They are receiving treatment and they are responding to the treatment.
"We pray God to guide and protect Nigeria citizens."
When contacted, the police spokesperson in Imo State, MichaelAbattam, said that the police had swung into action.
Abattam said it was a robbery attack and not a kidnap operation.
Our correspondent, who visited the scene, yesterday, observed that fear had engulfed the area.
Suspected Fulani had June 10, 2020, kidnapped scores of travellers on the same spot.
They were en route to Owerri from Enugu when the bandits struck.
They had also in April kidnapped a Catholic priest, IzuchukwuOnyeocha, who is a professor of Sociology at Imo State University in Owerri.
The priest, who was released days later, confirmed that he was kidnapped by Fulani herdsmen.
Similarly, unknown gunmen had attacked ECWA church in Kogi State, killing one person and kidnapping two others.
The church is located at Okadayo-Kabba, along OkeneRoad, in Kogi State.
The attack is coming barely few days after a jailbreak at the Federal Minimum Correctional Centre located in Kabba and the abduction of three poultry farmers in their farm, all in the same area.
It was gathered that the yet to be identified gunmen opened fire on the worshippers as church service was going on, killing one person on the spot.
An eyewitness, who pleaded anonymity, said two other person who were shot are currently receiving treatment in an undisclosed hospital.
According to him, the pioneer Provost of College of Education Technical,Kabba, Chief J.O.T.Oshadumo, and one other were kidnapped, while his wife and some students sustained gunshot wounds.
The Chairman of Kabba-Bunu Local Government, Moses Olorunleke, who confirmed this to newsmen, said details of the attack would be made public soon.
Efforts to get more information from the Police Public Relations Officer, DSP William Aya, proved difficult as he was said to be in church.
Also, gunmen, yesterday, killed three policemen on duty in Onitsha, the commercial city of Anambra State.
They also injured two others before setting their patrol vehicle ablaze.
According to sources, the incident happened around 9am on Ukaegbu/Ezeiweka Road in the commercial hub of the state.
It was not clear what led to the dastardly act and who the killers could be.
This came less than two weeks after the former traditional ruler of Mkpunando community in Aguleri, Anambra East LGA of the state, Chief Alex Edozieuno; and his driver, Chukwuemeka, were killed by yet to be identified persons along Ezu Bridge, Otuocha.
Edozieuno was one of the 12 monarchs suspended last year by Governor Willie Obiano for visiting President MuhammaduBuhari in Abuja with Prince Arthur Eze, an international oil mogul.
He was subsequently dethroned by the governor.
A video trending on social media showed the patrol vehicle of the policemen on fire even as somebody in police wear was seen lying on the tarred road.
When contacted, the Police Public Relations Officer in the state, DSP TochukwuIkenga, said that he was yet to get the details of what actually transpired.
FG Not Sincere With Fight Against Insecurity, Catholic Cleric Alleges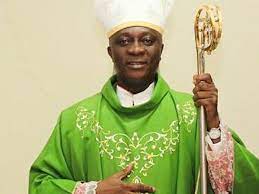 The Lagos Catholic Archbishop, Alfred Adewale Martins, yesterday, said that the administration of President MuhammaduBuhariwas not sincere with the fight against insecurity as it continues to hinder willing groups and not equipping the security forces.
Martins stated this in Lagos State at the grand finale of the 60th anniversary celebration of a Catholic group, Knight of Saint Mulumba, adding that breakdown in the policy and values has led to emergence of unpatriotic leaders.
Martin, who coincidentally celebrated his 38th priestly ordination, said that Nigerian politicians have lost faith on service to humanity, and were in search of personal gain.
He related it to the trending case of Femi Fani-Kayode, who recently joined All Progressives Congress (APC).
"Insecurity is the major problem we have in Nigeria currently; places of worship are not safe.
"The government is supposed to have access to experts who will bring in their expertise to solve the problem but that is not so. When you hear the kind of complains and dissatisfaction from the military and different sides you will know that there is inadequate sincerity by the government. There are inadequate arms supplied to the security.
"One of the things about Nigerian politicians is inconsistency in goals and principles. When Fani-Kayode was criticizing Buhari it was not based on principles of not he would not join or switch to APC. It is not surprising that we are where we are today because we have people like him who are inconsistent," he stated.