Huge season in La Liga for Nigeria duo
With Europe's major footballing leagues gearing up for the 2019/20 season – some of which have already started – the next few months will be a crucial period for two of Nigeria's brightest stars.
For Moses Simon and Samuel Chukwueze, their performances in Spain will be closely scrutinised by all Nigerian football fans – and it is still uncertain what opportunities await this duo in La Liga this season.
Simon is probably the more settled of the two, as he embarks on a second season with Levante.
The Valencia-based club avoided relegation from Spain's leading division last season, finishing 15th in the table and seven points clear of the dreaded drop zone.
The 24-year-old striker played 24 first-team matches for Levante during 2018/19 and is viewed as a long-term prospect at the club, having joined on a five-year deal.
Simon's international career is also on an upslope having played in five of Nigeria's Africa Cup of Nations matches during the summer – including the country's narrow 1-0 victory over Tunisia in the third-place play-off match.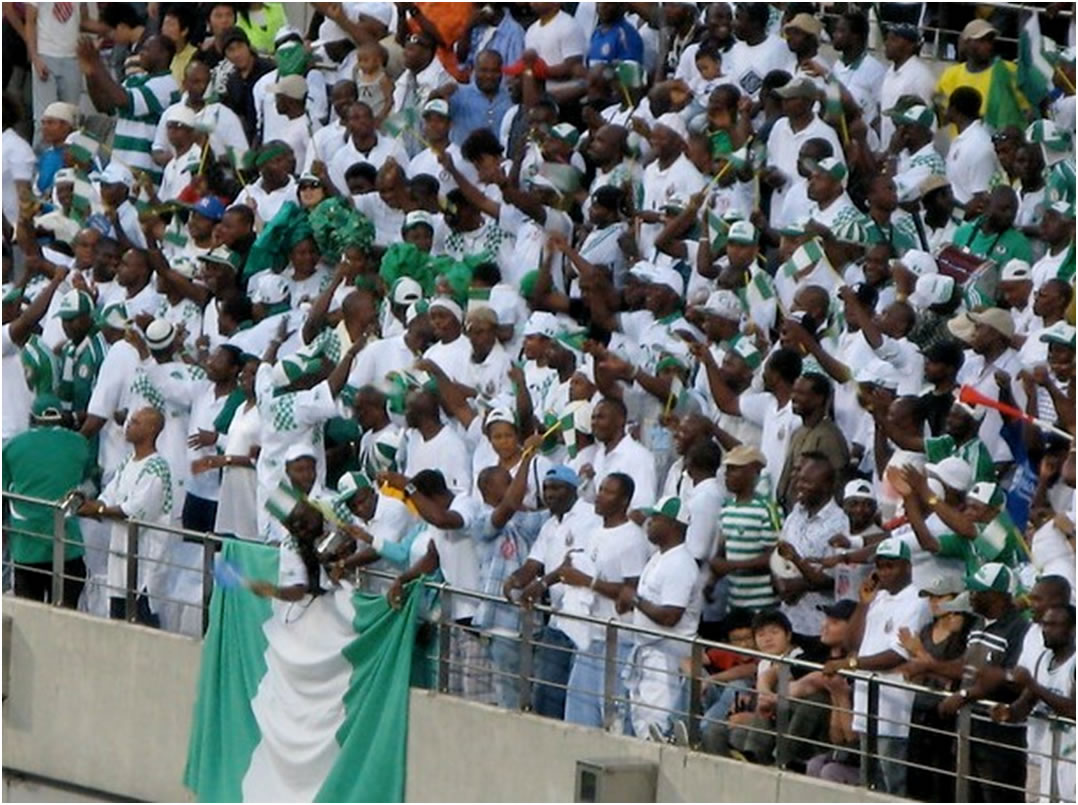 "Nigeria fans" (CC BY 2.0) by manbeastextraordinaire
This made up, in some part, for his disappointment the previous year when he was named in Nigeria's preliminary 30-man squad for the 2018 World Cup Finals in Russia. However, injury meant he was unable to make the final 23.
Simon's chances of collecting silverware with Levante this season is highly unlikely and, according to La Liga betting, the club are currently 2,500/1 with bet365 to lift the title.
Once again their main target will be to finish inside the top 17, so escaping relegation to tier two.
Around 40 miles north of Valencia is Villarreal, where Chukwueze is also embarking on a second campaign in La Liga.
The 20-year-old winger enjoyed a successful debut campaign in 2018/19, having completed a promising season for the club's 'B' team in the Spanish Third Division.
Chukwueze netted eight times for Villarreal in all competitions, including one in a 2-0 Europa League victory over Spartak Moscow in December.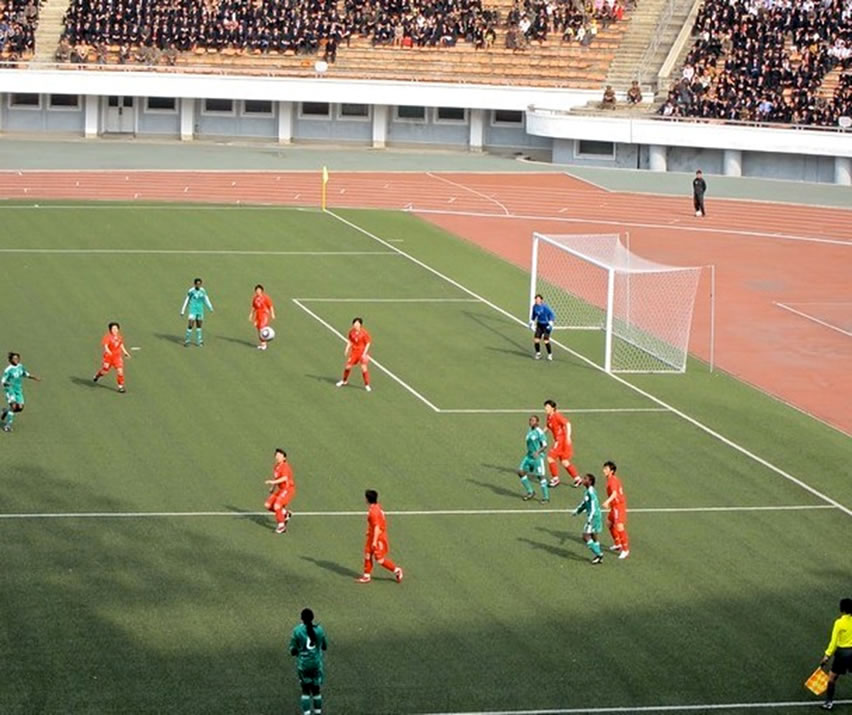 "Nigeria in Action" (CC BY 2.0) by John Pavelka
He also scored the opener in their memorable 4-4 draw with Barcelona during April, when the Catalan giants rescued a point thanks to last-minute goals by Luis Suarez and Lionel Messi.
Chukwueze went on to feature in six of Nigeria's seven games at the Africa Cup of Nations, scoring the opening goal of their 2-1 win over highly-fancied South Africa in their quarter-final encounter in Cairo.
He had made his debut for Nigeria's senior team on November 20th, 2018, when he was named in the starting line-up ahead of their 0–0 friendly draw against Uganda.
Chukwueze was later selected in Nigeria's squad for the Under-20s World Cup but Villareal said he could not play in both this competition and the Africa Cup of Nations during the same close-season period.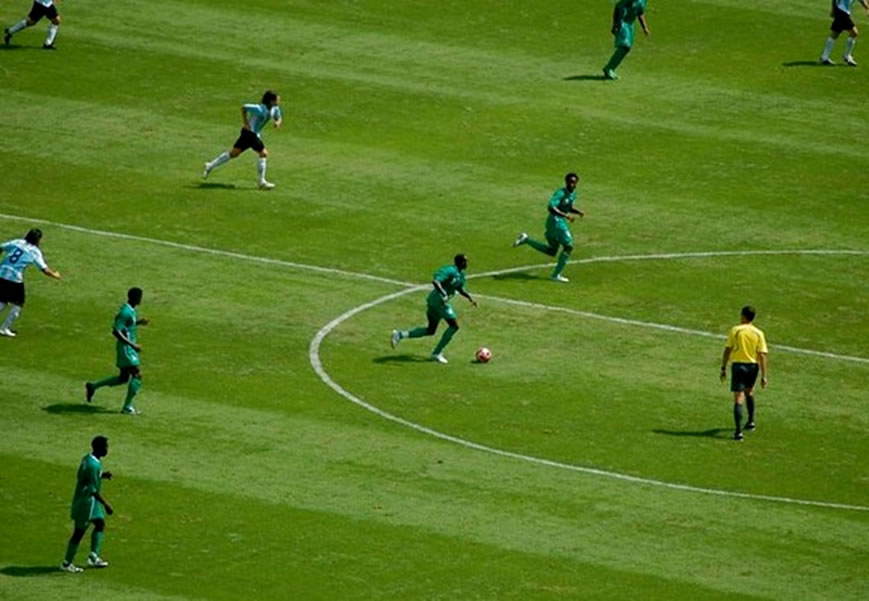 "Nigeria at the 2018 World Cup" (CC BY-ND 2.0) by Andrea Munich
As for his chances of winning a medal this forthcoming season; they are certainly better than Simon's but still an unlikely prospect.
Villareal are ranked as the sixth-best bet for the La Liga title in 2019/20, rated 250/1 with bet365, but, once again, Barcelona, Real Madrid and Atletico Madrid head the market by quite some distance.

Some curiosities about football and bets
Football is one of the most practiced sports all over the world, so much so that when checking the list of the most important teams per league, issued by the International Federation of FootballAssociation(FIFA), there are teams from Europe and the Americas.
In the case of the classification by country teams, the list ranks countries like: Belgium, France, Brazil, England, Uruguay, Croatia, Portugal, Spain, Argentina and Colombia. When an international event takes place or league games are played, the analysis per game begins days before, as well as forecasts and bets.
Well, yes. Football betting has existed practically since the beginning of that sport and has evolved over time, going from being informal to being done online through certified companies.
Today, there are countless teams and leagues, and every day a large number of national and international football games are played on which you can place your bets.
Placing a bet is not a process that can be taken lightly, unless you don't mind risking a certain amount of money. Many people take it as a hobby, but others see it as an opportunity to make some extra money.
In any case, to place a bet on football, you must follow three key steps: the first one, bet only in competitions you know. For example, if you know about the Spanish League you should place your bets there and not in Copa Libertador games. Before doing so, you should know better the teams that participate, as well as their statistical data.
The second step is to open an account with an online sportsbook. There is a great variety of options, but the important thing is that you check their security, reliability, odds offered, as well as the range of bets they allow.
One of the bookmakers that offers a good welcome bonus, various alternative markets, more odds on football bets, live, direct and special bets as well as high odds, is Bet9ja, a Nigerian bookmaker.
The last step is to get to know the different football betting markets. The most common bets are: 1×2, bet on winner, first goal scorer, as well as live bets, which are made when the game is in progress.
Other types of odds on Bet9ja include: winner (predicting the winner of the tournament), relegation (team that will be relegated to another division), no winner, top 2 to 5, top by club, HH team, top scorer, top scorer of the team, direct betting, tricast, exact group points, winner and top scorer, etc.
Football betting is one of the favorites among users given the breadth of the market it offers. Just choose the bookmaker that offers the best conditions in your bet and apply the right strategies to get it right.

Who Is Nigeria's Best Soccer Player of the Decade?
2020 marks the end of what many soccer fans would call the golden age of Nigerian football. Austin Okocha, KanuNwankwo, Daniel Amokachi, Finidi George, and Taribo West were some of the players that highlighted this golden generation while excelling their talents. As such, the legacy of that decade will be long remembered in club careers and national team moments.
While the 2010s led to the emergence of a new football era, the likes of Obafemi Martins, Mikel Obi, and OsazeOdemwingie were already established before the beginning of the decade. However, other players emerged as the decade wore on, leaving indelible marks on the game. We've deiced to close the decade with a shortlist of a few best players in different positions on the field over the last decade.
Among these players we can find those who made the secade for the ones who bet on soccer online at one point or the other, we've selected them based on impact on their clubs and national teams, titles won and consistency.
Goalkeeper- Vincent Enyeama
Considered as one of the greatest goalkeepers in Africa, Enyeama is undoubtedly the Nigerian goalkeeper of the decade. Enyeamastarted the decade with a league win while with the Israeli side, Hapoel Tel Aviv, before moving to Lille.
After moving to France, Vincent didn't have a great start, but he soon sprung back to the first-choice goalkeeper after moving back to Israel on load during the 2012/2013 season. The following season, he recorded 11 straight clean sheets for his League 11 games, almost breaking the league record.
Right Back – Efe Ambrose
For the better part of the decade, Ambrose has been the most consistent player in Nigerian football. While he also played the central defender position, he was the ultimate Super Eagles right-back for several years. The defender moved to Scotland in 2012, winning five league titles consecutively.
While playing for Celtic, he took four consecutive league titles, playing over 20 games in every season. The defender was also key to the Super Eagles win of their only trophy of the decade, playing six out of their seven AFCON 2013 games.
Defensive Midfield – Wilfred Ndidi
Since moving to Leicester in January last year, Wilfred Ndidi has increased his strength significantly to become one of the best Premier League midfielders. While with the foxes, Ndidi had an impressive consistency, and he improved significantly to become a world-class Nigerian Player. Ndidi has also been a reliable player for the Super Eagles during the last three years, with the 2019 AFCON under his belt.
Best Overall – John Mikel Obi
While playing at the highest level in European Soccer, Mikel Obi is arguably the most consistent Nigerian player of the decade. Mikel had won every trophy in his club career, succeeding effortlessly at Chelsea in a time when Nigerian football wasn't enough for the international audience. Even better, Obi played an important role in helping the Blues win the FA Cup, Europa League, Premier League and Champions League.

Top Soccer Betting Sites in Nigeria
Sports betting is one of Nigeria's most popular pastimes, and considering that Nigeria remains Africa's most populous nation, job opportunities are increasingly rare to find. Given that Nigeria is a soccer powerhouse, and there are a lot of events throughout the year, more and more people are getting drawn into betting both for fun and also as a career. As you would expect, there is an increase in the number of online bookmakers, local and foreign. If Nigeria soccer betting interests you, we look at the top betting sites in Nigeria in 2019.
#1. NairaBet
NairaBet was founded in 2009, marking a decade of growth this 2019. Operating fully under the Lagos State Lotteries Board regulations, the bookmaker has grown to be one of Nigeria's most trusted names known for amazing betting features and a reliable 24-hour customer service. Trust NairaBet for periodic bonuses and extensive markets on all events taking place around the world. It is now rubbing shoulders with other foreign-based bookmakers to capture the larger share of the African market.
#2. Bet9ja
If you're looking for an African bookmaker with a European feel, Bet9ja is your sure bet. It offers a friendly user platform designed to allow even newbies easy access and navigation through the platform. It offers users incredible game and player statistics for top soccer matches, and, in addition to that, customers can get free bets through the loyalty scheme exclusive for Bet9ja customers.
#3. Betway Nigeria
Betway's entry into the African market was timely, especially in Nigeria where it has since established itself among the people's favorites. Besides offering a handsome welcome bonus for new customers, it boasts an unbeatable range of markets for all sports events taking place around the globe. Betway customers enjoy a full range of livestreaming options right from wherever they are, on mobile, or on their laptops. Worth mentioning also, Betway were among the pioneers of in-play betting.
#4. MelBet
MelBet entered the market only in 2012, and has seen a significant rise largely due to an extensive marketing and promotions for prospects. It is widely known in Nigeria for in-play opportunities, and even though it does not have the most pleasing interface, it certainly ranks amongst the top sites thanks to its vast coverage of markets.
#5. BetFair
BetFair is a popular name among soccer betting fans not only in Nigeria but also around the world. Based in Gibraltar, the bookmaker entered the Nigerian market with pomp, luring customers with incredible joining bonuses. Over the short time they have been in the African scene, they have seen an amazing response from customers, particularly owing to their competitive odds and vast market range on all sports disciplines.
#6. 888Sport
If you're looking for easy betting, 888sport has an easy-to-access app that has been designed to make your betting as easy and straightforward as possible. Now operating in Nigeria and other parts of Africa, it is a foreign-based company growing quickly into the market. It is mainly loved by punters for its quality odds on a host of markets on all events happening everywhere in the world.