Huge season in La Liga for Nigeria duo
With Europe's major footballing leagues gearing up for the 2019/20 season – some of which have already started – the next few months will be a crucial period for two of Nigeria's brightest stars.
For Moses Simon and Samuel Chukwueze, their performances in Spain will be closely scrutinised by all Nigerian football fans – and it is still uncertain what opportunities await this duo in La Liga this season.
Simon is probably the more settled of the two, as he embarks on a second season with Levante.
The Valencia-based club avoided relegation from Spain's leading division last season, finishing 15th in the table and seven points clear of the dreaded drop zone.
The 24-year-old striker played 24 first-team matches for Levante during 2018/19 and is viewed as a long-term prospect at the club, having joined on a five-year deal.
Simon's international career is also on an upslope having played in five of Nigeria's Africa Cup of Nations matches during the summer – including the country's narrow 1-0 victory over Tunisia in the third-place play-off match.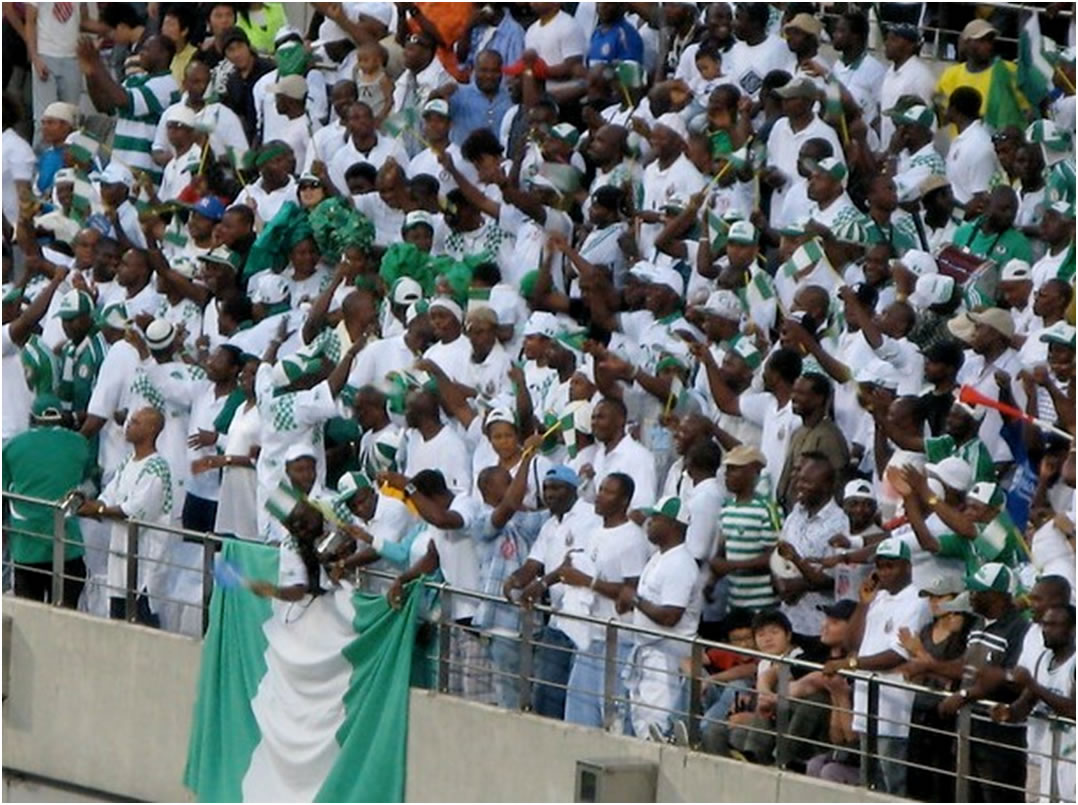 "Nigeria fans" (CC BY 2.0) by manbeastextraordinaire
This made up, in some part, for his disappointment the previous year when he was named in Nigeria's preliminary 30-man squad for the 2018 World Cup Finals in Russia. However, injury meant he was unable to make the final 23.
Simon's chances of collecting silverware with Levante this season is highly unlikely and, according to La Liga betting, the club are currently 2,500/1 with bet365 to lift the title.
Once again their main target will be to finish inside the top 17, so escaping relegation to tier two.
Around 40 miles north of Valencia is Villarreal, where Chukwueze is also embarking on a second campaign in La Liga.
The 20-year-old winger enjoyed a successful debut campaign in 2018/19, having completed a promising season for the club's 'B' team in the Spanish Third Division.
Chukwueze netted eight times for Villarreal in all competitions, including one in a 2-0 Europa League victory over Spartak Moscow in December.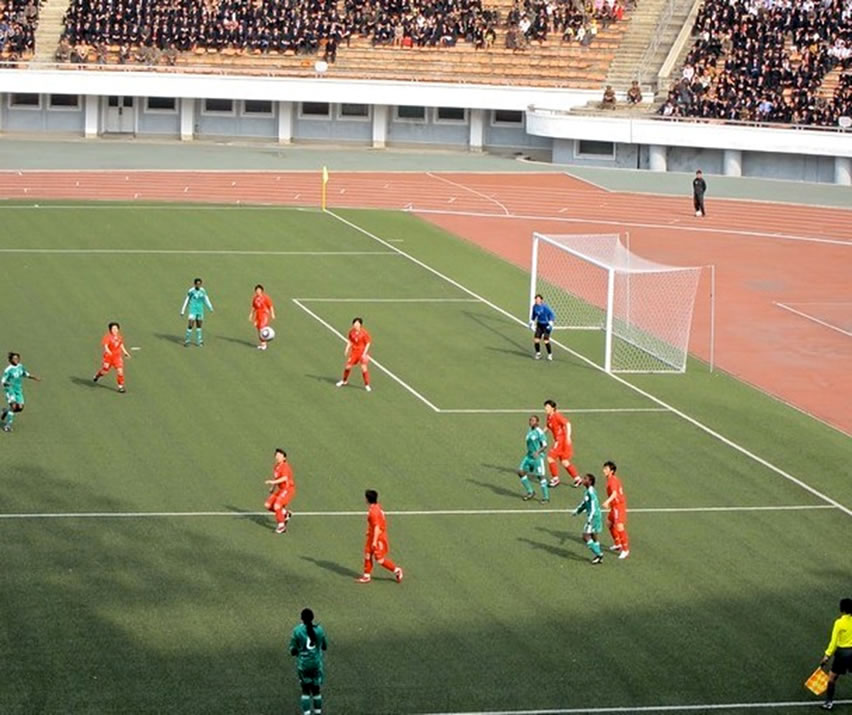 "Nigeria in Action" (CC BY 2.0) by John Pavelka
He also scored the opener in their memorable 4-4 draw with Barcelona during April, when the Catalan giants rescued a point thanks to last-minute goals by Luis Suarez and Lionel Messi.
Chukwueze went on to feature in six of Nigeria's seven games at the Africa Cup of Nations, scoring the opening goal of their 2-1 win over highly-fancied South Africa in their quarter-final encounter in Cairo.
He had made his debut for Nigeria's senior team on November 20th, 2018, when he was named in the starting line-up ahead of their 0–0 friendly draw against Uganda.
Chukwueze was later selected in Nigeria's squad for the Under-20s World Cup but Villareal said he could not play in both this competition and the Africa Cup of Nations during the same close-season period.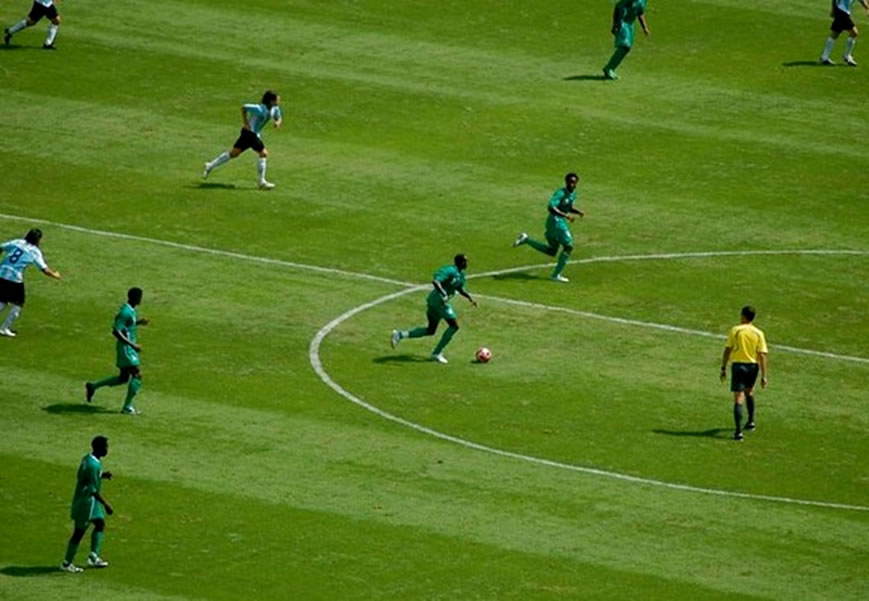 "Nigeria at the 2018 World Cup" (CC BY-ND 2.0) by Andrea Munich
As for his chances of winning a medal this forthcoming season; they are certainly better than Simon's but still an unlikely prospect.
Villareal are ranked as the sixth-best bet for the La Liga title in 2019/20, rated 250/1 with bet365, but, once again, Barcelona, Real Madrid and Atletico Madrid head the market by quite some distance.
How to Prevent Mosquito Bites – Food to Eat
There is no bad situation whereby you are enjoying online casino games on your mobile device you start tussling with mosquitoes. No one ever enjoys an encounter with mosquitoes and some people think that getting rid of mosquito is just all about applying a repellent on your skin. Actually there is a lot that you can do to make sure that you don't fall victim of the itching mosquito bites that can hinder your progress of playing Casino enligne France games for real money.
There are quite a number of ways of halting the itching and watching what you eat is can be a contributing factor towards to a happy lifestyle. Let's show you some of the foods that can act as a mosquito repellent and prevent your skin from less-itchy life.
Lemongrass
Have you ever heard of citronella? Well, it is a mosquito repellent and lemongrass is the main food source of citronella. Quite a number of researches suggest that infusing lemongrass in your tea or coffee will surely help you to repel the nasty mosquitoes. You can even add the lemongrass to your curry food and you will not have problems with mosquito night bites whilst playing high stake online casino games.
Tomatoes
Are you one of those people who believe that a tomato a day keep one away from the doctor? There are quite a number of people that categorise tomatoes as fruits. Those people are not at fault at all. Tomatoes are actually an excellent source of thiamine which really help keep mosquito away from your skin.
We want you well and kicking so that you can be able to play best casinos in usagames for real money. And at the same time we can't have a small creature like mosquito be an enemy of progress. Therefore, have a lot of the said foods as part of your nutrition and you will be good to go.
Guide for quick Start in Sports Betting: Tips and Advice for Beginners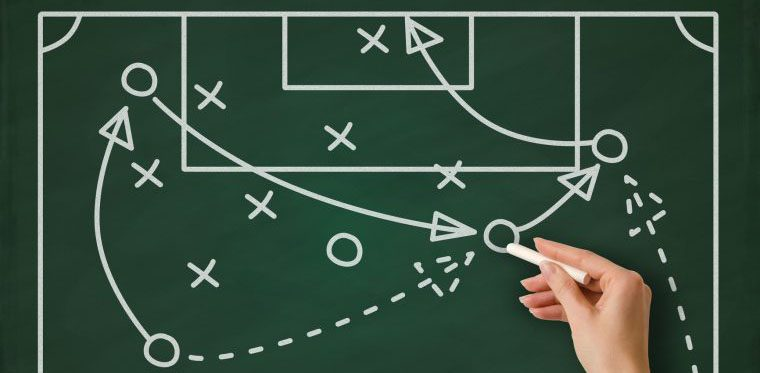 Beginner's tips and guide to online sports betting. Everything you need to know before you start wagering on bookmakers' website.
Quickstart in Sports Betting: All You Need to Know
Are you a sports fan who has decided to take your love for the game to another level? Trying to get started on a sportsbook website? Then you are reading the right article at the right time. Using the expertise acquired from several years of sports betting, we have put together a rich guide to help you figure out all you need to know about online sports betting. Also, we have a few to tip that can enable you to make money from wagering on sports online.
How to Get Started
Among all kinds of online gambling, sports betting is considered the easiest. Let's start from the signup stage, a lot of gambling website makes it easy for punters to sign up as long as they meet the legal gambling age required. To start wagering on the sportsbook website, all you need is create an account. Once your account has been verified by the bookmaker you are then allowed to bet on the market available.
What You Should Know
Before you start wagering on any online sportsbooks, you need basic knowledge of the market offered, types of wagers, how odds work in online betting and payouts. Below we are going to briefly explain all of these basic components of online sports betting.
About Betting Options on Online Sportsbook
Betting markets vary, and two bookmakers selected at random will most likely not have the same betting options to offer. However, there are certain events in popular tournaments, leagues and competitions that most bookmakers like to host. Since you cannot bet on all the events, it is only wise to choose from events listed under your most preferred sport where you presumably have more knowledge. Most bookmakers list events based on sports options. There is usually a lobby list with all the sports options and when a particular sport is selected all leagues and events under it will be revealed.
Asides knowing about betting options, new bettors also have to know what odds are in betting and how they work. Odds are simply used to determine how much you are likely to gain from the stakes you place. Odds come in three forms which are Odds on (likely to offer lesser rewards than the amount staked), Even Odds (offers the same amount staked), and Odds against (likely to offer more than the amount staked). After selecting an event you want to bet on, the next thing is to select your preferred odds, which can either be displayed in decimals, fractional or Moneyline. The next step to selecting odds is entering your stakes on the bet slip which will then reflect your potential winning. What is worth knowing while placing your stake is that the higher the odds, the higher your potential reward. However, wagers placed on high odds are less likely to win.
Payouts and Withdrawals
This is the part most punters are interested in because this is the targeted end game of bettors. Payout is the amount paid by the bookmaker to the bettor, only if the selection chosen is correct. Payout also includes the original stake placed, this is added to the amount won and all can then be withdrawn by the winner. It is important to know a player must have deposited with the bookmaker from the onset before stakes can be placed and winnings can be cashed. Bookmakers pay out hours after winnings have been confirmed.
On bet2win.com.ng page you can read more about beginners betting tips and how to hedge your betting odds, one of the most reliable betting sites for Nigerian punters!
Banning iGaming in Nigeria would be a terrible decision and here's why
Several opinions have been voiced in the Nigerian government that iGaming is a detriment to society and needs to be removed completely. The term iGaming consists of pretty much everything resembling online wagering. Things such as sports betting and online casino games are considered as iGaming and the Nigerian government wants to get rid of them ASAP.
The sentiment towards this industry is understandable. It's basically like a sink for the funds which are already quite scarce for the Nigerian population. Having these operators claim the funds of the local population with promises to pay them back double or triple seems like a pyramid scheme, but in reality, it isn't.
The industry is quite popular all over the world. Places like Europe, Asia, and even the heavily regulated Northern America thrive from iGaming but don't ban it completely. Why? Because it's nothing but an introduction to underground gaming rings and criminals.
Where the problem is more systematic
As of right now, the biggest iGaming problem for Nigerians is noticed in schools and universities, where students find illegal contractors and place bets on a specific sports match that will be happening anytime soon.
Due to the naturally high risk of sports, whose outcome is usually hard to predict, many students tend to lose a lot of money they simply don't have, and therefore end up in debt. There have even been cases where students wagered money dedicated to their tuition and lost it all.
These are the cases that the Nigerian government emphasizes and they are completely warranted. Such activities need to be controlled, discouraged and most importantly banned, as long as the whole industry isn't banned.
What could be the side effects of a ban?
Banning iGaming in Nigeria will not discourage all of the sports betting activity happening within schools and universities. As already mentioned above, most of it is happening through illegal contractors who simply have enough funds to pay out the winners and that's it.
Now, Nigeria has over two dozen companies that operate in this industry. These companies pay taxes based on their profits and usually adhere to everything that is forced upon them from high above.
These companies are the representation of supply for iGaming. Currently, the demand already outpaces the supply as school and university students choose illegal contractors.
Should the already available supply be taken out of the equation through a nation-wide ban, it would incentivize even more illegal contractors to set up shop. Why? Because the demand is still there, nothing was done about it, it's just the supply that was removed.
By placing a ban on iGaming, the government will essentially blind itself to the local situation by not having access to the data that registered companies gather, nor will they receive any kind of tax from the industry as it will all continue to operate underground.
What could possibly be the solution?
Several experts have said that introducing a maximum amount that a person can deposit every month could be the solution, but that's exactly why people go for illegal contractors as they don't have these artificial caps.
The best solution, for now, would be to regulate the industry under the government's control. This means that private companies will have to close up shop and leave, and the government will replace them through SOE (State Owned Enterprises).
However, this needs to be undertaken in a very cautious manner, as other countries who currently have monopolies on gambling are starting to see their population combat them.
Such is the case in Finland, where a local casino news outlet NorskeCasino.casino reported that the local population is starting to see the monopoly on gaming as nothing but a cash grab from the government.
It's extremely important that the ruling party goes about this very carefully as it can have very serious political ramifications. Any kind of gaming addiction case after this implementation would be blamed on them.
But why would this work?
Once the government has the industry firmly in their hands, they can very easily remove any and all caps on the maximum deposits. The SOE could not focus on profits, but much rather focus on self-sustainability, this means regular cashback, beneficial offers and overall support of the customer base.
The removal of the cap brings the illegal gamblers into the fold and adds even more income to the government, which can later be invested in agencies dedicated to fighting gambling addiction or just infrastructure and fighting poverty.
Overall, the added control the government will get over the industry should be a great temporary solution, but it won't hold forever as displayed in Finland.
Sources for this article:
https://norskecasino.casino/nyheter/finske-gamblere-er-lei-av-landets-spillmonopol/