Huge season in La Liga for Nigeria duo
With Europe's major footballing leagues gearing up for the 2019/20 season – some of which have already started – the next few months will be a crucial period for two of Nigeria's brightest stars.
For Moses Simon and Samuel Chukwueze, their performances in Spain will be closely scrutinised by all Nigerian football fans – and it is still uncertain what opportunities await this duo in La Liga this season.
Simon is probably the more settled of the two, as he embarks on a second season with Levante.
The Valencia-based club avoided relegation from Spain's leading division last season, finishing 15th in the table and seven points clear of the dreaded drop zone.
The 24-year-old striker played 24 first-team matches for Levante during 2018/19 and is viewed as a long-term prospect at the club, having joined on a five-year deal.
Simon's international career is also on an upslope having played in five of Nigeria's Africa Cup of Nations matches during the summer – including the country's narrow 1-0 victory over Tunisia in the third-place play-off match.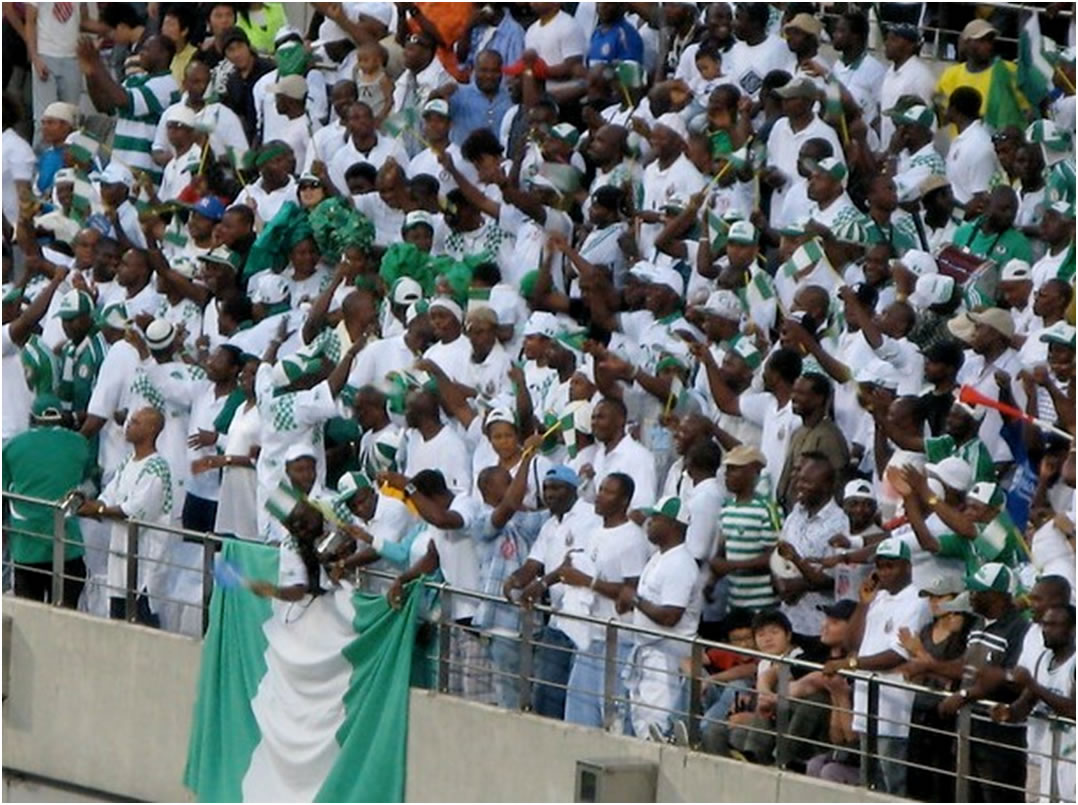 "Nigeria fans" (CC BY 2.0) by manbeastextraordinaire
This made up, in some part, for his disappointment the previous year when he was named in Nigeria's preliminary 30-man squad for the 2018 World Cup Finals in Russia. However, injury meant he was unable to make the final 23.
Simon's chances of collecting silverware with Levante this season is highly unlikely and, according to La Liga betting, the club are currently 2,500/1 with bet365 to lift the title.
Once again their main target will be to finish inside the top 17, so escaping relegation to tier two.
Around 40 miles north of Valencia is Villarreal, where Chukwueze is also embarking on a second campaign in La Liga.
The 20-year-old winger enjoyed a successful debut campaign in 2018/19, having completed a promising season for the club's 'B' team in the Spanish Third Division.
Chukwueze netted eight times for Villarreal in all competitions, including one in a 2-0 Europa League victory over Spartak Moscow in December.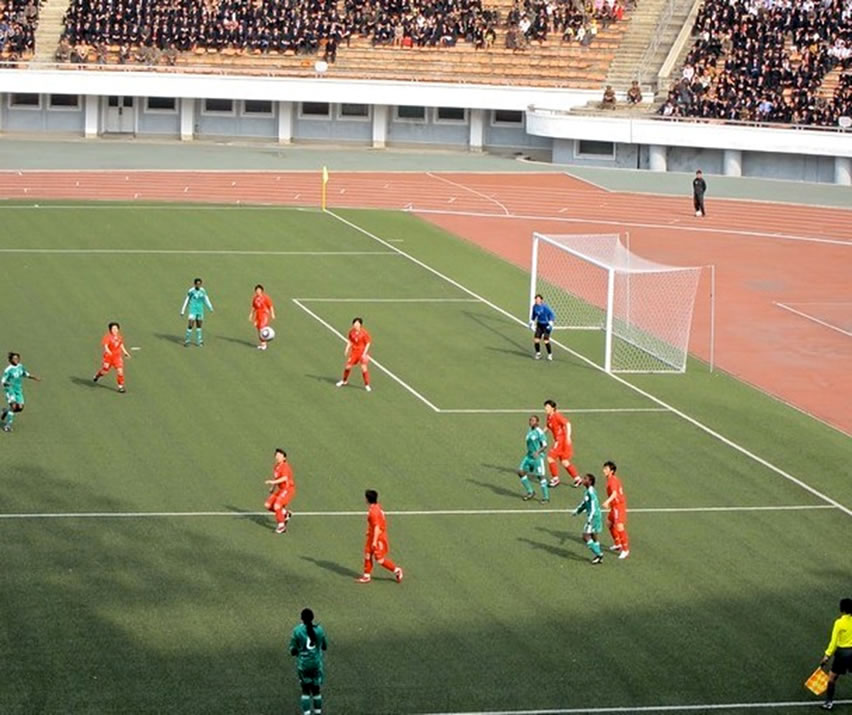 "Nigeria in Action" (CC BY 2.0) by John Pavelka
He also scored the opener in their memorable 4-4 draw with Barcelona during April, when the Catalan giants rescued a point thanks to last-minute goals by Luis Suarez and Lionel Messi.
Chukwueze went on to feature in six of Nigeria's seven games at the Africa Cup of Nations, scoring the opening goal of their 2-1 win over highly-fancied South Africa in their quarter-final encounter in Cairo.
He had made his debut for Nigeria's senior team on November 20th, 2018, when he was named in the starting line-up ahead of their 0–0 friendly draw against Uganda.
Chukwueze was later selected in Nigeria's squad for the Under-20s World Cup but Villareal said he could not play in both this competition and the Africa Cup of Nations during the same close-season period.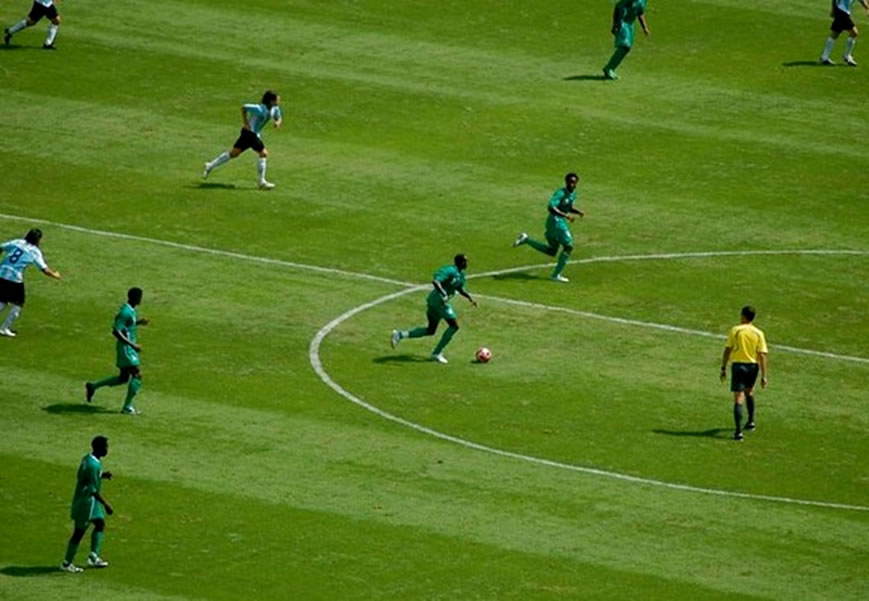 "Nigeria at the 2018 World Cup" (CC BY-ND 2.0) by Andrea Munich
As for his chances of winning a medal this forthcoming season; they are certainly better than Simon's but still an unlikely prospect.
Villareal are ranked as the sixth-best bet for the La Liga title in 2019/20, rated 250/1 with bet365, but, once again, Barcelona, Real Madrid and Atletico Madrid head the market by quite some distance.
The Best Card Games to Play as a Couple
If you want to spice up your next date night? Take it to the next level with a board, dice, or DIY game the next time you're planning a romantic night in with your special person. After all, couples that play together stay together!
We've compiled a list of our top couple games to play with your buddy to give you some ideas. It's game time!
Paris: La Cité de la Lumière
You can't go wrong with Paris: La Cité de la Lumière if you're looking for a lovely two-player game for your next date night. This board australianonlinecasinositesgame, which has a beautiful style, is as enticing as it is exciting, and you and your friend will have a blast trying to conquer it.
This is a game of two halves-set in 19th-century Paris during the World's Fair. You must build the city's streets with a series of strangely designed creations in the first half of the campaign. The goal in the second half of the game is to light up the city by placing more of your buildings near the streetlights than your opponent.
Tiny Towns
You get your own 4×4 grid to build your town on in Tiny Cities. You can get a certain amount of victory points for each building you construct, with the intention of outsourcing your opponent. Start building with the tools available on the board, such as cards and pieces. When there are no further tools to get, the game ends.
I Should Have Known That
It's time to put your trivia skills to the test! I should have known better. This is a simpleonline casinos for real money game for couples or larger audiences to enjoy. This is a date night game that will bring out your competitive edge, with a multitude of infuriating questions that you should know the answers to. Instead of receiving points for each correct answer, you will be penalized if you get one incorrect.
Should I Claim Casino Bonuses?
Online casinos and their land based casino counterparts have a series of bonuses and promotions that are meant to wow their patrons. But with all these bonuses come a series of doubts form the players, this is because they will not be sure if they should claim the casino bonuses or not. That is why below we have a few items that you need to check for before you attempt to claim the casino bonuses.
Before Claiming The Casino Bonus
1.      Read The Wagering Requirements
The first thing that you need to do id to make sure that you check the casino wagering requirements. These will help you to know how much the overall online slots bonus is at the end of the day.
2.      Check the Period
The next thing that you need to check for is the timeframe or the period. This is the amount of time that you need before the bonus expires.
3.      The Casino License
Then you will have check for the leroi johnny casino enlignelicense a swell. Well, that should have been the first thing that you have to check for even before you pick a casino. Players have to careful about the sites where they choose to play. There ae some casinos that will wave fancy promotions only to steal from players.
4.      The Banking Methods
In the bonus terms and conditions, make sure that you take note of the banking methods as well. There are some casinos that will have bonuses that can only be claimed with specific banking methods. As a result, you just have to be careful.
5.      Mind The Games
Casino bonuses can be claimed with specific games and players have to careful about them. Some players might not like to play online casino table games and these might just be the game sthat are needed for the bonus to pull through.
Free PC Hidden Object Games
Over the past year, we have seen a lot of people moving to online gaming for fun. In fact, because of that, the casinos françaisindustry has actually boomed. Not only that, but there has been a surge in the number of people that are playing video games.
One genre that has received a lot of fans is the hidden object/mystery genre. Luckily, there are a number of hidden object games that you will be able to find on console, PC, or mobile. In this post, we are particularly focusing on the free PC hidden object games that you can play. Some of these games are downloadable, while you have to play others online.
Gardenscapes
This is a very simple matching game. All you have to do is match 3 or more symbols in order to pass levels. As you pass levels, you will be awarded a lot of prizes, which you will be able to use in order to rebuild a garden back to its former glory. The game has some challenging levels, which makes it very interesting.
Gardenscapes 2
Again, in this version of thebest australia casinos game, you get to play with the help of Austin the butler. The only difference is that this time around, you will restore the hall into its former glory. The challenges in this game are interesting enough to keep you hooked.
The Silent Age
We really think that this is one of the most entertaining hidden object games out there. This is witnessed by the over 7 million mobile downloads of the games. we love the fact that the PC version of the game has been revamped and updated, offering better gameplay.
It also comes with a very good storyline that will keep you entertained as you pass through the various levels. You will also be able to find other puzzles that are guaranteed to keep you entertained all day long.