Spices For Better Health (11)
In the last edition, I made mention that spices are highly priced commodities in ancient times. Though later it became common place as people began to use them due to their abilities to enhance food taste.
But that is not all about spices. Research has shown that they have huge medicinal values and help to improve health.
The following spices are healthful:
Cinnamon: (cinnamon zylanicum). Cinnamon is a special spice that comes from tree bark, and this makes it unique. The inner bark is obtained from carefully selected shoots. Cinnamon tree was known to ancient physicians even before 2700BC. The Chinese used the bark of this tree as medicine.
An analysis of cinnamon shows it consist of moisture, protein, fat, fibre, carbohydrates and ash, besides calcium, phosphorus, iron, pottasium, thiamine, riboflavine, niacin, Vitamin C and A.
Its medicinal uses include use as mouth freshener, headache, common cold. A paste of grounded cinnamon powder with lime juice applied over pimples and blackheads are effective. Dried cinnamon leaves and bark are used for flavouring cakes and sweets.
Curry (murraya koenigi):Curry leaves are derived from beautiful aromatic and more or less deciduous shrub growing up to 0.9metre. Curry leaves possess the qualities of a herbal tonic. They strengthen the functions of the stomach and promote its action. Fresh juice of curry leaves, with lime juice and sugar is an effective medicine in the treatment of morning sickness, nusea and vomiting due to indigestion.
Curry leaves according to prominent herbalist HK Bakru have weight reducing effects. It also helps diabetic patients stop passing sugar in urine. Frequent intake of curry leaves is considered beneficial in preventing premature greying of hair.
Corriander (corriandum sativum):This is a sweet smelling herb. Its lovely fragrance makes it an attractive spice. An analysis of the seeds shows that it contains calcium, phosphorous, iron, carotene, thiamine, niacin and riboflavin. The leaves of coriander are stimulant and tonic. They strengthen the stomach and promote its action, relieve flatulence, increase secretion and discharge of urine.
A teaspoon of coriander juice mixed with a pinch of turmeric powder is an effective remedy for pimples, blackheads and dry skin. Regular drinking of coriander water helps lower blood cholesterol, as it's good and stimulates the kidneys. The young plants of corriander are used in sauces, curries and soups.
Cumin Seeds (cuminum cyminum): Cumin seeds are common in the Middle East part of the world. It was one of the commonest spices during the Middle Ages. These seeds have huge mineral and Vitamin deposits such as calcium, phosphorus, iron, sodium potassium, thiamine, riboflavine and Vit C and A.
Cumin seeds are very useful in digestive disorders. One  teaspoon of fresh coriander leaf juice and pinch of salt. Black cumin is beneficial in the treatment of piles. It's also valuable in relieving sleeplessness. A teaspoon of the fried powder of cumin seeds mixed with the pulp of ripe banana can be taken at night to induce sleep. Cumin seeds are valuable in relieving memory. This can be done by mixing ground seeds with 12 grammes of pure honey. Cumin seed is extensively used in mixed spices for flavouring of curries, soups, sausages, bread and cakes.
Fennel (fenniculum vulgare):Fennel is a yellowish green herb. It has been used for flavouring from ancient times. The leaves of fennel are digestive, appetising and stimulating. They increase the secretion and discharge of urine. The seeds are sweet, laxative, aphrodisiac and arrest bleeding. Chewing the seeds after meals prevent foul breath, indigestion, constipation and vomiting.
The leaves of fennel are useful in respiratory disorders like asthmas and bronchitis. It also promotes menstruation and regulate monthly periods. Children with colic problems can benefit from fennel. A teaspoon of the herb is boiled in water with either peppermint or crushed, it's then strained and allowed to cool. The tea is given to the baby in feeding bottle or one teaspoon at a time.
Council Chairman's Wife Tasks Women On Breast Feeding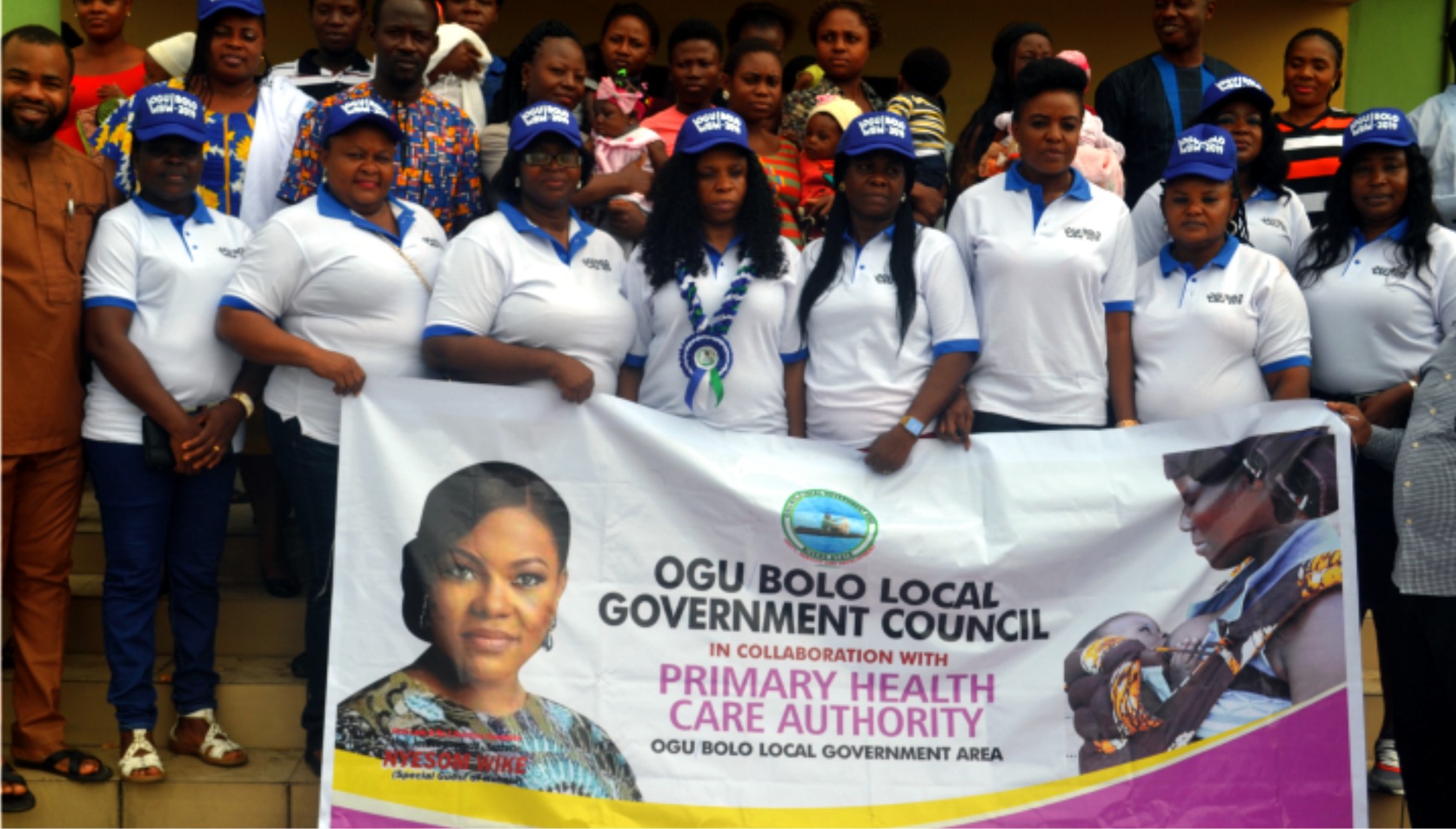 The wife of Chairman of Ogu/Bolo Local Government Area of Rivers State, pastor (Mrs)Jemima Victor, says exclusive breast feeding of children will impact in the  development of their intelligence quotient and enhance their educational growth.
She stated this in an interview with The Tide on the sidelines of the flagging- off of Breast Feeding campaign programme in Ogu, head quarters of the local government recently and assured that the campaign would be a continuous programme in the area until the women are acquainted and adapt with the practice.
She averred that exclusive breast feeding was crucial for growth and development of every child, adding that  it was key for  mothers and women  to breastfeed their children .
The Ogu/Bolo first lady opined that when the babies are breastfed with the right milk, they would be able to develop the right features God deposited in them and with a right character and attitude.
She attributed the various social vices  happening in the society today as to lack of intimacy between mother and child during the infancy stage, adding that breast feeding will bridge such gap between mother and child at the developing stage of every child.
"When you give a child the natural milk which is gotten from the woman's breast milk, you get the best from such child. Let us stop giving our babies chemicals and  animal milk, it will make them manifest characters like  animals when they grow," she said.
Let us breastfeed our children so that we can have generations that have been fed well and not with cow milk", she stated.
The  Ogu first lady, was decorated with the champion of nutrition  breast-feeding of the local government area during  the programme by the representative of the Permanent Secretary, state primary health care board at the occasion .
She assured that the award would spur her tocontinue to support and sustain the breastfeeding campaign and awareness in the area, even as she called on women in the local government area to embrace the practice for the betterment of the society.
Also speaking, the Medical Health Officer in the local government area, Dr (Mrs) Loliya Koko advised women to ensure the breastfeeding of their new born babies exclusively within the first six months without water and artificial milk, adding that it will save them from infections and diseases.
She thanked the wife of the council chairman for ensuring the success of the programme in the area.
Breast Implants'll Not Prevent Sagging – Obstetrician
An Abuja – based Obstetrician, Dr Dauda Adekunle, has advised women who intend to go for breast implants that breast augmentation would not prevent their breast from sagging.
Adekunle gave the advice in interview with newsmen last Monday in Abuja.
According to him, women who believe breast  augmentation will correct sagging breast should have a rethink, because they will also need a breast lift in addition to the breast augmentation.
"You might need additional surgery after breast implant removal. If you decide to have your implants removed, you might need a breast lift or other corrective surgery to help restore your breasts' appearance," he said.
He said that breast implants were not guaranteed to last a lifetime, stating that the average life span of an implant was 10 years.
"Implant rupture is a possibility, also, your breasts will continue to age, and factors such as weight gain or weight loss might change the way your breasts look," he said.
The obstetrician also stressed that these issues would likely lead to more surgeries.
"You might need an MRI scan, which is a recommended routine monitoring with MRI after three years", he noted.
WHO Considers Two Of Four Ebola Drugs More Effective
The World Health Organisation (WHO) considers two of four Ebola treatment drugs have been determined "more effective" than the others and will be the only ones used on patients going forward, the World Health Organisation (WHO) has announced.
WHO announced in a statement that two of the four Ebola treatment drugs were determined more effective in treating patients than others in a trial which began as part of the emergency response in the Democratic Republic of Congo on November 20, 2018.
The trial was called the Pamoja Tulinde Maisha study.
ZMapp, remdesivir, mAb114 and REGN-EB3 were the four drugs used in the trials. During trials, REGN-EB3 and mAb114 were determined to be more effective in treating Ebola than the other two, and will be the only two used going forward, the National Institute of Allergy and Infectious Diseases announced in a statement.
As part of an emergency response team in the Congo, the "Together Save Lives" trial was done with a collaboration of organisations, including the Congo's National Institute for Biomedical Research, the Ministry of Health, the NIH's National Institute of Allergy and Infectious Diseases, the Alliance for International Medical Action and other organisations.
Although the final analysis of data will be completed in late September or early October of this year, the NIAID said the effectiveness of REGN-EB3 and mAb114 was "compelling enough to recommend and implement" the changes immediately.