Wimbledon: Murray, Serena's Mixed Double Run Ends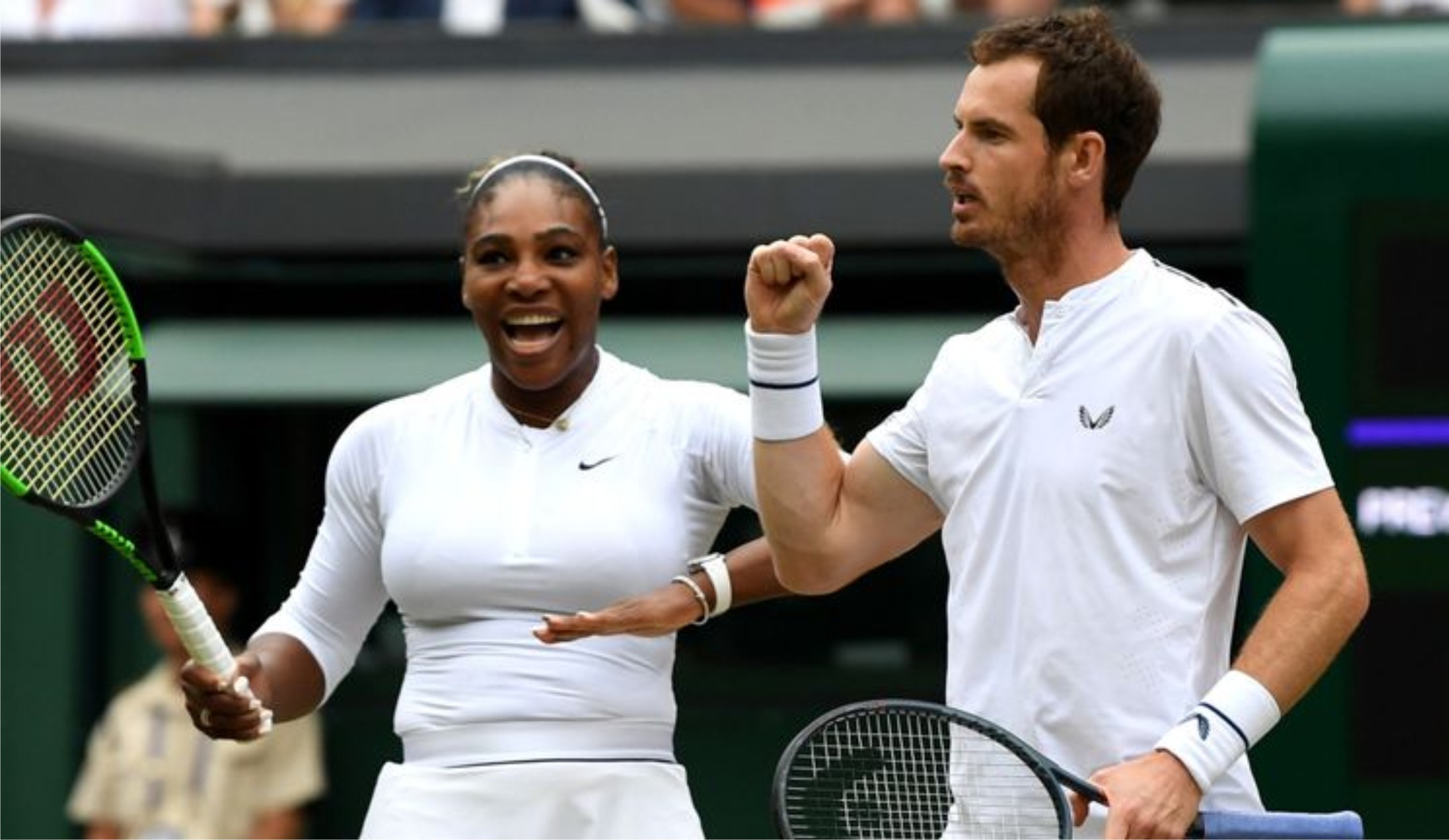 Andy Murray and Serena Williams' memorable Wimbledon run is over after they lost to top seeds Bruno Soares and Nicole Melichar in the mixed doubles.
Britain's Murray, 32, and American Williams, 37, have illuminated SW19 with their blockbuster partnership but came unstuck in a 6-3 4-6 6-2 defeat.
The loss means the Scot's Wimbledon return – almost six months after serious hip surgery – is over.
Now he must decide the next step as he ultimately hopes to play singles again.
On Tuesday, Murray said playing singles at the US Open in September looks "pretty unlikely" as he continues to take his recovery cautiously.
After their exit last Wednesday, the former British number one said: "I think I achieved a lot.
"I got on the court and considering the lack of matches, I did OK. The most positive thing is that my body felt good."
Williams still has a chance of silverware as she played Czech Barbora Strycova, British number one Jo Konta's conqueror, in the singles semi-finals yesterday.
The 23-time Grand Slam champion said she has "loved the support" from playing alongside Murray at the All England Club.
"Hopefully I can still have it," she added.
"I think to play on this stage with Andy, who has done so well here for so many years, is literally just a lifetime experience. I'm so happy that I got to experience it."
Three-time Grand Slam winner Murray has spoken of his pleasure at being back playing competitively after having a hip resurfacing operation from which no player has returned to singles action.
Few would have thought they would see the 2013 and 2016 champion playing Wimbledon so soon and despite seeing the chance of another title alongside Williams disappear, he will look back on the past month with plenty of positives.
Murray made a winning return by taking the Queen's doubles alongside Spain's Feliciano Lopez and has continued to look sharp for this stage of his recovery at the All England Club.
The partnership with Williams, christened by the pair as 'Mur-rena', has wowed the Wimbledon crowds but they could not recover after dropping their first set of the tournament against Soares and Melichar.
Eguma Not Disappointed Over Rivers United, Heartland Draw
The technical manager of Rivers United football of Port Harcourt, Stanley Eguma said he was not disappointed as he dropped points at home in the match day two of the Nigeria Professional Football League(NPFL).
He stated that his team prepared adequately knowing that Heartland FC of Owerri is coming to fight for the three points.
Eguma said this in a  post match interview with Sports journalists after they played one all  draw against Heartland FC at the Yakubu Gowon Stadium, on Sunday in Port Harcourt.
According  to the number one coach in  the State, the problem of his team was the inability to  score goals, adding that the problem is not peculiar to his team, but it seems to be a general problem for all the teams in NPFL.
" We prepared very well because we knew  Heartland FC came to fight with their last blood", Eguma said.
He explained that they were demoralised when they opponents scored early goal.
"No match is easy  in the NPFL because every team needs the three points," he explained.
As it stands pride of the State has two points after playing two matches.
He further  commended Heartland FC for running away with a point in Port Harcourt,  adding that he is going back to the drawing board to correct the grey areas.
By: Kiadum Edookor.
Head coach of Akwa United, John Obuh, has said his team will take maximum points at home when they square up against Abia Warriors in one of the rescheduled NPFL fixtures.
The Promise Keepers started the Nigeria Professional Football League (NPFL) season with a 1-1 draw against Warriors Wolves in matchday 1 while, Abia Warriors were  2-0 winners against Katsina United.
Coach Obuh, who will be taking charge of Abia Warriors for the first time in front of their fans, has set his sight on  getting the three points in their first game at home.
"We hope to have the best possible start, especially as we will be playing at home. Our fans and supporters deserve good result. Victory on Thursday will set us on the right track to achieving our target".
"This is a new NPFL season and we cannot afford to depend on past records and statistics. We have a match to play, we have prepared very well for it, and I can assure our fans that we will not underrate our opponents and we will not leave any stone unturned.
"My players are ready to play, they are fully aware of how the three points will help our course this season, we believe that we will get it right on Thursday. All we need is the support of our fans," Coach Obuh revealed.
The last encounter between the two sides ended in a 2-2 draw last season.
While the two teams have met eleven times in the NPFL in which the Promise Keepers recorded two victories, six draws and three defeats.
The match is slated for Thursday at Godswill Akpabio International Stadium.
Following his side's 1-1 draw against MFM over the weekend in match day 2 of the Nigeria Professional Football League, head coach of FCIU, Uche Okagbue, has revealed that hard work on the part of the players was solely responsible for the team's display.
Speaking with brila.net, Okagbue also revealed that the main goal for the team is to ensure they keep doing their best as they aim to win the league or at least grab a continental ticket.
"We are in the league for a surprise and we follow matches the way it comes".
"We are also working towards getting a continental spot "
"The secret so far is hard work, we promise the fans of FCIU that we are going to do our best this season in the league".