RSG Rejects Ruga Sattlements …Assures Commitment To Protect Rivers Interest …Ijaw Has No Land For Ruga Settlement -IYC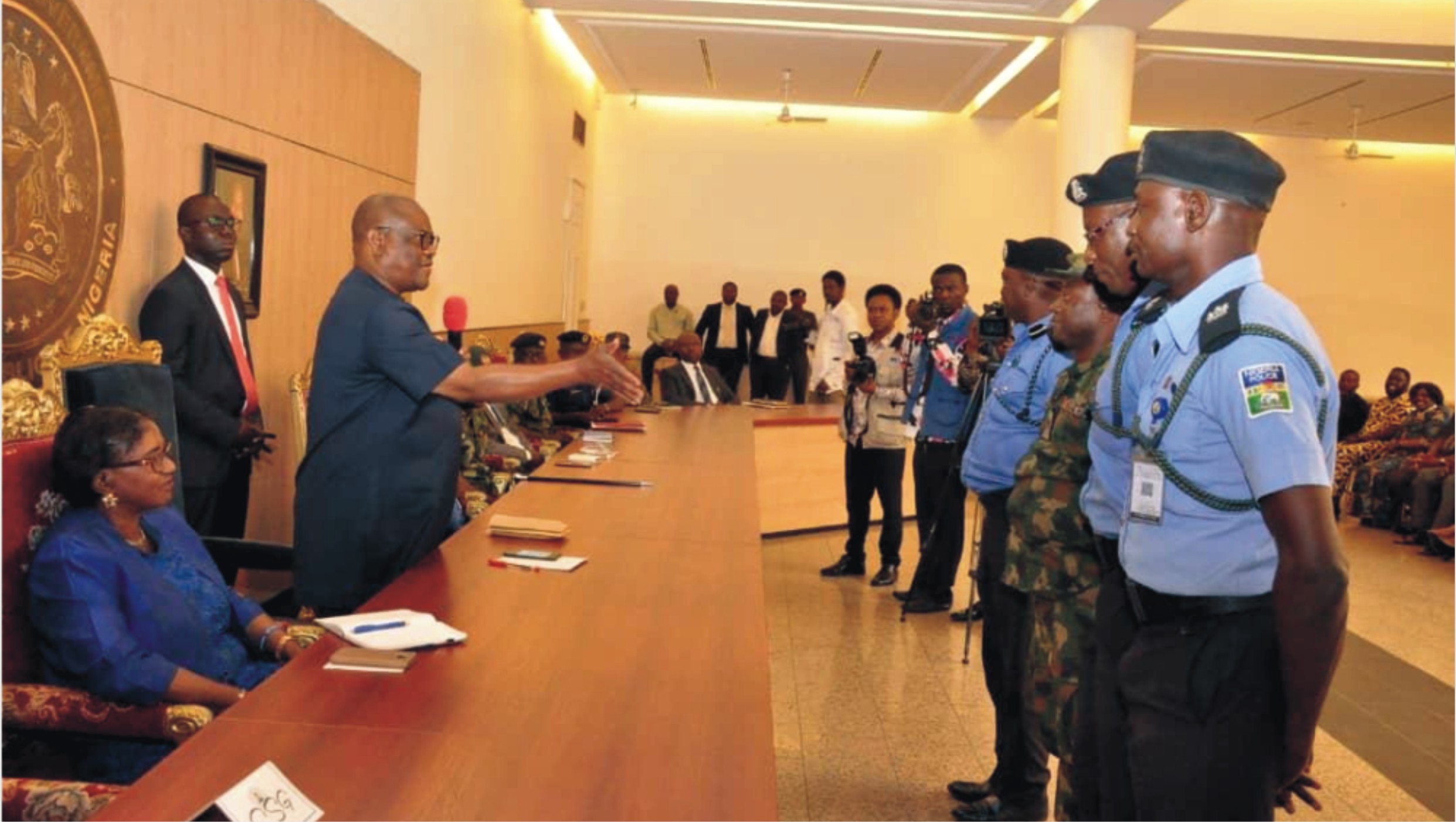 Rivers State Government has stated that it would not participate in the Federal Government's Ruga settlements for herdsmen.
The Rivers State Government, in a statement signed by the Permanent Secretary, Ministry of Information and Communications, Pastor Paulinus Nsirim, noted that the state has no land for the implementation of such a policy.
It noted that in his second term, Governor Nyesom Wike, has prioritised commercial agriculture, hence all available arable land in the state would be needed to drive commercial agriculture across the state to create employment for Rivers youths.
The state government emphasised that it has not given any approval for the sitting of Ruga settlements anywhere in Rivers State.
It added that no such approval would come from the Rivers State Government for the Ruga settlements.
The statement reiterated that Governor Nyesom Wike would continue to defend the interest of Rivers people, who have overwhelmingly rejected cattle colonies, Ruga settlements and any such policy.
"Rivers indigenes are hereby advised to join the state government to protect all arable lands by reporting any form of encroachment under whatever guise", the statement added.
Meanwhile, the Ijaw Youth Council (IYC), yesterday, said the Ijaw ethnic nationality has no land for the proposed RUGA settlement for Fulani cattle rearers.
The council also admonished the governors of the six South-South states and Ondo in the South-West region not to bow to pressure from the Federal Government in their own interests.
The President of the council, Pereotubo Oweilaemi, who disclosed this in a statement, also asserted, "We reject Fulani Vigilance Group in our territory and we do not have land to accommodate foreigners.
"The desert North is big enough for the Fulanis to rear their cattle. We will not accommodate people whose ultimate goal is to carry out religious jihad against their hosts in order to establish their Islamic caliphate.
"The Fulanis, who have been terrorising the indigenous people in the Meddle Belt as well as some parts of Southern Nigeria are seen as a trojan horse to us.
"IYC rejects in its entirety the move by the Federal Government to establish the said Ruga settlement for the Fulanis. The government should not by act of omission or commission instigate ethno-religious crisis in the country.
"The genocide being perpetrated against the Middle Beltans by these Fulani warmongers under Buhari's government has not been addressed by the latter with a determined effort.
"At the height of the killings by the Fulani terrorists, the Presidency only said the Middle Belt people should relinquish their ancestral lands to the killer herdsmen or be ready to be killed continuously. How can we cede our land to such persons, who take delight in massacring innocent people under the gleeful eyes of the Federal Government of Nigeria?
"We will not invite such trojan horses to our land in order not to betide future generations. We are warning the six governors of the South-South states together with the governor of Ondo State not to accept that dangerous proposal.
"Should any of them being politically cajoled to accept the proposal then we will take a bloody revolution against them and their imperial interest. This is not a warning. Ijaw people are ready to defend our land even with the last drop of our blood," he added.
Oweilaemi stated, "On the Fulani Vigilance Group, our message is the same. We do not need any vigilante group by the world number four terrorist organisation. If the government of Nigeria cannot protect us, then the Ijaw nation is able to protect our lands and people.
"We are able to protect our territorial integrity to ward off internal and external aggressors, including criminal syndicates. The security of lives and property is constitutionally vested in the government.
"If , however, the government is unable to protect us, then, we will set up our own security outfits to protect our lands. President Buhari should immediately call his Fulani people to order before they set the country ablaze.
"Nigeria is on the precipice heading to the cliff. The time bomb is ticking faster than expected. The antics of the Fulani ethnic group may ignite the conflagration that will consume the entire country. Our patient is running thin," he said.
Also, opposition has continued to mount against the Federal Government's Ruga settlement programme for herdsmen in the country, as the South East governors insisted, yesterday, that there was no land for it in the region, even as Benue State government debunked claims by the Presidency that land had been gazetted in Benue and other states for the settlement.
This is just as Southern and Middle Belt leaders, also yesterday, challenged the Presidency to release the Ruga settlement gazette number and its content, wondering in what capacity the Federal Government gazetted land in all states of the federation.
Similarly, Yoruba Council of Elders, YCE, and Agbekoya Farmers' Association described the proposed Ruga settlement as dead on arrival, while Benue State chapter of Christian Association of Nigeria, CAN, accused the Federal Government of nursing a hidden agenda with the introduction of Ruga settlements for herdsmen in Benue and other parts of the country.
Governor of Ebonyi State and Chairman of South-Easst Governors Forum, Dave Umahi, said in a statement by his Chief Press Secretary, Emma Uzor, that there is no plan to establish Ruga settlement in any part of the South-East and South-South zones.
He said the region did propose a deal with the members of the Miyetti Allah Cattle Breeders Association, MACBAN, as panacea to achieving lasting peace between farmers and herdsmen.
He, however, denied any plan by governors of the zones to cede any part of their land for Ruga settlement.
He said: "There is no plan for any Ruga settlement in any part of South-East and South-South zones; but we made a proposed deal with MACBAN that can allow the zone to become very good business with sale of grasses to the herdsmen in exchange for meat.
"We actually proposed a deal with MACBAN to take their cattle to the northern parts where grazing reserves were established long time ago and rely completely on the grasses grown in the south for feeding of their cattle." Umahi, who was chairman of the technical committee on farmers and herdsmen clash, carved from the National Economic Council headed by Vice-President Yemi Osinbajo, said the committee had recommended the revamping of existing grazing reserves in Nigeria.
In another development, Renowned Nobel Laureate, Professor Wole Soyinka, has urged the President Buhari-led government to handle the issue of RUGA settlement carefully as "there cannot be any kind of society where cattle take priority over human beings."
Soyinka, who was a special guest at the official launch of Solution 17, an initiative geared towards youth empowerment and sustainable development, maintained that the practice of herders' settlement across Nigeria is neither strange nor mysterious.
Fielding questions from newsmen, he said: "Ruga is going to be an exclusive issue and it had better be handled very carefully. Why is it that we fail to take our models from successful performers? There are ways in which people deal, and have dealt for decades—for centuries with cattle everywhere.
I travel everywhere. It is nothing so strange; there is nothing mysterious about cattle rearing. "Why should cattle become a problem just because we like to eat beef? I don't understand it. There are solutions which are very simple.
"People have talked about ranching, but the ranching has got to be done in places which are environmentally congenial to that particular kind of trade and at the same time do not afflict humanity.
"What's the point in trying to provide food and the food chokes us; which is what cattle and cattle-rearers have been doing? We have a situation where cattle walk up to my own door in Abeokuta which is supposed to be a residential area.
"There is a problem when cattle go to Ijebu-Ode and eat up Sodipe's (a furniture maker's) planted seedlings. And this is someone who is working towards a guaranteed environment by planting trees to replace the trees (timber) which he has used.
"And then cattle come and eat up all of that and you expect people to sit down and be quiet? "And then Buhari took such a long time. For me, he deserved—and I have written this down— to have lost the last election if only on account of the lackadaisical attitude which he took to the issue of cattle-rearers.
"People have been killed in hundreds till today and it is only because of the failure of leadership at the critical time.
"That is the most important thing and the cattle rearers have been given a sense of impunity: they kill without any compunction; they drive farmers also who are contributing to the food solution of the country away; burn their crops; eat their crops; and then you come with Ruga.
"I think there is going to be trouble in this country if this cattle-rearing issue is not handled imaginatively and with humanity as the priority. There cannot be any kind of society where cattle take priority over human beings. It is as elementary as that".

RSG Approves N30,000 Minimum Wage For Workers …Wike, 'Doyen Of Infrastructure Dev In Nigeria', NMA Affirms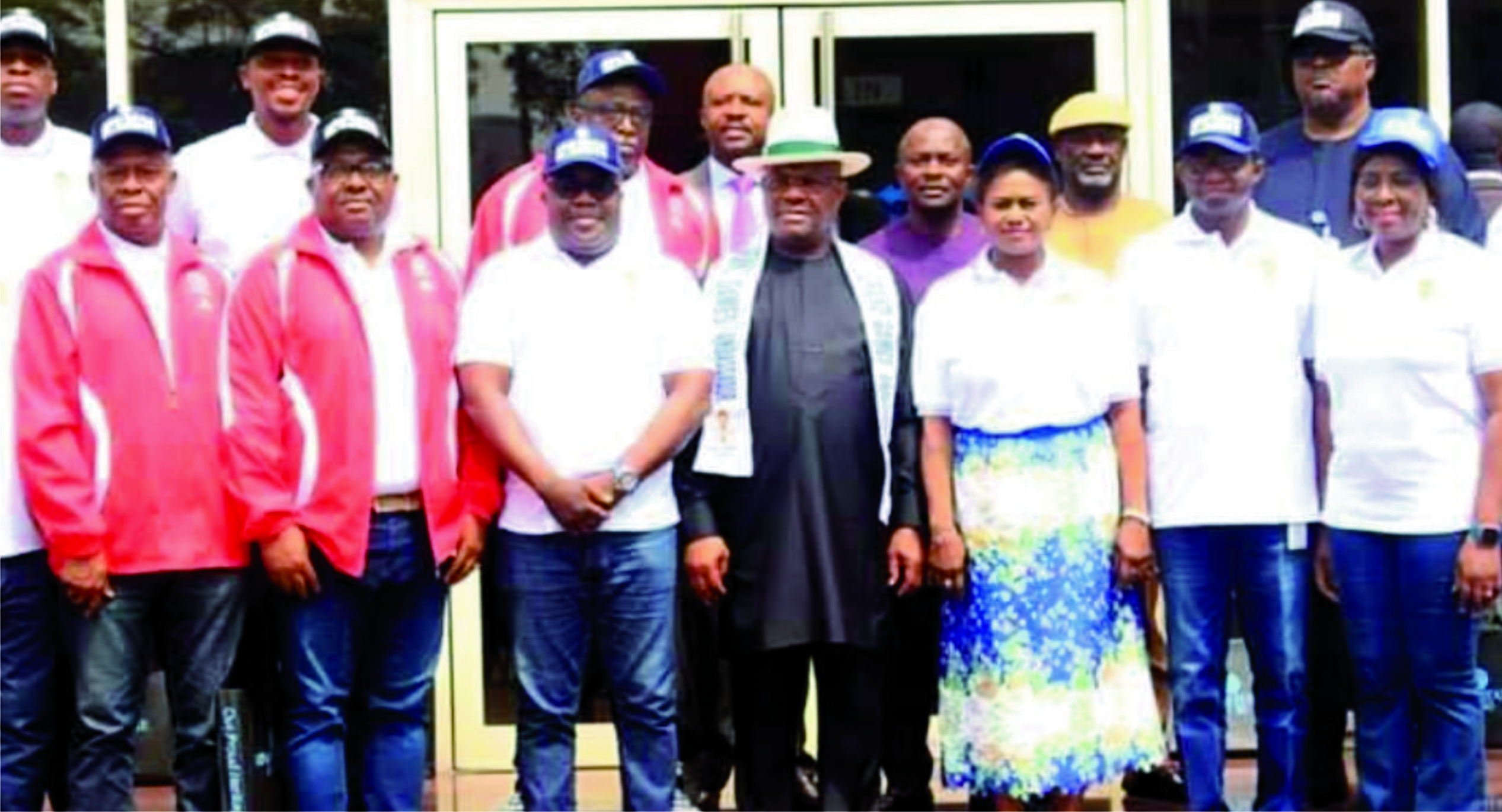 The Rivers State Governor, Chief Nyesom Wike, has approved the immediate implementation of N30,000 new minimum wage and the consequential adjustments as approved by the Federal Government.
A statement signed by the state Commissioner for Information and Communications, Pastor Paulinus Nsirim, yesterday, reads, "His Excellency, Nyesom Ezenwo Wike, has graciously approved the payment of the minimum wage of N30,000 monthly salary for employees of the Rivers State Public Service with the consequential salary adjustments as approved by the Federal Government".
The Tide learnt that the approval follows the outcome of series of negotiations by committees from both state Public Service Joint Negotiating Council (PSJNC) and the Rivers State Government.
It was gathered that with the approval of the new minimum wage by the state governor, a fresh salary table may soon be released by the Office of the Head of Service to facilitate implementation of the policy.
The negotiations were triggered by the release of the circular on the new national minimum wage by the Federal Government in November, last year, following the conclusion of negotiations between the Federal Government and organized labour.
It would be recalled that in the salary table released along with the circular, the least paid federal worker on Level 1 Step 1 will earn N360,000 per annum (representing N30,000 monthly) while the highest-paid at Level 17 Step 9 will take home N6,215,435 per annum (representing N517,952.91).
The circular on the new wage, dated November 14 and signed by the Acting Chairman of the National Income, Salaries and Wages Commission, Ekpo Nta, said, "Consequent upon the enactment of the National Minimum Wage (Amendment) Act 2019 and the negotiations between the Federal Government and organised labour (represented by the Joint National Public Service Negotiating Council) in respect of the consequential adjustments of salaries of employees in the federal public service, the President of the Federal Republic of Nigeria has approved the revision of the Consolidated Public Service Salary Structure (CONPSS) with effect from the 18th of April, 2019."
In the breakdown, a worker on Level 1, Step 1 will earn N360, 000 per annum, while Level 1, Step 15 will earn N422, 566 per annum.
The circular further indicated that GL 2 Step 1 will earn N363, 328 and Step 15, N445, 130 (about N37,094.16 monthly); while GL 3 Step 1 will earn N366, 170 (about N30,514.16 per month) with Step 15 on same GL earning N466,718 per annum (about N38,893.16 per month).
Also, workers on GL 4 Step 1 will earn N376,194 (representing N31,349.5 per month) while Step 15 of same level will go home with N497,000 annually (representing N41,416.66 per month).
However, workers on Grade Level 5, Step 1 officer will earn N394, 498 per annum (about N32,874.83 monthly) and on Step 15 earn N534, 834 per annum (representing N44,569.5 monthly), GL 6 Step 1 N449,429 (about N37, 452.41 monthly) and Step 15, N620,495 (about N51,707.91 monthly); just as Level 7, Step 1 officer will earn N638, 133 per annum (representing N53,177.75 monthly) and Step 15 will earn N961, 577 per annum (about N80,131.41 monthly).
In same token, GL 8 Step 1 will take home N799,421 (about N66,618.41 per month) while Step 15 will earn N1, 140, 395 per annum (about N95,032.91 monthly); with GL 9 Step 1 earning N928, 981 (about N77,415.08 monthly) while Step 15 will earn N1,371,711 annually (about N114,309.25 monthly).
Similarly, Level 10 step 1 will earn N1, 060,833 per annum (about N88,402.75 monthly), while Step 15 of the same level will earn N1, 535,417 per annum (representing N127,951.41 monthly) while GL 12 Step 1 will earn N1, 2 21, 722 (about N101,810.16 monthly) with Step 11 earning N1,747,532 per annum (representing N145,627.66 per month).
With the new minimum wage, federal workers on GL 13 Step 1 will earn N1, 362, 110 (about N113, 509.16 per month) and Step 11 of the same GL will go home with N1, 918, 005 per year (about N159,833.75 per month); just as Grade Level 14 Step 1 will earn N1, 503,149 per annum (about N125,262.41 per month) and Step 11 of the same level will earn N2, 101,600 (about N175,133.33 per month).
In the same vein, Level 15 Step 1 to earn N2,027,623 per annum (about N168,968.58 monthly) while Step 9 of the same Level will earn N2,693,980 (about N224,498.33 monthly); just as a civil servant on Grade Level 16 Step 1 will take home N2,505,352 (about N208,779.33 monthly) while government worker on Step 9 of same GL will earn N3,306,197 per annum (about N275,516.41 monthly).
For federal workers on GL 17 Step 1, they will earn N4, 769, 304 (about N397, 442 monthly) and those at Step 9 will take the highest chunk of N6, 215, 435 per annum (about N517,952.91 monthly).
It was learnt that the new salary template does not include some special allowances, including those earned by special duty staff in ministries, departments and agencies of the Federal Government, including educational, finance and health institutions, which cumulatively increase the wages of affected workers.
The Tide also learnt that the organized labour had announced January 31, as fresh deadline for implementation of the new minimum wage by the various state governments, warning that any state governor that fails to comply with the Federal Government directive would face industrial action by workers. The initial deadline was December 31, 2019.
Also, the President of Nigerian Medical Association (NMA), Dr Francis Faduyile has described Rivers State Governor, Chief Nyesom Wike as the "Doyen of infrastructural development in the nation".
Speaking during a courtesy visit at the Government House, Port Harcourt, yesterday, Faduyile, represented by the Vice President of NMA, Dr Ofem Enang, said that the governor's outstanding infrastructural development stride was a model for other states to emulate.
Faduyile said: "Your Excellency's numerous accomplishments in massive infrastructural development across the state, particularly in the health sector, is a model for other states, and this is evidenced in the numerous awards and accolades the governor has received.
"In addition, your passion for sports which has led to the establishment of the Real Madrid Academy in Rivers State is another landmark project aimed at promoting sports and developing our youths. Little wonder, you have been aptly called Mr. Projects. Permit me to add, 'the Doyen of Infrastructural Development in the nation'".
The NMA lauded the governor for sustaining the development of the health sector as exemplified by his numerous projects.
"Your recent effort at the state-owned Medical School and the Rivers State University Teaching Hospital Radiology Department, which is world class has shown your passion for the provision of quality health care in the state.
"Your recent move in fast-tracking the health protection bill, in your bid to reduce the burden of out-of-pocket healthcare financing for Rivers people clearly shows your administration's desire and commitment to put smiles on the faces of Rivers people".
He appreciated the governor's decision to include numerous members of the NMA in his administration.
While commending the Rivers State governor for his cordial relationship with the NMA, the Faduyile informed him of the forthcoming Nigerian Doctors' Games.
He said: "Doctors in Nigeria have decided to meet once every two years to interact, relax and exercise on a sporting platform. This event is aimed at building healthy doctors as well as fostering unity amongst doctors across ethnic, political and religious divided.
"Rivers State is hosting this year's games, the choice of Port Harcourt for the 2020 event is driven by the traditional hospitality of Rivers people, Your Excellency's love for sports and the developmental advances under Your Excellency which have made Rivers State a secure destination of choice for many national and international events".
He added: "It is on this premise that the Nigerian Medical Association wishes to induct you as the Grand Ambassador of the Doctors Games 2020, being a global icon for sports in Africa, particularly, the Power of Sports (Africa)."
Responding, Rivers State Governor, Chief Nyesom Wike assured that his administration would continue to work with all professional organisations to develop the state.
He said that the state government would ensure that all arrangements are in place to ensure that the doctors enjoy hitch-free games.
The governor directed the NMA leadership to liaise with the deputy governor to ensure a successful outing during the games.
The tournament will hold between February 18 and 23, 2020.

NDDC: IMC Discovers N1trn Fraudulent Contracts In Seven Months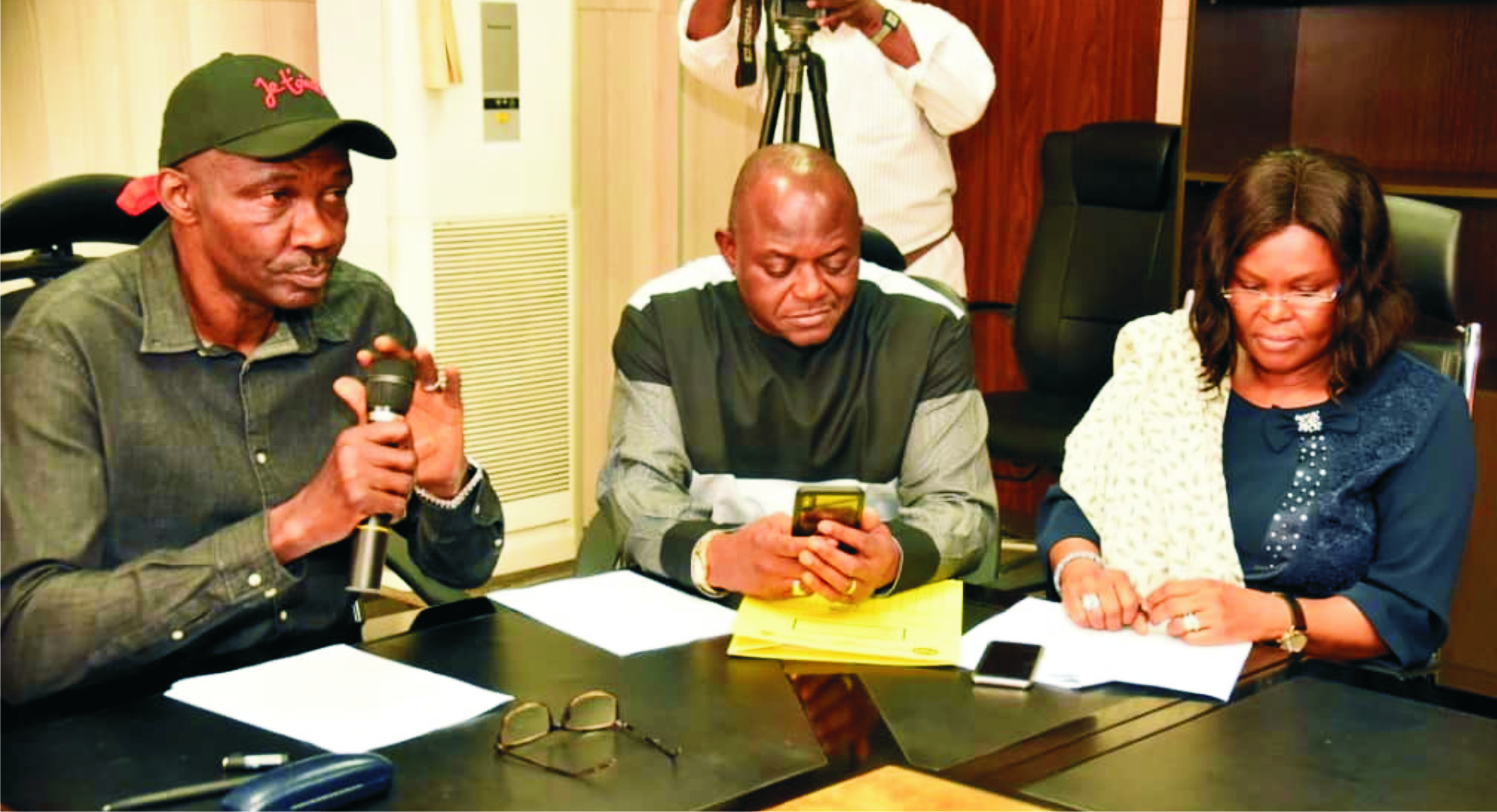 More revelations have emerged from the Niger Delta Development Commission (NDDC) as the Interim Management Committee (IMC) set up to audit NDDC finances, yesterday, released its latest findings.
The IMC said its findings showed that immediate-past NDDC management awarded 1,921 'emergency contracts' at N1.070trillion in just seven months, against an annual budget of about N400billion.
The NDDC's Acting Executive Director, Projects, Dr Cairo Ojougboh, disclosed this at a meeting in Port Harcourt, a statement signed by the commission's Deputy Director, Chijioke Amu-Nnadi stated.
It would be recalled that President Muhammadu Buhari had in 2019 ordered a forensic audit of NDDC, and appointed an IMC, which Ojougboh is a member.
According to Ojougboh, in just seven months of 2019, the commission awarded a total of 1,921 emergency contracts valued at N1.070trillion.
"In 2017, NDDC awarded a total of 201 emergency contracts valued at N100.4billion while in 2018, a total of 1,057 emergency contracts valued at N162.69billion were awarded.
"We are talking about a total of over N1.3trillion in less than three years. The yearly budget of NDDC is hardly above N400billion.
"A situation where contracts that do not qualify for emergencies were fraudulently awarded to over N1trillion in less than one year, this amounts to not only stealing from the pulpit but stealing the entire pulpit," he said.
Ojougboh, who is the IMC's chairman, Contract Verification Committee, said the findings have confirmed allegations of high-level corruption in NDDC.
The executive director said that President Buhari was fully committed to saving NDDC from being shut down by activities of corrupt contractors and officials at the commission.
According to him, the commission is sinking and would have been killed and buried due to over trading, bloated contracts and other sharp practices but for Buhari's intervention.
"At best, NDDC has been a lack-lustre performance, with very little to show for the humongous resources that have accrued to it over the past 19 years.
"Stories of pervasive corruption, flagrant abuse of due process, abandoned projects, poor quality project delivery, among others, at NDDC, have adorned our media space over the years.
"To this end, the contract verification committee will lay a foundation for the forensic audit of the activities of the commission from inception to date," he assured.
Ojougboh directed all NDDC contractors, consultants, vendors, suppliers and non-governmental organisations or their representatives who have business with the commission to report to the verification committee.
He said that the groups "are expected to come with three photocopies each of their letters of award, contract agreement, and interim payment certificates, where applicable".
According to him, they are also to present originals for assessment, evaluation and verification to the NDDC office where such business is located.
"They are also to present letters detailing a brief statement of their claims/request on their headed papers with verifiable addresses and certified true copies of their company registration documents.
"The contract verification exercise would among other things establish the true position of the emergency contract regime between 2016 and 2019 in NDDC.
"Some of the contract awards were not only spurious but criminal, as available records showed that most of the awards were not backed by budget, bills of engineering measurement and drawings.
"They were just open cheques for contractors and their collaborators to fill in at the nearest banks," he alleged.

Tasks For Rivers State Government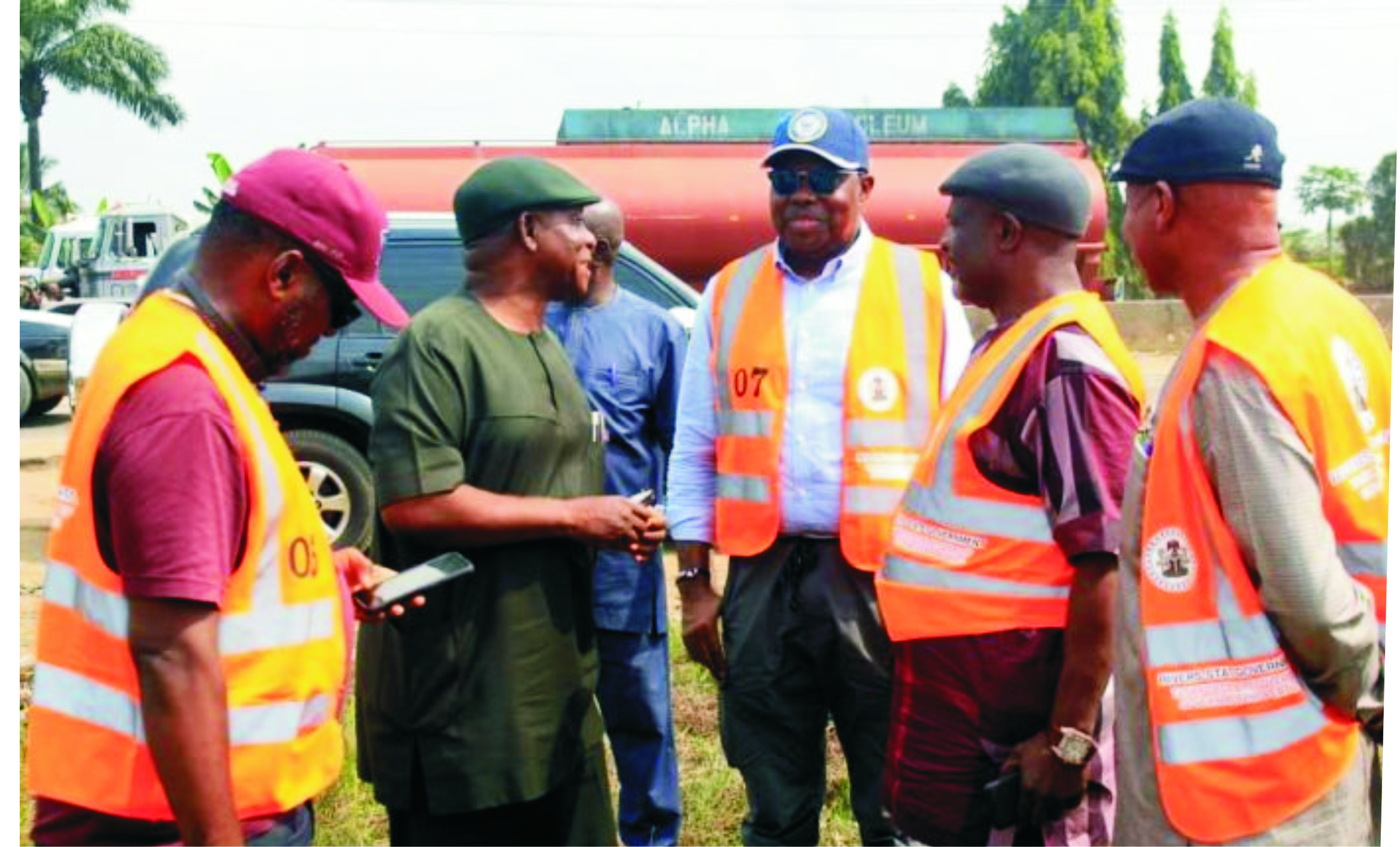 With the recent swearing in of Commissioners, advisers and personal aides and assistants, it is the expectation of Rivers people and those earning their living in Rivers State that the strains on the state governor would be much reduced. There is an old management axiom that a leader is at his best when people rarely know that he exists. This translates into the truth that effective delegation of activities to the ablest available hands is the hallmark of leadership.
What is known as "80:20 Rule" in management is based on the fact that routine or trivial operations can be handled by subordinate staff, while most important issues which are usually about 20%, should demand personal attention from the big boss. That method in management with regard to the art of delegation, is also known as ABC method, Pareto's Law or Management by expectation (MBE). The boss should have time and privacy enough to draw inspiration from higher realms of consciousness. This is why self-effacement is recommended for serious-minded managers of human affairs. You see or hear them rarely, even in newspapers.
It was an emotionally- moving experience to find Nigerians of very humble backgrounds sweeping the streets of Nigerian urban towns, between 5-6.30am, Most touching was the sight of a woman, with a baby tied to her back, sweeping a major road in Rivers State.
It was hard to resist the urge to interview her, with the aim to hear the story of her life. Why sweep the street at 5.40am with a baby of less than 2 years old? What we are used to in Nigeria is a situation where those who lead in all spheres of life create maximum zones of comfort for themselves, but rarely know the plight of the voiceless sections of the people. An elitist political leadership is the kind that would pontificate and ask public servants to give maximum service, even without caring to know what long distance the obedient servant travels to get to work. Talk about social welfare system in Nigeria and what would be put in place would be a corruption-ridden sinecure and patronage system to woo and catch political support.
As commissioners visit various ministries, departments and agencies on familiarisation tour the message which they carry along is usually the plea for hard and dedicated services. Some can even issue threats such as: "Anybody not ready to work can resign, because there are many looking for the opportunity to find a job." Hardly is there the empathy that can create a rapport between servants and masters, in the course of visiting and relating with the people who keep the economy going.
Therefore, one vital task for the Rivers State Government this new year should be to create a rapport with civil servants which would promote empathy and understanding. In the first place, the state of the economy is so harsh that some thought should be given to the plight of the wretched of the earth.
Using the example of a street sweeper who had to do her job at 5.40am, with a baby tied to her back, it is possible she can be given a query or sacked if she does not do her work. But who gets concerned if the child she takes to work gets ill and demands medical attention? Did anybody give her and her baby any hampers or chicken last Christmas? Rather than shout at her for some little infraction, does anyone show concern about how she lives with her family, perhaps in a batcher?
Political administration is not all about contracts and project execution, but more relevant in the area of human capital concern. It is a valid motivation theory that people that put in their best if they are in a state of happiness. A major factor which creates happiness in people is concern, not threats, pontification or promises. People notice quite easily when someone shows genuine concern about them and their affairs; and they appreciate that better than bureaucratic cosmetics. Appreciate little things!
In Shakespeare's Measure for Measure, a leader, Duke Vincentio, disguised as a Friar or priest and pretending to have travelled, was able to know the degree of hypocrisy of his officials and true state of his domain. In politics, good intentions, policies and programmes of a leader can be distorted, ruined or misrepresented by officials working for him. It is not a wrong practice to put subordinate staff to tests, occasionally. Some rarely stand!
Ugly names which some leaders are called often come from the activities of those working with and for them. Duke Vincentio's strategy enabled him to know that people can be pretentious and hypocritical, including those who appear sanctimonious and strict.
Among those who damage the names and intentions of leaders are contractors who are usually political wheeler-dealers. Such contractors may not be involved in project execution, but being high patrons and party giants, they constitute what we know as the cabal in Nigerian politics.
A task for Rivers State Government should include ensuring that government is about people and people-oriented, rather than serving put the well-being of the people as vital concern. When an administration invests in power rather than people, what dominates activities and policies would be ego.
Nigerians are intelligent enough to know when a government is a caring one, because this translates into a state of happiness which promotes patriotism. When the people are happy, government would have less problem of security and there would be no need to spend money to buy the goodwill of the masses.
Obviously, managing people and public affairs are very vital and serious responsibility for which the prayers of the masses can achieve great results.
Bright Amirize