Still On Life Pension For Politicians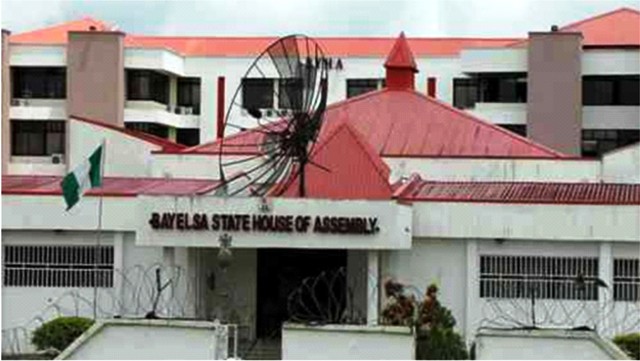 In recent times, some state houses of assembly moved for the process of enacting legislation to provide monthly life pensions for legislators.
Houses of Assembly in Kano and Bayelsa States have even passed a bill to that effect and the bills are awaiting governors' assent.
Bayelsa House of Assembly proposes N500, 000 monthly pension to the Speakers of the assembly, Deputy Speakers; N200, 000 each and members N100, 000 each, although Governor Seriake Dickson of the State has yet to assent to the bill.
Kano State House of Assembly has a similar bill awaiting Governor Abdulahi Ganduje's assent, while Ekiti State House of Assembly is reported to have been working in that regard.
Although none of the state governors has approved the bill, the proposed law continues to attract reactions from the public.
A large segment of the public notes that any push to make the bill for life pension for political office holders will prompt other states and Federal Government  to do same to the detriment of the masses.
A stalwart of the Abundant Nigeria Renewal Party, Mr Sesugh Akume, says it is inappropriate for some political office holders to institute a pension scheme for themselves after leaving office.
He explains that political positions ought to be a privilege and opportunity to serve the people and not as a career one can retire with a pension.
"The idea of severance packages and life pensions for elected officials is wrong and without merit,'' he observes.
In his view, an economist, Prof. AbdulGafar ljaiya, says paying life pension to political office holders will cripple the anti corruption campaign of the present administration.
Ijaiya, from University of Ilorin, insists that political office holders, irrespective of years they occupy offices, do not qualify for pensions under the constitution.
"The political office holders taking pensions are thieves and corrupt officers who are retarding the nation's economic growth and development,'' he says.
Ijaiya is of the opinion that majority of the politicians has retired from their primary job where they draw pensions.
Similarly, financial experts, Mr Adetunji Adepeju and Mr Samson Olalere, argue that granting life pension to political office holders will put undue pressure on the economy.
"Life pension for political office holders in Nigeria is not needed, especially if you look at the executive.
"The maximum time you can spend in office is eight years, do you want to compare that with civil servants some of whom spend 35 years in the course of their career.
"The economic realities in Nigeria cannot support such idea of life pension,'' Olalere says.
Adepeju says, "rather than take pension from government coffers after leaving office, let political office holders engage in pension scheme and draw from their monthly income.''
However, the Branch Manager of Leadway Assurance Company in Ibadan, Mr Adekunle Akinpelu, observes that political office holders can also benefit from contributory pension scheme if while in office they sign up with pension fund administrators.
But the Secretary of the Nigeria Union of Pensioners in Oyo, Mr Olusegun Abatan, insists that life pensions for political office holders are immoral and ungodly.
"How can a politician that serves for four years want to get life pension when a civil servant that works for 35 years is owed 60 months of unpaid pension arrears,'' Abatan asks.
In his view, the Chairman of Nigeria Union of Pensioners in Ondo Chief Raphael Adetuwo, advises that government should rather empower the Revenue Mobilisations, Allocation and Fiscal Commission to place all political office holders in the country on the same salary scale as civil servants.
He says:"The humongous salaries and allowances of public office holders, especially senators and House of Representatives members need to be reviewed.
"How can these people be collecting such huge money in a country where 80 per cent of the population are battling to meet their daily need?''
A salary Grade Level 15 civil servant at the Okitipupa Local Government Council , Mr Obadele Meroyi, observes that "most of the political office holders who possess mere school certificate, are collecting salaries, allowances and packages far better than a professor and a salary Grade Level 17 civil servant.
"Giving them life pension automatically means legalising corruption and paying people who are doing absolutely nothing more than those doing the real job'', he observes.
However, Assemblyman Tunbosun Oyintiloye of the Osun House of Assembly notes that before the bill for life pension for political office holders can be passed, it is necessary to find out what are the best international practices in developed democracies.
According to the lawmaker, such law might be a welcome development to the beneficiaries but there is need to be cautious of what its impact will be on the economy.
But the Head of Political Science Department, Obafemi Awolowo University, Ile-Ife, Prof. Olajire Bamisaye, says placing political office holders on life pension will have a drag on the national economy.
Chief Executive Officer, Active Support for Rural People Initiative, a non-governmental organisation in Kebbi, Malam Ibrahim Ngaski, explains that "the implication of approving pension for politicians is that the funds meant for developing rural communities will  be diverted to their pension payment.
"Rather than clamour for undeserved pension, political office holders should help to sanitise existing pension schemes so that contributors will be able to access their money immediately after retirement.''
A civil servant in Kano, Malam Ali Sani,warns that any attempt to introduce life pension for political office holders in the state will be resisted, while Malam Hassan Aminu, a civil servant in Kano, advises Nigerians to move against the plan.
Former Governor of old Sokoto, Malam Yahaya Abdulkarim, recalls that government funds are meant for development and ought to be channelled through proper ways that will facilitate development in all sectors not on pensions for politicians.
In his view, a lecturer at Umaru Musa Yar'Adua University, Katsina, Dr Suleiman Lawal, observes that any attempt to implement pension for politicians is injustice and will end up creating serious financial crisis in the affected states.
Further to this, Centre for Change Initiative, a civil society organisation, describes the proposed life pensions for political office holders as an imposition of the burden of their lifetime survival on innocent taxpayers.
The president of the group, Dr Joe Okei-Odumakin, insists that such pensions for lawmakers will take a toll on the welfare of the people.
Expressing concern on the development, Chairman, Lagos Civil Service Union, Mr Laide Bakare, advises that proposed laws in favour of pension for politicians ought to be discouraged.
"Whoever has served the people should leave honourably and go back to his job or other jobs; serving Nigeria for eight years and demanding a life pension is highly insensitive to the plight of Nigerians.
"Political office holders such as governors are contracted to do their assignments through elections and so, they should not enjoy pensions like regular civil servants,'' he says.
Also, Director, Centre for Pension Rights Advocacy, Mr Takor Ivor, observes that the proposed life pension for political office holders is inappropriate.
He calls on the legislators at the federal and state levels to rather propose bills that can advance the country's socio-economic development.
The Committee for the Defence of Human Rights, Lagos State Chapter, as well, calls on the public to rise up against the campaign for life pension for politicians.
"In any state where this is passed into law, the people of that state should rise and protest and the entire Nigerian masses should rise against such; it is a scam of the highest order.
Irrespective of the critics' argument, concerned Nigerians observe that question as to whether or not life pensions should be granted to politicians is still being discussed among stakeholders in the South-South geopolitical zone of the country.
A lecturer in the Department of Economics, University of Calabar, Dr Peter Uwem, therefore, calls on state governors in Nigeria to refuse assent to any bill on life pension for politicians initiated by lawmakers.
"How can they ever imagine a life pension for themselves when some states cannot afford to clear the meagre amount of pensions and gratuities owed their civil servants?
"Any state governor that approves life pension for lawmakers is calling for crisis because what these politicians earn while in office is enough to take care of them.
"Some of them spend 12 years with jumbo allowances throughout, why then should they still be asking for life pension,'' he asks.
"I see no reason why politicians who serve for a short period of time should be given life pension when compared to civil servants.
"Government should make political offices, especially the legislature to be a part time, this would be the best for our growing political nation, Mrs Esther Okon, a civil servant in Cross River, also observes.
Similarly, a pension fund manager, pleading anonymity, expresses dissatisfaction over moves by some legislators to make laws allowing political office holders in Nigeria to be entitled to life pensions.
He describes the proposal as obnoxious, noting that such pension bills, especially the one recently moved by legislators in Bayelsa, if passed into law, will further drain the country of its scarce resources.
A pensioner, Mr Forsebry Ere, observes that the move by the Bayelsa lawmakers to have life pension is uncalled for.
"The first thing to consider is that political office is not the regular 35-year civil service job or attaining 60 years of age in service before retirement.
"What should bother the lawmakers ought to be embarking on developmental projects such as primary healthcare and improvement on public schools, among others,'' Ere says.
In his opinion, a civil servant in Bauchi, Mr Muhammad Ningi, explains that although the constitution mandated politicians to make laws, moving for life pension for political office holders is unpatriotic.
Instead of pushing for life pension for politicians, a pensioner in Yola, Bello Joseph, advises politicians, as representatives of the people, to impress it on government at all levels to settle the entitlements of pensioners.
However, retired staff of Dutse Local Government Education Department, Malam Muhammad Barau, has a different opinion.
Kayode Olaitan
APC, PDP Bandy Words Over Buhari's Fresh Loan Request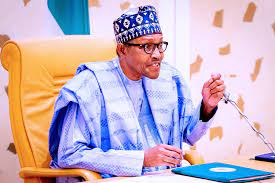 The ruling All Progressives Party (APC) and the opposition Peoples Democratic Party (PDP) have argued over President Muhammadu Buhari's request for approval to borrow $4 billion and €710 million to fund the deficit in the 2021 budget.
Recall that the president made the request in a letter he addressed to the National Assembly on Tuesday.
The Peoples Democratic Party (PDP), in reaction to the development, cautioned the NASS against approving the request, saying it could set the country's debt profile skyrocketing without a feasible repayment plan.
With the approval to borrow $8.3 billion and €490 million loans by its legislative body barely two months ago, Nigeria's debt profile risks reaching over N40 trillion.
"More alarming is that the debts that APC is hanging on Nigerians are for nebulous projects whose scopes, utilities, locations and contractors are largely vague; a development that validates apprehensions of a huge swindle on our nation at the expense of innocent Nigerians, including generation yet unborn.
"Our party holds it as an act of wickedness that individuals who know that they will be leaving office in less than two years will be accumulating debts instead of seeking ways to reduce the liability they have brought upon our nation.
"The APC knows it will not be around after May 29, 2023. That is why it is pushing our nation into a deeper economic quagmire with foreign loans, which are largely diverted to the personal pockets of their corrupt leaders," the opposition PDP said in a statement signed by its spokesperson, Kola Ologbondiyan, on Tuesday.
But responding to the PDP's criticism, the All Progressives Congress (APC) on Wednesday, said the loans are for "the good of the country" and well-being of the citizenry.
The ruling party also accused the opposition party of looting foreign loans obtained during its 16 years rule rather than spending on infrastructure and economic growth as, according to it, Mr Buhari-led government is doing.
"It was in PDP's era that loans to fund power generation, purchase arms and ammunition to fight a raging insurgency were misappropriated and diverted to fund PDP activities; and the borrowed money ultimately found its way to the pockets of cronies, friends and family members of administration officials. Nigeria is still servicing a $460 million loan taken from China to fund a phoney Abuja Closed-Circuit Television (CCTV) contract awarded in August 2010.
"Nigerians should also reflect and recall that the PDP had in its 16 years of misrule pushed the country into a dark ditch of insolvency, and a period in which most state governments could not pay workers salaries, not even the minimum wage, or settle contractors' bills and cater for patients in hospitals, to name a few," the APC interim National Secretary, John Akpanudoedehe, said.
A'Ibom Gov Signs Anti-Open Grazing Law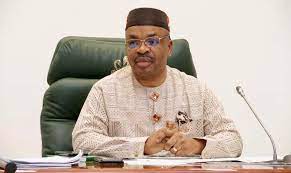 Akwa lbom State Governor, Udom Emmanuel, has signed into law a bill to prohibit open rearing and grazing of livestock and provide for the establishment of ranches in the state.
The Speaker, Aniekan Bassey, with the Attorney General and Commissioner for Justice, Mr Uko Udom (SAN), presented the bill for signing on Wednesday at the State Executive Chambers, in the Governor's Office, Uyo.
The governor, after signing the bill into law, stated that the new law was no respecter of persons irrespective of status or calibre.
He instructed relevant authorities of government to ensure that the law was implemented and enforced to the letter with strict compliance, stressing that, culprits must be brought to book accordingly.
The new law will promote modern techniques in animal husbandry, prevent the destruction of farms by wandering cattle while reducing clashes and killings between herders and farmers in the state.
It will also promote international best practices in livestock administration, regulation and control in the state, among other things.
The state Assembly passed the bill on Tuesday, and the Speaker, Aniekan Bassey, directed the Clerk of the House, Mrs Mandu Umoren, to communicate the decision of the House to the Governor for his assent.
Also at the Executive Chambers, the Speaker who was accompanied by the Leader of the House, Udo Kierian Akpan, and the Clerk of the Assembly, Mrs Mandu Umoren, to the signing ceremony witnessed the inauguration of two C\committees by the Governor.
The committees are the Akwa Ibom State Gender Based Violence Management Committee, chaired by the First Lady, Mrs. Martha Udom Emmanuel, and Akwa Ibom State Road Safety Management Committee, chaired by the Deputy Governor, Mr. Moses Ekpo.
NASS S'East Caucus Moves To Reconstruct Federal System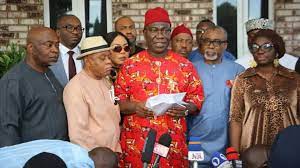 Members of the South East Caucus of the National Assembly have resolved to join hands with other patriotic Nigerians across regional, religious, political, and ethnic divides to reconstruct a federal system where the rights, happiness, and prosperity and those of unborn generations are guaranteed.
Making their feelings known in a communique issued at the end of an extraordinary meeting held at the Apo Legislative Quarters, Abuja last Wednesday, the law makers said the topic of the meeting centered on review of developments in the South East, particularly the security situation in the region vis-à-vis the sit-at-home orders by members of the proscribed Indigenous People of Biafra(IPOB) and the detention of Mazi Nnamdi Kanu.
"We expressed solidarity with our people of the South East over the marginalisation of the region in the scheme of things within the Nigerian commonwealth. The Caucus feels the pains of our people and their quest for equity, justice, and protection of their lives and property in every part of the country. The Caucus, therefore, resolved to continue to fight for a level-playing ground and an enabling federal system where Ndigbo are able to develop their homeland at their own pace and equally pursue their happiness and actaulise their enormous potentials in every part of the country, unmolested.
Reviewing the sit-at-home orders by the IPOB and the mayhem some nefarious elements have seized the opportunity to visit on the lives, properties, and psyche of the people, the Caucus equally reviewed and rued the incalculable economic losses and hardships these have brought upon the region.
They, however, condemned in strongest terms the disruption of the ongoing Senior Secondary School Certificate Examination in some parts of the South East, particularly the incident at Comprehensive Secondary School, Nkume, Njaba Local Government Area of Imo State, where the English examination organised by the West Africa Examination Council, WAEC, on Monday, September 13, 2021, was ruthlessly scuttled by armed men, who chased away the students, teachers, and examiners before setting ablaze motorcycles belonging to the teachers.
"This is certainly not who we are as a people. On the contrary, we are a people, who have always cherished and encouraged learning from the ages. We are a people that fully appreciate the place of education in the liberation and enlightenment of the human mind and the socio-economic and political emancipation of a people".
The South East legislators equally condemned in strongest terms the incessant killings in the South East, adding "This must stop immediately. We call on the security agencies to unravel the culprits behind these wicked acts and ensure that they are brought to book to serve as a deterrent to others.
" Noted with delight that IPOB has called off the Monday sit-at-home order and resolved to ensure that nobody uses them as façades to bring ruination on Igbo land.
" Call on our people to go about their lawful businesses and enjoin our governors and the security agencies to rebuild confidence in our people by not only ensuring the security of their lives and properties, but also ensuring that our people feel safe as they undertake their legitimate businesses.
"Elaborately discussed the issue of Mazi Nnamdi and resolved to intervene. To this end we resolved to set up a committee to constructively interface with relevant stakeholders, the Federal Government and its relevant agencies towards finding a political solution. We will keep Ndigbo abreast of developments in regard.
"Appeal to our people not to allow anyone to destroy the South East region. The post-war South East was not built through government patronage, but largely by the sheer determination and sacrifices of our people, who refused to resign to fate or bow their heads in defeat.
"It is in Igbo land that you easily find hospitals, schools, roads, and other social amenities built by individual or communal efforts of the people, home and abroad, through the instruments of the town unions and other community organisations such as the age grades, Umuada, etc.