WANEP: Mobilising Ogoni Women For Peace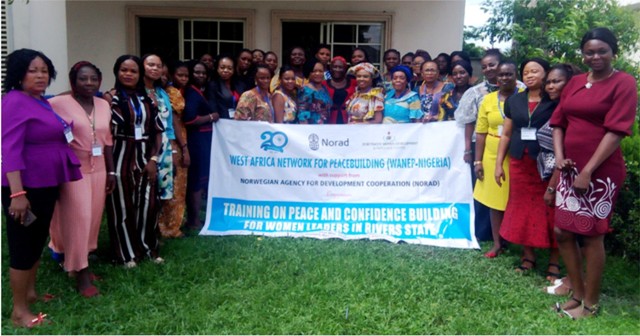 In time past, women the world over were regarded as the weaker vessels, a characterisation most women saw as stereotype, comparing the volume of work they do, which most times, outweigh that of the men.
As such, women across the nations have been struggling to assert their freedom to walk side-by-side with their male folks in building true equality, development and peace in their countries. Indeed, the women have shown their resilience and determination to lead and not remain in the shadows of the men by excelling in many male-dominated fields and sectors.
In Nigeria today, the high level of violence and killings have continued to call for serious concern among women as they can no longer sit and watch the total decimation and disintegration of the country. And they have been in the vanguard for forging alliances that help build peace and ensure security of all communities in the country.
The West Africa Network for Peacebuilding (WANEP) is one of such platforms. In fact, as part of its efforts to guarantee the participation of women in entrenching peace and security in the country, the WANEP Nigeria and Kebetkache Women Development Resort Centre recently embarked on training of women mostly affected by violence and killings.
The choice of Ogoni women leaders for the latest phase of the training aimed at building their confidence to enhance overall contributions to peace, security and development in communities has been overwhelmingly received across the Rivers State. For WANEP, Nigeria, the template is designed to allow the trainees replicate lessons learned by also training others in their local government areas to enhance women's impact in the society as veritable means of ensuring peace, stability, growth and development in Rivers State in particular and the country at large.
The training programme, tagged, "Peace and Confidence Building", which is part of a two-year project aimed at, "Enhancing Women's Participation in Peace and Security in Nigeria", kicked off last Monday, with a call on women to identify with those things that make them proud, if they wish to live long and be happy with themselves forever.
In her opening address, the Director, Rivers State Ministry of Women Affairs, Dr Carmelita Agbarubere, said that women have all it takes, even more than their male counterparts, to engineer peace and security, and wondered why they have to choose to rely on their male counterparts to excel.
Agbarubere, therefore, charged women to ensure they live a life of actualisation and self-esteem, adding that women were the most brilliant class of God's creation, and as such, not expected to beg.
"You must live a life of self-actualisation and esteem in order not to remain a beggar to your male counterparts, who you are far better than", she advised.
While talking on Domestic Violence and Child's Rights Act, she appealed to male lawmakers not to appropriate the issues to themselves alone, arguing that women should be more involved in the decision making since the children and women were the most affected. She insisted that more women should be allowed to make decisions on issues of domestic violence and child abuse in the society.
Agbarubere warned that women should stop supporting men that violate girls, adding that tribalism has become a big problem that is eating Nigerians up, urging that they ought to be their sisters' keepers. According to her, "Tribalism is violence because you violate the rights of others. We should uphold love and trust for one another".
Also speaking, the National Network Coordinator, WANEP Nigeria, Chief Bridget Osakwe, noted that the high rate of killings in Ogoni necessitated the decision to organise the programme for Ogoni women, so as to brainstorm on best ways to bring peace to the people of the area. Osakwe added that WANEP Nigeria was established primarily to provide an alternative platform for collaborative peacebuilding, adding that indigenous non-governmental organisations (NGOs) were expected to work in the area of conflict, peace building and security.
She said that it was in the bid to bridge the yawning gap that the training was conceived to help women build a platform to enhance their confidence and influence in the socio-political and economic development of their communities. In fact, the advocate of female involvement in decision-making and development argued that the time has come for more women to make their marks ventilating their skills and knowledge on issues around domestic violence and child abuse in such a way that they force policy shift, and engineer a swing pool of punishment or sanctions for offenders.
In her paper presentation on, "Gender", the South-South Zonal Coordinator of WANEP, Madam Emem Okon, explained that women unknowingly ascribed roles to themselves that were not originally meant for them as commanded by God.
In the well-researched presentation, Okon argued that "Even when women are heads of households, they still ascribe the role of the head of family to the men, who do not deserve to be acknowledged as such", and insisted on gradual attitudinal change to place the women in their place as leaders of organisations, communities and heads of families they struggle so hard to fend for. She advised the participants to aim to be leaders in their communities, local governments, and indeed, the state, and gave insight into organisations and countries across the world where women were at the driver's seat. Specifically, she noted tech companies in Silicon Valley, California, United States, including Yahoo, among others, where women were at the top. Okon mentioned the International Monetary Fund (IMF) where a woman is the managing director, and also noted countries such as Germany, Croatia, New Zealand, the United Kingdom, where women are heads of state and government.
Okon regretted that women have the mindset of feeling inferior based on cultural and traditional definitions, lamenting that they have continued to overwhelm themselves with unnecessary pressures just to please cultural norms and rites.
In an address to welcome all facilitators and Ogoni women leaders drawn from Khana, Gokana, Tai and Eleme Local Government Areas of the state, the Queen Mother of Eleme Kingdom, Her Majesty, Chief Evelyn Gokpa Eh Alito, expressed joy for the choice of organising the training in Eleme, adding that she was willing and ready to follow up with more training initiatives to engender peace and development in the state and Nigeria at large.
Earlier, the Rivers State Coordinator, WANEP Nigeria, Loretta Ahuokpeme, had said that the role of women as lead stakeholders was in promoting the rights of women and ensuring peace within communities, adding that to achieve the onerous task; women must build their confidence first.
She expressed the hope that lessons learned from the training programme would help transform Ogoni women leaders as pacesetters in peace building and sustainable security in the communities as a veritable means of ensuring uninterrupted development in the state.
The participants identified the negative effects of violence in Ogoniland that may have been responsible for low investors' confidence in tapping the potentials in Ogoniland as well as the factors that had over the years, slowed the pace of development in the area. They also resolved to work in synergy to promote efforts to tackle the incidence of rape and violence against women, just as they agreed to fight against purveyors of child abuse and trafficking. In addition, the women promised to do everything in their powers to influence actions to reduce the rate of poverty, killings, insecurity, displacement, marginalisation of the impoverished people of Ogoniland, among others.
Susan Serekara-Nwikhana
Political Parties In Nigeria And Women Leadership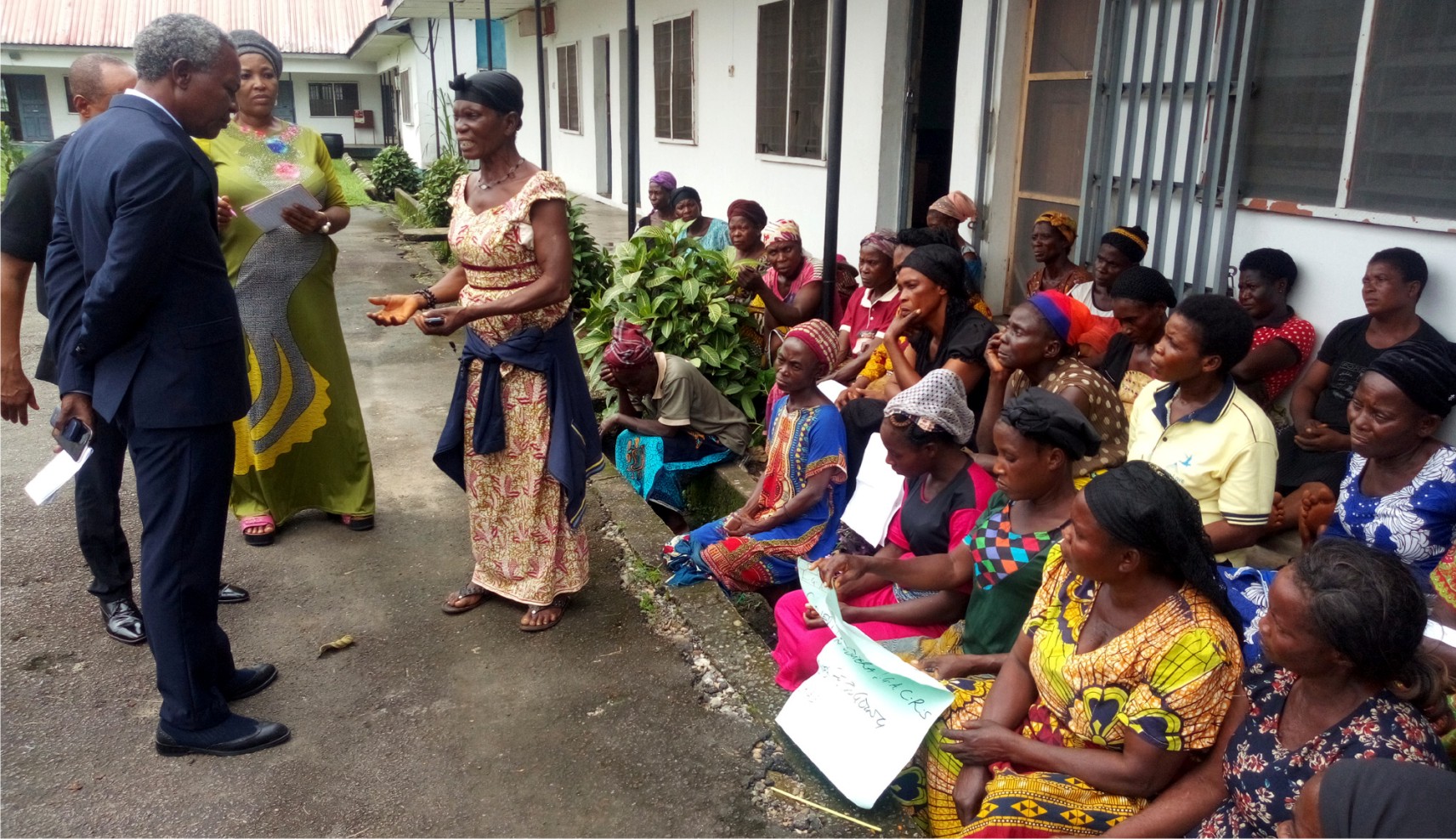 In Nigeria, the startling statistics of women's performances at every poll at elections are a thing that needs be seriously addressed and urgently too. Rwanda has nearly conquered this problem of gender parity, recording 40% women representation in their Parliament, South Africa has 50% women in the Cabinet.
Women leadership in political parties is a very important and critical issue as regards remediating women's hopelessness in every political party power-sharing processes. These women leaders are the entry points or gate-keepers in political parties and so are very strategic for women participation in politics. Unfortunately, most of the women who had held the position so far had failed the women as they have not adequately represented the women.
This is one of the reasons why women have often recorded abysmal results at every elections. At the last concluded elections, the story is not different. Only 7 (seven) women out of 109 composition in the Senate and about 36 women out of 360 at the House of Representatives made it at the polls. This is way down from what obtained at the previous elections.
In Rivers State, no woman in the State House of Assembly, one woman Deputy Governor, three Commissioners out of 23. These scores can never make for good representation for women in politics even in another generation if steps are not taken to correct the trend.
The role of women leadership in political parties is not well conceived by the occupiers of those positions. There is therefore, the urgent need to illuminate on what actually a woman leader in a party should buy herself on and so make the position worth-its –while for women's progress in the political development and empowerment of the teeming and willing female political population who remain perpetually on the back seats in the political boats.
The role of women leaders in political parties are multi-faceted. They include among others; mobilization, advocacy for women issues, help in legislation of women issues, raising funds for women political participation, economic empowerment of women, involvement in peace process in the party, environment protection collaboration with other stakeholders, monitoring and evaluating programmes for women development and participation in politics.
Women leaders in political parties it has been discovered, have only been able to accomplish just one out of the myriads of functions in the leadership of their organizations. They are still great mobilisers we agree. But mobilization is just one of the functions of leadership in a political party. These women busy themselves on mobilizing women for the benefit of men who are aspiring to hold great political positions. Women leaders in this country busy themselves in cheering men into positions of authority, cook their food and make them (the men) generally comfortable. Women leaders should know that their role of mobilizing is also to position women who desire and deserve to sit on positions of authority in the party and by extension in power-sharing in the polity of the country. As gate-keepers, women leaders must change their dance steps and see to it that women record successes in the polls.
Women leaders must pioneer advocacies on women power sharing in the party and placement of deserving women in decision-making positions from local government, state, and at the national level including the welfare of women in the party.
They must work with other women, organizations or seasoned women leaders in the state by way of networking with them to achieve women's goals and purposes in the country. Here the Women Affairs Ministry both at the national and state levels must join hands with the women leaders like the NCWS, the great umbrella for women organization in Nigeria to boost women issues.
Being the egg-head of women participation in parties. Women leaders must with the help of other organizations, like FIDA, National Council of Women Societies (NCWS) and other vibrant women organizations push those debilitating laws and cultural practices that harm women's development for legislation in the state Houses of Assembly. They must make sure more women are voted into the state House of Assembly and at the National Assembly. By so doing, it is obvious women's issues when brought to the Houses of Assembly for debate would make easy passage in their deliberations.
Another role of women leaders in the party is to organize programmes for raising funds for effective women's participation in politics. We are all aware that men have a way of supporting each other financially and otherwise but women lack this aspect of working for other women to succeed. This is a habit the women leaders of this post millennium must imbibe and transmit to their followers.
We are all too familiar with the way and manner the men go about empowering their fellow men. There is a male commissioner in one state who made his male personal assistant a commissioner in that same state which woman leader has done that?
Perhaps women would argue they are not too rich to empower their fellow women. This is true to some extent, but if women leaders can formulate programmes and projects using their parties as platforms, this goal could be achieved easily. If proposals on economic empowerment of women are well written, well-articulated and forwarded to the party hierarchy, I am sure if six proposals are sent across, there is every likelihood that two or three of these proposals would scale through. This will no doubt empower a crop of women who are well positioned to contest in any elections.
Since development can only come when there is peace in any organization, the woman-leader there to make in the various sectors of the party with her team of followers. Most times the gladiators (male of course) in the party fight themselves out leaving the women and their issues to the back burner. Women leaders must initiate peace building amongst warring factors in the party.
Women leaders must not restrict their activities to only political matters. They must go beyond politics and see to their ailing environments. Women leaders must engage their followers in clean-up exercises around the party, state, etc. if there are oil spillages and toxic wastes in their environment, they must be part of the solution to such problems in their localities. This makes them to be recognized persons in the community all the time and would be called up for other or higher responsibilities in the community.
As a matter of obtaining absolute effectiveness to pursuing women's issues to the front burner, there must be a tripartite arrangement, the governor's wife, the Ministry of Women Affairs and the woman leader. The three must work together on the various programmes and projects.
The woman-leader who is a grassroots person, could set the agenda for programme formulation. She will first of all identify the women's problems, and then formulates the programme which will be brought to the notice of the wife of the Governor and the Ministry of Women's Affairs for discussion. With these three working together with one voice and committed to changing the hopeless situation of women, they can achieve a lot in the shortest possible time. As the saying goes, there is strength in collectivity and two heads are better than one. Any of the programmes could be initiated by any of the three persons mentioned above. The bottom line is if the trio could work committedly there will not be any friction amongst them. Each will need the other to let the boat sail to shore.
Very importantly, projects and programmes monitored and evaluated periodically to assess the rate of success of each programme and adjust with new strategies whenever, to obtain maximum result.
In conclusion, women leadership in political parties is critical and must be seen as a great opportunity for rendering a service to the impoverished, rejected, dejected and voiceless women in the community. The woman leader is a rallying point for women.
Nimi Thom-Manuel is a social critique in Port Harcourt.
Nimi Thom-Manuel
Why Firms Need To Employ More Women As Leaders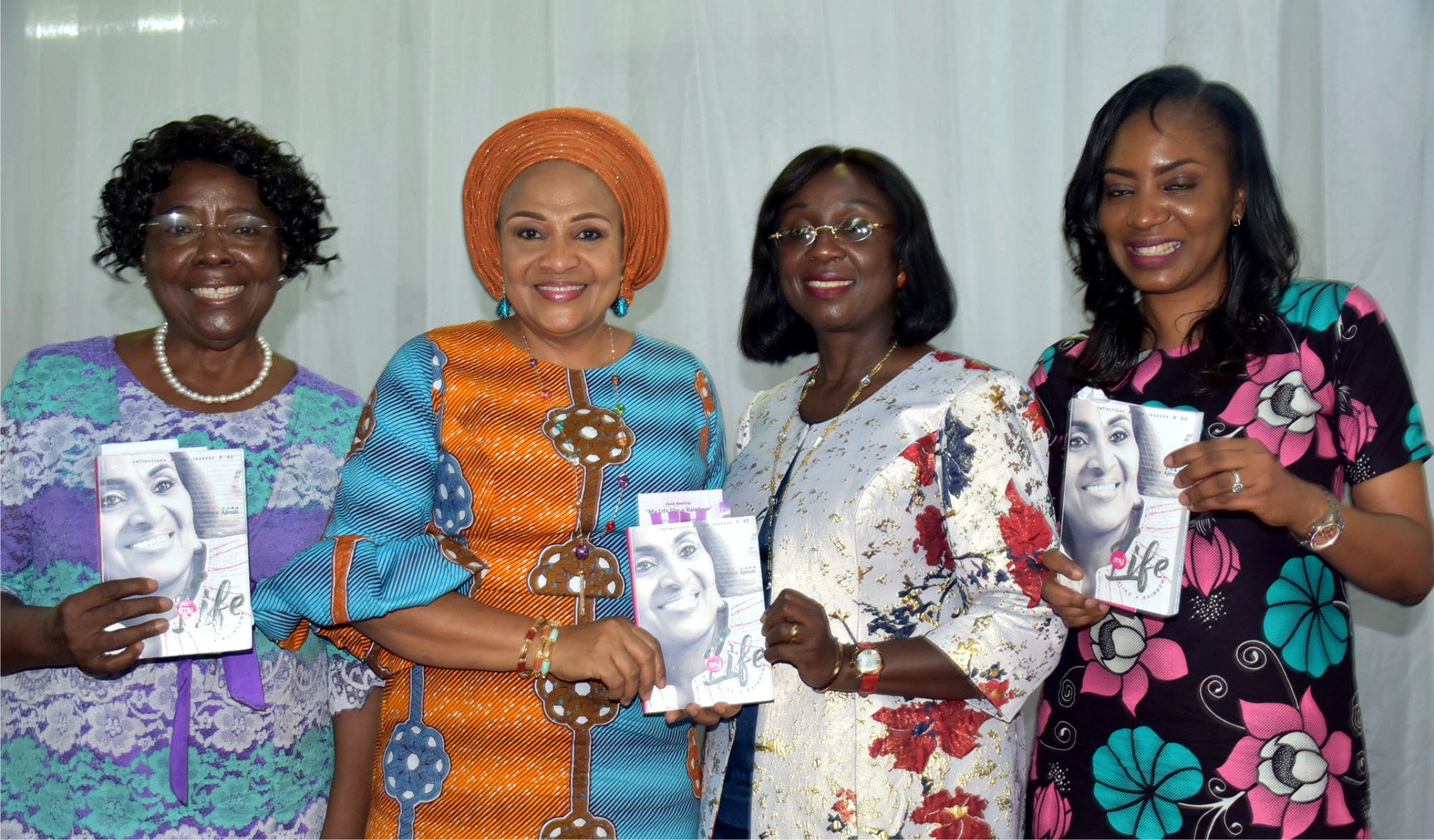 Having more women in decision-making roles has been found to generate stronger market returns, superior profits and reduce sexual harassment.
"You're too accessible." That is what Susan Zirinsky, the new head of CBSNews, was told early in her career because she was seemingly everywhere at once. It was during that era that she agreed to meet a young woman named Hannah Yang, who was on the verge of quitting what she had thought would be her dream job, working for talk show host Charlie Rose. She was troubled by the workplace environment and had decided to leave, but was convinced her career in journalism would be over.
Yang had only briefly met Zirinsky, then executive producer at 48 Hours, but decided to ask for a meeting. She expected Zirinsky to say no. Instead, Zirinsky ended up giving her the most valuable advice of her career: to pursue the business side of media.
Eighteen years later, Zirinsky, known to many as "Z", is president of CBS News, brought in to run the news division following a massive company crisis over sexual misconduct that included the firing of the company's chief executive, Les Moonves, and Rose. She is the first woman to hold that job. Yang is a business executive at The New York Times, who says she now makes a point of making herself accessible, too.
For a long time, women were taught to "act like men" to get ahead at work. They donned shoulder pads and boxy suits, played by the rules, and acted out qualities that seemed to make for successful leaders, authority, decisiveness, not being "too accessible".
But a new breed of women leaders like Zirinsky is upending those old rules, embracing traits like empathy and collaboration to get things done, and refusing to suppress the qualities that make them who they are. (Some may call these "feminine" qualities, but others prefer to call them the traits of well-rounded leaders.)
Think JacindaArdern, prime minister of New Zealand (and one of the few world leaders to give birth while in office), who spoke onstage at the first New Rules Summit last year. Ardern drew international praise for her ability to mix compassion with concrete action in the wake of a recent mass shooting in her country. In the hours after, Ardern, the youngest female leader in the world at 38, wore a black headscarf and grieved alongside victims' families. "We are one, they are us".
She also took swift action, banning military-style semi-automatic weapons within days of the shooting. "It takes strength to be an empathetic leader."
But that can also be a tricky line to walk for women. Research has found that when women exhibit character traits typically associated with male leadership traits like decisiveness, authority or assertion, they are likely to be viewed as bossy, pushy or too aggressive, and some people reel at their behaviour.
And yet when women turn around and exhibit the qualities traditionally expected of women like niceness, nurturing and warmth, they tend to be perceived as pushovers, too soft or not "tough enough" to do the job. It is a double bind, as sociologists have put it, a situation where you are "damned if you do, damned if you don't", as Joan C Williams, a law professor and workplace scholar, has said.
And yet there is also a body of work, including research by a Harvard Business School professor, Amy Cuddy, and colleagues, which found that women can offset that bias by combining these characteristics essentially, conveying warmth along with competence.
The good news is, there are simply more styles of leadership on display these days. Of more than 200 men fired according to an analysis by The Times last year, nearly half were replaced by women including Jennifer Salke at Amazon Studios, Christiane Amanpour at PBS and Zirinsky at CBS.
Today, for the first time, women hold the top jobs at the New York Stock Exchange and at Nasdaq. There is a female speaker of the US House of Representatives who is a mother of five and grandmother of nine. There are a record number of women in the US congress, including young rule breakers like Alexandria Ocasio-Cortez, who are leading with a level of camaraderie and transparency perhaps never before seen. And, of course, more women than ever are running for the Democratic nomination for president.
None of which is to say that women are innately better leaders. "That's not necessarily the case," says Marianne Cooper, a sociologist at Stanford University who studies gender and leadership. But there are certain things that women learn from a lifetime of operating in male-dominated spaces, things like patience, compassion and calm that may be assets.
"Women's experiences at work are undeniably different," Cooper, the sociologist, says. "As a result, they may develop a lens on the world that can lead to different thoughts about leadership, different priorities, different ways of interacting. I think certainly all these women in power can open up definitions of who's a leader."
There's a theory in social science, coined by Michelle K Ryan and S Alexander Haslam as the "glass cliff", that explains how women are more likely to be put into leadership roles during times of crisis. This can end up well if they are successful, but be damaging if they are not because the failure tends to be viewed not as indicative of the circumstances, but as indicative of the person's race or gender.
The way to break that cycle, researchers say, is to have more women in power  so that one woman's experience does not represent that of all women. (Having more women in decision-making roles has also been found to generate stronger market returns and superior profits for companies. And having more women employees, particularly in leadership roles, can reduce the incidence of sexual harassment, too.)
Benett is of the Independent Newspaper. UK.
Jessica Benett
NGO To Empower Over 300 Widows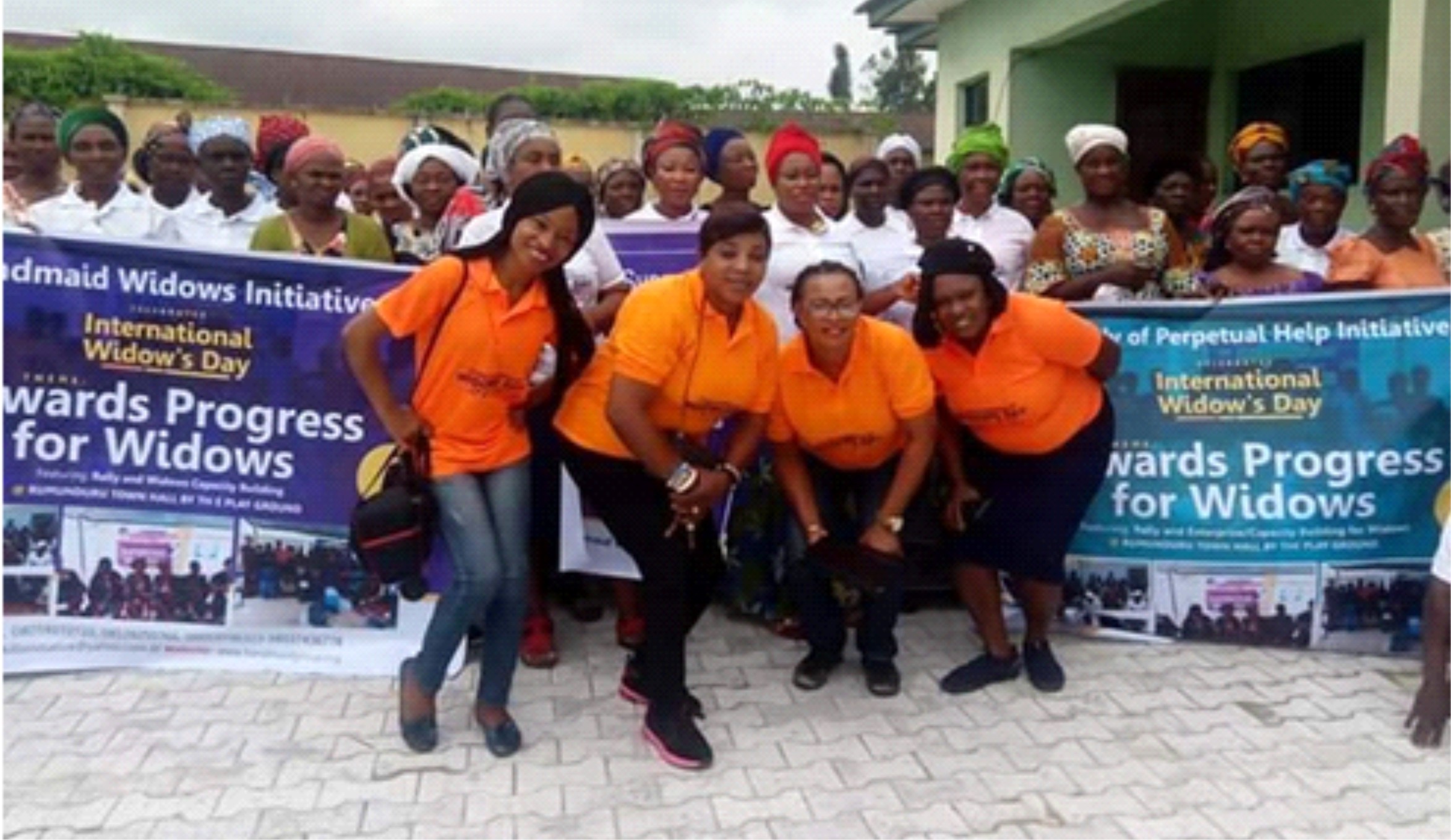 Over 300 widows in Obio/Akpor Local Government Area of Rivers State will be empowered in various skills come August 31, 2019 by a non-governmental organisation, under the auspices of 'Handmaid Widows Initiative'.
Speaking in an exclusive interview with The Tide last Saturday during its monthly meetings to cater for the widows in Port Harcourt, the visioneer, Handmaid Widows' Initiative, Chief Grace Opara, stated that over 40 women have been trained already in various empowerment skills and that by August 31, over 300 will be trained making a total of 340 widows trained within a year of the inception of her initiative.
Opara said that the training of 300 widows in August would be part of the ways her initiative would want to mark the 2019 World International Widows' Day which is yearly celebrated on June 23.
Explaining the theme for this year: 'Towards Progress For Widows,' she said her initiative has decided to go beyond giving widows food stuff, to empowering them in various skills such as tailoring, Information and Communication Technology (ICT), hair dressing, catering, liquid soup, Izal, insecticides, cream production, petty trading, among others, so they would be able to put food on their tables.
She appealled to well meaning individuals and philanthropists to partner with her initiative so as to put more smiles on the faces of widows and the down-trodden in the society.
Also speaking, the Coordinator, Our Lady of Perpetual Help, Mrs Loreta Ahuokpeme, noted that widows in the society deserve equal treatments in their late husbands' homes.
Ahuokpeme warned that it was time the society stopped all the harmful traditional practices meted out on women after the death of their husbands.
She maintained that her organisation would like to partner with the Nigeria Association of Women Journalists (NAWOJ) and other legal organisations such as the International Federation of Women Lawyers FIDA, Gender And Development Action GADA and Africa Women Lawyers Association in Nigeria (AWLAN).
Earlier, the President of Handmaid Widows Initiative, Mrs Favour Elechi, narrated how her late husband's family abandoned her and six children, adding that most nights when there were nothing for them to eat, she had to pray over water and all of them drank and slept.
Elechi thanked God for the day she encountered the Handmaid Visioneer, Chief Grace Opara, explaining that hunger ceased from that day till date in her family as she has been trained in various skills that are putting food on her table.
Susan Serekara-Nwikhana