Using Food To Manage Diabetes
Diabetes is an ailment majorly caused by poor dietary habits that overwhelms the body with too much carbohydrate, such that it cannot be properly managed and the excess leads to high sugar level that the system cannot manage again.
Though the body need carbohydrate to sustain energy, excess carbohydrate put the system under pressure. Many diabetic sufferers have fallen 'into diabetic coma" because they continue to eat food that overload the sugar such that the body cannot process them.
Normally diabetes is one to abnormal functions in the assimilation of starch and sugar. The Isles of Langerhans, little clusters of cells located within the pancreas, manufacture insulin. This is a hormone necessary for burning, up of sugar in the body. Thus when insulin is insufficiently secreted, an excessive amount of sugar accumulates in the blood. Since excessive starch consumption is the major cause, the drugless approach to manage diabetes is aimed at helping to clean up and eliminate excess sugar in the body.
A naturopathic practitioner M.O. Garten recommends raw food programme for his diabetic patients. These patients are allowed to eat these raw foods for four days. The foods include green beans, onions, potatoes, garlic and grapes among others.
Garten claim that when diabetic patients are put under a regime of raw food their blood sugar is normalized, the sugar in their urine also diminishes to a considerable extent.
He stressed that, "diabetics need foods that are not chemically treated. Today's' harsh preserved and chemically sprayed foods leave a chemical residue in the diabetics system that is like adding fat to fire".
Instead of consuming, processed foods, the diabetic is advised to eat organic foods, for natural foods.
For instance, he recommends that a diabetic should devote two days per week to a diet of natural food during which raw grapefruit juice is taken. Nothing else should center the system. Ingredients in this fruit help to oxidate, sponge up and soak up excess sugar. It's a natural way to duplicate the action of insulin.
Garten also recommends antichoke to his patients. Audichoke plants are not common or easily gotten in this dime, but that can be replaced with bitter gourd, a fruit that looks like cucumber but has a bitter fluid. Consuming, some raw slices of bitter good put in salad made up of other fruits such as walnuts, cucumber, cabbage and lemon can help cleanse the body of excess sugar.
After though detoxification and elimination of body sugar, the following foods should be consistently consumed by a diabetic and these should include those that have lots of fiber such as beans, sweet potatoes, brown rice, oats, soya beans, etc.
The America Diabetes Association lists plant based proteins such as beans, nuts, seeds or tofu, fish and seafood, including poultry with low fat as the best for those battling with diabetes.
Council Chairman's Wife Tasks Women On Breast Feeding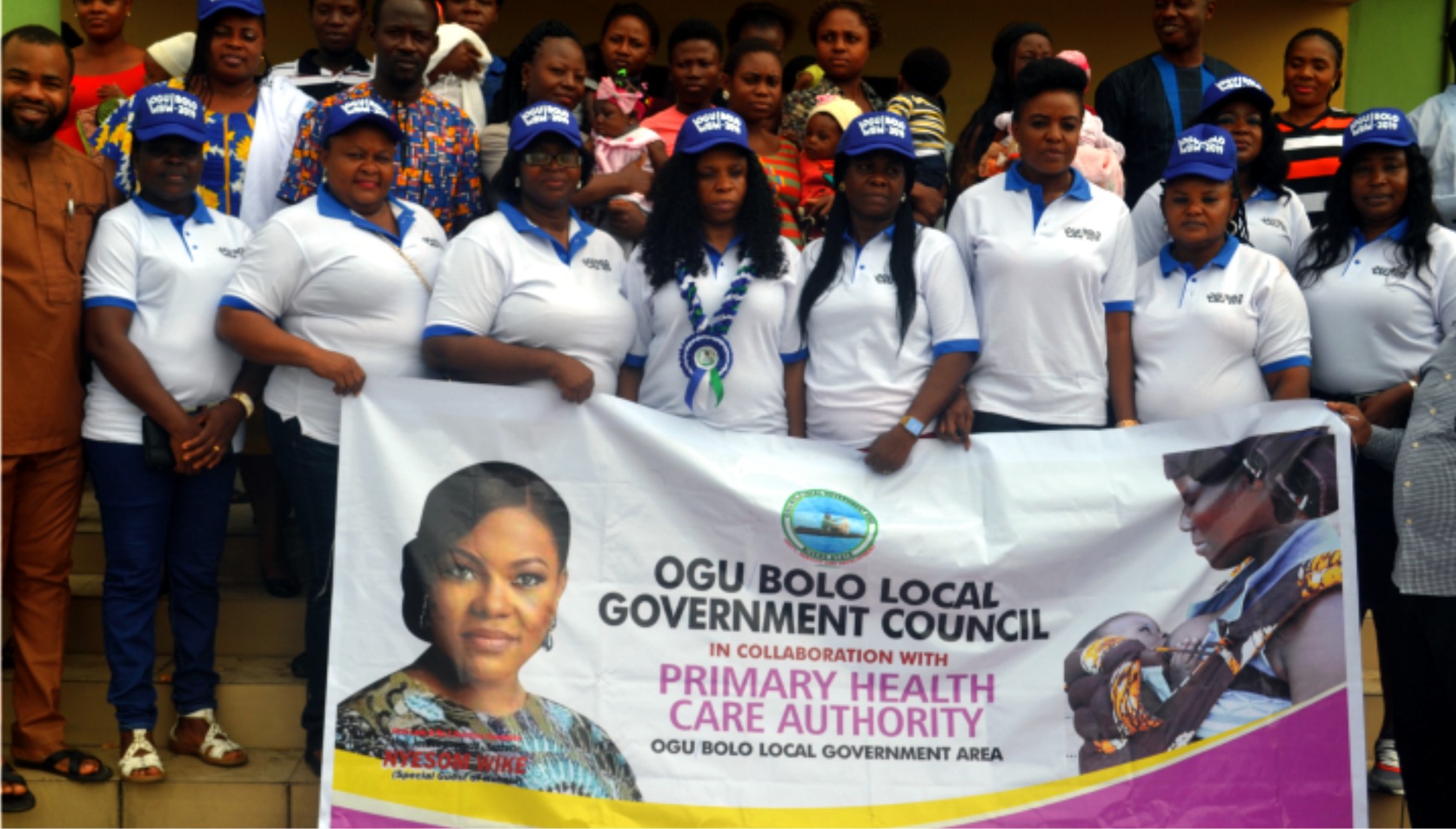 The wife of Chairman of Ogu/Bolo Local Government Area of Rivers State, pastor (Mrs)Jemima Victor, says exclusive breast feeding of children will impact in the  development of their intelligence quotient and enhance their educational growth.
She stated this in an interview with The Tide on the sidelines of the flagging- off of Breast Feeding campaign programme in Ogu, head quarters of the local government recently and assured that the campaign would be a continuous programme in the area until the women are acquainted and adapt with the practice.
She averred that exclusive breast feeding was crucial for growth and development of every child, adding that  it was key for  mothers and women  to breastfeed their children .
The Ogu/Bolo first lady opined that when the babies are breastfed with the right milk, they would be able to develop the right features God deposited in them and with a right character and attitude.
She attributed the various social vices  happening in the society today as to lack of intimacy between mother and child during the infancy stage, adding that breast feeding will bridge such gap between mother and child at the developing stage of every child.
"When you give a child the natural milk which is gotten from the woman's breast milk, you get the best from such child. Let us stop giving our babies chemicals and  animal milk, it will make them manifest characters like  animals when they grow," she said.
Let us breastfeed our children so that we can have generations that have been fed well and not with cow milk", she stated.
The  Ogu first lady, was decorated with the champion of nutrition  breast-feeding of the local government area during  the programme by the representative of the Permanent Secretary, state primary health care board at the occasion .
She assured that the award would spur her tocontinue to support and sustain the breastfeeding campaign and awareness in the area, even as she called on women in the local government area to embrace the practice for the betterment of the society.
Also speaking, the Medical Health Officer in the local government area, Dr (Mrs) Loliya Koko advised women to ensure the breastfeeding of their new born babies exclusively within the first six months without water and artificial milk, adding that it will save them from infections and diseases.
She thanked the wife of the council chairman for ensuring the success of the programme in the area.
Breast Implants'll Not Prevent Sagging – Obstetrician
An Abuja – based Obstetrician, Dr Dauda Adekunle, has advised women who intend to go for breast implants that breast augmentation would not prevent their breast from sagging.
Adekunle gave the advice in interview with newsmen last Monday in Abuja.
According to him, women who believe breast  augmentation will correct sagging breast should have a rethink, because they will also need a breast lift in addition to the breast augmentation.
"You might need additional surgery after breast implant removal. If you decide to have your implants removed, you might need a breast lift or other corrective surgery to help restore your breasts' appearance," he said.
He said that breast implants were not guaranteed to last a lifetime, stating that the average life span of an implant was 10 years.
"Implant rupture is a possibility, also, your breasts will continue to age, and factors such as weight gain or weight loss might change the way your breasts look," he said.
The obstetrician also stressed that these issues would likely lead to more surgeries.
"You might need an MRI scan, which is a recommended routine monitoring with MRI after three years", he noted.
WHO Considers Two Of Four Ebola Drugs More Effective
The World Health Organisation (WHO) considers two of four Ebola treatment drugs have been determined "more effective" than the others and will be the only ones used on patients going forward, the World Health Organisation (WHO) has announced.
WHO announced in a statement that two of the four Ebola treatment drugs were determined more effective in treating patients than others in a trial which began as part of the emergency response in the Democratic Republic of Congo on November 20, 2018.
The trial was called the Pamoja Tulinde Maisha study.
ZMapp, remdesivir, mAb114 and REGN-EB3 were the four drugs used in the trials. During trials, REGN-EB3 and mAb114 were determined to be more effective in treating Ebola than the other two, and will be the only two used going forward, the National Institute of Allergy and Infectious Diseases announced in a statement.
As part of an emergency response team in the Congo, the "Together Save Lives" trial was done with a collaboration of organisations, including the Congo's National Institute for Biomedical Research, the Ministry of Health, the NIH's National Institute of Allergy and Infectious Diseases, the Alliance for International Medical Action and other organisations.
Although the final analysis of data will be completed in late September or early October of this year, the NIAID said the effectiveness of REGN-EB3 and mAb114 was "compelling enough to recommend and implement" the changes immediately.