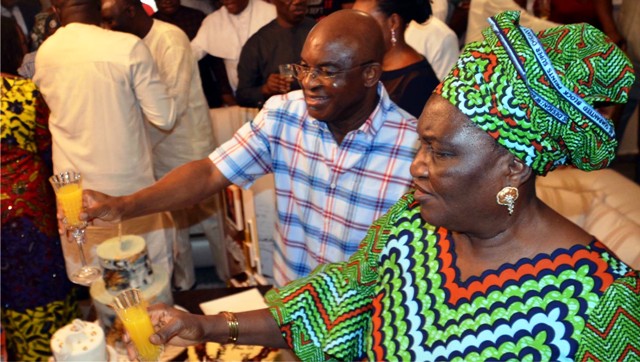 Barely 24 hours after the All Progressives Congress (APC) accepted the olive branch extended to opposition political parties in Rivers State by Governor Nyesom Wike, the Peoples' Democratic Party (PDP), has called on the former to be sincere with its position.
Describing the position of the APC as a welcome development, the PDP said it would be a thing of joy if the main opposition party in the state join hands with the Governor to improve security in the state.
The State Publicity Secretary of the PDP, Darlington Orji stated this at a media briefing in Port Harcourt, the State capital on Monday.
Orji said that Governor wike is determine to work with different political parties and anyone with useful ideas and how peace can be restored in the State.
According to Orji: ''Now that the All Progressive congress has come out, if their position is very sincere, together we can build a better Rivers State. So for us, anything that will make our State remain peaceful for investors to come in and bring development that is where we remain and that  is the vow the governor of Rivers State has taken to make sure that Rivers resources will be used for Rivers people.
"Today, I have no doubt that the press conference that was carried out by APC must be on notice. So for me, it is a welcome development and we are also using this opportunity as a political party to call on the minister of transportation to please work together with the governor of Rivers State.
"Bring up your ideas so that together, we can better the lives of our people, together we can fight crime and criminality, together we can stop this killings that is all over the State," the State PDP spokesman stated.
He further said that to achieve a high level of security in Rives State, the security agencies will need to distance themselves from the political activities in the State.
"Peace is going to be achieved when all the security agencies distance themselves from the political activities in Rivers State and understand that their primary objective is to protect lives and property so that when you arrest criminals in the act nobody will go for their bail because the shocking thing is that, you will arrest criminals in the morning, in the evening you see working in and the stories have been who is responsible for their release.
"So, now that everybody has agreed for peace it means that there will be no hiding place for criminals in the State. The need to take to their heels because if you commit crime, you go in for it and nobody will come for your bail," Orji said.