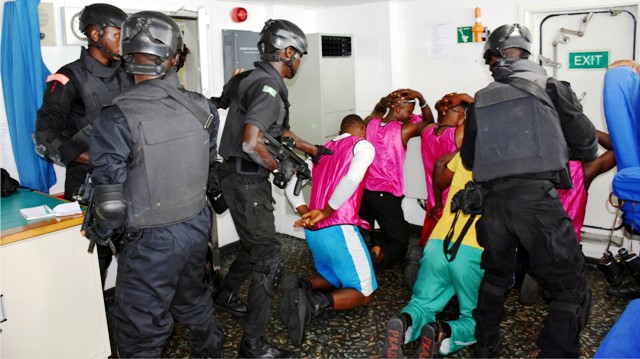 Following the spate of pirate attacks on foreign vessels, Nigerian importers have paid a whooping sum of N984 billion ( $2.74 billion) in three years as war risk surcharge in insecurity on the nation's waterways.
This development has led to a spike in insurance premiums slammed on vessels and cargoes destined for Nigeria by offshore.
Shipping surcharge is a supplementary carrier charge that is only applied when insurance underwriters designate specific zones as war risks.
It covers more than actual wars (invasion, insurrection) including international events that may be escalating toward war, and areas where hijacking (piracy) is prevalent. The surcharge is levied to recover potential extra costs, such as re-routing or additional security.
But according to the International Maritime Bureau (IMB), Nigeria has paid $2.74billion as insurance surcharge due to pirate attacks.
Piracy Reporting Centre recorded 66 incidents in the first quarter of 2018, as against 43 for the same period in 2017 and 37 in 2016.
In the first quarter of 2018, 100 crew were taken hostage and 14 kidnapped from their vessels worldwide.
A total of 39 vessels were boarded, 11 fired upon and four vessels hijacked. There were also 12 reports of attempted attacks.
The Gulf of Guinea accounted for 29 incidents in 2018, more than 40 per cent of the global total. Of the 114 seafarers captured worldwide, all but one was in this region.
Nigeria alone recorded 22 incidents. Of the 11 vessels fired upon worldwide, eight were off Nigeria, including a 300,000 MT deadweight VLCC tanker more than 40nm off Brass.
But in a statement, the Nigerian Shippers' Council (NSC) has criticised Nigeria's categorization as a war risk nation,
The Executive Secretary and the Chief Executive Officer of the NSC, Hassan Bello, who made the condemnation said that the few incidents of attacks recorded on Nigerian waters were not sufficient to warrant tagging the country a war-risk nation.
"We do not deserve the war-risk clause tagged on us. Our waters are safe. Again, this is where I have to commend the  Marine Police for greatly streamlining procedures for cargo clearance at the ports. We're also ensuring lesser vessel dwell time at ports. The responsiveness of the new IGP has been remarkable in this direction", he siad
Bello urged  both offshore and onshore shipping companies to continue patronising Nigerian seaports fact that the nation's territorial waters are very safe.
Director-General of NIMASA, Dr Dakuku Peterside also criticised the designation of Nigeria water as war risk, attributing it to false reportage about attacks on the nation's territorial water.
Chinedu Wosu