NPDC To Produce 40 Per Cent LPG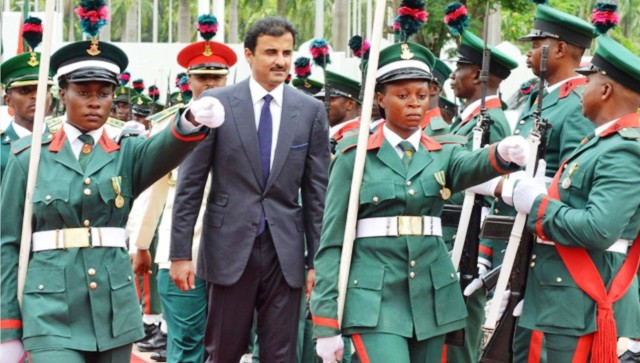 The Nigerian Petroleum Development Company Limited (NPDC) will be producing 40 per cent of the nation's Liquefied Petroleum Gas (LPG), also known as cooking gas, before the end of the year.
The Nigerian National Petroleum Corporation (NNPC) disclosed this in a statement by its Group General Manager, Public Affairs Division, Mr Ndu Ughamadu, in Abuja, last Thursday.
The statement said that the NPDC was set to unveil the largest LPG and Propane Storage and Dispensing Facility in Oredo, Benin City.
It said it was part of concerted efforts to fast track the consumption of LPG in the country.
Also in the statement, the Managing Director of NPDC, Mr Yusuf Matashi, said the inauguration of the gas bay would be a huge revenue stream for the Federal Government.
According to him, the facility, which is an extension of the Integrated Gas Handling Facility (IGHF) plant, had the capacity to dispense 330 tonnes of LPG and 300 tonnes of Propane daily.
He added that it would also dispense 100 million standard cubic feet of gas per day (MMscfg/d) and 260 barrels per day Condensate from the IGHF plant.
He said that the facility was centrally positioned to supply LPG to Lagos, the South-South; South-East and to the North in order to grow its consumption across the country.
Matashi noted that currently NPDC was the largest supplier of gas to the domestic market with about 90 per cent of gas supply targeted at power generation to drive the nation's economy.
"We are paying greater focus on our 100 per cent assets production. NPDC assets will deliver a lot in terms of meeting its (crude oil and gas) volume targets.
"We currently contribute 10 per cent to daily national production and by end of 2019, the company is looking at 15 per cent contribution to daily national production.
"NPDC's production outlook for 2019/2020 was on the bright side, the company is aggressively pursuing its drilling and field development programmes as approved by the management of NNPC," he said.
He revealed that the company had oil reserve base of 3.6 billion barrels and gas reserve of 15 trillion cubic feet from its involvement in 29 concessions- 22 Oil Mining Leases (OMLs) and 7 Oil Prospecting Licenses (OPLs).
He explained that the flagship Upstream subsidiary of NNPC would continue to lead exploration and production company of choice going forward.
Matashi said that NPDC maintained cordial relations with regulatory agencies, such as the Department of Petroleum Resources (DPR), adding that the company had maintained its remittance of royalties and Petroleum Profit Tax to the Federal Inland Revenue Service (FIRS).
He said that NPDC and its various host communities were living in peace due to the company's commitment to sustainable community development policy.
Contributory Pension: PENCOM Gives Six States Clean Bill
Most states across the six geopolitical zones in the country are yet to fully implement the Federal Government's Contributory Pension Scheme (CPS), a report by the National Pension Commission (PENCOM) has revealed.
According to the report made available to The Tide, yesterday, only six states and the FCT had fully implemented CPS with regular and up-to-date remittance of pension contributions, establishment of pension bureau and enactment of pension law.
The report, signed by PENCOM spokesman, Peter Aghohowa, said that the six states which had fully keyed into the CPS as at September 2019 were Kaduna, Anambra, Ekiti, Ondo, Edo and Delta.
In the North-Cenral Zone, only FCT had established pension bureau and was up-to-date with remittance of pension contributions, while Benue, Kogi and Nasarawa states which had enacted CPS laws had no pension bureaus in place.
Although Niger State established pension bureau, it suspended implementation of the CPS in April 2015 and had since stopped remitting pension contributions, while Kwara and Plateau were yet to enact CPS law.
Five states in the North-East zone, comprising Borno, Adamawa, Bauchi, Gombe and Taraba, were yet to commence remittance of pension contributions while Yobe was still operating Defined Benefits Scheme.
Also in North-East Zone, only Adamawa, Gombe and Taraba states had enacted CPS laws but none was yet to establish pension bureau.
In the North-West Zone, only Kaduna State had fully implemented CPS with regular and up-to-date remittance of pension contributions, establishment of pension bureau, registration of employees with PFAs and consistent funding of accrued rights with 5 per cent of total monthly bill.
Of all the North-West states, only Katsina neither enacted CPS law nor established pension bureau, while Jigawa and Kebbi which had pension bureaus, were only remitting portions of the pension contributions.
Kano without a pension board was deducting pension contributions under the management of the board of trustees and yet to transfer the pension asset to a licensed pension operator.
In the South-East Zone, PENCOM reports that except for Anambra State which was fully complying with the implementation of the CPS scheme, others such as Abia, Ebonyi, Enugu and Imo states had not keyed into the scheme.
The Commission said that in the South-West zone, Ekiti and Ondo states were remitting pension contributions, while Ogun and Osun states had huge backlogs. Lagos State did not provide information on its remittance, while Oyo State was yet to commence remittance of pension contributions.
According to PENCOM, all the South West States have, however, enacted CPS laws and established pensions bureaus.
In the South-South, Edo and Delta were up-to-date in their pension contributions, while Rivers and Bayelsa states were lagging behind in remittance of pension contributions.
In Rivers, contributions made under the repealed law were being refunded to exempted employees, while Akwa Ibom and Cross River did not even have a CPS law in place, PENCOM said.
The PENCOM spokesman, however, said that the commission did not release the report to undermine or embarrass any state but to intimate employees on the status of their states in terms of their pension contributions.
"With the information provided, workers can hold their states to do the needful in terms of paying their pension up-to-date to guarantee and protect their retirement," he said.
According to him, the commission will continue to dialogue with the states to do the needful, as the law that established PENCOM does not empowers it to enforce the implementation on the states.
CAC Moves Against Defaulting Firms
Corporate Affairs Commission (CAC) has called on companies operating in the country to file in their annual returns as provided for by the law or risk being de-listed from its register.
The Commission's Head of Public Affairs, Mr. Moses Adaguusu, said in Abuja on Monday that the call became necessary in view of the need to keep the commission abreast of companies that were still in operation or otherwise.
According to him, a yearly return is a mandatory requirement every enterprise or incorporated trustees must file annually by delivering to CAC a return in the prescribed form containing specified matters related to the organisation in accordance with Companies and Allied Matters Act (CAMA).
"A very vital importance is that filing of the annual return by a company helps to simply keep the commission abreast that such company is still actively in operation and still engaging in business activities or otherwise,'' Adaguusi said.
Emphasising that the Enforcement and Monitoring Department of the Commission would intensify efforts to ensure compliance, Adaguusi, however, urged companies to embrace voluntary compliance.
He said that although the commission does enforcement exercise, it is not keen on deploying task force team considering the harsh economic situation in the country.
"We want companies to embrace voluntary compliance so that there won't be penalties.
"Penalties run into millions of naira and that is enough to close a company,'' he said.
Adaguusu expressed concern that rather than comply with filing annual returns to the CAC, some companies seek for waiver on penalties.
According to him, in extreme cases, the commission considers waivers on penalty.
He also pointed out that companies need to be up to date with CAC to enable them get registered with the Bureau of Public Procurement (BPP).
Adaguusu said, "companies that execute contracts would have difficulties being paid if they are not registered with the BPP.
"Companies that want to do business must be on the Bureau of Public Procurement and before you are registered with BPP you must be up to date with CAC.
"This is another window that is encouraging companies to come and update with CAC.''
He, however, pointed out that the process of delisting companies from CAC's register for failure to file annual returns is an ongoing process.
"It takes a process and it is ongoing. In 2008, 10 companies were deregistered and in 2016, 38 companies were also deregistered; so, it is a continuous process and there will be no need to leave companies that are not complying on the register,'' Adaguusi said.
AfDB, Investors Plan To Close $67bn Deals
Investors and partners of the African Investment Forum are working on closing investment transactions worth $67 billion at the second edition of the forum, which kicked off on Monday in Johannesburg.
The President, African Development Bank (AfDB), Dr Akinwumi Adesina, disclosed this at a press conference on Monday to announce the beginning of the forum.
The $67 billion worth of transactions is $24 billion more than the $43 billion projects that the first edition of the forum opened with in November 2018. The 2018 forum ended with $37 billion worth of deals, and Nigeria accounted for $7 billion transactions.
Adesina said 2,086 participants drawn from 109 countries across the world were participating at the forum, adding that 61 of the participating countries were not from Africa.
According to the AfDB boss, 59 transactions across several sectors, including energy, sanitation, water, infrastructure, agribusiness, private equity funds and ICT development, are expected to be sealed within the three-day duration of the forum.
He said investments were expected to happen in 29 countries that had submitted projects.
Adesina said, "We are trying to make sure that investments go into low-income and fragile states."
Giving a regional analysis of the prospective deals, Adesina said $36 billion were located in Southern Africa; $14 billion in Central Africa; $10.5 billion in West Africa; $2.6 billion in North Africa, and $1.3 billion in East Africa.
He named Telo DB, a South African company, as the champion company for investment deals within the forum.
Answering a question on agriculture, the AfDB boss said although agriculture was a big business, it had been treated with little concern in the continent.
He said because of the special place agriculture should occupy in the continent, the AfDB would invest $25bn in the sector in the next 10 years.
In an opening remark, Adesina said, "We will work with our partners to syndicate more and leverage capital. Together, through the Africa Investment Forum, we will speed up the development of bankable projects, secure financing, and accelerate financial close for projects."