RSHA Ratifies Suspension Of 12 LG Chairmen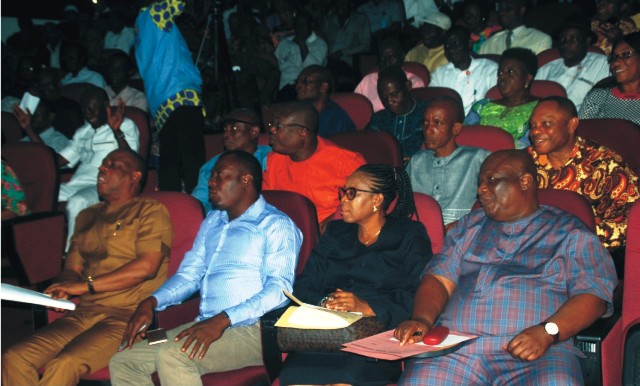 Members of Rivers State House of Assembly, yesterday, approved the suspension of the 12 council chairmen by Governor Nyesom Wike.
Wike had, last Thursday, announced the immediate suspension of the 12 chairmen on the grounds of failure to participate in a state function.
The local government areas affected are Okrika, Abua/Odual, Emohua, Degema, Khana, Gokana, Ahoada East, Ikwerre, Eleme, Andoni, Omuma and Ogu/Bolo.
The Tide reports that shortly after announcing the suspension of the LG chairmen in Government House, Port Harcourt, during the inauguration of Thanksgiving and Second Term Inauguration Planning Committees, among others, the governor sent a request to the House to seal the action already effected.
The Executive request was read by the Speaker of the House, Rt. Hon. Ikuinyi-Owaji Ibani, for adoption, debate and approval by the lawmakers during plenary.
Lawmakers, who spoke during the debate on the subject matter, said the governor's action was in line with the Local Government Laws, 2018 as amended by the Assembly.
While making his contributions, Chairman of the House Committee on Local Government, Hon Kelechi Nwogu, said the suspension of the council chairmen would serve as detement to those, who might feel that they are above the law.

Check Rising Cases Of Underage Rape
Rape as we used to know it, was a sexual act between two adults but usually initiated by a male against the female gender. Though this is not to say that women do not engineer the action, but it was rare.
It is, however, disheartening these days to hear cases of rape against underage children and even babies in towns and cities across Nigeria today.
This situation surely calls for urgent attention. Causes of infant rape include: inordinate sexual gratification, ritual purposes, parental negligence, nature of parental profession, among others.
Prevention of child rape is always the best option. The most important preventive mechanism lies with the parents/guardians being vigilant. In fact, extraordinary kind of vigilance is recommended today, especially for the girl-child.
Parents should desist from sending their female children on errands carelessly. Also, they must teach them how to sit properly and not to sit on any male's lap.
Finally, I expect elders and leaders of our towns and villages to consciously rise to the occasion and campaign against the rising cases of rape in their domains.
By: Godspeed Fombo, Port Harcourt.

For Better Education In Rivers
Educational standards are the learning goals for what students should know and be able to do at each grade level.
Education is the fulcrum of nation development. It is the foundation upon which all other sections are built.
The foundation of Nigerian's education is weak and Rivers State is not left out. And irrespective of the fact that the Governor of Rivers State, Chief Nyesom Wike, who had once served as Minister of Education (State) and has done a lot to ensure that the state's level of education is being upgraded, the Nigerian educational structure has experienced an earthquake, only the crumbs are left. Gone are the days of free and quality education. The national budget allocated to the education sector is not encouraging at all.
The poor condition in the education sector has made our young girls become victims of sexual abuse, early pregnancy. And our young men are being introduced to secret cults at an early age, being sexually sensitive and this is a threat to our university and nation at large.
But as is often said, no condition is permanent. The governor, who has worked tirelessly to ensure that the education system in Rivers State is upgraded, but I feel his efforts are being frustrated because some unpatriotic people in his cabinet and in the classroom serving as teachers have decided to frustrate the effort of His Excellency.
The education system in Rivers State should be revived and disciplinary measures taken on teachers who are found wanting in their duties. Also, there should be strict policing on students to monitor their academic performance. And awards should be given to students who perform outstandingly annually.
By: Theresa Ebizimor, Port Harcourt.

Checking Child Trafficking
Child trafficking is defined as the process of recruitment, transportation, transfer, harboring and receipt or kidnapping of a child for the purpose of slavery, forced labour and exploitation.
In its most basic form, human trafficking is the equivalent of modern-day slavery. People, often women, youth and children are forced to provide services for little or no pay and are not given basic freedom.
These trafficked people are often taken far from their home and are under the complete control of another person or group. Some of the work that they are forced to do is manual labour but much involves sexual exploitation such as prostitution. Child trafficking occurs when children who are trafficked are often forced into some form of work, used for sex or simply sold.
Child trafficking has also been shown to have a major effect on communities, if multiple children in a community are trafficked it can result in the entire community being corrupted.
Children may be trafficked for the purpose of adoption, particularly international adoption. Children are sourced from orphanages or kidnapped.
There are, however, some of the reasons which contribute to high rate of child trafficking such as poverty, humanitarian crisis and lack of education.
Poverty is the leading cause of child trafficking worldwide. Oftentimes, parents are not able to provide for their families and consequently exploit their children for financial reasons, these influences lead to children being inclined to undertake risky jobs in order to sustain life for themselves and their families.
Humanitarian crisis is also another cause for child trafficking, it is particularly prominent in areas struck by natural disasters.
The government should dedicate a day, week or month and orgnaise an event for those local communities or people who are ignorant of these things and teach them how to protect themselves from child trafficking.
The government should also provide employment (entrepreneurship) for parents and youths and also enducate them on child trafficking.
By: Joshua Josiah, Nkoro town