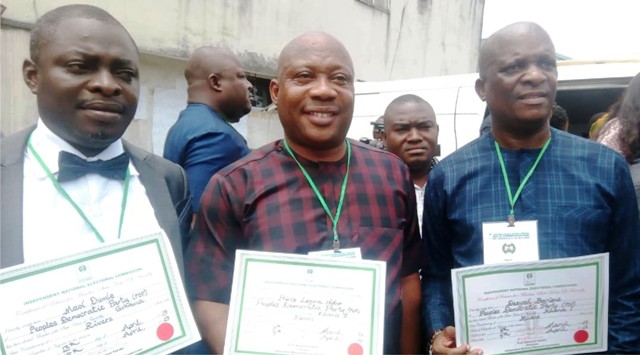 The Amanyanabo of Abonnema Kingdom, His Gracious Majesty King Disrael Gbobo Bob-Manuel has described the re-election of Governor Ezenwo Nyesom Wike as a reaffirmation of the trust and confidence reposed in him by people of Rivers State.
King Bob-Manuel who said this in an interview with newsmen atAbonnema also said that the victory was not only well deserved but ordained by God.
He said that the good people of Nyemoni were happy that the governor emerged winner of the keenly contested elections, while noting that the victory of the governor was a reaffirmation of the trust and confidence reposed in him by the people of Rivers State.
While calling for an end to all politically motivated violence, hostilities and intolerance among political gladiators in the state, the monarch congratulated the governor for being magnanimous in victory by bringing everyone on board irrespective of their political inclination in order to leave behind a more united, prosperous and progressive Rivers State.
He urged political actors in the state to be statesmen, who should be more concerned about the next generation rather than the next election, adding that such tendencies to be or remain in power at all cost, were responsible for the rising surge of violence in the state.
The Amanyanabo stated that Rivers people were tired of the unending circle of political violence and bloodletting and it is gradually becoming embarrassing to us all to be talked about in negative terms.
He encouraged all politicians, who believe that the interest of Rivers State and not their personal interest comes first, to accept the Governor's invitation to join hands with him to continue to develop Rivers State.
The royal father noted that with the elections officially concluded, what should be paramount to all Rivers men and women is in moving the state forward to compete favourably with its peers by attracting development through the creation of a conducive environment for existing and intending businesses to thrive.
He urged all politicians to remember that they were first of all Rivers people and therefore their priority should be the peace and development of Rivers State.
The monarch charged Rivers politicians to take a cue from politicians from other states who ensured that inspite of their political differences, they did not encourage mayhem and bloodletting in their states and homes.
He congratulated the Governor for preaching peace and forgiving all those who might have offended him and also urged all others in the opposing camps to forgive the Governor as he himself has requested. "We must forgive each other", the Amanyanabo insisted.
The Amanyanabo also thanked the Governor of Rivers State for visiting Abonnema and sharing in their grief when they were in mourning, occasioned by the wanton killings at Abonnema by political thugs and men in uniform during the elections.