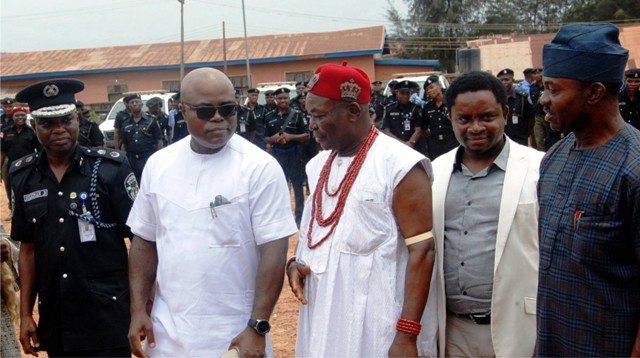 The people of Taabaa community, Khana Local Government Area in Rivers State have raised alarm of the persistent invasion of their community by the anti-cultism unit of the Police.
Paramount Ruler of Taabaa Community, Mene-Mene Kabari Nule who disclosed this during a chat with newsmen alleged that the anti-cultism squad had been invading the community and arresting natives without any reason since 2014.
Nule alleged that during the latest invasion of the community last Thursday a policeman broke into his palace.
According to him: "In 2014 they (men of the police anti-cultism) raided my community twice. In 2015 they raided the community three times and each of this times they will make arrest.
"After arrest we will go, the next thing they will give on bail and that will be the end of the matter.
"In 2017 they came again. They arrested people from the community. I received a call from the community on Thursday that the whole of my compound and the surrounding were filled with men from anti-cultism.
"They Broke the entrance gate into the palace. They later came in the evening of that day and picked two persons from the community. They are still in detention," the monarch said.
He also accused the anti-cultism operatives of refusing to obey a court order restraining them from launching any illegal arrest or invasion and called on the State Commissioner of Police to ensure that the court order is obeyed.
Meanwhile the Institute of Human Rights and Humanitarian Law (IHRHL) has petitioned the State Police Commissioner over the violation of a court order and intimidation of the Taabaa people
In the petition, the Institute's Access to Justice Attorney, Courage Nsirimovu called on the security operatives to stop arresting and extorting money from the community folks.
Dennis Naku