The Amazing Life Of Sani Sisters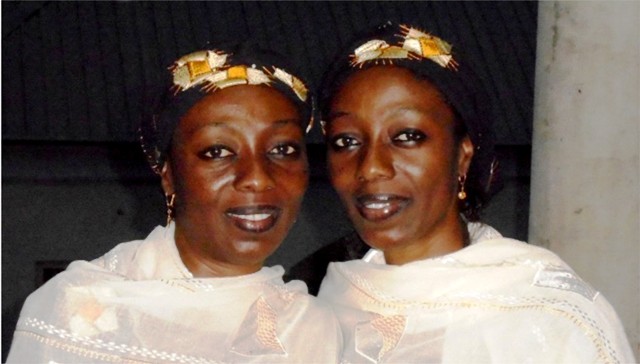 Abuja-based Hajia Ameena Hassana Sani and Hajia Hadiza Hussaina are identical twin sisters with a difference.
They look so remarkably alike that telling them apart has been one big task for everyone who comes across, including their parents, since they were born more than 50 years ago.
According to experts, identical twins represent a real torture test for biometrics. This holds true in the lives of the two sisters whose fingerprints have also confused data capture machines over the years.
As if that is not enough, they exhibit certain physiological and personality traits that sometimes make them seem like two computer monitors connected to one central processing unit.
For instance, one would start a sentence and the other would finish it, or both would start the same sentence at the same time with the same choice of words and all the mannerisms and gestures that follow.
"This thing is in the psyche,'' Ameena said, "even we can't explain it. I may be thinking of asking her a question regarding what I am thinking, and she will just give me the answer before I let it out.
"And I would yell `stop entering my brain, you know, stop reading my mind. These are the things that happen to us,'' she said. "It is telepathic!'' Hadiza added.
Sharing their amazing story, the Sani twins recalled how, on a particular day, they confounded their foster mother when they inadvertently dressed exactly the same way at different locations.
Hadiza narrated: "There was this time I was here in Abuja and my sister was in Lagos. We were to go to Kaduna.
"So, that Friday morning I left Abuja, and arrived in Kaduna by road, while my sister boarded her flight from Lagos. I met Mama in her living room and after the usual greetings; she said she needed to make salad, but that she forgot to buy a certain vegetable.
"I said no problem, I would go, and then I left. About 30 minutes later, my sister arrived home from the airport and met mama in the living room.
"The old woman started ranting, `what is wrong with you?! It is almost time to serve the salad, and you have not gone to buy the vegetable. What are you waiting for?'
"My sister said, `hellooo, excuse me mama, what vegetables?' The woman looked at her with surprise and said, `are you going senile at your early age? You and I just finished talking about buying vegetable for salad. What are you waiting for? Go and buy it!
"She said, `mama, I am just coming in from the airport'. The old woman exclaimed, `La illah, illah lah!'
"Mama stepped back, and looking more closely she said, `What! Do you know your sister is dressed exactly the same way, up to earrings?! It was amazing.''Both mom and daughter burst out laughing.
Till date, the twins cannot explain why they both have crooked baby fingers pointing in the same direction, or why they unconsciously interlock their fingers while walking.
Another surprise: they share and swap illnesses. While Ameena is prone to stomach upsets, her twin sister is often down with backaches.
"At some point, we interchange the ailments. And my sister would say `give me back my backache and take your stomach upset'.
"We started wondering why. Up till now, we don't know why,'' Ameena said.
During the interview for this article, the writer observed that Hadiza, the younger twin by minutes, is taller than her sister.
When this was pointed out to them, Ameena said anatomical variation is something they also constantly swap between them. It is either one gets taller today and shorter tomorrow or they level up.
Perhaps, the weirdest thing about the Sani twins is their fingerprints, which seem to be identical as well.
Indications to this effect emerged during their biometric capturing for voter registration in 2011, the National Identity Number (NIN) and the Bank Verification Number (BVN). On each occasion, Ameena's registration failed, while her sister's sailed through.
Hadiza said: "The first time we were captured was in 2011 during voter registration. Since we were both in Kaduna, we decided to register there. We went for capturing and when the list came out, my name was there in our ward, but hers was missing.
"We made enquiries and eventually got someone to inform Attahiru Jega (then Chairman of the Independent National Electoral Commission) that there seemed to be a problem with the capturing of twins, particularly identical twins. I think they didn't take us seriously. We thought the belief then in INEC was that no two persons could have similar fingerprints.
"Then we both came to Abuja to capture for the National Identity Number. We both did it at Radio House; I sat in front of one system, she sat in front of another. We were captured and given our slips. The list came out, but only mine was there.''
Ameena added: "I think it was due to the alphabets. Her name starts with H, mine A. So, the first alphabet that comes in gets knocked off. We then started making enquiries and making a case not just in voter registration but also in National ID.
"Then we also experienced a similar problem with BVN. We operate in the same bank, but different accounts. It was a tug of war. Each time we went to the bank they would say problem with our BVN.
"So, finally we said we wanted to speak to the person in charge at CBN. We had to explain to the lady that we were two persons, not one. Eventually, our bank had to make a case to CBN that we were a peculiar set of twins. That eventually got that sorted. These are some of the strange things we experience.''
Born in Sokoto to a Hausa-Fulani father and a Yoruba mother, Ameena and Hadiza who have been inseparable since birth, attended the same primary, secondary and tertiary institutions.
It was difficult for their parents to separate them due to a combination of the fear of losing them and the traditional superstitions about twins.
They were born on 1 September 1965, into a family with a history of non-survival of twins. Considering their traditional backgrounds, their parents and relatives believed there were some rituals that had to be done to make them survive.
" And then they noticed something: if one ran temperature, say around noon on a day, by evening the other will also run temperature.
"That strengthened their belief that twins had some spiritual powers, and those things guided the way they treated us, and the decision to keep us together,'' Hadiza explained.
With keeping them together came the big challenge of identifying them. Even their parents couldn't tell them apart. As a way out, they had to be tagged with wrist bands in different colours (blue for Ameena and red for Hadiza).
Hadiza recalled some instances where she took advantage of the confusion to escape punishment for offences committed both at home and in secondary school where they were initially placed in the same class.
"While in secondary school (FGC Sokoto), I used to be like a tomboy, very brazen, I didn't have a lot of fears. I got into a lot of fights with boys. I fought a boy, the teacher came and broke it up, but the boy decided to report to the principal, who sent for me.
"I went and narrated my version. He warned me against fighting next time. I left thinking up how to get back at the guy for reporting me. So, I put some dead insects in his plate, including one that was not quite dead, because he had phobia for insects.
"The boy knew it was me, so he came and attacked me. I fought him, fell him to the ground and he went to report me again. From that point on I had made up my mind that the principal and I would not see again.
"The principal kept asking for me and finally he went to Ameena and threatened to punish her. But my sister started crying, insisting she didn't know what the man was talking about. The teacher intervened and said it was possible because we were identical twins, and that it could be that my twin was responsible.
The similarity also reflects in their career choice, which has led them both to the media world. While Ameena currently heads the multi-media unit of the News Agency of Nigeria (NAN), Hadiza is with the Voice of Nigeria (VON), both parastatals under the Federal Ministry of Information and Culture.
It all started at Model Primary School, Sokoto, where they were both in the debate club. Endowed with tellingly sharp tongues and quick minds, the girls were always found arguing about issues and driving home their points.
Their late uncle, who was then working at a television station, decided it was time to take it to the next level. The station had just started a children's debate on television.
" We went for the first session and the production was wow'', Hadiza said. "A lot of people started asking for more. At the end of the day it became a routine thing.
"As we grew older, it stuck. Our father wanted us to study what was termed more serious arts like Law, Political Science, Public Administration, but we insisted we wanted to study performing arts, and got our way.''
That dream took them to the University of Ilorin where they secured admission to study performing arts. Also faced with the challenge of telling them apart, the department later placed them in different units: Ameena in Music and Hadiza in Drama, the twins recalled.
But before then, they had got married after secondary school, with kids: Ameena has three, while Hadiza is blessed with two.
For the Sani twins, breaking up to get married to different men was like taking fish out of water. The bond between them was obviously much stronger than that of marriage.
So, when Ameena's husband came for her hand in marriage, expectedly Hadiza did not like either the man or the idea of her sister leaving her.
"But I had decided I was OK with him", the older twin said. "Initially, my sister was like, ' it's ok, take her away. You want to go with him? Ok, fine leave me and go with him'.
"As soon as she also got married, it kind of doused that a bit. But new things came up. We discovered we preferred each other's company to other persons'.
"My husband found it odd that I wanted to spend more time with my sister. It goes beyond what we could explain."
Hadiza was also more drawn to her twin sister. Thus it was not difficult for them to divorce their husbands just to be together.
Divorce also provided the needed space for them to return to school. Ameena said, "In our society then, when you finished secondary school that was the highest level of education that was expected of women.
"Although, there were exceptions, about married women who had first degrees and even above at that time too, they were very few and far between.
"But gradually the society embraced girlchild education to whatever level. Some of us had to fight the battle too.
"We decided that since the kids were already there and growing, we needed to further our education. We took that decision and went."
Interestingly, the Sani twins quarrel a lot, yet they refuse to be separated. They said the quarrels were usually over mundane and petty things as siblings would naturally do, but theirs were even more petty.
Arubu writes for the News Agency of Nigeria.
Harrison Arubu

Need To Immortalise Rex Lawson
On Sunday, January 12, 2020, I listened to an audio clip of an unreleased song by Cardinal Rex Jim Lawson; the clip came from the ebullient Daag (Dagogo Josiah). Having had the rare privilege of playing on stage with Rex, I could "see" the entire band as every instrumentalist did his thing throughout the song. It was nostalgic. There was the rich effect of two guitars, which was novel for the highlife genre at the time. I could see Chike Charles on drums maintaining the beat and lacing it with rolls, which constitute cues that conduct the performance of the other instrumentalists; in the same department, I could also "see" Tony "Akatakpo" Odili practically caressing his congas as he joins in conducting the band; Franco Oviebo on alto sax and each and every other member of the band consummately delivered their part that culminate in the unmistakable sound of Rex Lawson and the Mayors/Majors Band. At the end of that reminiscence, I sent a text to Daag saying thus: "it is a tragedy of our history that the greatest ambassador of old Rivers State was never caught on video." This article is inspired by the above twenty-word lamentation.
At about 5pm on Saturday, January 16, 1971, King Sonny Brown and I stood with Cardinal Rex Jim Lawson at the Sokoto Street side of Afro Bamboo, No. 35 Aggrey Road, Port Harcourt and spiritedly endeavoured to talk Rex out of travelling to Warri that day. Our reasons were very cogent and simple: (1) given the time, it was going to be a night journey, which is usually dangerous in this part of the world, (2) General Yakubu Gowon's post-war Reconciliation, Rehabilitation and Reconstruction (RRR) policy had not materialised in good roads at the time, especially in the areas affected by the civil war, and (3) the road from Port Harcourt to Warri via Onitsha (East-West Road and Kaiama Bridge had not been conceptualised) was highly treacherous. Rather unfortunately, Rex was in very high spirit such that our admonitions did not hit the target. He had taken delivery of a brand new Ford Transit Taunus Bus from J.O. Allen Motors on Aba Road late that afternoon and that was the kickoff night for his new contract in Warri, a city he loved so much having played there during the formative years of his career. He was worried that the fans will be disappointed and the hotel proprietor will be angered by his absence. Inevitably, the "Pinaoyibo" King and I waved Rex goodbye as they set off.
Rex and I were not great friends; if anything, we were adversaries of sorts: he was the undisputed Global King of Highlife and I was just a provincial personification of Pop and Soul, which were morphing into the Rock genre at the time; Rex believed that my type of music was "transient" while I insisted that Highlife was destined for the dustbin of music history. He drank gin like water and had the biggest wrap of herbs I ever saw while I was a teetotaller. As if taking side in the matter, publisher Berepele Davies gave me a highly effectual shot in the arm by placing my photograph on the cover of Flash Magazine, which was one of the only two magazines in Nigeria at the time; the other one was Newbreed. Rex and I were worlds apart. The previous year, Franco Oviebo (Rex's alto saxophonist) had offered me to join them on the British tour but I turned it down. Rex's first public performance on his return from Britain was with my band, The Blackstones; it took place at Romeo Star Hotel, Victoria Street, Port Harcourt. Rex came in the middle of the show and requested to sing; I was outvoted in my objection and when Amakiri Photos came to take a shot of the performance, I moved from camera-way but the head of my Egmond Bass Guitar was captured in the photograph. Again, at the end of the show, Rex requested for a group photograph with the band, I walked away from it and he took the shot with the other members. Interestingly, these two photographs are in a book on Rex written by Sopriala Hutchinson Bob-Manuel. Irrespective of the seeming conflict, Rex and I related with utmost cordiality and that was the general mood amongst us all. It is a reflection of the easy-going attitude of musicians. Virtually all of us lived and performed in the same vicinity: Afro Bamboo, Rex's residence, was No. 35 Aggrey Road by Sokoto Street; No. 31 Freetown Street, the residence of The Blackstones, was on Freetown Street by Sokoto, LudoNite Club was on Hospital Road by Sokoto and Hilsom Inn was on Bernard Carr Street by Sokoto; so, our world revolved around the same vicinity with Sokoto Street as the common denominator. By the way, LudoNite Club and Hilsom Inn were the happening places at the time. Cedar Palace Hotel on Harbor Road was elitist, Romeo Star Hotel and Land of Canaan Hotel were in the fringes while Copa Cabana and Executive Club 67 were on the drawing board.
Sunday, January 17, 1971, The Blackstones were performing at LudoNite Club; at about 11pm, a crowd of young men and women came to the gate and announced that Rex was dead. We froze on stage, Mr. John Oki, the proprietor, was in shock; however, shortly thereafter, the music went on; we could not stop the show because that required refunding the patrons, which was not an option at all. At about 1am Monday, January 18, 1971, an enlarged crowd returned with rage and patrons, band and staff of the club scampered to safety and the show was over.
Rivers State (present Rivers and Bayelsa States) went into mourning. Governor Alfred Diete-Spiff announced that the State Government will underwrite the burial. On D-Day, we gathered at Port Harcourt City Council Hall where Rex lay in state with his trumpet and its mute lying still beside him. Every one of note in the State was there; people from far and near were also there; so also were all the musicians in town. For The Blackstones, we wore black on black. King Sony Brown did not look kingly at all; he was obviously devastated. Rex had sheltered all of the Rivers musicians during the war and they lived like brothers at Afro Bamboo; with Rex gone, Brown had an oversize shoe to wear. And Rex was interred with great fanfare.
Fast forward to 1975, Emmanuel Dokubo had joined me at Murray State University, Murray, Kentucky, USA to study Radio/TV-Broadcasting and he came along with a music album by Rex. For a course in Directed Public Performance, I was assigned to manage WKMS, the university radio and television station, during mid-semester break. At about 6.15 one morning, I played Rex Lawson's So AlaTemem and other songs from the album and was savoring the sonorous voice and tight instrumentation in the songs on the seventh floor of Nathan Stubblefield Building when my Head of Department, Professor Robert Howard, stormed into the studio and ordered me to stop the record; I did and he gave me a brief lecture on Federal Communication Commission (FCC) laws that forbid playing songs delivered in foreign language. He was more worried than irate not knowing if the monitors at FCC would pick up the slip-up. When classes resumed at the end of the break, Professor Howard, addressed the issue during our first meeting. He dwelt more on FCC laws and eventually zeroed in on Rex. He subjected So AlaTemem to critical analysis and surmised that it must be a love song; when he turned to me for a verdict on his adventure in music appreciation, I was lost. The class was rather surprised that I did not know the words of the song meanwhile I had told them that Rex and I are from the same State; I had to deliver a brief lecture on Nigeria's multiculturalism and multilingualism. In the end, Professor Howard's analysis of So AlaTemem and the enthusiastic responses from my Caucasian fellow students opened my ears to the beauty of Rex Lawson's music and, of course, my eyes to the genius that he was. While Ibo language was virtually the lingua franca on the streets of pre-civil war Port Harcourt, Rex had crowds in Onitsha, Enugu, Warri, Lagos, Calabar and other cities in Nigeria joyfully singing in Kalabari language and energetically dancing to the rhythms of Sea Water percussions.
As we remember Rex on this forty-ninth anniversary of his demise, I appeal that efforts should be commenced to produce a film on him. Granted that some structures have been named after Rex and one or two books, and a few articles written on him, the visuals and dialogues of film give details of the story and, therefore, leave an indelible imprint in the minds of the public. Within the timeframe of one year, this objective can be achieved and presented to the public on the fiftieth anniversary. Tony Odili is still strong and kicking, Dumo Oruobu who, I hear, wrote his project on Rex, yours truly and a few others who knew Rex can help in the narrative. Department of Mass Communication in Rivers State University and Department of Theater Arts in University of Port Harcourt should be able to help in the production. Thank God for technology, Jamie Fox played Ray Charles and "sang" his songs effectively through the technology of lip-synching; this technology is available here today.
Towards the above project, I hereby appeal to Governor Nyesom Ezenwo Wike, the Governor of Rivers State, to shoot the first salvo by directing the Ministries of Culture and Information to constitute a team to drive this objective. Also, the Chairmen of Asari-Toru, Akuku-Toru and Degema Local Governments should be able to support the State Government in underwriting the cost of production and presentation.
Cardinal Rex Jim Lawson earned this; he deserves it. Let us oblige him.
*Dr Osai is a lecturer at the Rivers State University, Port Harcourt.
Jason Osai

Why Hospitals Need Sign Language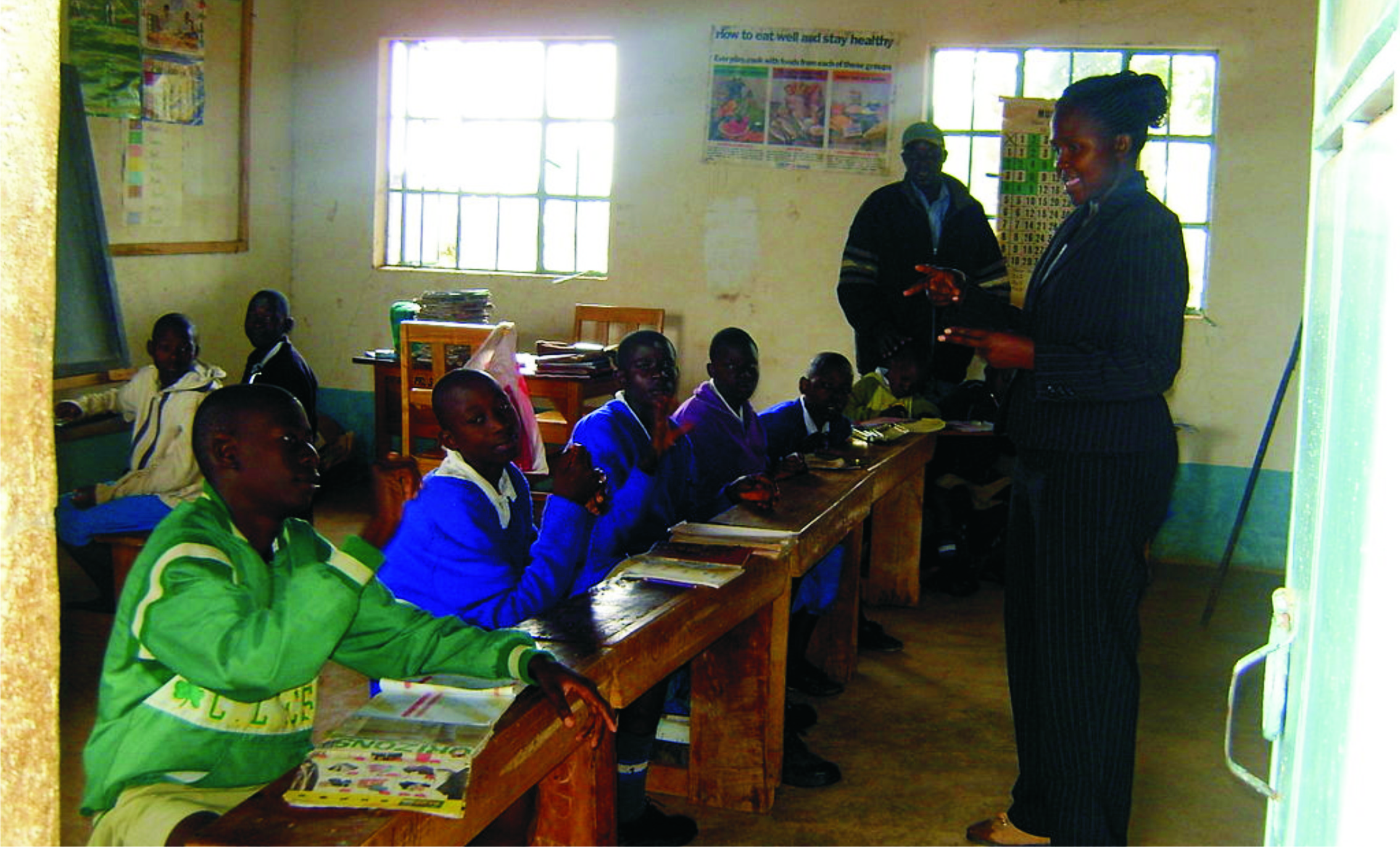 Aishat, as fondly called, followed her relation, a pregnant deaf, to a hospital to assist her in accessing ante-natal healthcare in one of the hospitals in Abuja.
Because Aishat is not trained in interpreting sign language, it became a serious challenge for her to sail her deaf relation through the interactions between the doctor and the patient.
Most of the times they came for appointments, little improvements were observed in the woman's complaints because Aishat could not adequately decode the message from her relation to the medical personnel.
Imagine a recurring situation such as this in various health institutions where the deaf and other physically challenged persons have to grapple with their challenges in accessing healthcare.
Perceptive observers note that although the right to information is a basic human right, essential for individuals and groups to exercise and make informed decisions as independent persons, this group of persons doesn't seem to enjoy it.
In the light of this, Deaf Women Association of Nigeria (DWAN), Abuja chapter, held deaf women awareness week to sensitise the public to the importance of sign language interpreters for the deaf in hospitals.
The week coincided with the International Day of Persons with Disabilities (IDPWDs) entitled: "Equipping the future: Empowering Deaf Women and Girls To Ensure Inclusiveness And Equality''.
Mrs Helen Beyioku-Alase, chairperson of the association, called on the Federal Government to be fair in approach for inclusiveness and equality in society.
According to her, sign language interpretation is the only means of communication that ought to be provided for the deaf in health institutions.
Beyioku-Alase called on governments to provide sign language interpreters in hospitals to enable deaf persons benefit from universal health coverage.
She said that most deaf women and girls were the most neglected and rejected group who struggled to be included in the scheme of things, health progammes inclusive.
Beyioku-Alase also said that such people were often excluded from the design, planning and implementation of policies and programmes that could impact positively on their lives.
"Too often, they, especially the deaf, face difficulties in engaging in labour markets and in accessing healthcare, education and other services because they can't communicate.
"As we work towards attaining the Vision 2030 Sustainable Development Goals, DWAN is advocating the right and inclusion of deaf women in Nigeria.
"This should be with a special focus on sexual and reproductive rights, economic empowerment and elimination of violence against women, education and accessible healthcare.
"While DWAN works at the grassroots, it is well positioned to do national level advocacy as it has branches spread across 36 states of the country,'' Beyioku-Alase said.
She commended President Muhammadu Buhari for assenting to the Discrimination Against Persons with Disabilities (Prohibition) Act, 2018.
According to her, the act will eliminate the sufferings of many persons with disabilities, including deaf women.
She also urged the international community, non-governmental organisations and civil society organisations to rekindle and reposition their belief to carry deaf women along and ensure inclusiveness and equality.
Beyioku-Alase noted that deaf women and children need every support, especially in hospitals, in the area of communication to health officials on their challenges, to be fully integrated and functioning in the society.
Apart from creating facilities for sign language interpreters, she said that empowerment of deaf women and girls in skills acquisition; capacity building or training automatically gives a sense of belonging.
Sharing similar sentiments, Mrs Hauwa Shekarau, the country director of Ipas, said that there should be an increase in sexual reproductive knowledge among persons with disabilities through adequate communication method such persons understood – sign language interpretation.
Shekarau advised government to invest in more specific programmes such as the provision of sign language interpreters in strategic places of public service for persons with disabilities to boost empowerment programmes.
Medical personnel believe that inadequate communication, for instance, in health sector, can increase the risk of medical errors and inappropriate treatments. They note further that interpreters can play a crucial role by facilitating verbal and non-verbal communication.
Analysts, therefore, advise the stakeholders to make qualified interpreters available to such group of persons on a scheduled basis and on an un-scheduled basis with minimal delay, including on-call arrangements for after-hours emergencies.
Onifade is of the News Agency of Nigeria.
Olasunkanmi Onifade

Engennis: In Search Of Economic, Political Emancipation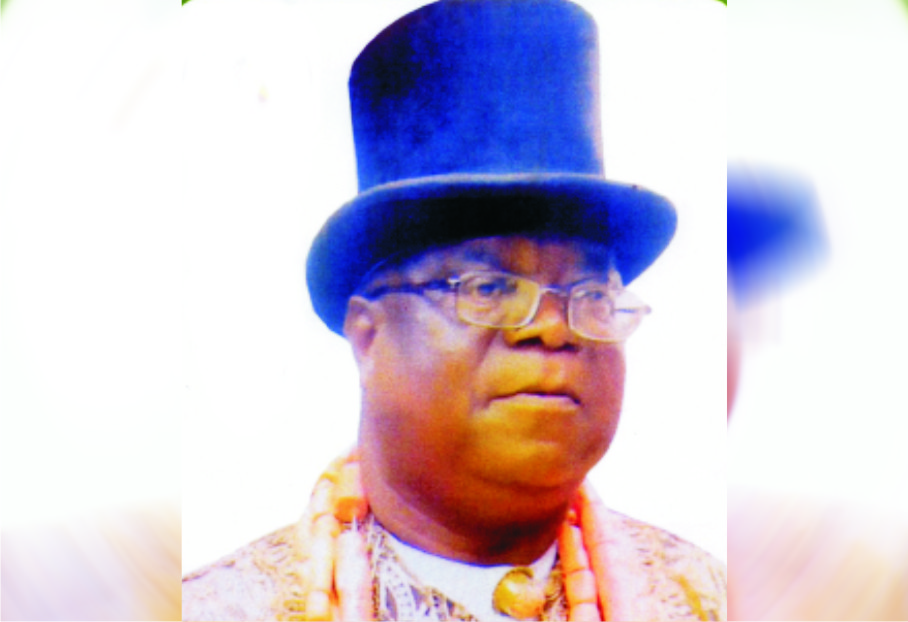 If the works of historians like Professor E.J Alagoa and others are anything to go by, Engenni is one of the ancient kingdoms not just in Rivers State, but the entire Niger Delta.
The Engennis who are remnants of the ancient Benin Kingdom are scattered across the Niger Delta.
In Rivers State, they are largely found in Ahoada West Local Government Area, Udekema in Degema Local Government Area and, to some extent, Obonnoma in Akuku-Toru Local Government Area.
Engenni descendants can also be found in Epie/Attisa and the Zarama communities, both in Bayelsa State.
However, in Rivers State, the location of the four kingdoms of Engenni in Ahoada West LGA has placed the ethnic nationality in a position of obscurity, thereby diminishing their contributions to the socio- political and economic development of Rivers State.
Engenni Kingdom is host to the Nigerian Agip Oil Company(NAOC), the Shell Petroleum Development Company of Nigeria (SPDC) and the Nigeria Liquified Natural Gas (NLNG).
However, to chart a course for the political and economic liberation of their kingdom, the Engennis from the length and breadth of the Niger Delta converged at Akinima, the Ahoada West council headquarters, for a summit.
The one-day summit which was organised by Engenni eminent persons group in conjunction with Engenni Council of Traditional Rulers and Chiefs has as its theme "Rebranding Engenni Kingdom for the 21st Century Global Economy".
Among those at the event were traditional rulers from the five clans which include Joinkrama, Ogua, Ediro Ekunu, Ediro Ede and Ogbogolo.
Also at the event were the Okilomu Ibe III of Engenni Kingdom, HRM King Moore Maclean Ubuo, as well as monarchs from sister Ekpeye Kingdoms including the Eze Igbu Upata, HRM Eze Dr Felix Otuwarikpo, HRM Eze Augustin Okpokiri of Igbu Ubie and Chairman of Ahoada West Local Government area, Evangelist Hope Ikiriko.
Other eminent persons at the event were, the chairman of Engenni Eminent Persons Group, Dr Harvey Warman, Dr Uriah S. Etawo, former Chief Medical Director University of Port Harcourt Teaching Hospital (UPTH), Princess (Mrs) S.C. Youdeowei, Dr A. Showers and Evangelist Mark Romans.
Also at the summit were: Engr George Apapa, Chief Ibim Harry, Deacon Anthony Luke, Surveyor Ovieral Zudonu, Deaconess Esther Showers, Deacon Apapa D. Apapa, Mrs Iniefieni J.J. Jumbo, Mrs Edovi A. Carson and Engr Andrew Akeneh.
The rest are Engr Samuel Okuwa, Mr Odinaka Osundu, Dr Buntly G. Akuru, Professor Amalo Ndu Dibofori-Orji, Mr Amivoh Showers, Engr Olovie Emem and Mrs Ann Awari.
The Okilomu Ibe III of Engenni Kingdom, HRM King Moor Maclean Ubuo, who declared the summit open said it was to x-ray the state of economic/social development of the kingdom.
According to the king, Engenni has for too long been in a state of obscurity among its peers in Rivers State, adding that the summit was to reflect on the past and examine the opportunities available to children of today and years to come.
Chairman of Engenni Eminent Persons Group, Dr Harvey Warman, said the summit will x-ray the gross insensitivity of the multinational companies operating in Engenni in responding to the peculiar developmental challenges of the people, especially the dire absence of basic infrastructures as against their corporate social responsibilities in other climes.
According to him, "the summit is about investing in people, infrastructures and innovation in creative ways to prepare our sons and daughters to compete in the 21st Century global economy.
He also urged that "to understand the essence we need to know where we are coming from our identity as a people , our culture and how these can be sustained over time," he said.
Chairman of the occasion Professor Ezekiel Dikio of Niger Delta University called for the renaming of Ahoada West Local Government Area to Ekpeye/Engenni to reflect the geo-ethnic diversity of the local government area.
Dikio also stressed the need for the people to sustain their culture identity as the engennis are scattered across the Niger Delta.
The event also featured several lectures by distinguished sons and daughters of Engenni among who are; Chief Brantly G. Akuru who spoke on sustainability of Engenni culture and identity, Dr Uriah .S. Etawo spoke on Engenni Kingdom: Yesterday Today and Tomorrow while Professor (Mrs) Amalo Ndu Dibofor-Orji of Ignatius Ajuru University spoke on human capacity building and economic development of Engenni Kingdom.
Meanwhile, the Engennis have designated every second to third week of every December ending on Sunday as thanksgiving day.
This was contained in a draft communiqué made available to newsmen.
The communiqué also acknowledged that Engenni has for too long lived in obscurity amongst her peers within Rivers State, in the Niger Delta of Nigeria and elsewhere.
"We, therefore, resolved here and now to call on all sons and daughters of the kingdom, our neighbours, friends and well wishers at home and abroad to come and partner with us in the onerous but worthy task of rebuilding the Engenni Nationality.
The communiqué also lamented the unusual neglect of Engenni land by multinational oil and gas companies whose exploration and production activities have subjected the people to untold hardship.
The communiqué also reechoed the need for the name of Ahoada West Local Government Area to be changed to reflect the ethnic configuration which made up the local government area.
According to the people, "we resolve therefore to demand here and now as a palliative measure that the name of our local government area Ahoada West be changed to Engenni/Western Ekpeye local government area (EWELGA) adding that for justice and equity, the same political yardstick which ceded sister ethnic groups like Ogba/Egbema/ Ndoni and Abua/Odual from the old Ahoada Division be applied to the old Ekpeye/Engenni county council during the 1996 local government creation exercise.
The people also resolved to develop a blueprint that will articulate the transformation of the five clans of Engenni Kingdom viz: Joinkram (ENEDUA), Ogua, Ediro-Ekumu, Ediro Ede and Ogbogolo, adding that this will constitute the practical action plan for the sustainable development of the area and serve as a guide to the implementation of the stated objectives.
The communiqué also thanked Governor Wike for the recognition and elevation of the Engenni stool to first a class status.
The Chairman of Ahoada West Local Government Area, Evangelist Hope Ikiriko, said the summit was timely, adding that the council will replicate decisions of the summit in the forth-coming summit to be organised later this year by the council.
Similarly, the Eze Igbu Upata, King Felix Otuwarikpo, said the summit will enhance unity among the two ethnic groups in the local government area.
A cross section of participants also described the summit as timely as it will help the people to fully harness the abundant oil and gas resources in the kingdom for its development.
John Bibor, Amina Ngoma & Josephine Nsirim