APC National And Unconscionable Lust For Rigging In Rivers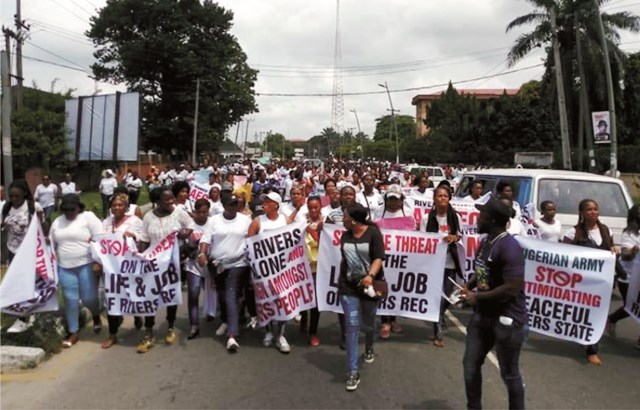 It is now crystal clear that once you are selected as a member of the National Working Committee of the failed All Progressives Congress (APC), you are injected with reckless thoughts and insensitive actions.
Therefore, I was not shocked when I watched the tactless APC National Publicity Secretary, Mallam Lanre Issa-Onilu talk trash about Rivers State at a press conference he convened on Wednesday in Abuja.
It is the norm for APC at all levels to become desperate and lawless whenever Rivers State or the leadership of Nyesom Ezenwo Wike is mentioned. Their desperation to circumvent due process is horrible and ungodly.
It is disheartening that the National Headquarters of the APC on National Television endorsed the mayhem, deaths, violence and near-theft of the People's mandate that Chibuike Rotimi Amaechi visited on Rivers State during the March 9, 2019 Governorship Election. That endorsement as conveyed by Issa-Onilu is a historic blunder and a sad affront on the nation's democracy.
Hear Issa-Onilu: "Whatever has happened in Rivers, and whatever RotimiAmaechi has done, is completely normal and acceptable to this party" .
True, rigging is the official principle of the APC, but must it be at the expense of several lives of Rivers people? True , rigging is the norm for the APC, but must it be at expense of the integrity and respect enjoyed by the Nigerian Army? Agreed that rigging is the only option left for the APC, but must it be at the expense of the sustenance of the nation's democracy?
Issa-Onilu by his reckless endorsement of Amaechi's failed rigging plot gave Nigerians and the International Community insight into the deliberate acts of State Violence unleashed on Rivers people. He said very clearly that Amaechi was given the backing of the party. Therefore, he will not be investigated, neither would he be penalised for the acts of criminality meted out to innocent Rivers people in the calculated attempt to rob them of their mandate.
Issa-Onilu is not the first APC Leader to weep over the loss of Rivers State after the conduct of general elections. The Former National Chairman of APC, Chief John Odighie-Oyegun towed the same line.
After the Supreme Court confirmed the election of Governor Wike in 2016, Chief John Odigie-Oyegun wept:
"We have lost very important resource-rich states to the PDP. No matter how crude oil prices have fallen, it is still the most important revenue earner for the country".
Like Odighie-Oyegun explained, the criminal lust for Rivers State has nothing to do with development. If it was development, nobody would have indicated interest to contest elections in Rivers State because Governor Wike remains the best performing governor in Nigeria, with an unquantifiable capacity to deliver on all fronts.
Therefore, APC leaders from their National Secretariat endorsed the negative use of Federal Might on Rivers people during the 2019 General Elections in order to have illegal access to the resources of the state as they did in 2014/2015 under the failed leadership of the Former Rivers State Governor. As the APC National Leaders smiled to the banks at the expense of Rivers State, workers salaries were left unpaid, projects abandoned and the state economy left in ruins.
Even Amaechi confessed before leaving office. He said the state had become so broke that then incoming Governor Wike would not be able to pay salaries or do projects.
Amaechi said, "I'm not joking, we have no money anywhere. In Rivers State, no money. I think NyesomWike is coming, we are waiting. He will look for money for salary; there is none. But when he pays out salary, we will see if whether they can build the schools, the roads, even to get a loan".
Governor Wike has revived Rivers State, set it on the path of growth and the state is working again. Salaries and pensions are being paid while projects have been firmly planted in all the 23 Local Government Areas of Rivers State.
Issa-Onilu should tell Nigerians one APC State Governor, serving or outgoing that would match the projects delivery capacity of Governor Wike. He should bring to the table one APC Governor with a worthy record that can stand the performance of Governor Wike. If APC Governors had performed, they wouldn't have been relying on "Federal Might" to survive the mass votes against the failed party.
About 72 Hours to the March 9, 2019 Governorship and State Assembly elections in Rivers State, Amaechi announced in Eleme that he has the security agencies in his pocket to deliver the APC anointed Candidate. Amaechi asked them to call on their APC Leaders wherever they encountered difficulty , so that the rapid response Squad can intervene. They waited for Rivers people to overwhelmingly vote for PDP, only for these squads of the Nigerian Army and F-SARs to attack several Collation Centres. Rivers people stood firm, insisting that their votes must count.
The most pathetic was the attempt to invade the State Collation Centre on ABA Road. This was done with such recklessness that shamed the entire nation and the black race. This act of brigandage is what the APC National Secretariat is applauding. This act of political robbery is what Issa-Onilu is celebrating on National Television.
Amaechi has continued with his illegal plot against the mandate of Rivers State because the financial rapists at the APC National Secretariat are urging him to forge ahead. Without the unreasonable support of "Federal Might", there is no way that Amaechi would have continued to fund protests and other subversive activities when it is clear that their illegal candidate has lost.
Is Issa-Onilu aware that the Former Rivers AAC Deputy Governorship Candidate, ChiefAkpoBombaYeeh has withdrawn after he concluded that he won't be party to the plot to enslave Rivers State? Nobody expects Issa-Onilu and his co-travellers at the APC National Secretariat to care, after all they are lusting after the resources of the state and the end, no matter how illegal, should justify the means.
We know the APC National Secretariat to be populated by persons who hardly consider the humanity of other Nigerians. However, this reckless defence of Chibuike Rotimi Amaechi by Issa-Onilu is a new low. If a man has nothing to say, it is best to tell the media "no comment ". Otherwise, to attempt to trivialize Amaechi's criminal activities in Rivers State is a route no right-thinking person should struggle to travel.
Nwakaudu is Special Assistant to Rivers State Governor on Electronic Media.
Wike's Outstanding Commitment To Pensioners' Welfare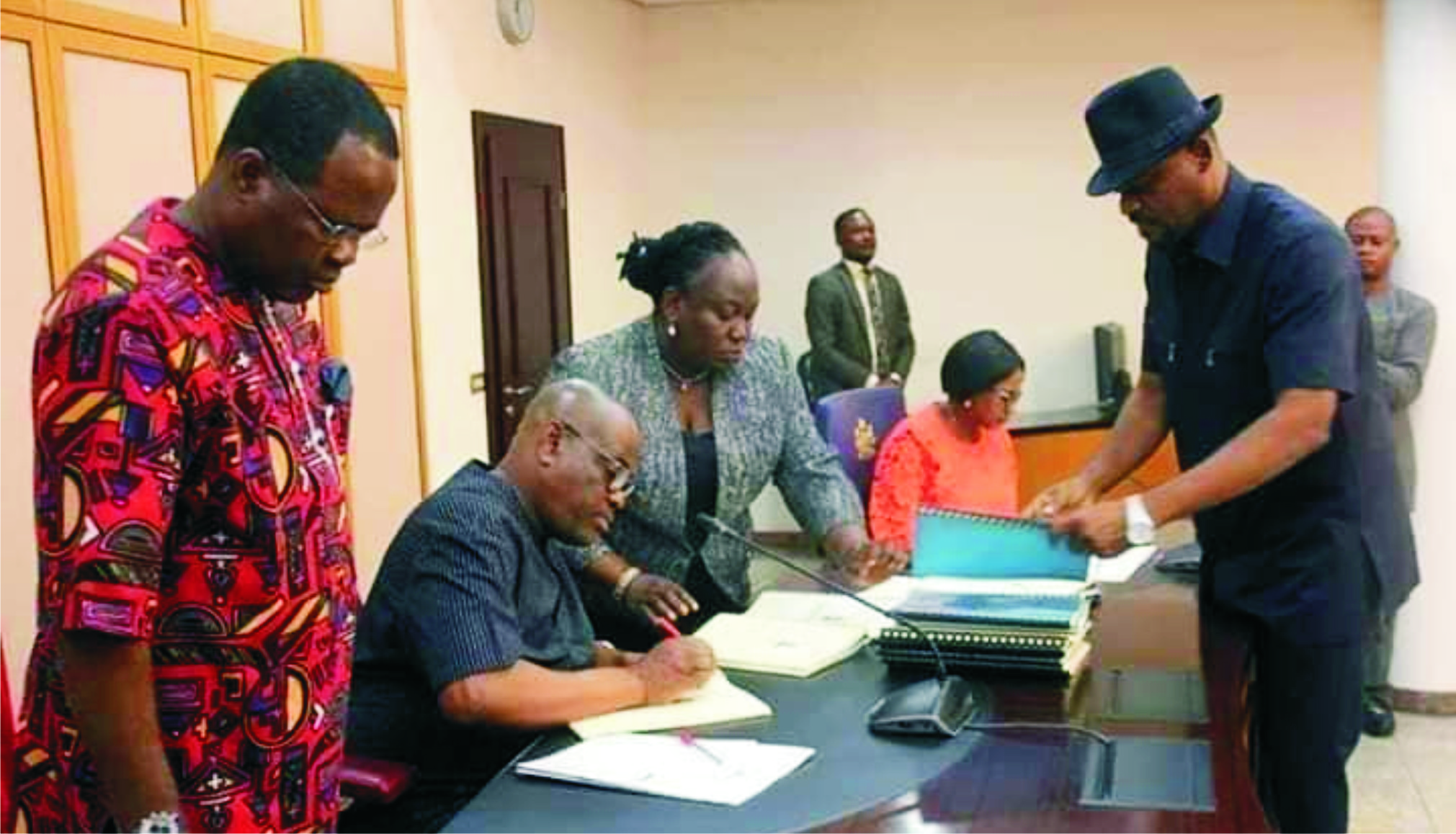 During the heat of the
2019 electioneering campaigns, the moribund All Progressives Congress (APC) in Rivers State concocted the false story of non-payment of pensioners. This was the falsehood they sponsored in the media, until the facts were laid bare to members of the public who disregarded their tales of mischief.
They had a handful of pro-APC media outlets to sell this falsehood without graphically illustrating Governor Wike's outstanding commitment to the welfare of pensioners.
It must be stated unequivocally that Governor Wike has been consistent in the payment of pensioners, just as he is committed to the monthly payment of civil servants.
Governor Wike cleared the four months pension arrears he inherited from the Amaechi administration, before entrenching the regular payment of monthly pensions.
However, there were pensioners who fell under the defective Contributory Pension Scheme (CPS) of the immediate past APC administration in Rivers State.  These were the pensioners with payment challenges.
The Wike administration had to follow due process to amend the law and create the platform for payment of those under the CPS.
After winning his second term, Governor Wike made a firm commitment to this category of pensioners during the 2019 Workers Day.
He said: "Recall that we came into office when our workforces, especially civil servants, were at the receiving end of the State Government's anti-labour policies: no payment of salaries and pensions; no promotions; no training and no employment to replace those retiring.
"But we chose to be different even in the face of financial constraints, which have not totally abated. Four years after, I am happy to note that we are up-to-date in the payment of full salaries and pensions to all our working and retired civil servants. This is a profound responsibility we have not and will never default in the life of our administration. We are also aware of your concern over the non-resolution of some of the welfare issues we inherited, especially the predicament with our contributory pension scheme, the continuing stagnation of workers and the ban on employment of new hands to fill the existing vacancies in the civil service.
"We have taken the initial steps to tackle the legal huddles with the Pension Reform Bill, which is now before the State House of Assembly for consideration and passage into law. When passed, this bill will eliminate the handicaps in the existing legal regime and enable the administration of a seamless and positive pension scheme for our workers in the State.  I, therefore, ask our pensioners that are still trapped in the existing dysfunctional pension scheme to be patient as we are doing everything possible to clear the mess and restore sanity and sustainability to the State's pension system for the benefit of all".
Pension Reform Law and Implementation
In line with the Governor's commitment, the pension law was signed. It was one of the very first actions of Governor Wike as he resumed for his second term.  The Pension Reform Law came into effect on May 31, 2019.
Governor Wike said that the Rivers State Pension Reform Law (No 4 of 2019) will help in resolving the challenges generated by the CPS.
He said that the State Government was committed to ensuring that civil servants and pensioners are catered for, with the challenges they faced completely addressed.
In fulfillment of the pledge made by Governor Wike after he signed into law the Rivers State Pension Reform Law (No 4 of 2019), the Rivers State Government has commenced the payment of pensioners under the CPS.
More pensioners under this category are being captured and paid. It is an effective process that will shortly come to a close.
Clear and Incontrovertible Statistics on Implementation of Pensions under Governor Wike
It is said that facts are sacred. The facts on the commitment of Governor Wike to the welfare of pensioners are outstanding and very positive.
Here are the figures:
Number of Retirees Captured as at October, 2019
Retirees under the defined benefit scheme (mainstream and parastatal)    12,901
Contributory pension scheme –defined benefit scheme (mainstream and parastatal)   3,348
Retirees in Diaspora ((mainstream and parastatal)    33
Sick/indispose (mainstream)    7
Total number of retirees captured as at 31st October, 2019    16,289
Report on captured retirees not yet sent for payments (this number is included in the report above)
Batch 2 contributory pension scheme – defined benefit scheme (mainstream and parastatal)   2,047
Batch 12 defined benefit scheme (mainstream and parastatal)    417
Batch 13 defined benefit scheme (mainstream and parastatal)   42
Batch 14 defined benefit scheme (mainstream and parastatal)   3 Total Number of Retirees Captured and Not Yet Sent for Payments    2,672.
The facts are clear.
A prominent member of the APC, Mr Lucky Ati, parades himself as the spokesman of the retirees. Ati has undergone biometric capture and has been payrolled. He is receiving his monthly pension. There are hundreds of pensioners who have undergone biometric capture and are on the payroll.
The pensioners not yet payrolled have either not been captured or have discrepancies with their documents. There are some pensioners who have refused to present themselves for biometric capture. Lucky Ati, the APC chieftain, was co-opted by his political party to promote falsehood about the pension reform scheme, which the immediate past APC administration foisted on the state.
The biometric capture is an ongoing exercise because civil servants retire monthly. Every month, the Head of Service forwards new retirees to the Information and Communication Technology (ICT) Department for biometric capture.
Therefore, fresh figures will continue to emerge and the Rivers State Government, under the leadership of Governor Wike, will continue to handle the challenges of new retirees.
As Governor Wike continues to fix Rivers State, we expect these APC chieftains in different garbs to sponsor their media outlets to dish out lies. But like always, they will hide their concocted stories when confronted with the truth.
Summarily, the commitment of Governor Wike to the welfare of pensioners is exemplified by the initiation and assent to the Rivers State Pension Reform Law (No 4 of 2019). That all-important law is already being implemented for the good of pensioners under the CPS.
Nwakaudu is the Special Assistant to the Rivers State Governor on Electronic Media.
Simeon Nwakaudu
Are Security Votes Conduit Pipes?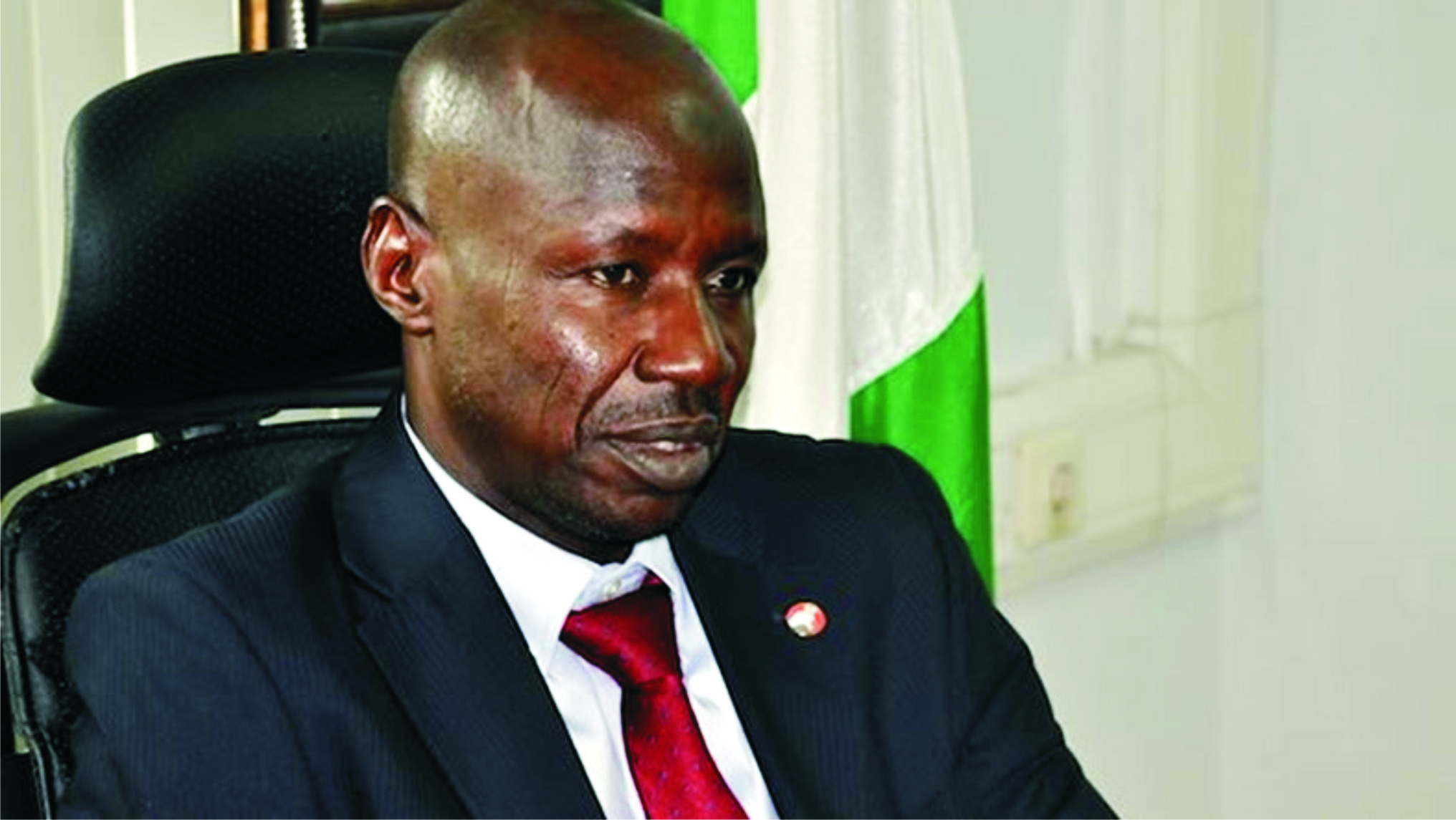 When Mr Ibrahim Magu, the acting Chairman, Economic and Financial Crimes Commission (EFCC), spoke at the induction programme for returning and newly-elected governors, he did not mince words in accusing governors of misusing security votes.
He alleged that some governors "now covertly promote insecurity as justification to inflate their security votes."
Magu also alleged that there was a link between corruption, banditry and terrorism.
His allegations were contained in a paper, titled,  "Imperative of Fighting Corruption/Terrorism Financing in Nigeria.''
Magu told the session that a debate on the legality of security votes enjoyed by the governors was ongoing.
"We have also seen evidence of theft of public resources by some state governors,  cashing in on the insecurity in their states.
"Insecurity has also offered the required oxygen for corruption to thrive as evident in the $2.1 billion arms procurement scandal involving top military commanders both serving and retired."
A study carried out by the University of Nigeria, Nsukka agreed with Magu on the abuse of security votes.
The study is titled "Legitimising Corruption in Government: Security Votes in Nigeria.''
It was authored by  Obiamaka Egbo, Ifeoma Nwakoby, Josaphat Onwumere  and  Chibuike Uche, of the  Department of Banking and Finance, University of Nigeria.
"The tendency among Nigerian politicians, particularly the executive arm at the various levels of government, to manipulate security issues for political and economic gains is widespread.
"This has been fuelled by the abuse of security votes, an 'opaque fund' reserved for the executive which is not appropriated, accounted for or audited through the legislature.
" Sometimes, a state governor could (mis) appropriate as much as N100 million monthly as security vote.
"Such slush funds are channelled into the secret funding of militias and gangs of government enforcers.''
The appropriateness or otherwise of security votes was at the centre of discourse at the Independent Corrupt Practices and Other Related Offences Commission (ICPC)  second Quarterly Anti-Corruption Policy Dialogue Series.
The dialogue focussed on Accountability for Security Votes.
ICPC Chairman, Prof. Bolaji Owasanoye, who spoke, agreed with Magu that security vote is an easy and attractive route for stealing public funds.
According to him, it is also a veritable avenue for abuse of public trust, escalation of poverty and underdevelopment and ironically the escalation of insecurity.
"It has pushed up insecurity somehow, that is not to say we do not need security vote.
"In the 2019 budget as appropriated, for example, 162 Ministries, Departments and Agencies (MDAs) had money appropriated for them as security votes.
"These MDAs span boards, centres, committees, ministries, commissions, councils, hospitals, schools, law enforcement agencies, obviously the armed forces and intelligence offices."
Owasanoye said that the number and categories of MDAs given security votes, suggest that something was wrong with the parameters for determining those who are entitled to security votes.
"This then provokes some question as which MDAs are entitled to security votes and how should security votes be accounted for?
"It is clear from our present approach, that we do not have any rational principle being followed at the moment.
"If there is one, I will be happy that my ignorance will be diminished and removed," he said.
The chairman explained that it was clear from the current approach to budgeting for security votes, that no principle was being followed.
He said that this is clear from the quantum and range of sums appropriated in the 2019 budget for MDAs, where the lowest amount for security vote was N3,600, while the highest amount was N4.20 billion.
"What on earth can anyone do with N3, 600, and I am not talking of an individual.
"If the N3, 600 is the security vote of an individual, most likely it will take him from somewhere to his house. That is the safest place to be.
"But what on earth can an agency do with N3, 600 as security vote, as appropriated?"
With this disparity, what then should security votes be used for?
Owasanoye opined that it was pertinent because MDAs with budgets for security votes also have separate budgets for other security related matters, such as the production or procurement for security or defence equipment.
"In the case of defence and core security and law enforcement agencies, some of these items and the votes are undoubtedly justified. But the quantum and use is open to scrutiny," he said.
He, however, explained that it was apparent that security vote was not for any of those other security items mentioned, because they were often separately covered in the budget.
"There is the erroneous impression that security votes are not being accounted for with our recent experience as a country, that almost lost a geo-political zone to insurgency.
"Whereas billions of dollars were appropriated for security, but diverted by corruption to matters like engaging prayer warriors demands that we reflect very closely and ask ourselves whether we can afford to continue on the same trajectory of lack of accountability for security votes.
"We need security votes; we should give the votes to those who deserve to have security votes and we should demand some framework for accountability," he said.
On his part, Chief of Army Staff, Lt.-Gen. Tukur Buratai, said that security vote was subject to audit and "if it is not done, it is wrong".
He said that the votes were not votes for defence and were also not meant for the armed forces.
"Strictly speaking, if you look at security votes in the true context, it is not meant to tackle insecurity.
"We have funding for Ministry of Defence and the Armed Forces. If you have budget lines for these services and organisations, then why security votes?
"However, it can be used for security; but it is not meant to solve insecurity,
"There are other votes which are constitutional which include the contingency fund," he said.
Buratai explained that even though there was security vote that was generally applied, it must follow the Public Procurement Act 2007.
The chief of army staff said that if security vote was made constitutional and proper guidelines set out on utilisation, the issue will be laid to rest
Governor Kayode Fayemi of Ekiti, described  security vote as the budgetary or extra budgetary allocation ostensibly for security, received by the President, Governors and Local Government Chairmen.
This allocation he said, is spent without legal obligation to account for how it is spent.
Fayemi said that security votes have not been widely accepted by citizens, because of the assumption that such funds are being abused by state governments.
He said that the problem really is not about the security vote but about its usages and the character of the people administering it.
"Security votes attract more attention because of the seemingly non accountable nature of the expenditure under the budgetary provision.
"There is widespread belief that the appropriation of security votes in Nigeria is unconstitutional and thus illegal.
"This is not correct because in the Nigerian constitution, the executive is entrusted with the responsibility of preparing a budget which is then sent to the legislature for ratification.
"The fact that huge amount of monies are routinely being budgeted and expended in the name of security vote does not make it an illegal practice.
"The act of approving any sum allocated to such a heading, covert or overt, legalises the concept. The insinuation that such money is not budgeted for is not true," Fayemi said.
Like Magu said, the legality or otherwise of security vote is ongoing, and must continue until it is properly defined. The earlier the better to avoid misuse and diversion of public funds in the guise of security vote.
Sharang writes for the News Agency of Nigeria.
Naomi Sharang
Task Before Buhari's Ministers
It is a well-known fact that President Muhammadu Buhari has sworn-in new ministers of his cabinet to take responsibility for each of the government ministries in Nigeria. Having been inaugurated and assigned portfolios by Mr. President, a lot is expected and it is imperative that they hit the ground running.
As we all know, Nigeria is faced with many incontrovertible challenges, ranging from youth restiveness, killings, kidnapping to poor road networks, Fulani herdsmen, poor drainage, religious upheavals, unstable electricity, thugs, economic recession, infrastructure decay, inadequate learning facilities and ravaging flood in the country, among others. It is, therefore, imperative that all hands must be on deck to reduce these challenges to the barest minimum. Our roads are bad and most federal roads have become death traps. This must change.
Recently, the Minister of Transportation, Rt. Hon. Chibuike Rotimi Amaechi, conducted an online poll where he asked Nigerians for their opinions and suggestions on how to move the transport sector forward. In as much as it is a welcome development, most polls conducted in the past had ended up in the drawers. Our roads need to be fixed. The level of their degradation is visible even to the blind.
Up to the early 1980s, rail was one of the major means of transportation in Nigeria. But right now, rail workers have since been sent home as retirees. Our trains have been converted into shops and most of their parts sold as containers to businessmen and women. This ought not to be. Our trains must return and must be functional for the interest of Nigerians.
It is also necessary for the Minister of Labour and Employment, Dr Chris Ngige, to ensure that there is synergy between Nigerian workers and the Federal Government. All issues pertaining to strike and workers remunerations should be adequately dealt with. Workers in institutions of higher learning must not be owed and all disagreements regarding payment of their salaries should be resolved amicably.
There is a huge need to commend the previous ministry of health on the way it tackled the Ebola crisis under the administration of Dr Goodluck Ebele Jonathan. If such cases of Ebola should re-occur today, can the present ministry handle it in a much better way, where there will be no loss of lives of both citizens and medical personnel?
The courage of late Dr Amego Adedavoh, a renowned physician at First Consultant Hospital, Lagos, who laid down her life to protect the lives of millions of Nigerians during the Ebola crisis should not be forgotten in a hurry.
On the youth front, restiveness can be tackled through engaging the youth in meaningful activities. It is the responsibility of the Minister of Youth and Sports Development, Sunday Dare, to create avenues for meaningful engagement of these youths.
Sports clubs should be formed, talent hunt programmes should be promoted in all the six-geo-political zones. By so doing, more youths are taken off the streets and crime rate will hopefully reduce.
Our youths who are interested in sporting activities should be encouraged, scholarships be granted to qualified and talented ones, so as to carve a niche for themselves in the sporting world. Nigeria has the talent to produce more Mary Onyalis, Blessing Okagbares and Chioma Ajunwas who will make Africa and the entire globe proud.
The minister is expected to set machineries in motion to scout and fish out talents from all nooks and crannies within the shores of the nation. During the reign of Dr Jonathan, Nigeria overtook South Africa as the fastest growing economy in Africa. But currently, the reverse is the case.
Late President Umaru Musa Yar'Adua had a vision to make Nigeria one of the 20 biggest economies in the world by the year 2020.
The newly appointed ministers need to brace up for the tasks of economic recovery ahead and contribute to build upon the administration's roadmap of policies, programmes and projects that will lift the bulk of Nigerians out of poverty and set them on the road to prosperity.
They should be duly responsible for the development and implementation of policies, programmes and projects in consonance with government priorities. They must also ensure that agencies under their ministries are effective, efficient and accountable in the discharge of their responsibilities.
Clearly, Nigerians deserve better than they have had thus for. They expect a new cabinet that would be filled with technocrats and professionals and where there is the need to bring in politicians, such characters must glow with sterling track records of accomplishments in their past public assignments and with best ideas that can move the nation forward.
A situation where about 70 per cent of the present cabinet are mere bench warmers would not be acceptable to Nigerians. The new cabinet must have the capacity to drive sustainable economic growth, job creation and ability to enhance good governance through delivery of tangible dividends of democracy to the masses of Nigeria.
It is expedient to ensure that the policy agenda, such as the one involving poverty reduction through lifting millions, drives ministerial interventions.
It may be necessary for the Presidency to create a green book containing an outline form, the principal points of departure embodied in such documents as the Economic Recovery and Growth Plan (ERGP) and the Social Protection Policies of the administration. It may take a while, especially for ministers both old and new to achieve the desired knowledge base. But time spent on it should be seen as a trade-off to avoid inertia, dilatoriness and fumbling. For the purpose of efficiency, we can raise the question, how do we know of a particular minister has performed well or not?
Well, short of impressionistic data, based on output, the best way is to set performance objectives with metrics to measure diligence or tax application. This has been much talked about by this and previous governments but has never been faithful, if at all, implemented. That kind of scientific approach, common in the private sector, should also include public perception of the performance of the ministers, which situates the problem at the user end of the chain. If applied, this will reduce but cannot fully eliminate such subjective factors as closeness to the president, ability to shout party slogans and propaganda.
Another imperative is for the Presidency to exercise leadership regarding desired policy changes as well as their implementation, considering that no minister can move faster than the president himself who is both the visioner and the policy coordinator.
Within their first three months in office, they should begin to make impact or, at least, demonstrate a sense of purpose in such areas as improved electricity generation, transmission and distribution, job creation, the current security situation, poverty reduction and infrastructural upliftment. They need to make a real difference and we wish them luck as they set out to do so.
Endemic corruption, impunity, lawlessness, weak institutions, delay in justice administration, multiple taxation as well as unfair trade practices are some of the challenges the new cabinet is expected to tackle.
They must restore investors' confidence considering the country's rating by the World Bank as one of the fastest growing economies.
The nation needs to get out of the present malaise by embarking on massive infrastructure building and renewal programme; social spending and protection, improved consumer spending; job creation, and expansionist fiscal and monetary policies.
It is imperative for the government to embark on public enlightenment and awareness of its policies and programmes, so that the citizenry will be in a position to determine whether the government has failed or has succeeded in pulling the country from the economic, social and political quagmire that has long existed in Nigeria.
The fight against corruption will be won the day we have a judiciary and security agencies that want corruption to be eradicated in Nigeria. Let the philosophy that "we want an end to corruption" be imbibed by all the members of the security agencies and the judiciary, and we will witness a drastic reduction, if not an end, to corruption.
A virile judiciary, competent security agencies and a political will on the part of the executive will end impunity and enthrone the rule of law in Nigeria.
For the 20 years of this democracy, we have not heard or seen any new road constructions and expansions. All the roads that the Federal Government is finding difficult to repair were constructed during the military era, this is shameful.
To be specific, Lagos-Ibadan Expressway should be addressed, the Apapa-Oshodi Expressway in Lagos should be expanded; the Ikot-Ekpene-Ikwuano Road; Port Harcourt-Aba Expressway; Owerri-Port Harcourt Road; Enugu-Umuahia Road; Onitsha-Owerri Road and all the bad federal roads in the South East, South West, South-South, North-East, North-West and North-Central States should be repaired and expanded.
The cabinet should tackle the legal issues that impede on the ability of states and individuals to generate and supply power to those who need it. It will be disastrous for this dispensation if they fail to find a permanent solution to the perennial darkness in the land. Nigerians need stable and regular power supply daily; it is feasible.
The new cabinet must also look into the directives of the Central Bank of Nigeria (CBN) on importations and foreign exchange and remove unnecessary bottle-necks and ease business transactions.
Considering the dwindling price of oil in the international market, they should think out of the box and stop relying on federal allocation for all and everything. They should all agree to reduce their over-bloated security apparatus to avoid sending messages of insecurity to potential investors and they must reduce drastically the size of their aides as it is obvious the economy can no longer cater for political parasites.
They should say no to all forms of political razz-matazz by drastically reducing their convoys and stop harassing other road users. It is believed that an era of accountability has come to stay. Hence, we should think beyond ourselves, for the future generation of Nigerians.
Can this new cabinet transform Nigeria to a great nation free from all forms of negativity and corruption? Well, time shall tell, whether or not Buhari and his ministers would be able to tackle the poor state of Nigeria's economy.
Bethel Toby