Anambra Poll: Court Orders INEC To Prosecute Ubah, Returning Officer
A Federal High Court sitting in Awka, Anambra State has ordered the Independent National Electoral Commission to prosecute the Senator-elect for Anambra South Senatorial District, Ifeanyi Ubah, and the Returning Officer, Prof M.N Umenweke over criminal allegations levelled against them in the February 23 election in the area.
The order came following an application of mandamus sought from the court by the senatorial candidate of the Peoples Democratic Party in the district, Chris Uba in suit number: FHC/AWK/CS/29/2019.
Handing down the order, the presiding judge, Justice I.B Gafai asked INEC to within 14 days conduct investigation into the matter for the purpose of prosecuting the respondents.
The order read in part," Upon the honourable court having delivered a considered judgement today, it hereby ordered as follows: The 1st Respondent (INEC) shall within 14 days from today conduct or cause investigation into the criminal allegations of the Applicant (Chris Uba).
"Prosecute, if the investigation result so warrants, the third Respondent ( IfeanyiUba)and any other person(s) implicated in its investigation.
"Where it considers it inexpedient to prosecute through its legal officers, consider at its liberty, the appointment of the Applicant's solicitors in this suit for the purpose of such prosecution".
Uba also asked for "A further order of mandamus compelling the 1st Respondent to prosecute the second ( Prof MN Umenweke) for announcing or publishing a false result to the effect that the 3rd Respondent had won the election held on the said 23/2/2019 even when they both knew that the said election was inconclusive and from which no genuine result had thereby been generated."
We'll Send Anti-Open Grazing Bill To Assembly, Wike Assures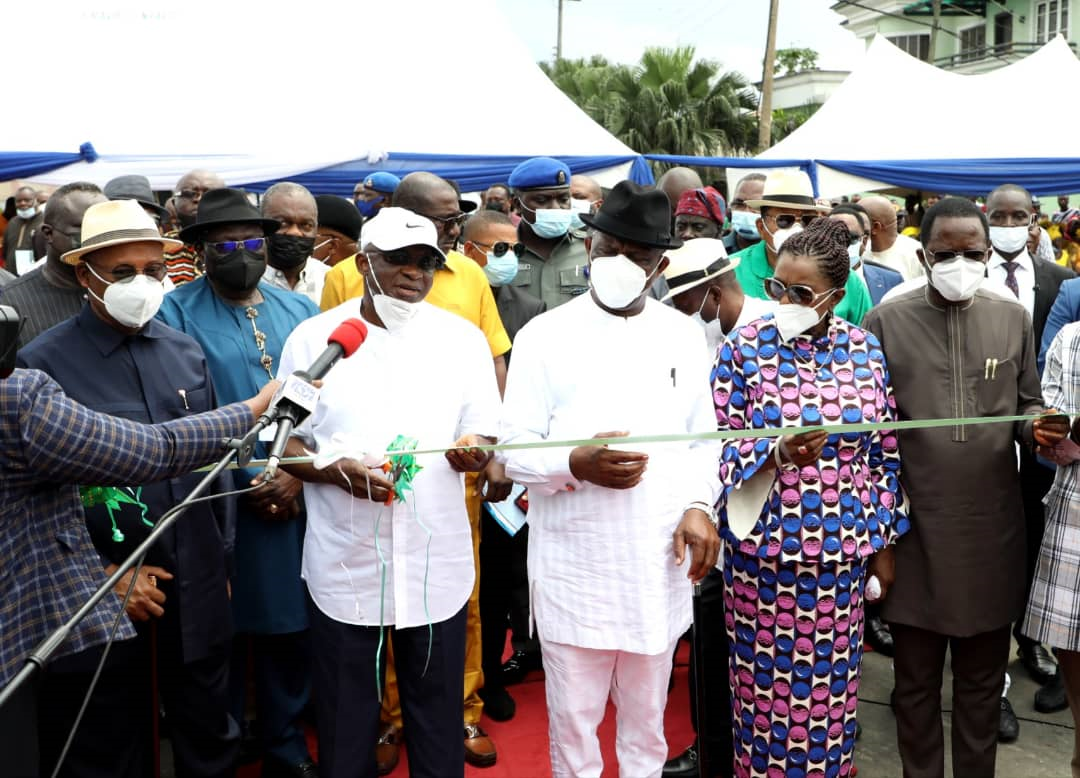 The Rivers State Governor, Chief Nyesom Wike says the ban on open grazing in the state would be given legal backing to protect Rivers people from marauding herdsmen.
Speaking at the inauguration of the Isaiah Odoli/Omerelu Streets in New GRA,, Phase 1 in Obio/Akpor Local Government Area, last Wednesday, Wike said the Anti-Open Grazing Bill would be sent to the state House of Assembly.
According to Wike, in addition to protecting farmland in Rivers State, women and youths, the bill was in keeping with the resolution made by the Southern Governors' Forum.
"You can't go to the farm anymore, those who rear cattle; they'll not allow your crops to grow. Let me say clearly, now that the House of Assembly has come back, we have to submit the bill on Anti-Open Grazing as we agreed in the Southern Governors' Forum.
"So that everybody must understand it, it's clear, without any hesitation, we must do it to protect our farms, to protect our women, to protect our youths, so that nobody will go and kill them."
Wike asserted that Nigerians, who had considered the All Progressives Congress (APC) as better alternative to the Peoples Democratic Party (PDP) in 2015, must be regretting the deplorable condition of the country under APC.
"The exchange rate has now got to N510 to a Dollar. When they took over, it was N150 to a Dollar. They said they'll give employment. Do we have employment today? Are your children employed?"
According to Wike, Nigeria is now on life support and requires prayers from well meaning Nigerians in order to salvage the county.
"Since APC came into power, you can now see what Nigeria has turned to. Each day you wake up, you hear people are being killed. If you watch television and read the news on newspapers, you will hear so and so number are killed or kidnapped in so and so state."
"That is not what I thought all of us needed. The country is on oxygen (life support). Nobody knows what will happen next. As we are today, Nigeria is in dire need of help. Nigeria needs prayers; to our mothers and sisters, you must kneeldown and pray to God to salvage this country."
Wike also stated that the APC-led Federal Government has not done anything in Rivers State for the people.
He described as untrue the claim by the Federal Government that it is jointly executing the Bonny-Bodo Road.
"The only thing they are arguing now is that they are doing Bonny-Bodo Road. No, with due respect, that's not correct. That road was supposed to be done by NLNG and the Federal Government. NLNG brought their N60billion; Federal Government did not bring any Kobo.
"Now, they are trying to use the tax that NLNG is supposed to pay to do the road. The tax would have been shared from the Federation Account and part of the money would have come to Rivers State. So, Federal Government cannot say that they're the one doing Bonny-Bodo Road. All of us are jointly doing the road."
Speaking further, Wike stated that every road in the Old and New GRAs have been rehabilitated under the Urban Renewal Programme of his administration except the Orugbum Crescent in the new GRA.
The motivations, he said, is to restore the beauty, and serenity of those government reserved residential areas.
According to him, henceforth, no street traders will be tolerated along those roads because their wares will be impounded.
Inaugurating the road project, former Senate President, Senator David Mark, said Rivers people are very lucky to have a governor who fulfills promises made and provides infrastructure with a human touch.
Such posture, Mark said, re-enact the fact that Wike is the true leader of politics in the state behind who every person can easily align and follow without hesitation.
"All the year round, you are bringing people to come and commission project here like me. (Rivers) Now, you have a governor who has fulfilled his promises and done beyond his promises.
"The difference between him and just providing infrastructure is very clear. He provides his own with human face. There's humility in what he's doing.
"If you get up today and said Rivers State, this is where we are going, everybody will follow. If you go round Rivers State; and I'm sure all of you know this, and they say who is the leader of politics in Rivers State? They will tell you it is your governor."
In his speech, Rivers State Commissioner for Works, Elloka Tasie-Amadi said the streets prior to reconstruction, were narrow and had a good number of pot-holes and ruts.
"Today, on Omerelu Street, we have a 12-metre wide reconstructed road with 1,960metres of drains and an 8metres wide road on Isaiah Odoli Street.
"Both have streetlights and road markings for good traffic management; aside from the fact that these improvements will ease commute, reduce travel time, reduce vehicle wear and tear, enhance real estate values, make buildings and businesses in the area more attractive to patrons, enhance security, support better living standards to mention just a few benefits."
UTME 2021: JAMB Blacklists 18 CBT Centres For Infraction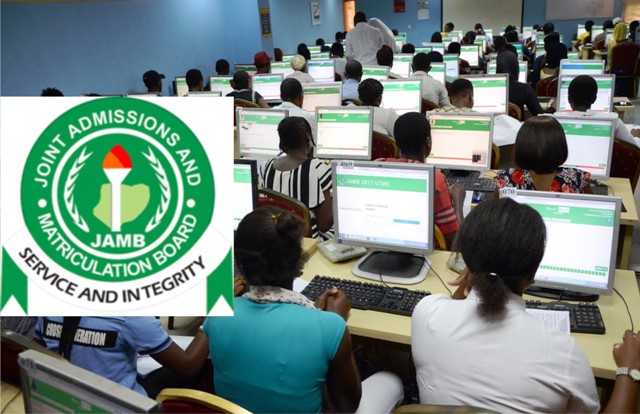 The Joint Admissions and Matriculation Board (JAMB) has delisted 18 Computer-Based Text (CBT) centres from among 820 approved centres for use in the 2021 Unified Tertiary Matriculation Examination (UTME).
The decision to blacklist the 18 CBT centres was taken after their underperformance during recent 2021 UTME mock examination nationwide.
Also, JAMB management has placed 14 CBT centres under watch for various offences noticed during the conduct of the 2021 UTME mock examination.
The 2021 UTME will hold between Saturday, June 19, and July 3 nationwide and in some foreign countries.
No fewer than 1.4million candidates have registered for the examination.
The implications for the 18 blacklisted CBT centres is that they will not be used for the conduct of the 2021 UTME, while the 14 others under watch would participate in the matriculation examination, but under close watch by JAMB officials.
Breakdown shows that the CBT centres blacklisted are Anambra 2, Cross River 1, Delta 2, Edo 1, Abuja 3, Kaduna 1, Lagos 1, Niger 2, Ogun 1, Oyo 3, and Yobe 1.
The 15 CBT centres under watch are Abia 1, Benue 3, Cross River 1, Kaduna 2, Kogi 1, Lagos 1, Nasarawa 1, Plateau 1, Sokoto 2, and Edo 2.
In a related development, JAMB said biometric verification would be the only mode for the admittance of candidates into the examination centre.
Strict adherence to the guide on compulsory biometric verification of every candidate is required.
The board warned that no candidate should be kept waiting if he/she cannot be verified.
It said such a candidate should be recaptured at the centre before leaving and that only genuine cases would subsequently be treated.
"There is no other attendance register apart from the biometric verification. Biometric verification will also serve as attendance register during examinations. Photo albums will only carry pictures with no marking points for either present or absent status.
"All examination officials, including the security agents, are to ensure compliance with all guidelines, rules and regulations on the examination,'' JAMB said.
Nigerian Jailed In US Over $10m Fraud
A Nigerian, Benard Emurhowhoariogho Okorhi, has been sentenced to serve 75 months in a United States federal prison for his role in an international fraud conspiracy.
Okorhi, 42, is the 11th member of the fraud gang to be jailed.
He was initially living in Ghana, operating a business known as Coolben Royal Links Ltd.
His gang used compromised email accounts to steal from businesses and romance scams on Internet dating sites to trick individuals into wiring money overseas.
The scheme was estimated to have cost residents of the US approximately $8million.
The total scheme was estimated to have netted over $10million worldwide during criminal enterprise's five-year lifespan.
The Acting US Attorney, Joseph C. Murphy Jr., announced the sentence, last Wednesday.
Evidence presented in a Memphis, Tennessee court revealed that Okorhi and others, some US citizens, some residents of Ghana and Nigeria–created fake profiles on online dating services to entice people looking for companionship into fraudulent relationships.
Once the victim was fully involved, the scammers would develop elaborate storylines that always required the victim to send financial assistance to his or her beloved.
The group also compromised the email networks of many businesses, redirecting wires intended to pay for services or goods to bank accounts under the control of the scammers.
The money was subsequently moved through a number of bank accounts before ultimately being sent to Africa.
Okorhi, Maxwell Peter, and Babatunde Martins were arrested overseas and extradited to the United States for prosecution.
Okorhi was extradited from Canada in 2018.
Several of their alleged co-conspirators remain at large, including Dennis Miah, Sumaila Hardi Wumpini and Okorhi's brother Victor Daniel Fortune Okorhi.
Ayodeji Ojo has been arrested in Nigeria and is awaiting extradition.
On June 11, 2021, U.S. District Court Judge, Sheryl H. Lipman, sentenced Okorhi to 75 months in federal prison.
The other individuals, who have been found guilty by a jury or entered pleas of guilty for their part in the scheme, include, 'Babatunde Martins of Nigeria, time served (approximately 3 and a half years); Maxwell Peter of Ghana, 55 months; Olufolajimi Abegunde of Atlanta and Nigeria, 78 months; Javier Luis Ramos-Alonso of California and Mexico, 31 months; Rashid Abdulai of New York and Ghana, 12 months; Dana Brady of Washington, two years' supervised release; James Dean of Indiana, two years' probation; Marie Zamora of Utah, two years' probation; Edchae Caffey, 18 months' probation; and Ahmed Alimi, 14 months' probation'.
The FBI led the investigation.
The Criminal Division's Office of International Affairs, as well as the FBI's Legal Attaché in Accra, the FBI Transnational Organized Crime of the Eastern Hemisphere Section of the Criminal Investigative Division, the FBI's Major Cyber Crimes Unit of the Cyber Division, and FBI's International Organized Crime Intelligence and Operations Centre all provided significant support in the case.
U.S. Marshals Service, INTERPOL Washington, the INTERPOL Unit of the Ghana Police Service, the Republic of Ghana's Office of Attorney General, and Ghana's Economic and Organized Crime Office, also assisted in the investigation.