Poor Implementation Of ODF Road Map Worries Minister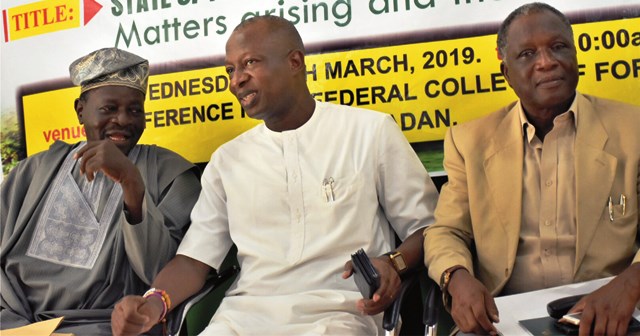 The Federal Government has rated very low, the implementation of the National Roadmap towards making Nigeria Open Defecation Free (ODF) by 2025.
The Minister of Water Resources , Engr. Suleiman Andamu who said this at a National Stakeholders Retreat on elimination of open defecation in Nigeria regretted that only minimal progress was achieved in the implementation since 2016 when it was developed and launched in the country.
According to the Minister, out of the 77 local government areas in the country, only 10 local government areas across the country were certified open defeaction free.
Engr. Adamu also said that his ministry is developing and implementing a national campaign transformational sanitation promotion agenda to end open defeacation in Nigeria by 2025.
He further said that the ministry is mobilisinig supports at and resources at the highest level to ensure budget lines are consistently increased annually to end open defeacation, while both the private sector and development partners are being encouraged to aggressively prioritize sanitation and hygiene in their various activities.
According to him the ministry is also creating a pool of resource persons to support local actors to implement a nationwide, de transformational sanitation promotion in all the communities across the 774 local government areas in 36 states of Nigeria and the Federal Capital Territory. Others include; mobilising various strata of the society to imbibe the culture of safe defeacation and sustainable sanitation management through behavioural change, communication and advocacy strategy as well as establishing mechanisms for tracking sanitation and hygiene progress, lessons learnt and sharing knowledge for improving future plans and actions to achieve ODF by 20125.
A copy of the Minister's address which was made available to The Tide by the Rivers State Rural Water Supply and Sanitation Agency (RUWASSA) had the minister saying that to end open defeacation in Nigeria requires the commitment and contribution of every one, government at all levels, civil society, private sector, development partners and the entire populace.
Similarly, the Permanent Secretary of the Ministry, Mrs. Comfort Ekaro stressed the need to strengthen coordination across national, state and local government structures as well as development partners.
The Rivers State Commissioner for water Resources, Prof Kaniye Ebeku was represented by Mr. Napoleon Adah the General Manager of RUWASSA.
Mr. Adah later told The Tide in an interview that RUWASSA has embarked on Several sensitization programmes across communities in the 23 Local Government Areas with the view to checking open defeacation (ODF) in the State.
According to him, the Agency has achieved some level of progress especially in some communities in Akuku-Toru and Opobo/Nkoro Local Government Areas and commended the Rivers State Government for its supports.
John Bibor
Expert Seeks Strong Punitive Measures Against Open Defecation
An environmentalist, Mr Gafar Odubote, says it will be difficult to eradicate open defecation until strong punishments are meted on offenders.
Speaking with The Tide source in Lagos recently Odubote, Network Coordinator, Africa Region Let's Do It World (LDIW), also called for increased awareness on the dangers of open defecation to health.
He said introduction of stiffer penalties by different levels of government against offenders would serve as deterrent to others.
"When people are being punished and fined for indiscriminate open defecation, it is then we will notice a shift in attitude as regards the practice,
According to the environmentalist, Nigeria ranked high amongst nations with open defecation practices simply because of the lack of adequate awareness on its dangers to health.
He noted that those who had the awareness were obstinate when cautioned.
Odubote noted also that Nigeria had an estimated 46 million people defecating openly.
"With a country like ours, with a vast population, we need to appropriately sensitise citizens on the dangers of open defecation to human health and the environment.
"We need strong laws and effective system to curb unsanitary defecation and make Nigeria open defecation-free by 2025, as projected by the federal ministry of water resources, in its road map of 2019.
"We have a lot to do to discourage open defecation practices in Nigeria. We need to put adequate laws and punishments in place to stop open defecation in the country.
"We are aware of activities in place by various governments and NGOs to stop open defecation.
" Open defecation is one of the origins of waste pollution in the environment. It ranges from air, land, and most especially water pollution,'' he said.
Odubote emphasised the need to install strong disciplinary measures against defaulters to be able to checkmate the menace.
"Open defecation also has negative effects on the aesthetics of our environment. It erodes the beauty of the environment and increases stench in the atmosphere.
"Open defecation practice is an attitudinal problem because some Nigerians will know readily that something is bad and injurious to their health and that of others, yet they will still do it,'' he said.
Odubote asked authorities to also provide adequate and regularly maintained sanitary toilet services, so that the campaign to make Nigeria open defecation-free could be attained.
'Nigeria Loses 200bn Cubic Meter Of Fresh Water To Atlantic Ocean Annually'
An expert, Engr Daso Mark Derefake, says Nigeria loses 200 billion cubic meter of fresh water annually to the Atlantic ocean.
Derefake, who is the managing director of Niger Delta Basin Development Authority (NDBDA) said this during the celebration of the 2021 World Rivers Day in Port Harcourt by the authority.
He said that Niger Delta area was contributing 14 billion cubic meters to the country's fresh water loss to the Atlantic ocean.
"Waterways in the catchment area are equally changing due to human activities within our surrounding communities.
Nigeria loses 200 billion cubic meter of fresh water to the Atlantic ocean annually with our catchment area contributing 14 billion cubic meters lose".
The NDBDA managing director said if the water is properly harnessed and utilised, it will boost the nation's agricultural production, sustain industries, create employment for youths as well as give sufficient useable water to the communities within the agency's catchment states.
He listed some activities of water pollution in the Niger Delta to includes fertilizer and pesticide being washed into the rivers, dumping of plastic waste and other non-biodegradable wastes into drains, open defecation, indiscriminate exploitation of ground and surface water, oil spill into rivers which decimate aquatic lives.
Derefake also stressed the need for the rejuvenation of policies to revive the rivers.
According to him, the water ways should be cleaned periodically of debris and regular distilling between 3-5 years, sensitisation of communities for the preservation of rivers and water ways in the region, while open defecation should be discouraged in the Niger Delta.
He also urged for the establishment of recycling plants to recycle non-biodegradable products and plastic, while relevant laws against over exploitation of water bodies within the catchment area should be enforced.
Other recommendations includes planting of trees along river banks to improve aesthetics and make for greener environment, while private sector participation in water rejuvenation should be encouraged.
By: John Bibor
NEMA Tasks Residents In Flood Plains On Positive Attitude
The National Emergency Management Agency (NEMA) has called on people living in flood prone areas to have a change of attitude towards the environment to minimise the negative impacts of floods.
Head, Abuja Area Operation Office of NEMA, Mr Justin Uwazuruonue,made the call in Lokoja, at a one-day stakeholders workshop on flood sensitisation campaign.
He said that the increasing cases of flood disaster and its attendant damage to means of livelihood and property were largely due to the poor attitude of the people to the environment.
Nwazuruonnye, who reminded the people that the occurrence of floods in Kogi State has become a yearly one, stressed the need for all hands to be on deck to minimise the effects of the disaster.
He also called on the people to start taking flood warnings and predictions from relevant government agencies seriously.
The NEMA chief further urged stakeholders to regularly visit people in flood prone communities with a view to cautioning them on their actions and inactions, leading to flood disaster.
He also called on residents of flood prone nine local governments in the state to get ready to relocate to safer places in case of floods.
"This will prevent or limit loss of lives , damage to property and the environment," he said.
The Executive Secretary of the Kogi State Emergency Management Agency (KOSEMA), Mr Sunday Obari, told stakeholders at the workshop that government had set up a task force to enforce relocation of residents living in flood plains.
He also disclosed that the government had established camps in Lokoja, Idah , Koton Karfe and other communities for those that were likely to be displaced from their houses by the impending floods.
He called on participants to come up with suggestions that would help in reducing the impact of the flood disaster on the people and the environment.
Obari also called on flood desk officers in the nine flood prone local governments to work in synergy and get acquainted with telephone number of emergency providers across the state.
The workshop was attended by stakeholders from the Red Cross, health, security agencies and marine sectors.