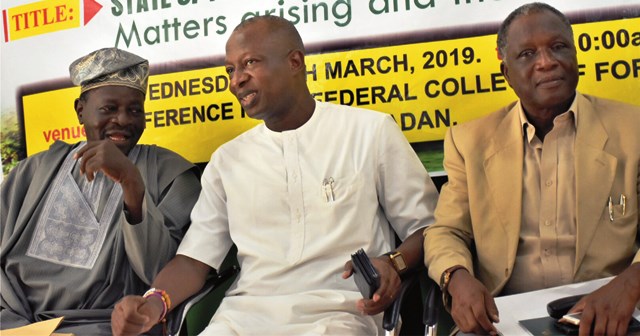 The Federal Government has rated very low, the implementation of the National Roadmap towards making Nigeria Open Defecation Free (ODF) by 2025.
The Minister of Water Resources , Engr. Suleiman Andamu who said this at a National Stakeholders Retreat on elimination of open defecation in Nigeria regretted that only minimal progress was achieved in the implementation since 2016 when it was developed and launched in the country.
According to the Minister, out of the 77 local government areas in the country, only 10 local government areas across the country were certified open defeaction free.
Engr. Adamu also said that his ministry is developing and implementing a national campaign transformational sanitation promotion agenda to end open defeacation in Nigeria by 2025.
He further said that the ministry is mobilisinig supports at and resources at the highest level to ensure budget lines are consistently increased annually to end open defeacation, while both the private sector and development partners are being encouraged to aggressively prioritize sanitation and hygiene in their various activities.
According to him the ministry is also creating a pool of resource persons to support local actors to implement a nationwide, de transformational sanitation promotion in all the communities across the 774 local government areas in 36 states of Nigeria and the Federal Capital Territory. Others include; mobilising various strata of the society to imbibe the culture of safe defeacation and sustainable sanitation management through behavioural change, communication and advocacy strategy as well as establishing mechanisms for tracking sanitation and hygiene progress, lessons learnt and sharing knowledge for improving future plans and actions to achieve ODF by 20125.
A copy of the Minister's address which was made available to The Tide by the Rivers State Rural Water Supply and Sanitation Agency (RUWASSA) had the minister saying that to end open defeacation in Nigeria requires the commitment and contribution of every one, government at all levels, civil society, private sector, development partners and the entire populace.
Similarly, the Permanent Secretary of the Ministry, Mrs. Comfort Ekaro stressed the need to strengthen coordination across national, state and local government structures as well as development partners.
The Rivers State Commissioner for water Resources, Prof Kaniye Ebeku was represented by Mr. Napoleon Adah the General Manager of RUWASSA.
Mr. Adah later told The Tide in an interview that RUWASSA has embarked on Several sensitization programmes across communities in the 23 Local Government Areas with the view to checking open defeacation (ODF) in the State.
According to him, the Agency has achieved some level of progress especially in some communities in Akuku-Toru and Opobo/Nkoro Local Government Areas and commended the Rivers State Government for its supports.
John Bibor