Airport Manager Tasks Stakeholders On Safety
The Airport Manager, Margaret Ekpo International Airport (MEIA), Mr Ayodele Sunday, has called on all stakeholders at the airport to ensure safety at the airside through compliance with International Civil Aviation Organisation (ICAO) standards.
Sunday, who made the call while inaugurating three safety committees at the airport, Tuesday, said that all hands must be on deck to ensure compliance to avoid sanctions.
The committees inaugurated were: Departmental Safety Officers (DSOs) which include safety officers from all departments in FAAN and safety officers from other stakeholders.
The second was the Runway Safety Team, comprising of Heads of technical departments in FAAN ,ASM, ATOM and representative of Air Traffick Controllers.
The third was Airport Safety Committee comprising of airline station managers, SM Ground Handling Company and heads of agencies, among others.
The airport manager maintained with emphasis on the airside, that safety should be a collective responsibility and not just a specified departmental duty.
Prior to the inauguration of the committees, there was an awareness on safety campaign/promotion, to sensitse airport staff through video presentations and lectures on foreign object debris and airside safety . Questions, complaints and observations were raised by participants which comprised of all agencies , stakeholders and airline representatives.
Corlins Walter
PH Airport Goes Tough On Illegal Trading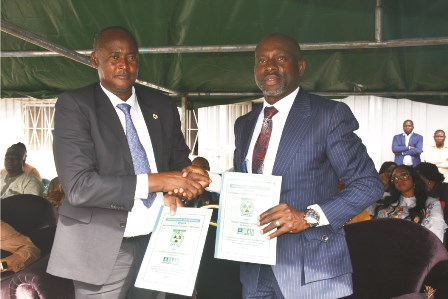 The management of the Port Harcourt International Airport, Omagwa, has embarked on demolition of illegal structures and dismantling of unapproved places used for trading within the airport.
The Tide observes that an attached structure to the accredited car hire's office, as well as other adjourning structures and attachments used for trading within the airport, have been demolished.
Our correspondent also reports that all food vendors that used to sell within the airport have been dislodged, just as hawking activities have been restricted.
Aviation security men are now on the prowl for offenders.
Efforts made to speak with the airport's Regional Manager was not successful, as he was said to be very busy on inspection work within the airport, but sources within the office hinted that the move was aimed at sanitizing the airport in preparation for certification exercise expected this December.
Meanwhile, the airport management has also embarked on marking out access roads to the airport, as places have been marked out for dropping of passengers from vehicles, with clearly marked out median of the road.
It would be recalled that the Regional Manager, South-South of the Federal Airports Authority of Nigeria (FAAN), Felix Akinbinu, had said recently, that the Port Harcourt Airport would be certificated in December, this year.
By Corlins Walter
FAAN Partners ICAO On Digital Training Of Personnel
In fulfilment of its desire for capacity development, the Federal Airports Authority of Nigeria (FAAN) has partnered the International Civil Aviation Organisation (ICAO) for a robust digital training of its fire officers and other personnel.
The Managing Director of FAAN, Capt. Rabiu Yadudu, who disclosed this in a statement made available to aviation correspondents through the Corporate Affairs Office on Wednesday, said the agency under his watch was focusing on accountability and responsibility of staff.
According to him, the new FAAN management is aware of the various challenges confronting staff and personnel, as well as each airport, and is working on them in order of priority amidst paucity of funds.
He said further that FAAN management would embark on massive renovation and upgrade of staff quarters across the nation's airports.
The upgrade, according to him, would be done in stages.
Yadudu also charged staff to be professional in the discharge of their duties, and not to compromise their work and career.
"Take your job seriously. People see you through what you do, and you can make a name for yourself through your job. Use FAAN to launch your career", he advised.
The FAAN boss, however, appealed to staff to always communicate their complaints, concerns and challenges to management through their heads of departments and airport managers rather than doing things that would threaten the steady growth of the aviation industry.
FG Restates Commitment To Airports' Safety
The Minister of Aviation, Senator Hadi Sirika, has reiterated the commitment of the President Muhammadu Buhari led administration towards improving safety and security at the nation's airports through training and provision of world-class infrastructure.
Sirika gave the assurance during an aviation stakeholders' meeting in Afaka, Kaduna State, on Tuesday.
He said that capacity building through training and retraining of aviation staff in line with the provisions of the International Civil Aviation Organization (ICAO) requirements and provision of world class infrastructure are the tools with which the Buhari administration hopes to achieve maximum security and safety at the airports.
He urged aviation personnel to see their positions as a privilege to serve their country at various levels in aviation industry.
"You must realise that it is a privilege to you to serve your country in the aviation industry which is one place where adherence and commitment to rules and standards are applied strictly to the letter," he said.
While reassuring stakeholders of government continued investment in its human resources development, the minister urged them to be more committed, dedicated, and approach duties assigned them with high sense of responsibility.
The meeting was well attended by major bigwigs in the aviation industry drawn from the Nigerian Civil Aviation Authority (NCAA), the Nigerian Airspace Management Agency (NAMA), the Federal Airports Authority of Nigeria (FAAN) and the Nigerian Metrological Agency (NiMet), among others.