No Craft Is Exclusively For Men – Female Cobbler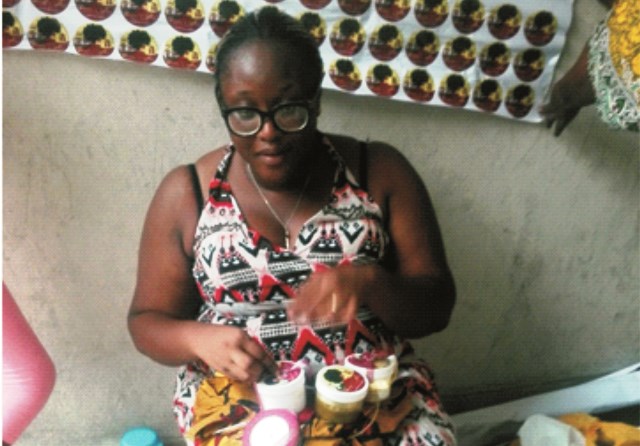 A graduate of Business Administration and Management, Mrs Prince-Obe Queen, who suddenly developed a strong passion for shoe making and repairs, has declared that no trade is exclusively preserved for men.
Reacting to feelings of friends and family members over her new found love in shoe production and repairs, Mrs Prince-Obe said she settled for a masculine-oriented craft because she likes working with young men who appears more serious in life.
She insists that there is no skill limited to men or women, stating that when men find themselves into trades that are tagged feminine, eg hair dressing, they do better and same goes to women who find themselves doing work popularly perceived to be men's.
A mother of four, Queen traced the genesis of her journey into shoe making to when, as a teacher, she discovered that schools of late invest more on craft teachers than they do on the regular ones.
Explaining further, she said while the local craft teachers engage the school about twice in a month or even a term and are settled with fabulous amount of money, the regular teachers depend on their peanuts at the end of the month, irrespective of their daily presence at school.
This dichotomy in the treatment of the craft teachers and the regular ones, she said, lured her into contemplating learning a craft that will not only add to her wealth of knowledge, but would be capable of improving her income at the end of the day.
"I chose not to learn such that are popular among women, but rather settled for the masculinely-oriented so I could work with men who are more serious in life".
"I started with wrapping of bags and shoes with local fabrics (Ankara) then into full time foot wares production and repairs, both for men and women" she said.
So far, Queen has produced palms, slippers, sandals, belt for males and females as well as repairs used shoes. According to her, she enjoys every bit of the trade and mostly encouraged by the patronage she receives especially from men.
As the only female trainee in Phemcorn Craft, a workshop of 18, Queen is not deterred by friends' perception of her choice of craft. Although her family and friends may not fancy her trade, Queen said they appreciate her productions at the end of the day.
In her dream to own a big shoe production/repair venture, she advises other women to see the world as a place where everyone irrespective of gendre, is free to choose what he/she likes to do, and not confine oneself to an already saturated trade just for the mere mentality that it is meant for a folk.
She maintained that it is only "your passion that can land you safely to your choice destruction".
The Girl Child Has Great Potentials – Perm Sec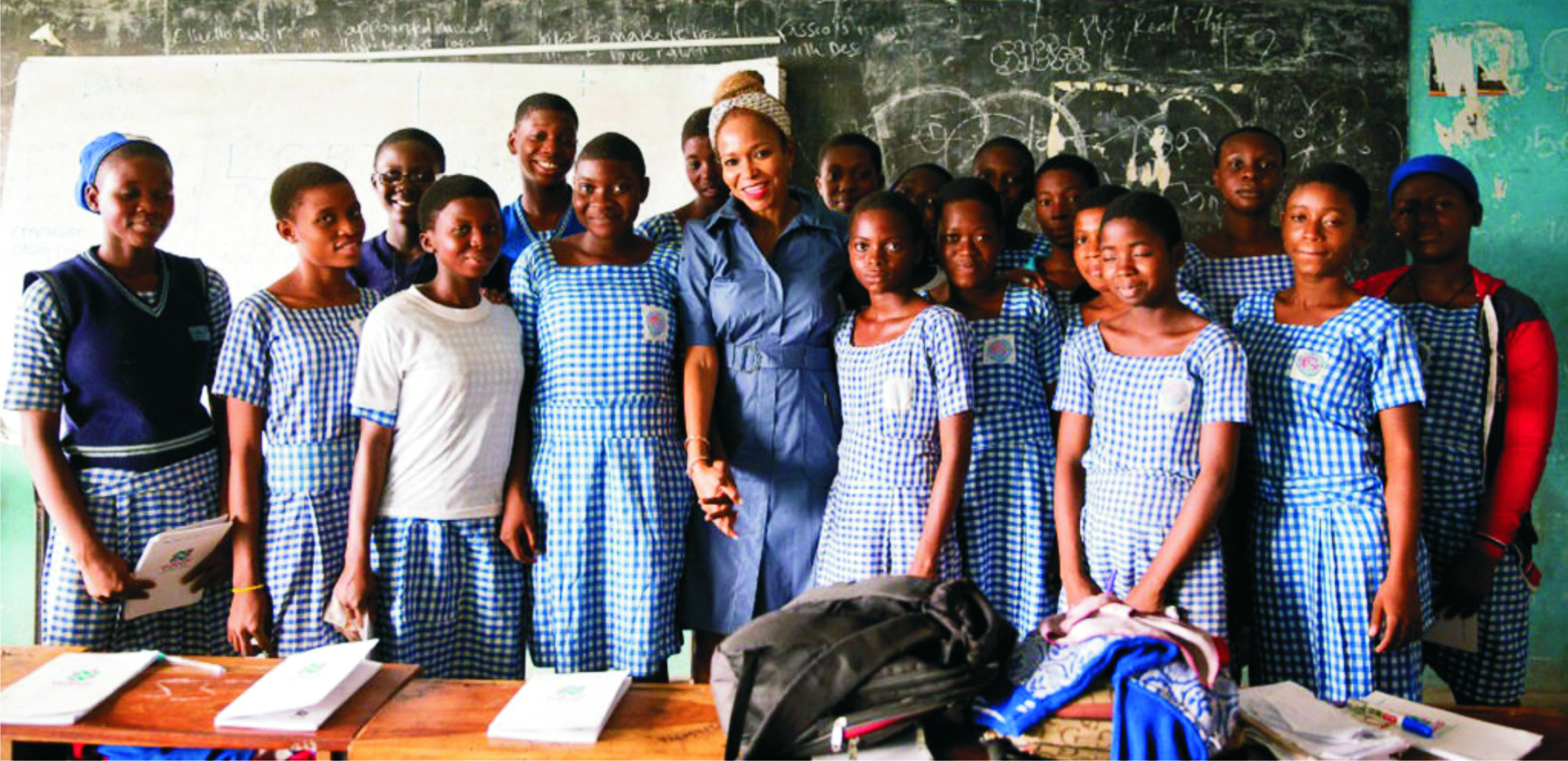 Since October 11, 2012, the day has been marked as the International Day of the Girl Child. Like the reason behind the marking of other international days, the United Nations, UN, has embraced the international day of the girl child as a powerful advocacy tool. It is used to highlight and address the needs and challenges girls face, while promoting girls' empowerment and the fulfillment of their human rights.
Issues like child marriage, education inequality, gender-based violence, reproductive health, climate change, self-esteem, and the very trending sexual harassment in schools and at homes, are being tackled by concerned individuals, non governmental organizations and governments. Girls are proving they are are indeed unscripted and unstoppable.
With the platform created by this yearly emphasis on issues affecting the girl-child, countries and states for which Nigeria is inclusive now boast of more girls attending and completing schools. Fewer are getting married or becoming mothers while still children, and more are gaining the skills they need to excel in the future world of work.
In furtherance of the course of the girl-child, the United Nation's Secretary-General, António Guterres, sued for efforts at harnessing her inate potential. "We need to uphold the equal rights, voices and influence of girls in our families, communities and nations. Girls can be powerful agents of change, and nothing should keep them from participating fully in all areas of life". He said.
This year, in total compliance, with the United Nations agenda for the girl- child, under the theme, "GirlForce: Unscripted and unstoppable", the Rivers State Ministry of Women Affairs, in collaboration with the Town Planning Film and Actors Academy , arranged a program which had five girls from each of the 23 Local Government Areas of the state to be sensitized on the act of film making.The girls would be trained in acting, directing, cinematography, general film making, script writing and film production.
The Permanent Secretary, Ministry of Women affairs, Mrs Atosemi Eson Teetito, said the act of film making training program which is designed to last for three months upon commencement, is an entirely new area of employment the ministry decided to lunch into for Rivers girls in order to showcase their untapped potentials and great skills to the world.
Announcing that girls are breaking the barriers and boundaries posed by stereotypes and succeeding in their chosen carriers, Teetito presents the girl child as one naturally endowed with great potentials to succeed in her chosen carrier despite many challenges, if properly mentored.
"Girls are emerging entrepreneurs, innovators of global movements and creating a world that is relevant for the girls of tomorrow to succeed", She said, calling on well meaning individuals to encourage girls everywhere to innovate and to take charge of their future.
Teetito further explained that her ministry used the opportunity, to raise its voice in support of the call to create more opportunities for girls in every sector, especially increase in access to girls education like their male counterparts.
She was of the view that such moves would totally eradicate all forms of gender based violence against women and girls as well as put an end to forced marriages of the girl child.
Meanwhile, the Director of the Town Planning Film and Actors Academy, Mr. Prince Ogbondah, has called on the youth; the girls in particular, to take advantage of the fast growing entertainment industry to cash into the business side of the industry especially the motion picture sector popularly known as Nollywood.
In her goodwill message, the vice chaiman of khana Local Government Area, Dr. Leton Ekoro, described such opportunities as rear , as she called on the girls to cash in and shot themselves to stardom.
Also speaking, the Director, Women Affairs Department, Ministry of Women Affairs, Dr. Camelita Agborubere, appealed to girls to see greatness in the opportunity available to them and utilize same.Agborubere assured the girls of the ministry's support, if they were determined to succeed through film making.
Sylvia ThankGod-Amadi & King Onunwor
Female Novelist Emerges Nobel Laureate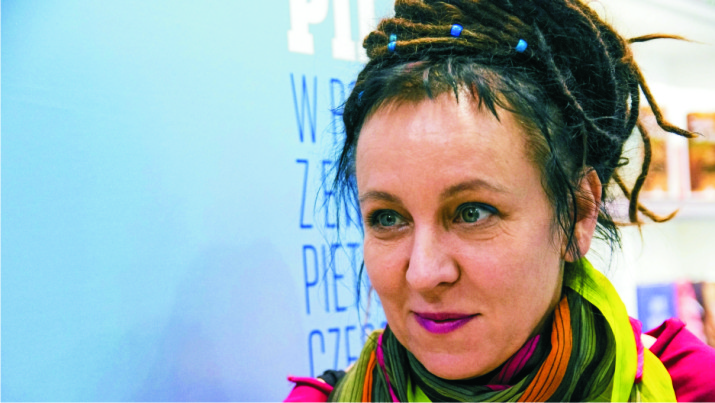 As the Swedish Academy finally announced laureates for 2018 and 2019, after scandal forced last year's award to be postponed, Olga Tokarczuk has been declared the winner of the 2018 Nobel Prize in Literature.
Born 29 January 1962 in Sulechów, Poland, Olga Tokarczuk, a Polish writer, activist, and public intellectual , was barely six years old, and living in the small town of Sulechów, when the Polish students protests of 1968 erupted. Her father's family were refugees from a part of Poland that is now in Ukraine. Both parents were teachers who "lived in an island of leftwing intellectuals, but not communists".
Although trained as a psychologist at the University of Warsaw, Olga, upon graduation took a hospital job as a specialist in addiction, married a fellow psychologist and gave birth to a son. But after five years, she decided she was too fragile to continue at the hospital. "I was working with one of my patients and realised I was much more disturbed than he was."
She left her job and published a collection of poetry, quickly followed by a novel; The Journey of the People of the Book – a parable set in 17th-century France – which won a prize for best debut. Though the books, and the prizes, kept rolling in, in her mid 30s, Tokarczuk hit a crisis and decided she needed to take some time out to travel. She became particularly noted for the mythical tone of her writing as she has published several novels, as well as other books with shorter prose works.
Today, OlgaTokarczuk has been described as one of the most critically acclaimed and commercially successful authors of her generation.With her declaration as the winner of the 2018 Nobel prize coupled with the 2018 winner of the Man Booker International Prize for her novel; Flights, she becomes the first Polish writer to do so.
A mother, and wife to Roman Fingas, when she was hotly tipped to win the Man Booker International prize last year, Olga Tokarczuk considered herself " very naive"as she talked about facing controversy at home and the armed bodyguards hired to protect her.
A literary star in Poland, Olga's sixth novel; Flights, could best be described by any one as her stepping stone to greatness. Not as though Olga had not featured any work translated in English language, Flights highlighted her as probably one of the greatest living writers any scholar would love to meet.
Adam Mars-Jones, once wrote a highly complimentary review of Flights in the London Review of Books. "It could almost be an inventory of the ways narrative can serve a writer short of, and beyond, telling a story," he said. "The book's prose is a lucid medium in which narrative crystals grow to an ideal size, independent structures not disturbing the balance of the whole."
Tokarczuk prefers an astronomical metaphor, explaining that, just as the ancients looked at stars in the sky and found ways to group them and then to relate them to the shapes of creatures or figures, so what she calls her "constellation novels" throw stories, essays and sketches into orbit, allowing the reader's imagination to form them into meaningful shapes.
She is currently best known in Poland for a 900-page historical epic called The Books of Jacob published in 2014. The Books of Jacob tells the story of Jakub Frank, a Jewish-born religious leader who led the forcible conversion of fellow Jews to Catholicism in the 18th century. The novel itself was well received, selling 170,000 copies in hardback and winning her a second Nike award, known as "the Polish Booker".
In her naivety, thinking she would be able to discuss the dark areas in Poland's history, Tokarczuk was branded a 'targowiczanin', an ancient term for traitor when she outraged rightwing patriots by saying that, contrary to its self-image as a plucky survivor of oppression, Poland itself had committed "horrendous acts" of colonisation at times in its history. A reason for which her publisher had to hire bodyguards for a while to protect her.
She has long been one of Poland's highest profile writers, a vegetarian feminist in an increasingly reactionary, patriarchal country, and a public intellectual whose every utterance can make news headlines.
Call her an intelligent, brilliant or controversial artiste, Olga Tokarczuk has not only made her mark in the literary world, she has boosted the ego of women as a worthy ambassador of the folk.
Sylvia ThankGod-Amadi
NGO To Train Women In Rivers
The Founder; Impact Her Vocational Training, a Non-Governmental Organization ( NGO), Barr Efe Ukala, has said that her organisation has concluded plans to get over 300 women trained in various skills and entrepreneurship programmes in Rivers State.
Ukala disclosed this in an exclusive interview with The Tide Thursday in Port Harcourt.
She said part of the ideas behind her action was to help women close the gap between them and their male counterparts in the areas of skill acquisition and entrepreneurship.
According to her, the training would also help to bring investors in order to boost women's businesses.
Her action she said, was further informed by the high statistics of African women whom she said were far behind their male counterparts.
Part of her success story, she revealed, was the aid given to some women whose businesses had risen to an enviable height.
Concerning the contribution of the Rivers State Government, she hinted that the government under Governor Nyesom Wike, has been supportive.
She narrated how the government had helped in the training of over 300 women who can now boast of their own personal business.
Also speaking, one of the trainees, Mrs Charity Chukwu, who admitted the positive impact of the programme since July this year, said it has so far exposed her to the entrepreneurship world.
Chukwu, explained how her experience acquired from the programme brought about a wide scope of her understanding of business and its management.
One of such skills gained, according to her, was how to prepare and export cassava flour, which she said was rewarding.
Another trainee, Amarachi Eboyi, also eulogised the NGO over what she described as an eye-opener to the business environment.
Eboyi told The Tide that with the assistance of the NGO, she had successfully concluded her business registration with the Corporate Affairs Commission ( CAC).
The Tide gathered that the organization had trained several women in 34 African countries,which Rivers State would have about 300 of such trainees by this weekend.