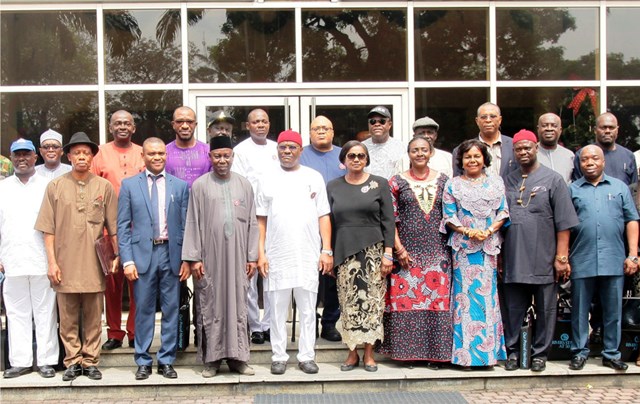 Minister of Environment, Surveyor Suleiman Hassan Zarma, has handed over oil spill impacted sites to successful contractors to herald the commencement of the clean-up of Ogoniland in Rivers State.
Zarma, who handed over the sites in Alode Eleme and Obolo-Ebubu communities in Eleme Local Government Area last Friday, described the event as historic, saying it would mark the commencement of the restoration of the natural environment, including water and vegetation of the highly degraded Ogoniland.
While handing over and presenting the contractors to Alode indigenes at the community's town hall, the minister charged them to take ownership of the clean-up project, assuring that the contractors would clean-up the polluted sites in accordance with international best standards.
On his part, the Project Coordinator of Hydrocarbon Pollution Remediation Project (HYPREP), Dr. Marvin Dekil, said the handover of the sites to the contractors had put to rest speculations surrounding the actual time the clean-up proper was going to commence, saying, the contractors underwent rigorous processes before they were selected to carry out the exercise.
The Paramount Ruler of Alode Community, Chief Don Awala thanked the Federal Government, the Ministry, HYPREP and other stakeholders for making the clean-up exercise a reality, assuring that the community would give the contractors 250% support and cooperation to make the exercise highly successful.
He, however, charged the contractors to be sincere and transparent in dealing with the people as well as carry along members of the community in the course of cleaning up the sites.
Representative of the contractors and Managing Director of Earthpro Unique Integrated Limited, Prof. Babatunde Bolaji Benneth, said the companies have all it takes to successfully clean-up the impacted sites, and promised to empower youths of the community by training and involving them in the clean-up exercise.
Earlier, the Minister had paid a courtesy visit to the Paramount Ruler and member of the Board of Trustees of HYPREP, Emere Godwin Bebe Okpabi, who stressed the need for HYPREP to provide potable water to Ogoni people and also restore their livelihoods as contained in the United Nations Environment Programme (UNEP) Report.
In Obolo-Ebubu Community, the Paramount Ruler of the community, Emere I.O Satoh, who was represented by Chief Osaro Dabo requested for the provision of security in the community, employment of the youths and the need for transparency in the clean-up exercise.
The Minister handed over the clean-up site to representative of the contractors and Managing Director of Basic Nigeria Limited, Mr. Masi Bright, who assured that they would involve the people of the community by training and empowering them.
Donatus Ebi