Bipolar Disorder: Know the Symptoms and How to Diagnose?
Overview
Well, to start with, Bipolar disorder is a condition with a mood disorder. Patients suffering from it suffer from extreme mood changes. their mood fluctuates from being very happy or excited about be really sad and depressed at the very next moment. well, not every person suffering from it experience this extreme mod change, in fact, there are certain stages of bipolar disorder which are mentioned below:
Bipolar I
Bipolar II
Rapid cycling
Cyclomatic Disorder
Mixed Features
One thing that all those readers who are reading this article and are not suffering from bipolar disorder should note is that if you guys are thinking that these mood swings are just some ups and down, then you are getting a completely wrong idea. the mood swing that a person suffering from bipolar disorder is extreme that the majority of us don't ever go through in our lives. but fortunately, apart from these mood swings, these people lead a normal life just like any other healthy person would.
About the Mood peaks
In this section, we are going to talk about the mood swings that people with bipolar disorder get. during a mood peak, an excited patient can even spend a lot of money maxing out his bank cards. these mood swings occur in situations like sex, drug intake, alcohol consumption, betting or gambling and more. this emotional outburst can affect the patients very negatively making them lose their jobs, getting them under large debts, and even make them commit self-harm. And this is not all, what follows after these manic episodes are even worse. people go through depression after these manic episodes. the duration of this depression can range from a few hours to days and even months.
Well, as it is mentioned above the severity of manic episode is significantly affected by the stage of your bipolar disorder. some patients only get mild bouts of emotional outburst while others that are in the early phase of disorder don't even experience any manic episodes.
Does Bipolar disorder run in the family?
yes, bipolar disorder can become a genetic medical problem and unfortunately, researchers are unable to figure out the exact cause of it yet. so, if you are expecting a new member in your family or if someone in your family has bipolar this problem, then there are chances that this problem can be transmitted to you too.
Start Admitting that you are suffering from bipolar disorder
The symptoms of bipolar disorder are hard to recognize in the initial phase but as the intensity of the problem increases the manic bouts can become very extreme. in the initial phases of bipolar disorder, the manic attacks are not harmful to the patients but as it progresses the manic attacks can be harmful to the patient's life.
One of the bigger problems that come in the diagnosis of bipolar disorder is that often it is misdiagnosed as depression and this poses a problem as the medications for both these problems are different. a common combination of medicines for bipolar disorder patients is of antidepressant and a mood stabilizer. but sometimes doctors prescribe only an anti-depressant which can lead the patient into an extreme manic attack phase. therefore, one important step which is crucial for the treatment of bipolar disorder is to accept the truth that you are suffering from bipolar disorder.
Don't worry? Bipolar disorder can be treated
Yes, there are various treatments available for bipolar disorder. some of them include medications and therapies. but a combination of both medicines and therapy provides the best result for the patients. making yourself aware of the symptoms of this condition can be very helpful during the treatment. this way your participation in the treatment of your disorder will become active. do whatever you can to learn more about the problems and possible symptoms. maintain a diary, make notes, there are tons of ways by which you can learn a lot about your problem.
another crucial step for the treatment of bipolar disorder is to communicate with people. be open and discuss with people you trust about your condition and collect their feedback and opinions. building a nice support group around yourself will help you in your own treatment.
How does Mood Stabilizers help in treatment?
Mood stabilizers are the most effective medication for the treatment of bipolar disorder. all the spikes that occur during a panic attack are evened out by mood stabilizers and this way your mood is stabilized.
some of the examples of mood stabilizers include Topamax, Lithobid, Lamictal, Tegretol, Depakote, Depakene etc. one of the limitations that doctors face while prescribing a mood stabilizer is that it is difficult to figure the right mood stabilizer for a patient in one go. now one thing to keep in mind is that maintain a strict timetable for the doses of the medications prescribed by your doctor and make sure not to skip a dose or overdose on the pills.
When and what other medicines are prescribed during the treatment?
Well, Mood stabilizers don't work for every bipolar disorder patient and therefore, a doctor may prescribe some other medications too in addition to the mood stabilizers. tablets like Symbyax is prescribed by the doctors to the patients who are on the recovery phase of their treatment and it helps in stabilizing the occasional manic bouts that might occur during the recovery.
Possible side effects of the medications
well, like any other medicine mood stabilizers also have their side-effects that might be observed by you if you overdose your consumption or consume an expired pill. some of the common side effects of mood stabilizers are drowsiness, weight gain, fatigue and irritation in the stomach. but since the treatment duration of bipolar disorder goes for a long time, therefore, your body gets accustomed to the side-effects and as the time passes, the side-effects cease to be observed. but in case, if you observe intense effects of the side-effects. then contacting your doctor immediately is the best step to be taken.
Dosage instructions for medications
In many cases, the treatment is run for a lifetime to allow the patients to lead their life normally without having to worry about the manic attacks. and as we mentioned above, maintaining a strict regime of taking medicines is one of the crucial measures for the treatment of your disorder. stick to the dosage instructions prescribed by your doctor. if you feel that there is a need for a change in the dosage, consult with your doctor about that first.
Meditation and other therapies
So, until now we discussed the medications that are prescribed for the treatment of bipolar disorder but no discussion about the therapies was made yet. well, therapy is important of the treatment for bipolar disorder. In this section, we are going to talk about the different types of therapies that are available for the treatment of bipolar disorder patients.
Interpersonal and Social rhythm therapy
interpersonal and Social rhythm therapy sessions are prescribed to the patients for the treatment of disruptions occurring in the biological rhythm. biological rhythm includes processes like sleep triggers and disturbances.
As the name suggests, family-focused therapy includes your family members and your friends in the treatment. the main objective of this therapy is to help you build a strong support system around you with which you can discuss your improvements and problems.
Cognitive-Behavior Therapy
Cognitive behavior therapy is done to treat your pessimistic behavior. it helps in getting rid of the negative thoughts that you get when you are depressed. this way cognitive therapy helps in changing your behavior into an optimistic one.
Start communicating with other people like you
You know who is the best person to consult when you suffer from a mental disorder? People who are also suffering from the similar condition, in this case specifically, people who are also suffering from bipolar disorder. communicating with other patients will allow you to gather helpful experiences and feedbacks from alike people. this will also help you in building a support group for yourself which in itself is an effective therapy.
Lifestyle tips that will help you get better results during your treatment
Avoid alcohol and drug abuse
Alcohol or any drug abuse can be very harmful to you if you are suffering from bipolar disorder. Overconsumption of alcohol will only make your manic attacks even worse. Similar will be the case with drug abuse. So, keeping yourself away from the exposure to both alcohol and smoking will help you in getting better results in your treatment.
Maintain a regular fitness regime
Maintaining a regular fitness regime is extremely beneficial for any individual. Regular exercise not only keeps your body fit externally but also maintains the internal mineral balance which in turn leads to balanced hormone levels. This avoids sudden spikes in hormones which is responsible for the polar change.
Knowing what, when and how much to eat
Diet plays a major role in anything that happens in the body. "You eat what you are" is rightly justified because the food that enters the body decides the changes that happen from that point onwards. Making the right choice on what to eat is crucial. Food rich in fats should be avoided and energy source should be mainly carbohydrates and proteins. The meals taken should be rightly balanced and there should be minimal snacking between meals to avoid unnecessary hormonal spikes.
Immunization: Health Board Targets Rural Communities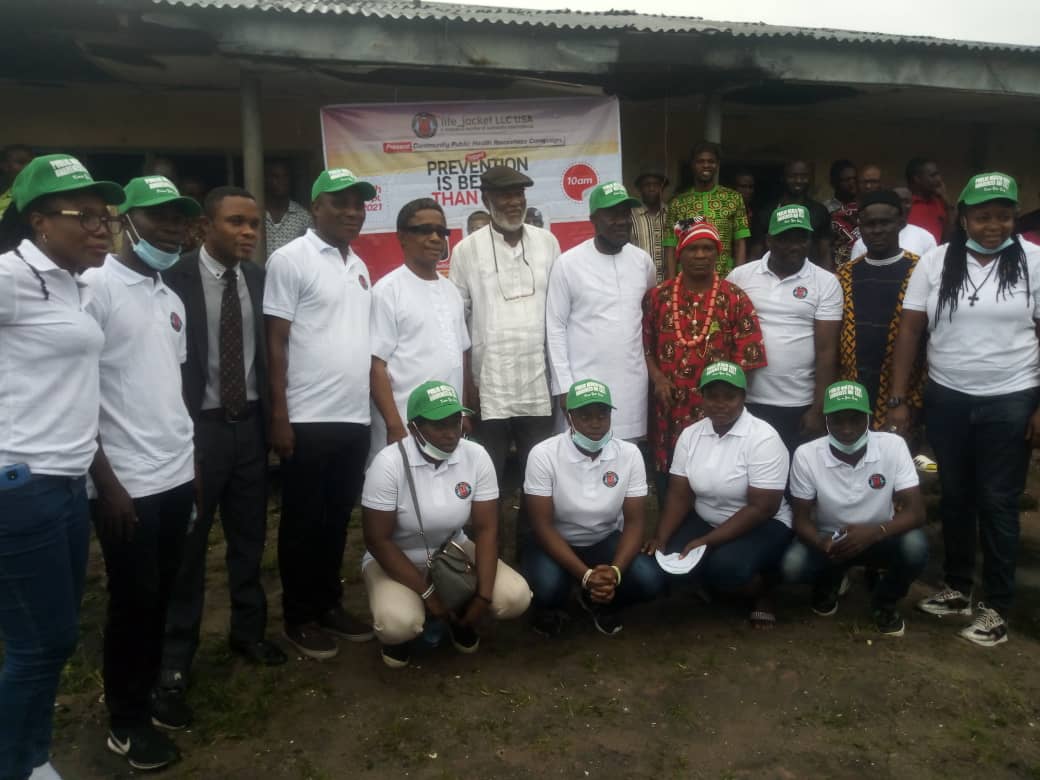 Towards ensuring that immunization campaign achieves its target of over 90 percent, the Rivers State Primary Health Care Management Board, says it has provided modalities for trained health care providers to reach the interiors of the state.
Making this known in an exclusive interview, the Health Education / Coordinator, Rivers State Social and Behavioural Change Communication Committee, Dr Daris Nria, said provisions have been made to take the free immunisation exercise to the rural areas of the state.
Because immunisation programe will be running concurrently in all the local government areas, and these areas will be empowered with boats or other means of transport, as well as logistics.
She used this opportunity to call on the public especially parents and women of child bearing age to avail themselves the opportunity of being immunized against tetanus and other diseases.
In another development, the Maternal and Neonatal Child Health (MNCH) Focal Person, Rivers State Primary Healthcare Management Board, Dr Emen-Jaja stated that the MNCH week slated to commence from 20th – 24th September will provide health care services for children under the age of five years, pregnant women as well as their spouses.
Such services, according to her, include administration of vitamin A, deworming exercise, nutritional screening, general health checks, child spacing and birth registration.
"Both women of reproductive age and their spouses who visit the health care centres would also have free services within the week.
CSO Wants Cancer Treatment Centres In Rivers
The Rivers State Chapter of the Civil Society organsation (CSO) has called on the state government to establish cancer treatment centres in the state to address the current growing cancer cases in the state.
Making the call recently, chairman of the organisation, Mr Dennis Otobo, said going by the status among the community of states in the country, Rivers State needs such centres in strategic areas of the state.
He stated that "going by the position of Rivers State among other states in the country, we are over due to have enough cancer treatment centres, especially considering the State Government's focus on the health of her people".
According to him, "taking some of our cancer patients to other neighbouring states does not tell well of our health services, no matter how we look at it.
"Government should establish cancer treatment centres in the state, at least a one hub treatment centre in each LGA", he said.
Otobo explained that for now, about 99 per cent of treatments for cancer and related services are provided by donor agencies and patients are taken outside the state for treatment, which requires a lot of fund that is mostly not available.
"If government can provide cancer treatment centres in the state, it will not only lessen the impact of the ailment in the state but will also alleviate the suffering of patients who cannot afford going for treatment outside the state", he said.
To Much Salt Consumption, Bad For Kidney – Expert
A Nephrologist, specialist in Kidney disease, Dr Manda David-West, says excessive salt consumption is one key cause of kidney disease.
Stating this in a recent interview, she said in-take of too much salt is capable of damaging one's kidney, in addition to raising blood pressure.
"Too much salt can raise up the Blood Pressure (BP), and once the BP is raised, if you are not on medication, It can damage the kidney over time, she said.
In order to prevent this, Dr David West, who is a Consultant Nephrologist at the University of Port Harcourt Teaching Hospital (UPTH) called for limitation in salt in-take.
She further stated that to prevent kidney disease, there was the need to cut down on carbohydrate and callory intake, alongside checking food in-take capable of increasing chances of developing diabetes mellitus.
Dr David West continued that enough intake of fruits and vegetables, alongside exercises with a view to keep fit also prevents kidney diseases.
Contrary to wide spread belief that food supplements are good for the body, Dr David West said too much intake of food supplements is not good for the body.
Accroding to her, besides taking fruits and vegetables, "they should engage in daily exercise, try and keep fit and be active as much.
"Even (food) supplement has not been proven to be good to the kidney, especially when it is taken for a long time.