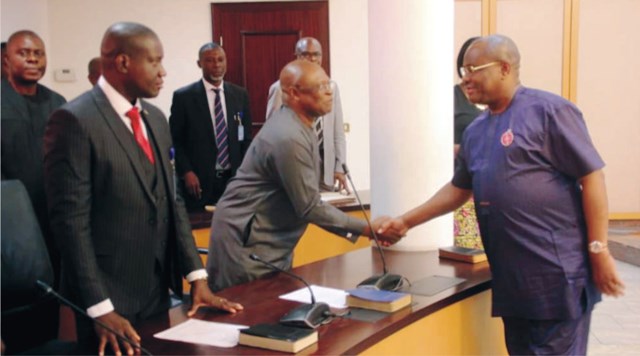 There are indications of high expectations from the people of Rivers State as the Governor, Chief Nyesom Wike is set to present 2019 budget to the plenary of the State House of Assembly, today.
The expectations cannot be unconnected with the impact of the high percentage of implementation of previous budgets, especially the 2018 budget.
Speaker of the House, Rt. Hon. Ikuinyi-Owaji Ibani last Thursday, during plenary informed lawmakers of the budget presentation, as he called on all the legislators to be present in receiving the governor.
The budget presentation is coming two weeks after the House approved the State Medium Term Expenditure Framework, a blueprint of fiscal and revenue policies of the government in the next three years.
Most of the legislators threw their support behind the framework as it it would provide a long term budgetary plan for the state.
The framework is to cover from 2019-2021, as the State Government is expected to tailor all its budgetary plans in tandem with provisions of the law.
In 2016, the State Government presented a budget of "Consolidation" totaling N307billion.
The State Government proposed N120billion for recurrent expenditure in the fiscal year, while N187billion was earmarked capital expenditure.
In 2017, the state governor presented a budget of N470billion. The budget was christened, " Golden Jubilee Budget for Accelerated Development."
2017 budget was N163billion higher than that of 2016, as it has a total projected expenditure of N329billion representing 70 per cent, while N141billion was earmarked for recurrent expenditure.
Governor Wike while presenting the budget on 28th December 2017 said priority attention would be given to security of lives and property, infrastructure development, education, health care and empowerment.
There are strong indications that 2019 budget would aim to sustain some of the achievements of Governor Wike as the state enters election year.
Already, the State Government says no part of the state is left out in the massive infrastructure development plan of the Wike administration with over 100 kilometres of roads completed.
Other sectors that have enjoyed huge attention in the past three years include health, education, judiciary, women development, youths and security.