ASUU Strike And 2019 Polls
Recently, the Independent National Electoral Commission (INEC) raised the alarm that the ongoing strike by the Academic Staff Union of Universities would affect its preparations for the 2019 elections.
ASUU, had on November 5, 2018 begun an indefinite strike over the failure of the Federal Government to implement three areas in the Memorandum of Action signed with the union on September 14, 2017.
As was to be expected, the declaration of the indefinite and total strike action has thrown the nation's education system, in particular, the long-suffering and economically traumatised students and their parents into another round of anguish. And more worrisome is the hopeless picture regarding the immediate resolution of the current strike.
Already agitated by the ASUU strike, the National Association of Nigerian Students, (NANS) also, through its National Public Relations Officer, Azeez Adeyemi issued a seven-day ultimatum to the Federal Government to implement t he agreement reached with ASUU failure to which it would embark on nationwide protest.
The Tide frowns at the seeming nonchalant manner the Federal Government is handling the agreement reached with the university teachers. We consider it unconscionable for the government to always renege on its agreements and wait for ASUU to declare a strike before taking steps to honour the terms of the agreement it freely reached with the union.
While we do not subscribe to the use of incessant strike to resolve industrial disputes, we hold that government owe it a responsibility to provide adequate funding for university education and invest in the sector to accelerate national development. Government must change the habit of paying tip service to the education sector in the interest of national growth and development.
We are worried that apart from the fact that most graduates from Nigerian universities are usually degraded to lower classes or at times denied higher education abroad due to the poor standard of our universities, this recent alarm raised by INEC on the possible negative effect of the strike on the preparations for the 2019 general elections calls for grave concern. It is also equally unfortunate that no Nigerian university is ranked amongst the 500 best universities in the world, a situation should ordinarily worry the authorities.
More worrisome is the seeming confirmation that the fears expressed by the opposition that the Buhari-led administration is not interested in the successful conduct of the general elections next year.
We equally think that the deplorable situation of Nigerian universities calls for a holistic review of the entire system in order to develop a comprehensive blueprint that would address the critical challenges associated with the university system.
Also, we do not ascribe to the alleged plan by the federal authorities to introduce a new tuition fee regime in our universities. We believe that available budgetary fund, if properly managed could provide the needed infrastructure that would raise the academic standard of our universities.
On the part of ASUU, we caution that incessant strike is distorting the academic calendar and gradually killing university education in Nigeria. But even more fundamentally, we think that the present state of the nation's economy cannot back ASUU's demands. Therefore, meeting ASUU's immediate demands may not be a realistic solution in the long run.
It is on this premise that The Tide calls on the government, ASUU and other critical stakeholders in the education sector to join hands in the effort to find a lasting solution to what has become a disturbing national challenge and save the nation from further political instability.
There is no gainsaying the fact that the consequences of running battles between the Federal Government and ASUU which had often resulted in prolonged strike by the lecturers over the years, had dealt debilitating blow on our educational development, and has continued to pull our public universities down the ladder of academic ranking in the world.
It is on this note we envisage a quick and amicable resolution of all issues at stake for the collective wellbeing of Nation's education sector and a smooth conduct of the 2019 general elections. No attempt should be made to either rig or mare the elections come next year.

Unemployment: Ngige Got It Wrong!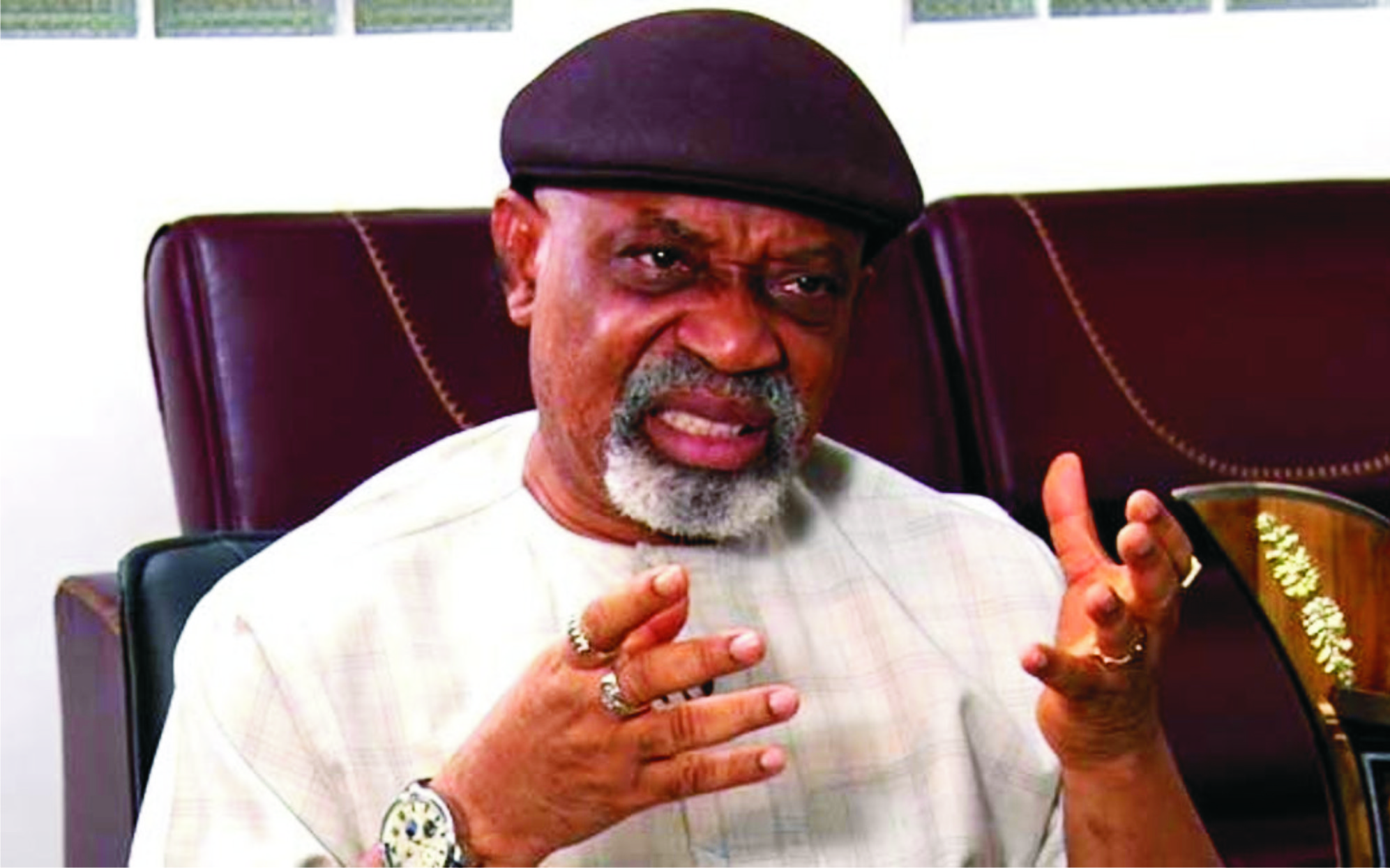 Early this month, precisely on February 10, the Federal Government, in what looked like a conscious admission of failure to create pathways the Nigerian youths can tap into and carve a better future for themselves, advised unemployed graduates, who are seeking government jobs in the white collar sector, to look elsewhere, insisting that there are more sustainable and lucrative ventures outside their focus.
Speaking in Benin City, the Edo State capital, at a Town Hall Meeting on "Popularisation of Blue/Green Collar Jobs among Graduates of Tertiary Institutions in Nigeria", the Minister of Labour and Employment, Dr Chris Ngige, stunned many when he "urged Nigerian youths to invest their talents in other job sectors, as the richest youth of the world aged between 21 and 31 years, are not employees of government but smart entrepreneurs who distinguished themselves in creative skills in various areas".
We agree with the concept of Graduate Employability Enhancement Scheme designed by government "to break the resilience of high unemployment rate in the country" by "urging unemployed graduates, parents, career counselors, and students of tertiary institutions to embrace the profitable opportunities offered by jobs outside government offices".
This is where Ngige and his team in the Ministry of Labour and Employment, and indeed, the Federal Government, got it all wrong! Government cannot shirk its responsibilities to the youth now, not after creating a difficult climate for them to benefit from the system that has made most public sector officials demigods. How can governments explain that for more than two decades, they have refused to lift embargo on employment into the civil service, when every year, tens of thousands of ghost workers are discovered and weeded out of the system, tens of thousands more retire, thousands die and many voluntarily resign without any corresponding reduction in the cost of governance and workers personnel and payroll systems? How can they explain that corruption has made it impossible for young graduates to secure new jobs in public service when government policies have squeezed the private sector such that they can no longer create robust jobs for the youths?
The Federal Government cannot, therefore, organise a town hall meeting just to tell graduates not to waste their energy looking for white collar jobs in government offices, when it has failed to provide the enabling environment, consistent policy direction and friendly legislation to attract private capital and Foreign Direct Investment (FDI) into critical sectors to absorb the army of graduates from the legion of higher institutions in the country. It cannot be mobilising people to think of jobs outside white collar sector when it has not done anything to revive any of its moribund manufacturing industries, agric farms and mills, or has it put any policy in place to ensure that investors who closed shop and left the country due to hostile operating environment or inconsistent policy, return to pull more graduates out of unemployment.
In fact, if the paper rolling mill at Oku Iboku and aluminium smelting company at Ikot Abasi, Ajaokuta and Aladja steel companies, and a host of others in various sectors in Lagos, Ibadan, Enugu, Port Harcourt, Kano, Kaduna, had been revamped and made effectively operational, government would have fulfilled its promise to create 10 million to 25 million new jobs by now. Its desire to pull 100 million out of poverty would have also been realised and economic boom would have set in. And, of course, the spate of insecurity occasioned by reckless killings, kidnappings, cult-related violence, and other criminal activities that undermine peace, security and sustainable development would have abated.
We are aware that white collar workers have shaped the dynamics of Nigerian society over the years. We are also aware that blue collar workers, such as machinists, welders, electricians and construction workers practising their trade in factories and on building sites have found it nearly impossible to operate due to lack of power supply and other harsh conditions that impede economic growth. And, yes, we are aware that both white and blue collar workers are turning to green jobs in developed countries in North America, Europe, Asia and the Pacific, where stable government policies have created the enabling environment for a thriving green sector.
But we are disappointed that government has not made any effort to make green jobs thrive in Nigeria. We say so because for that to happen, government must create the climate for the sector to function effectively by ensuring that academic curricula provide for schools at all levels to teach students courses that produce green collar professionals to drive development. Besides, government must enable legislation to encourage investors to invest in the green sector to open it up for employment of graduates to populate the various job opportunities for sustainable growth.
We reckon that in an era of increasing concerns for the environment, following hostile habits that threaten climate change through greenhouse gas emissions, abuse and degradation, the need for green collar workers, ranging from manual to managerial, dedicated to improving the quality of our environment by reducing waste and pollution, is urgently germane. Indeed, we need professionals and consultants in conservation, environmental services and waste management to provide these services and products. We also need green electricians who install solar panels, plumbers who install solar water heaters, recycling centre/MRF attendants, process managers and collectors, construction workers who build energy-efficient green buildings and wind power farms, construction workers who weatherize buildings to make them more energy efficient, or other workers involved in clean, renewable and sustainable future energy development to grow the economy. It's not likely that participants in the town hall meetings qualify as any of the above.
The Tide agrees that we need qualified graduates to man these jobs that provide better opportunities than jobs in the traditional manufacturing sector as they pay higher wages and offer better career mobility, but Nigerian education system has to incubate this cadre of people to make the future sustainable for the next generation. Green collar workers do not fall from heaven, a well-cultured system produces them. And the Nigerian system today has yet to identify its course of direction. This is our take!

As operators of the power sector mount pressure on the electricity regulatory body to effect the scheduled increase in tariff, electricity consumers across the country have continued to voice out their objection, since news of the planned increase in electricity tariff by the Nigerian Electricity Regulatory Commission (NERC) slated to commence in April, this year broke.
Going by the new tariff approved by NERC, consumers will pay about N1.52 trillion more for power supplied to them this year, but several groups are of the view that this increment should not stand until there is considerable improvement in power supply.
Justifying the new electricity rates, NERC said it considered the actual changes in relevant macroeconomic variables and available generation capacity in approving the tariff, and that the review was to give the Electricity Distribution Companies (DISCOs) cost-efficient tariffs to operate with. It even stated that the review recognised the historical tariff deficits of the DISCOs which affected their bottom line, and developed a framework to manage future revenue shortfalls in the industry, including minimum market remittance requirement.
This will account for differences between cost reflective tariffs and allowed tariffs in the settlement of invoices issued by the Nigerian Bulk Electricity Trading Plc (NBET) and Market Operations (MO) department of the Transmission Company of Nigeria (TCN).
Although NERC seemed to have concluded that the tariff review has come to stay, consumers consider any increase in tariff now as unjust and counter-productive because they have, for too long remained victims of poor power supply and in some cases permanent darkness.
Suffice it to say that the myriads of challenges plaguing the nation's power sector include epileptic power supply with very low voltage, outrageous (estimated) billings and supply of light at awkward times (10pm to 3am) when it is not of much use.
In some areas where the transformers have issues, consumers continue to remain in darkness until they contribute money to get them repaired or replaced. Owners of new houses are expected to buy poles by themselves to be connected to power line. So, why hike electricity tariff?
The Tide notes with displeasure that DISCOs in most parts of the country have failed to show capacity and ability to deliver efficient and stable power supply and so in no way better than the comatose defunct Power Holding Company of Nigeria (PHCN) which they replaced in 2015 during the privatisation of the power sector.
Also, despite the marching order by the Federal Government to DISCOs to meter customers, nothing concrete has been done in this regard. Instead, there are reports in some parts of the country that instead of hastening the issuance of meters to those who don't have, those issued prepaid metres are ordered to return same. Therefore, to tolerate any increase in tariff with such inefficiency would be to reward poor performance.
Equally, we make bold to say that the woes of our electricity supply should be blamed on the Federal Government's refusal to demonstrate the political will to step on big toes and sanitise the power sector by reviewing the privatisation exercise embarked upon by the previous administration.
Government should compel the DISCOs to install prepaid meters for consumers and ensure optimal and consistent supply before any tariff increase. So, solving the electricity problem in Nigeria has to be holistic, requiring all hands to be on deck – the generating companies, distributing companies, transmitting company, consumers, as well as NERC.
Because the vast majority of electricity consumers are yet to be metered and are charged based on estimated billing, we believe that any increase in tariff now cannot guarantee fairness and transparency on the side of the DISCOs but instead to further rip-off consumers due to wrong estimates.
It is gratifying that the House of Representatives Committee on Power in response to public outcry recently, ordered NERC to suspend any tariff increase for now.
For all these reasons, we insist that NERC should review the services rendered by DISCOs and revoke the licences of the incompetent ones. Also, we suggest, as a way forward, that the issue of electricity be removed from the exclusive legislative list so as to allow states to develop and own power projects.
We support gradual, reasonable, cost-reflective tariff commensurate with service rendered, as increase in tariff should not be a channel by which inefficiency in the system is transferred to the consumers. We say no to any increase in tariff. Nigerians cannot continue to reward DISCOs, unless the Federal Government wants to honour them for their inefficiencies. New tariffs can only be justified if services are improved.

FG's Proposed Mechanised Farming
When the Minister of Agriculture and Rural Development, Alhaji Mohammad Nanono, penultimate week, said that the Federal Government will begin an agricultural mechanisation programme in 632 out of 776 local government areas in the country, many cynics simply dismissed the initiative as another political gimmick that may not stand the test of time.
Some critics contend that, like other agricultural and rural development schemes in the past: Operation Feed the Nation (OFN) of General Olusegun Obasanjo's regime, Shehu Shagari's Green Revolution, General Ibrahim Babangida's Directorate of Food, Roads, and Rural Infrastructure (DFRRI), Rivers Basin Development Authorities, among others, the proposed mechanised farming may also end up the same way. Good reasoning!
Sadly, Nigeria's efforts at boosting the agricultural and rural development sector had been bedeviled by policy somersaults and inconsistency in policy implementation and this had been the bane of the nation's overall development, especially in the post-civil war Nigeria.
However, The Tide is consoled by the new mechanised farming initiative under President Muhammadu Buhari's administration.
Though the minister fell short of naming the 632 local government areas that will benefit, we strongly believe that, as he rightly said, the scheme would ensure that Nigeria achieves food security, job creation and economic growth in the near future.
"The initiative is expected to involve a full technology transfer package that would cover all stages, from agricultural production to industrial processing and marketing. It will also fully equip each of the LGAs with administration and information technology workshop", the minister affirmed.
He added: "Each LGA will have service centres and each centre will have brand new tractor fully equipped with admin and IT workshop and also stores for seeds, fertilizer and excess produce and farmers will be linked to processing industries".
Assuring that government will guarantee the mechanisation process and services, the minister enjoined individuals and groups to come with proposals on how to manage the service centres that will provide jobs and boost food production and food security across the country.
While we endorse the initiative, we implore the Federal Government to hit the ground running by ensuring that all critical stakeholders are involved in ensuring that the scheme takes off smoothly and is given the desired impetus in its implementation.
Most experts believe that the problem with Nigeria is not about policy formulation but implementation. Nigeria's economy in the past five decades has largely depended on oil and gas, with little or no deliberate efforts made to diversify the economic base.
Over reliance on the hydro carbon industry has been a major challenge of our national development and well-meaning Nigerians and friends of Nigeria think that agriculture and agro-like industries remain the best option to follow.
It will not only provide employment for the teeming unemployed citizens but go a long way in solving the security challenge currently staring Nigeria in the face.
The Tide thinks that agriculture has the capacity for turning the nation's economy around and lifting the country that is virtually stagnated in many fronts; infrastructural deficit, poor education and health facilities, insecurity, poverty, among others.
Perhaps, many will think that mechanised farming in 623 local government areas may be too ambitious for a government that is battling with so much challenges; terrorism, banditry, unemployment, militancy, poverty rate, among others, all that is required is the political will and commitment to weather the storm.
Adequate funding simply is the right way to go and government must, as a matter of expediency, map out a clear-cut road map to achieve the desired goal.
It will not also be out of place to involve the Organised Private-Sector (OPS) through Public Private Partnership (PPP) because in civilised climes such initiatives are usually private-sector driven. This programme must not be politicised if it is actually intended to see the light of day.