NMA Seeks Improved Doctors, Nurses' Relationship
The Nigeria Medical Association (NMA) has called for the reintroduction of the old good working relationship that existed between medical practitioners and nurses to promote better working relations in the healthcare sector.
The NMA President, Dr Francis Faduyile, made the appeal on Monday when he visited the National Association of Nigerian Nurses and Midwives (NANNM) in Abuja.
Faduyile said that the NMA was prepared for better relation with the nurses and always committed to the restoration of the lost glory between health workers, especially the doctors and nurses relationship.
He said that such collaboration would guarantee better working relationship, quality healthcare service for patients and better working environment.
"It is true that nurses have not had the best of times over the years in the health sector. And that has pushed them to distance themselves from the doctors.
"By this visit, NMA is calling on nurses to return to the lost relationship that has been progressive and beneficial to both of us.
"It is important we ensure harmony within the health sector and better working environment," he said.
According to him, everybody in the medical profession must key into the new spirit of togetherness and Nigerians must know that health workers are united.
Responding, Mr Abdrafiu Adeniji, the President of NANNM, commended NMA for the visit, while also acknowledging that without harmonious and cordial relationship, the healthcare environment will not develop.
"We should be able to do it in a way that will not hamper the benefit of our patients.
"We are committed to team action and quality healthcare services to the healthcare consumers that we are employed to serve," he said.
According to him, "we take sincere commitment of each and every one of us, we believe the health sector in Nigeria will be better''.
Also speaking, Mr Thomas Shettima, the General Secretary of NANNM, said the objective of close collaboration would ensure that patients receive the best service since both nurses and doctors are patients centred.
"We have understood that conflict is not taking us anywhere, but if we work together the sky is our limit," Shettima said.
Why Apollo Hospital of Delhi is the most recommended hospital?
Established in the year 1995 in Indraprashtha, Delhi; Apollo hospital finds its name among the best hospitals in India. The hospital is a part of the Apollo group of hospitals, which is India's largest healthcare chain. Apollo is the second largest hospital present in Delhi.
The hospital is built over 15 acres of land and still has 600,000 square feet of extendable built-up area. The hospital provides 695 beds with an expandable capacity of up to 1,000 beds. The hospital is well-equipped with modern technology and strives to provide the best medical assistance to its patients.
Apollo hospital, Delhi has more than 50 specializations under one roof; some of which are-
Spine
Orthopedics
Cancer
Nephrology
Urology
Bariatric surgery
Colorectal Surgery
Cancer
Gastroenterology
Catering to the multiple fields, the hospital houses a panel of more than 150 specialists who are well qualified and experienced in their respective specializations. They are adept in performing various medical procedures, a few of which are:
Cancer treatment
Knee replacement
Minimally invasive cardiac surgery
Cosmetic & Maxillofacial Surgery
Hand microsurgery
Bone marrow transplants
Hip Arthroscopy
Trans-oral robotic surgery
Optical coherence tomography
Infertility care
The hospital staff strives to ensure that the patients are catered to with utmost care and comfort. Thus, the hospital is equipped with state- of the art amenities including:
Diagnostics labs
Operation Theater
Canteens
OPD
X-ray labs
Ambulance service
Patient counseling
Growth & Development Evaluation/ Management
What makes Apollo Hospital, Delhi the most appropriate option to get treatment?
Apollo hospital in Delhi is one of the best hospitals owing to its state-of-the-art facilities and accreditations. With more than 50 specialties, experienced doctors, and the highest number of ICU beds as compared to other private hospitals; Apollo hospital is one of the best diagnostic and treatment centers in Delhi.
Apollo has the largest sleep lab in Asia as well as the largest number of dialysis units in India.
6 beds are only dedicated to the bone marrow transplant unit with strict infection control practices.
Doctors at Apollo make use of the most cutting edge medical technology such as PET-CT, PET-MR, BrainLab Navigation System, Tilting MRI, Hyperbaric Chamber, 3- Tesla MRI, 128 Slice CT Scanner, DSA lab, portable CT scanner, and Vinci robotic surgery system to provide the most advanced care for its patients.
Records:
The hospital holds the record of-
Performing first liver transplant in India in the year 1998
It is known to have one of the busiest liver and kidney transplant units in the country
The hospital is known for successfully performing a split liver transplant in two adult patients- first in Delhi and second in India.
Awards and accredits:
It was ranked 6th best private hospital in India for Cardiology by the WEEK-A C Nielsen, Best Hospital Survey 2013
It won the FICCI Healthcare Excellence Awards for its operational excellence in the year 2013. The award was given for the project 'Project Ulcers- Zero Tolerance'
It was ranked the 8th best private hospital in India for Diabetology by the WEEK-A C Nielsen, Best Hospital Survey 2013
It was ranked as the 4th best private hospital in India for Pediatrics by the WEEK-A C Nielsen, Best Hospital Survey 2013.
It was ranked the 5th best private hospital in India for Neurology Pediatrics by the WEEK-A C Nielsen, Best Hospital Survey 2013.
The hospital was JCI re-accredited for the fourth time consecutively in the year 2011.
The doctors at Indraprastha Apollo Hospital are experienced and skilled in their respective specializations. The doctors are supported by a team of skilled nurses and well-trained paramedics staff making it one of the most recommended hospitals in Delhi.
How to Get Rid Of Rashes Or Itching?
Itchy rashes torment you when least expected. What seems like innocent, mild rashes may soon give rise to a vicious itch-scratch-itch cycle. Rashes may appear anywhere on your body. It all starts with abnormal discolouration of the affected region on the skin, accompanied by a change in its texture. Some rashes are flat while others may appear as bumpy red spots.A condition in which you develop red, bumpy rashes on your body, is commonly known as dermatitis. Itchiness and development of rashes are termed as pruritus.
Rashes are generally non-contagious and affect adults and children alike. Certain weather conditions and immune response also contribute to the development of rashes.[1] Eczema is the most common type of rashes, followed by other kinds like granuloma annulare, pityriasisrosea and lichen planus. In extreme case, rashes may develop into puss,and the infection may worsen
Since there may be several underlying reasons for rashes or itching, getting to the root cause is important, and for that one can book a doctor online at docprime to get an expert's opinion. Topical application of anti-pruritic ointments coupled with antifungal and antibacterial drugs can provide relief from rashes and itching.[2]Surfaz-Sn cream is effective in the healing of rashes and itching when applied on affected area as directed by your dermatologist.
Why Do Rashes and Itching Occur?
Rashes and itching often go together.[3] While most rashes are pruritic, continuous itching can also lead to the appearance of rashes.
Rashes appear when your skin is inflamed. Inflammation is an immune response to allergens, antigens and pathogens.
Rashes Due to Immune Misfire
Rashes which are red, scaly and itchy might be due to Eczema. Atopic Eczema results from a hypersensitive immune system. Common triggers are skin irritants (found in skin products or fabrics), stress, certain proteins and other allergens.
Dermatitis causes red, dry, flaky and itchy rashes which often become infected.[4] Physical contact with irritants, hives due to hypersensitivity and extremely dry weather can cause atopic and nummular dermatitis respectively while stasis dermatitis stems from poor blood circulation to extremities.
Red, circular and raised rashes could be Granuloma annulare.
An autoimmune disorder, triggered by certain medications, Hepatitis B or C could lead to the development of flat, shiny and reddish-purple bumps. These are called Lichen Planus.
Pityriasisrosea refers to large, scaly and pinkish rashes associated with itching. Later, they develop into red,inflamed regions due to constant itching.
Psoriasis and Systemic Lupus Erythematosus are examples of autoimmune disorders resulting in rashes
Rashes Due to Pathogens
Ringworm infection is caused by a fungus, which is characterised by circular, itchy rashes in groins, the area between fingers and arms.Seborrheic dermatitis is caused due to fungal infection on the scalp.Surfaz-Sn cream can be used to treat fungal skin infections.
Impetigo is an example of highly contagious bacterial infection leading to puss filled blisters on face, arms and legs.
Rashes due to chicken pox and Hand Foot and Mouth diseases are attributed to viral infection.
The sensation of itching is primarily mediated by immune molecules like histamine. Other molecules triggering itching are proteases, cytokines and neuropeptides.[5]
Getting Rid ofrashes and Itching
For mild itching, you can opt for some home remedies for symptomatic relief. These can help you soothe your itchy skin and prevent reinfection caused by constant itching.
Dryness can trigger itchy skin rashes. Regular moisturization using non-scented and mild oils and lotions can ease the itchiness. Cold compress also helps to curb skin inflammation by cooling down the affected area. It can be used whenever required. Humidity and sweat can also aggravate rashes. Wearing lightweight clothes and staying in a cool setting can tone down itchiness.
Calamine lotion is effective in treating rashes due to hives by cooling down the inflamed skin. Oatmeal bath and baking soda bath can also cool off your body and reduce the intensity of rashes.
Most rashes resolve after topical application of corticosteroid ointments and antifungal or antibacterial ointments.An ointment which has anti-microbial, as well as anti-histamine action, is the best way for symptomatic treatment of itchy rashes.
Surfaz-Sn cream use is highly recommended to battle itchy rashes. Manufactured by Franco Indian Pharmaceuticals Pvt. Ltd, Surfaz-Sn cream composition is of Beclomethasone Topical (0.025%), Clotrimazole Topical (1%) and Neomycin Topical (0.5%).
Surfaz-Sn cream mechanism of action stems from the combination of anti-microbial and corticosteroid composition. Beclomethasone is a steroid that inhibits the production and migration of leucocytes, prostaglandins and other mediators of inflammatory reaction. It is useful in providing symptomatic relief from itchy rashes. Clotrimazole prevents fungal growth by interfering in their cell wall production. Bacterial growth is inhibited by antibiotic Neomycin which acts by blocking protein synthesis necessary for the survival of bacteria.
Other variants of Surfaz-Sn cream are Surfaz Dusting powder, Surfaz cream, Surfaz Topical Solution, Surfaz-O tablet and Surfaz-B cream.
Surfaz-Sn dosage and duration of treatment should be followed as directed by your physician. Surfaz-Sn side effects, although rare, shouldn't be ignored if they occur. Your doctor should be notified about any such unwanted reactions like itchiness of the skin, dry and cracked skin, acne, infections, discolouration of the skin and increased hair growth.
Surfaz-Sn contraindications include allergy to any of its components, systemic fungal infection and any other active infection. Avoiding contact with eyes, nose and mouth, washings hands after every application and using a thin layer of the cream are some Surfaz-Sn precautions that should be followed. Surfaz-Sn cream interaction has been reported with other topical drugs like Amphotericin B, Nystatin and Flucytosine.
Persistent rashes with chronic inflammation might require a more detailed investigation and treatment, apart from the topical application of ointments.
NMA Tasks Ayade On CONMESS For Doctors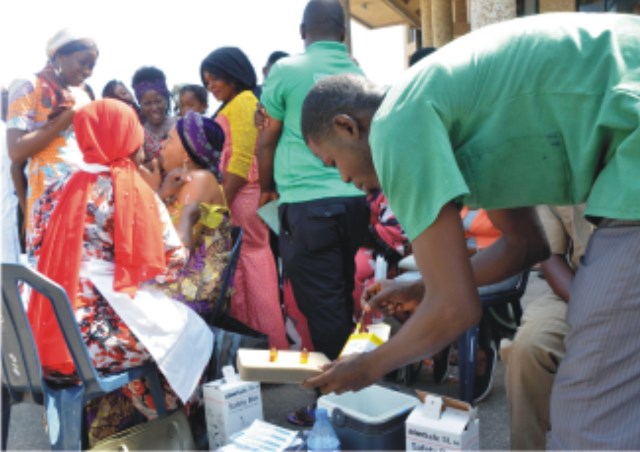 The Cross River State Chapter of Nigerian Medical Association (NMA) has appealed to Governor Ben Ayade to approve 100 per cent Consolidated Medical Salary Structure (CONMESS) for doctors in the state.
This, the association  said, was in line with other states in South South.
The association made the appeal in a communiqué issued on Tuesday in Calabar at the end of the South South Zonal Executive Council Meeting of the association.
The communiqué, which was signed by Dr Agam Ayuk, NMA Chairman, South South Zone, and Dr Ezoke Epoke, NMA Secretary, South South Zone, said that such approval would help to retain skilled workers in the state civil service.
The association also appealed for universal application of remuneration for all doctors in federal and states hospitals to improve workforce.
"NMA South South zone appeals to Governor Ayade to approve 100 per cent CONMESS for Cross River doctors in line with other states in the South South.
"The zone also calls for the development of areas of interest/specialties by both federal and state hospitals in the South South to guarantee quality training and healthcare delivery.
"On budgeting, the zone calls for improved budgetary funding and release to the health sector at least 15 per cent of total budget in accordance with the Abuja Declaration of 2001 by African Heads of States.
"As an association, we are also calling for renewed efforts by relevant authorities to prevent the re-occurrence of flooding incidents in the South South and other regions.
"The association urged government at all levels on early preparation, increased surveillance and public enlightenment /awareness, to control the spread of infectious diseases and provision of vaccines for vaccine preventable diseases."