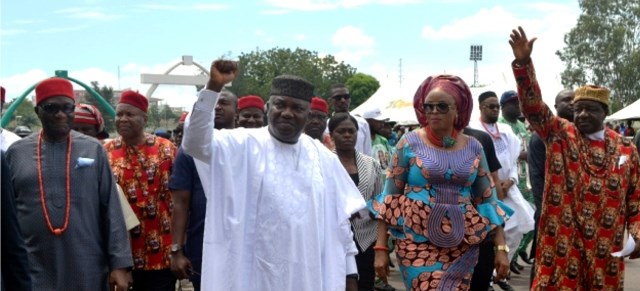 Natives of Ohafia in Abia State, resident in Rivers State have said that they are investing a N510 million project there because the state is safe for business and living.
The indigenes, who converged under the aegis of Ohafia Improvement Union Incorporated, further said that they believed in national integration because of peaceful coexistence they have enjoyed in Rivers.
Chairman of the Union, Chief Stone Kalu, while addressing newsmen at the weekend, ahead of their cultural festival in state, said Ohafia people residing in Rivers, have thrived outstandingly in their respective field of endeavours.
Stone said the proposed project, when completed, would be an income-generating investment not only for Ohafia people, but, also Rivers, to show that the state is safe for business.
He further said that they want to showcase the cultural potentials of their (Ohafia) people in the state and use it to unite youths, keep them out of crime and encourage them to believe in their natural gifts.
The chairman said "There is need for national integrity. It is a reassurance that we are part of Rivers State. The project is a source of income. It will attract investment in the state showing how secure the state is.
"This custom, which was acceptable, has disappeared with the advent of Christianity and civilization. However, this aspect of our history, in addition to our rich culture, still remains the people's sense of identity till today. The Ohafia people are kind, hospitable to strangers and very religious.
"Culture is a vital part of Ohafians as a people. Youths are becoming unaware of cultural practices due to lack of cultural activities and the importance attached is also eroding them. Parents who have been away from home of origin.
"We have organized the hosting of Ohafia Udumaeze cultural day in Port Harcourt to remind us of where we come from. We also aim to use this medium to showcase the rich culture of Ohafia to non-Ohafia indigenes residing in the Niger Delta region.
"By engaging the young people in culture, it will help to engage the youths positively. Through lectures, activities and sensitization of youths will be encouraged to embrace culture not cultism. It will rekindle our cultural heritage
"Showcasing Ohafia culture in Rivers State will help to strengthen interstate relationship in the area of culture. Cultural values will be appreciated once again. Culture is a vehicle of National integration and harmony. It is also the vehicle of national basics for peace.
"Rivers State is a conducive place to live and we appreciate the warmness around us. Erecting a befitting edifice called Ohafia Udumaeze Civic Centre here in Rivers State, is our ultimate goal and another way of reassuring ourselves that the days of wars are over and the coexistence of Rivers and people of Ohafia is now paramount", Stone explained.
Meanwhile, ahead of 2019 governorship election in the State, a prominent traditional Ruler in Obio/ Akpor Local Government Area, Eze Worlu Wodo,Eze Oha Apara Kingdom has given reasons why Governor Nyesom Wike should deserve a second term in office as governor.
The monarch who is strongly rooting for Wike's reelection bid, described the governor as a silent achiever to be trusted with the state resources without doubt.
The Ikwerre first class traditional ruler who commended the governor for his visionary role and leadership style said Wike has transformed Rivers State with people- oriented projects capable of transforming lives across the communities in the state.
The Monarch who spoke to The Tide last Saturday at his palace located in Rumuigbo, Port Harcourt, noted that Governor Wike deserves a second term in office as he had placed the state higher before the global community in areas of infrastructural development.
Describing Wike as the people's Governor, Eze Wodo said Wike within his one hundred days in office completed and commissioned the Iriebe Housing Estate, carried out operation zero portholes and built health centres across the communities in the state.
According to the monarch, Wike's achievements speak volumes for the people. He added that the governor has massively embarked on internal road construction, improved education in the state and built jetties in some parts of the state to boost water transportation and make lives meaningful.
He also explained that Governor t Wike as a serving Minister, built Amajiri schools in communities in Northern States and renovated federal unity schools in the country.
On security, the royal father also gave the governor thumps up for improving security of lives and property across the state, even as he lauded him for hosting the Peoples Democratic Party (PDP) presidential primaries in the state and the National Festival of Arts and Culture in the state capital
According to him," it is childish for anybody to say that Governor Nyesom Wike has not performed in his three years in office as governor, nobody would say Wike does not deserve second term in office come 2019".
The governor, Eze Wodo said is putting smiles on the faces of market women in the state, even as he is rebuilding the Mile One ultra-modern market complex to a world class and the Fruit Garden Market Complex recently gutted by fire.