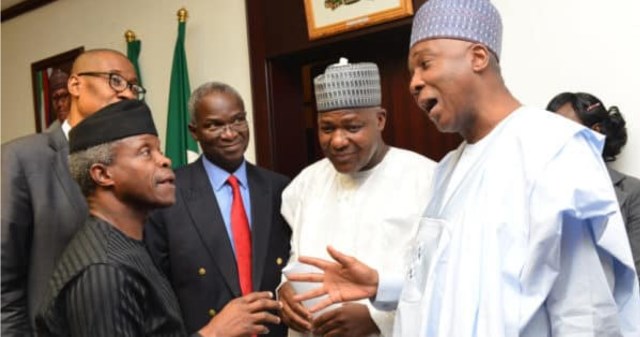 In 2017, Nigeria jumped 24 places to 145th position on the World Bank's Ease of Doing Business ranking.
While this points to some strategic successes, the country remains less attractive to investors than higher ranked African peers, such as Tanzania, Kenya, Ghana, and South Africa.
The key challenges holding Nigeria back are its infrastructural deficit, high interest rates and social unrest. A more favorable business environment is likely to entice the startup of new businesses and the expansion of existing ones across different sectors of the economy.
This, in turn, would boost the output of these sectors and the economy's total output.
Interestingly, growth in the economy, driven by a better business operating environment, is likely to further entice new businesses as the confidence of investors and business owners are usually strengthened by a thriving economy. According to the World Bank, Nigeria reduced the bureaucracy to register new businesses. Starting a business is now faster through the electronic approval of registration documents.
Nigeria also increased the transparency of dealing with construction/permits by publishing all relevant regulations, fee schedules and pre-application requirements online.
While these measures are welcome, other inherent deterrents to successful business operations still exist.
The first challenge is the infrastructural deficit, specifically in road transportation and power supply.
According to the Minister of Budget and National Planning, Senator Udo Udoma, the country currently spends 0.5 per cent of its GDP on infrastructure, well below the required 3.0-5.0 per cent needed to meet its infrastructure requirements.
Road transportation, the most common form of transportation in Nigeria, is particularly bad and has a significant negative effect on the cost of distribution both in time and wear and tear on distribution assets (e.g. trucks).
Out of the 195,000 kilometers of road in the country, only about 31% is tarred. Countries such as Singapore, Denmark and the UK, which have 100% of their roads tarred, are ranked 2nd, 3rd and 7th respectively with the world's best operating environment. It is also noteworthy that of the tarred roads in Nigeria, a large proportion of it is in very poor condition.
The infrastructure deficit in the power sector is equally challenging. Given the country's total population of 180 million, the energy need is estimated at 98,000MW per day. However, Nigeria only generates an average of 3,500MW daily, creating a deficit of 94,500MW. The low power supply, coupled with a large population, makes electricity costly. This translates to a higher operating cost for businesses as electricity is an integral part of total operating expenses.
Presently, Nigeria is ranked 172nd among 190 economies in the ease of accessing electricity. The ranking measures the time and cost to get connected to the electricity grid, as well as the reliability of the electricity supply.
In addition to infrastructure deficiencies, high interest rates and credit inaccessibility have been major deterrents to business growth in Nigeria. Data show that Nigeria's commercial banks charge the 26th highest interest rates on loans as compared to 186 other economies. A low interest rate environment supports private individuals in raising capital to start their businesses, as repayment is more manageable. In contrast, high interest rates signify higher finance costs and lower profit margins for new businesses.
Another deterrent to a healthy business climate is social unrest within Nigeria. There have been several instances where citizens and expatriates with businesses in the country have been taken hostage for huge ransoms while parts of the country also experience terrorists attacks. These unpleasant conditions contribute to unease in the business community and a reluctance to invest in new activities or expand operations.
Improvement in infrastructure is key to building an enabling business environment. China, which leads the world in infrastructure investment, has a business operating environment much more favourable than Nigeria, ranking 75 positions higher. Infrastructural development, including roads and rails, electricity and telecommunications have been a top priority for the Chinese government.
Between 2001 and 2004, investment in rural roads grew by 51per cent per annum. In recent years, China has drawn up ambitious plans, pledging to significantly develop the entire nation's urban infrastructure up to the level of a middle-income country.
Nigeria's budgetary spending on infrastructure also needs to be raised significantly to improve the business environment. In sub-Saharan Africa, significant lessons can be drawn from Rwanda, the economy with the most favourable operating environment in the region. Rwanda has rapidly improved on the World Bank's Ease of Doing Business Ranking. The country, which ranked 150th in 2008, has risen to the 41st position in 2017.
Between these periods, the economy has expanded by about 72.4%. This achievement is connected to the Rwandan government's constant dialogue with the private sector to determine its perspectives and needs. This has given the government a clear understanding of the specific needs and challenges entrepreneurs face.
Businesses in Nigeria could equally benefit from such a strategy. The importance of a business-friendly environment cannot be overemphasized in Nigeria's economic expansion pursuit. Nigeria has a long way to go to build the competitiveness of its business operating environment. If the deficiencies are not addressed, they will continue to impede investments and growth in key sectors of the economy, threatening the government's economic diversification efforts.
The good news is Nigeria made the list of the top 10 improvers on the Ease of Doing Business ranking in 2016/17, despite its relatively low position. This result needs to be consolidated and improved upon to ensure that such improvement translates to growth.
Olowu is a public affairs analyst in PH.