Illegal Bunkering: Navy Deploys 14 Gunboats To Rivers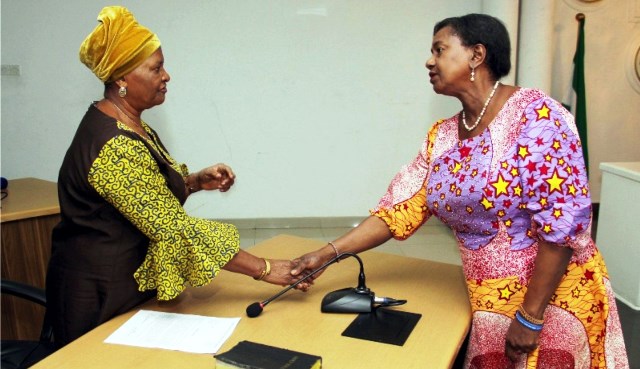 As part of efforts aimed at sanitising the creeks and waterways in the Niger Delta, the Nigerian Navy Ship, NNS Pathfinder, says it has taken delivery of 14 gunboats from its headquarters.
This is as the Navy denied allegations of any involvement in illegal oil bunkering in Rivers State, saying it was rather committed to ending the illicit activity in the Niger Delta
Commander, Nigerian Navy Ship (NNS), Pathfinder, Commodore Samson Bura, who stated this while addressing newsmen at its base in Port Harcourt, Rivers State, said the gunboats would enhance policing of the creeks and waterways in the state and other parts of the Niger Delta.
Bura was reacting to a recent allegation by an online newspaper that the Navy had closed its eyes to illegal oil bunkering in Bille community, Degema Local Government Area of Rivers State, despite having an operational base there.
Bura explained that the Navy headquartres consistently provided the base with the needed platforms to operate effectively in the Niger Delta, but said its operatives couldnot be everywhere in the creeks and waterways.
"The Navy cannot be deployed everywhere in the waterways here. I earlier mentioned to you that within Port Harcourt alone, there are over three thousand creeks and adjoining waterways. So we cannot be everywhere.
"We have our deployments in some strategic areas and other sister security services have their own deployment. So it is a joint effort. So, to cover the entire place we require a lot of resources.
"The Naval headquaters has just given us additional 14 gun boats in addition to what we have previously and that is a massive addition to our resources," the Commander, NNS Pathfinder said.
He also said the operation Delta Safe had contributed equipment and personnel to stamp out criminal elements in the waterways.
Dennis Naku
Edo, BoI Unveil Fund For 50,000 Entrepreneurs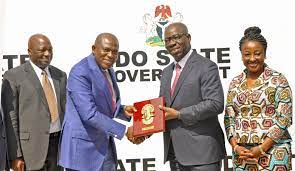 The Edo State Government and the Bank of Industry (BoI), have unveiled a Micro, Small and Medium Enterprise (MSME) development fund worth N2 billion to support entrepreneurs in the state.
The fund was launched during a citizens' engagement session organised by the Edo State Skills Development Agency, also known as Edo Jobs, held at the Government House in Benin City.
Speaking at the event, Governor Godwin Obaseki said, "The Bank of Industry (BoI), which is a reliable partner, is here today to launch the MSME fund. The initial amount is N2 billion. Edo State Government provided N1 billion, while BoI provided the other N1 billion, making it N2 billion, with an attractive interest rate."
"In addition, we have a N165 million fund, as part of the first tranche from the Edo State Government. It will be made available to small businesses, which are currently domiciled in our production hub, to support and encourage them to grow their businesses.
"BoI has the capacity and resources to support this kind of programme. From this N2 billion fund, we estimate that we can impact as many as 50,000 businesses in Edo State. We have other facilities with other institutions like the Central Bank of Nigeria (CBN). This is a start-up fund, as we expect it to continue to grow: If you start with N50,000, now and when you do well tomorrow in your business, you will need N200,000.
Borrowing is part of business, provided you continue to grow," the governor stated.
The Governor assured that despite the Covid-19 pandemic, his administration remained committed to improving the livelihoods of the people and creating opportunities for the youths to thrive.
He stated: "We have continued to create opportunities for Edo youths as our administration is open, transparent and competent in all we do. We urge Edo people to trust us, as all the opportunities that we present are real, and life-transforming for Edo people."
On his part, Managing Director/Chief Executive Officer, BoI, Mr. Olukayode Pitan, said that "in a quest to grow and develop MSME businesses in the country, the bank has resolved to continue to collaborate with existing enterprises, as well as reputable local and international partners.
"This MSME fund is aimed at providing business loans to enterprises located within the state, while the second fund is the N165 million Edo Production Hub Fund, financed by the Edo State Government. The Edo Production Hub Fund is managed by the BOI and is to support businesses located within the state-owned production hub."
Later, the governor and his team, as well as his guests were also taken on a guided tour of the Edo Production Hub. They also commissioned the new Bank of Industry building in Benin City.
Hausa Traders, Fulani Herdsmen Clash In Delta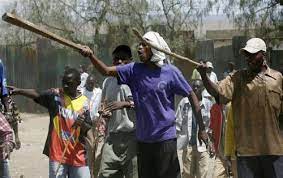 Uneasy calm has engulfed residents of Sapele, Sapele Local Government Area of Delta State as Hausa traders and Fulani herders in the area recently engaged in a bloody clash at the popular Hausa Market along Benin-Warri road, Amukpe.
Witnesses said that no fewer than 10 persons sustained various degrees of injuries in the ensuing pandemonium and were rushed to different hospitals in the area.
Some wooden shops at the market were also destroyed in the clash, which resulted in a massive gridlock, with many motorists hurriedly abandoning their vehicles by the roadside and fleeing for safety.
It was gathered that the two warring groups started engaging in a superiority battle last Sunday night after a Hausa boy from one of the Northern states was reportedly stabbed by a Fulani herder in the bush, and he rushed home with injuries.
Angered by the stabbing, the Hausas in the market, especially those of Nasarawa origin, were said to have hurriedly mobilised and attacked the Fulani herdsmen settlements in the bush.
But the Fulanis reportedly fought back, allegedly with dangerous weapons, a development which resulted in the battle that got even people running for their lives.
Meanwhile, Police operatives from the Sapele Police Station, led by CSP Harrison Nwaboisi, have waded into the incident by mobilising security to strategic locations with a view to dousing the tension and preventing further damage.
Commenting on the incident, a trader at the market, Ibrahim Umoru, told journalists that the crisis erupted after an Hausa boy was stabbed by a Fulani man because he was allegedly found around their camp.
"Maybe he (Fulani man) thought the boy came to steal from them. He did not ask why he (the boy) was there. The matter came to us this morning and we can't just sit there and watch them attack us every time. We want to tell them that we are not fools," the Hausa trader stated.
A Fulani herdsman who spoke with newsmen on the condition of anonymity blamed the Hausas for the clash, but did not elaborate.
The acting Police Public Relations Officer, DSP Edafe Bright, could not be reached for comment on the incident as at the time of filing this report.
PANDEF, HOSTCOM, Others Berate Kyari
Pan Niger Delta Forum (PANDEF); Host Communities of Nigeria (HOSTCOM), and other stakeholders of Niger Delta, recently, disagreed with Group Managing Director of Nigerian National Petroleum Corporation (NNPC), Mr Kele Kyari, over his claim that three per cent for Host Communities Trust Fund was higher than 30 per cent for exploration on Frontier Basin in the new Petroleum Industry Act (PIA).
PANDEF's National Publicity Secretary, Ken Robinson, said: "The statement by Mr Kyari, the Group Managing Director of NNPC, that the three per cent provision for the Host Communities Development Trust in the Petroleum Industry Act is higher than the 30 per cent allocation for Frontier Exploration, is absurd and presumptuous.
According to PANDEF, "How can anyone make such an irrational comparison? It is adding insult to injury, to say the least.
"Oil and gas host communities in Niger Delta bear the brunt of the industry operations. With colossal adverse effects on the region's hitherto luxurious ecosystem; the indigenous people's means of livelihood have been grossly degraded, with little, if any, improvement in their standard of living.
"And so, it is awful for anyone to compare, for any reason, the paltry three per cent provision for the Host Communities Trust Fund to the humongous 30 per cent allocation for the nebulous Frontier Exploration Fund. It is baseless and makes no sense.
"Kyari's expression reflects the uncouth contempt and injustice being carried out against Niger Delta. The nation cannot continue in this trajectory."
National President, HOSTCOM, Chief Benjamin-Style Tamaranebi, who reacted to the controversy, said: "We keep hearing from Minister of State (Petroleum) and GMD, NNPC, that 30 per cent NNPC profit is lesser than three per cent Host Communities' operating cost.
"GMD Kyari Mele is entitled to his opinion because we are not privileged to what is happening in the corporation and it is like a cook, who went out to the market to get foodstuff and prepare a meal for guests, the guests only know what was placed before them.
Pere (traditional ruler) of Seimbiri Kingdom in Delta State and former national chairman, Traditional Rulers of Oil Minerals Producing Communities of Nigeria, TROMPCON, Charles Ayemi-Botu, said: "That is arrant nonsense. Kyari should go and tell that to the marines or to Musa. By the way, what is the rationale in making such arrogant statement? No person in his true sense of reason will make such a ridiculous, unguarded and blasphemous statement.
"He should hide his head in shame, for the opportunity in becoming the Group Managing Director of NNPC without knowing the difference between three per cent and 30 per cent. He may best be described as a round peg in a square hole. We are in government of nepotism and winner takes all syndrome.
"Kyari did not expatiate on the details that informed such unguarded, erratic and stupid statement. Host communities are requesting nothing less than 10 per cent allocation to assuage the age long ecological degradation/devastation, environmental hazards, pollution of our only source of livelihood, our ecosystem has been totally destroyed, acid rains as well as the depletion of the ozone layers bring diseases, culminating in infant mortality/premature death, etc."
An indigene of oil and gas rich, but neglected Oluasiri clan in Nembe LGA of Bayelsa, Iniruo Wills, said: "That is an utterly irrelevant comparison. It is a mechanical attempt at diverting attention from the gross injustice of treating communities as a nuisance factor.
"The real question is how does three per cent of mere operational expenses compare with the 10 per cent equity originally proposed at the beginning of the PIB journey or with the 10 per cent of profits that it was first watered down to by then President Jonathan and oil minister, Diezani Allison-Madueke, before Bukola Saraki's National Assembly later cannibalised it down to 2.5 per cent of profits, setting the stage for the current crop of executives and legislators to do this final havoc".
Coordinator, Niger Delta Peace Coalition, Zik Gbemre, said: "The comparison is immaterial, a meaningful distraction. It is extreme corruption for government to fund oil and gas prospecting. That is the reality Kyari would not mention".
National president, Vanguard for Transparent Leadership and Accountability (VATLAD), Mr Emmanuel Igbini, declared: "From my deep knowledge of the Nigerian upstream petroleum sector, I know that data and figures thrown at Nigerians by the International Oil Companies, IOCs, are not credible at all."
Minority rights activist, Eric Omare, said: "I do not have the statistics as per the total yearly operational cost of oil operations in Nigeria and the NNPC yearly profit on oil. However, the key point in the GMD's comment, which is correct is that the criteria for arriving at the Host Communities Trust Fund and the Frontier Areas Fund are not same".
John Okodi-Iyah, an engineering consultant in Akwa Ibom State, said the NNPC boss was economical with the truth.
"They can deceive some of the people sometime or all the time, but not all the people, all the time," he said.