APC Primaries: Buhari Picks Hole In Oshiomhole's Impunity
Wife of the President, Mrs. Aisha Buhari, on Sunday faulted the manner in which some of the primaries of the ruling All Progressives Congress was conducted.
She particularly took a swipe at the party's National Chairman, Adams Oshiomhole, who she accused of allowing impunity under his watch.
Mrs. Buhari made her position known in a series of tweets she posted on her verified Twitter handle, @aishambuhari, yesterday.
She expressed regret that Oshiomhole, despite his activism background, could allow such conduct under his leadership.
She said the conduct negated the principle of change that the APC stands for.
The President's wife, whose brother contested the governorship primary in Adamawa State and lost to the incumbent however, did not mention the specific cases she was referring to.
She however, called on Nigerians to rise against impunity and for voters to urge aspirants to be committed to the provision of basic amenities.
"It is disheartening to note that some aspirants used their hard earned money to purchase nomination forms, got screened, cleared and campaigned vigorously yet found their names omitted on the election day. These forms were bought at exorbitant prices.
"Many others contested and yet had their result delayed. Fully knowing that automatic tickets have been given to other people.
"All Progressives Congress, being a party whose cardinal principle is change and headed by a comrade/ activist whose main concern is for the common man yet, such impunity could take place under its watch.
"It is important for the populace to rise against impunity and for voters to demand from aspirants to be committed to the provision of basic amenities such as potable drinking water, basic health care (Primary Health Care centers)
"Given this development, one will not hesitate than dissociate from such unfairness, be neutral and speak for the voiceless.

Anambra APC Reports Ngige To Buhari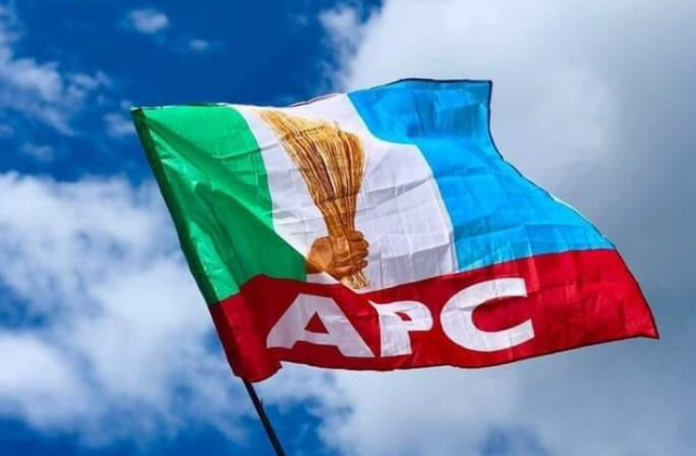 Members of All Progressives Congress (APC) in Anambra State have expressed misgiving about Minister of Labour and Employment in the affairs of the party in the state.
In a letter to President Muhammadu Buhari, signed by Jideofor Ejimofor, Emeka Kammelu, Gody Offor, Henry Obiokpala, Ugochukwu Egbobe  Joseph Molokwu, Ayamelum and Paul Chuks Umenduka, the party alleged that Ngige had not helped the party in Anambra State.
They said with the minister as the leader of APC in Anambra State, the party had not won any election.
"With Ngige as leader in Anambra, APC has never won any election anywhere in the state;  whether councillor-ship, local government chairmanship, House of Assembly, House of Representatives, Senate or governorship.
"It may also interest Mr. President to know that the councillor representing Alor Ward (minister's ward), whether elected or appointed since the inception of APC, has always been of APGA extraction. Same applies to the House member representing the minister's state constituency. Presently, his federal constituency has a PDP House of Representatives member.
"In 2019 election, with Ngige as leader and sitting  labour and employment minister, APC performed abysmally poor in the presidential election. Ngige hails from ldemili South council, where President Buhari scored 2,220 votes and PDP presidential candidate Abubakar Atiku, scored 17,039 votes. Also in Idemili North council, which is Ngige's second council in his federal constituency, Buhari scored 1,846 votes and Atiku scored 37,188 votes.
In summary, Anambra State, under Ngige's leadership, Atiku scored 524,738 votes and Buhari 33,298 votes in 2019 presidential election," the party said.
The party leaders said Ngige has only favoured his relatives instead of party members, saying: "We thank Mr. President for graciously reappointing Ngige as labour and employment minister, appointing his wife, Evelyn, as permanent secretary, Office of Head of Service (Welfare Office); his biological brother, Emeka, as chairman, Council of Legal Education; his elder brother, Edwin and his maternal uncle, Emma Nwosu as chairmen of federal boards; his biological sister, Bene Nwachukwu (nee Ngige) and his cousin, Uzoma Igbonwa, as NACA board members.
"A careful look at those Ngige employed in Nigeria Social Insurance Trust Fund (NSITF) will show that majority of them are from his village (Alor) with too many Ngiges on the list.
"Out of about 43 names he employed in NSITF, majority of them are from Alor, his village and Nnobi his mother's village. The comprehensive list can be seen from a video of House of Representatives Committee probing NSITF. Very few members of the party have benefitted from employment being given by Ngige as a minister."
They accused the minister of appointing his kinsman, Uzoma Igbonwa (Okife) as chairman, Presidential Task Force on the 774 Federal Government jobs for Anambra State when the same man is also the Federal Government board member of Nigeria Civil Aviation Authority (NACA).
The APC members appealed to President Buhari to "direct Ngige to open up the party by being fair and accommodative to all members.
"He should also be urged to stop using his leadership position to witch-hunt and unsettle genuine and committed party officers and members.
"This clarion call is very urgent to prevent a looming exodus of party's major stakeholders…"

PDP Writes Buhari, Alleges Plot By APC To Cause Mayhem
The Peoples Democratic Party (PDP), Ondo State chapter, has alleged a ploy by the All Progressives Congress (APC) to cause mayhem during the governorship election in the state.
It accused Governor Rotimi Akeredolu and his Ekiti counterpart, Kayode Fayemi of working in collusion with the security agencies to cause mayhem during the polls.
The party made the allegation in a 'Save our Soul' (SoS) letter to President Muhammadu Buhari, signed by its Publicity Secretary, Mr Kennedy Peretei in which it asked the President to use his office as the chief security officer of the country, to call the governors and security agencies involved to order.
The letter read in part: "Over the past few weeks, we have noticed to our consternation, the culpability of the security chiefs in Ondo State in the mayhem perpetrated by the All Progressives Congress (APC) and Governor Rotimi Akeredolu's administration during the ongoing campaigns.
"Mr President, all the petitions that have been written in relation to this naked orgy of violence on the peace-loving people of Ondo State by a government elected to protect their lives and properties have been ignored by the service chiefs".
"We have also learnt of their plan to repaint campaign vehicles and brand them as observers' vehicles during the election so that these vehicles can be used to convey weapons to actualize their rigging plan.
"Right now, a lot of people have been maimed and injured. Petitions to the federal authorities have yielded nothing, not even the promise of an investigation. We want Your Excellency to be aware of these atrocities committed under your watch."
The party said the APC wants to make the Ondo election a do-or-die affair because it has failed the people of the state, and vowed to resist any attempt to manipulate the outcome.
"Our people will resist imposition and manipulation of votes with the last drop of blood in their veins. It would be terrible for violence to engulf Ondo State during your tenure. Because of APC's failure in Ondo State, there is a desperation to make the October governorship election in the state a do-or-die affair. Given Your Excellency's professed commitment to free and fair polls in the wake of the just concluded governorship election in Edo State, we urge you to halt the onslaught on the opposition and people of Ondo State by Governor Akeredolu and his army of political thugs."

Ondo Poll: Sensitive Materials To Arrive Akure Oct 5 – INEC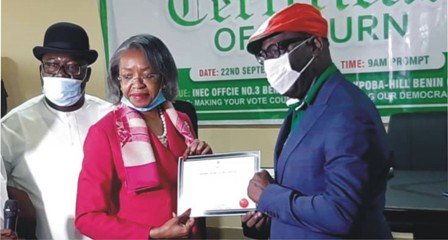 The Independent National Electoral Commission (INEC), says sensitive materials for Ondo State governorship election will arrive Akure on October 5.
INEC Chairman, Prof. Mahmood Yakubu, disclosed this during an interaction with the media in Akure, yesterday.
Yakubu said that the non-sensitive materials for the election had been delivered.
"We have delivered all, but a few of the non-sensitive materials required for the elections. What remains can be accomplished within the days remaining to the polling.
"It is exactly 16 days to the election. If we exclude the election day, which is October 10, we have 15 days. So, we have two weeks and a day to the election.
"The sensitive materials for the election are ready. The Central Bank of Nigeria (CBN) will deliver them to their branch here in Akure on Monday, October 5,'' Yakubu said.
He said that the commission had moved enough card readers to Ondo State for the conduct of the election, adding that they were being configured and charged in Akure.
Yakubu said that the Z-pad used in Edo State for the transmission of Polling Units (PUs) results to the commission result view portal would be deployed to Ondo State.
He said the z-pads would be moved from our office in Benin City to Akure, (Thursday Yesterday).
"So, we will deploy the same technology to upload results, real time, from all the 3, 009 polling units, all the 203 wards and the 18 local government areas of Ondo state,'' Yakubu said.
The chairman urged the media organisations to sensitise electorate to the need for peaceful election, voters turnout and adherence to the COVID-19 protocols.
Yakubu expressed worry over incidents of violence involving supporters of some of the political parties in the state.
On awareness, he said that INEC had produced many voter education materials for the print and electronic media to educate the voters to turn out en mass to vote.
"No effort is too small and no effort is too much to continue to engage, educate and inform the voters.
"That is why the commission has always appreciated the partnership with the media and would like to strengthen it
"Learning from the experience in Edo state, we should continue to emphasise the message of peaceful election.
"The importance of obeying health instructions in the era of COVID-19. No face mask, no voting; orderly queue in the polling units, including the observance of social distancing.
"Every eligible voter, who is on the queue before 2.30 p.m. will be allowed to vote even if voting goes beyond 2.30 p.m. No one will be disenfranchised.
"Expose vote buyers during the election. There are still some people who would attempt to compromise the integrity of the process, where that happens, please help us to expose them. We will be very grateful if you do so.
"As journalists, we are not only reporters, but citizens with responsibilities.
"Kindly report to the commission using our social media platforms, any malpractice you witness early enough so that we can respond immediately as the election is going.
"Ahead of the governorship election on Oct.10, there may be some observations you have for us to improve our communication and outreach on voter education.
"I am aware the office here in Ondo State is already doing a lot but we need to do a lot more,'' Yakubu said.
Yakubu disclosed that the National Peace Committee chaired by the former Head of State, retired Gen. Abdulsalm Abubakar would also be organising signing of peace accord in Ondo state as it did in Edo.
He said the peace accord will take place on Oct. 6 in Akure, while INEC regular stakeholders meeting with the political parties and their candidates will hold on Oct. 5.
Yakubu said that out of the 14 activities scheduled for Ondo State governorship election, 12 had been accomplished remaining submission of the list of polling agents or political parties and the conduct of the election.
He said the commission would remain professional and neutral in the election, saying the electorate would determine the next governor of Ondo state.