Today, October 1, 2018 marks the 58th year since Nigeria got her independence as a sovereign nation. It was on Saturday 1st October, 1960 that the Union Jack was lowered and the Nigerian flag hoisted in its place to announce the birth of a new nation amidst world jubilation.
Ordinarily, today would have been a day for all Nigerians to celebrate and offer thanksgiving to God for giving them a nation binding them in love, peace and progress, but the reverse seems to be the case.
Hitherto, the nation's Independence Day anniversary had been a period of celebration of our nationhood, our freedom to self determination, our independence from British colonial rule.
Regrettably, however, today, what is seen is the absence of peace, unity and progress.
Insecurity occasioned by the criminal activities of murderous herdsmen, Boko Haram terrorists, ethnic/religious violence and kidnapping have made the nation one of the most unsafe places on earth.
The ugly development has been compounded by pervasive corruption and the failure of leadership to point the way out of the threatening calamity.
In rallying Christians to prayers, the leadership of Christian Association of Nigeria (CAN) urged them to pray "`against blood-letting, violence and civil war'', noting that the unity of the country has been under consistent threat, with citizens polarised along various divides.
Indeed, Nigeria has not been this divided since independence. The quests for secession by the Indigenous People of Biafra (IPOB), its proscription, the military intervention, the ongoing controversial debate over restructuring and the failure of the Buhari's administration to deliver free, fair and credible electoral process in the last few months have compounded the challenges facing the nation.
Buffeted on all sides, what the nation needs today is a leadership that has the courage and political will to address the imbalance that is largely responsible for these agitations.
Across board, the nation needs leaders that will no longer pay lip service to peace and unity of the nation. Nigeria needs true statesmen and patriots who would keep to their promises and take the country to the next level.
It is worrisome that since the amalgamation of the Northern and Southern Protectorates as a united British Colony in 1914 and its independence in 1960 under a federal Constitution fashioned by the people, represented by the leaders of various ethnic nationalities, Nigeria has ever since, not had a constitution fashioned by the people.
Two Constitutions in 1999 and 1998/99 authored by the military which seized power in 1966 were approved by the Supreme Military Council. It is against this background and the imbalances in the socio-economic fabric of the nation that the growing calls for restructuring find relevance and justification.
Elder statesmen who had been at the forefront of the agitations for restructuring said the demand aims to reform the governmental structures and attune them to the needs and wishes of the people.
"In a wider fundamental locus, restructuring is a call for the country to make a new beginning under a new constitution approved and adopted by the people at a referendum". Prof Ben Nwabueze once said.
The import of this is still lost on many sectional champions as the word restructuring conveys toxic meaning to them; even as the nation operates a federalism that is unitary in practice.
The imbalances that exist in statutory allocations, states creation, federal appointments, infrastructure development, among others, have led to the loud call for the practice of true fiscal federalism.
It is also the attendant marginalization and neglect that threw up self-determination agitations by various groups.
It is instructive that an extensive two-year study by the United Nations Development Programme (UNDP), titled, 'Journey to Extremism' which was released in 2017, indicates that exposure to state abuse and marginalization, not religious ideology are better predictors of radicalism.
The study also indicates that those living on the periphery of their country with less access to education and health services are more vulnerable to be recruited to violent extremist groups. With millions of unemployed graduates from universities without jobs over the years, it is easy to situate the increasing restiveness across the country.
Against this frightening backdrop, militarisation of the polity is counter-productive. Indeed, the current multiplicity of military operations in virtually all the six elections conducted since the present administration took over power paints a gloomy picturecontrary to the tenets of true democracy.
We believe that those who the citizenry had entrusted their power to govern should seek the root causes of the agitations and violence in the polity and make patriotic efforts to douse the tensions.
At 58, very few Nigerians can afford smiles on their faces today because of hardship, marginalization, violence and insecurity. It is becoming fashionable to emphasise what divides than what unites the nation. And rather than live for the common man and the under-privileged, leaders and those in authority are building empires and reserves for themselves and their descendants to the 10th generation. This, indeed, is a recipe for violence and disintegration.
Towards the end of the first tenure of his administration, President Muhammadu Buhari has come short of his electoral promises as his health status and frequent visits abroad to consult his doctors, have become a disincentive to effective governance.
The under-performance of his cabinet members and issues of corruption involving officials of the Presidency which is reflected in the pervasive economic downturn and hardship faced by the citizenry despite the nation's attained dubious exit from recession, had led to shrill calls for him to reshuffle his cabinet.
Regrettably, rather than celebrate achievements on the path to industrialisation and buoyant economy like its Third World counterparts, at 58, Nigeria is celebrating under the pangs of fear, insecurity and threat to disintegration.
This is why President Buhari must rightly read the mood of the nation, see the merit in the call to address the imbalances in the polity and stem the rising agitations, violence and insecurity.
Indeed, it is an act of divine providence that in this challenging march on the road to nationhood, Nigeria has remained together, for which we should be thankful to God.
Nigerians are the best judges of our governments, past and present. But, the least we ask is equity and better life for the citizenry.
Happy 58th Anniversary, Nigeria.
Making UTME Registration Seamless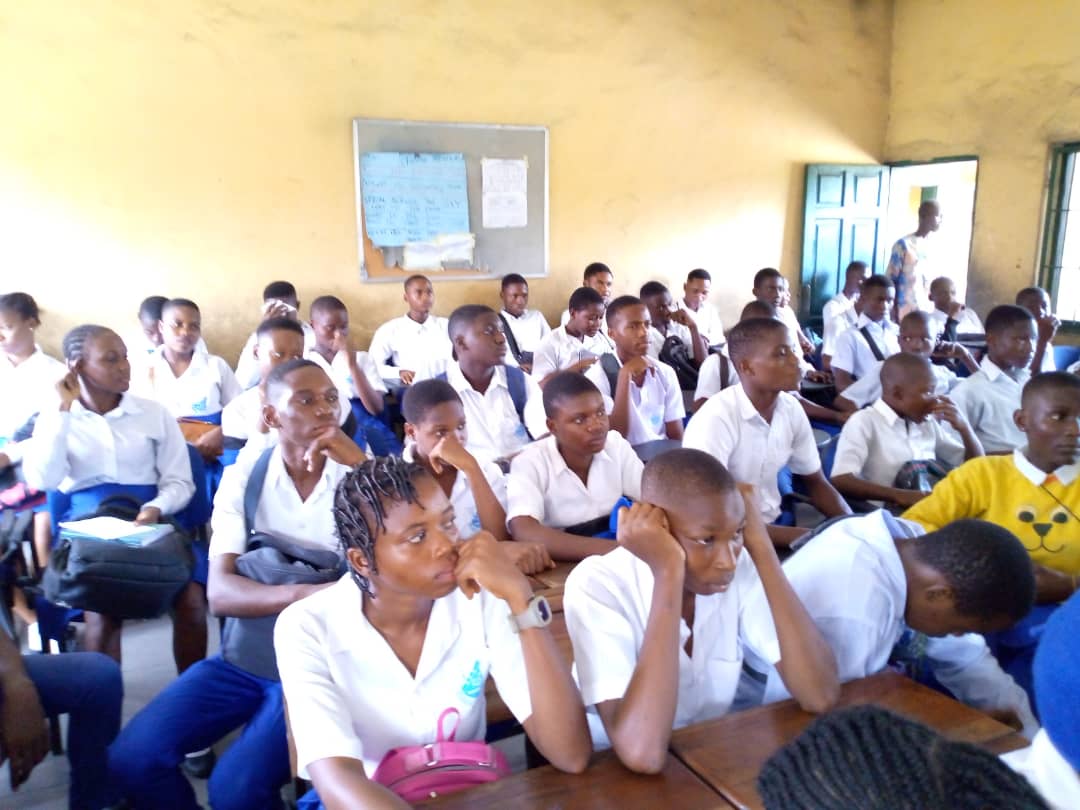 The Joint Admissions and Matriculation Board, JAMB's insistence on linking the 2021 Unified Tertiary Matriculation Examination (UTME) to National Identity Number (NIN) is not going down well with parents and some Nigerians. Many prospective candidates are still bemoaning their inability to register and be part of the ongoing examination.
Sadly, Nigerians' penchant for procrastination is partly to blame for their predicament. JAMB introduced this policy in 2019 but jettisoned it afterwards following an outcry by Nigerians including members of the National Assembly. Implementation of the policy was put off to 2021. But Nigerians, in their characteristic manner, failed to utilise the grace period. Two years would have been enough for anyone to obtain NIN, the difficulties regardless.
With NIN requirement for the UTME this year, most applicants were compelled to go through difficulties like extortion, long queues in scorching weather, non-adherence to Covid-19 protocols and other unwholesome practices devoid of ethics to enable them register. Others lamented that even with NIN, they could not complete the first stage of application process.
This policy has come with different challenges such as inadequate enrollment centres for the National Identity Card, which some prospective candidates of JAMB have to struggle for weeks or even months, to get to register and generate their NIN for UTME or Direct Entry registration as prescribed by the board. There is also the issue of telecommunications and Digital Service Providers' poor service delivery and connectivity failure.
JAMB's Registrar, Prof. Ishaq Oloyede, had clarified that it introduced the use of NIN for registration of the 2021 UTME to checkmate examination malpractice and double registration. He further disclosed that the usage of NIN as a prerequisite for registration was the brainchild of the Minister of Education, Mallam Adamu Adamu.
This regulation has come with a mixed grill. While we, indeed, support any possible and legitimate measure entrenched by JAMB to check examination malpractice, in our well considered opinion, such move is counter-productive at this time, especially when juxtaposed with the challenges directly associated with NIN registration.
Moreover, with the wide reports of hardship Nigerians are encountering to procure NIN on a daily basis, it is rather unnecessary to make it compulsory for candidates, even though it is significant for every Nigerian to have it. Added to this is the fact that not many activities were carried out last year following the lockdown occasioned by the Covid-19 pandemic.
Unfortunately, the arduous task of obtaining the NIN might have compelled JAMB to postpone the exams. The examination body had extended the registration date in a statement by its Head of Information and Public Affairs, Dr. Fabian Benjamin. The spokesman apologised for their inability to complete the process of smooth pin vending and candidates' access to the registration app.
In all fairness to JAMB, it was observed that some prospective candidates failed to have successful registrations because they infringed the use of double space in sending messages for profile code generation, unmatched name with the one in NIMC, phone number already used by another candidate, insufficient balance to generate profile code that cost N50, among others.
Given those reasons, we think that the examination body cannot be denounced for those self created reversals; but, prospective candidates who were able to reproduce their profile codes, having being charged N4,000 payable in certified bank draft, should be refunded immediately or be allowed to take the examination in whatever way that can be done. This has to include all persons impacted by poor network or a delayed response from telecommunications service providers.
Most worrisome, however, is the sheer fact that JAMB still went ahead and provided profile codes to the candidates it felt infringed on its rules and also directed them to pay the mandatory N4,000 at the bank before proceeding to its various offices across the nation with bank drafts, with a view to registering them for the examination. This is fraudulent. We say so because despite being armed with their profile codes and parting with the required fee, they could not participate in the examination at the end of the day.
Again, since no UTME was conducted in 2020 following the Covid-19 pandemic, JAMB ought to have considered the fact that admission into higher institutions would double. The logical thing to do in the circumstances was for the board to make the NIN requirement optional and prioritise candidates' enrolment by utilising a longer period for registration. This way, the challenge would have been sorted with ample time.
JAMB would need to do more in subsequent enrollment exercises to make the process easier as these challenges could dampen morale and affect overall performance in the examination. Specifically, we urge the Federal Ministry of Education to suspend the policy till when there is a seamless and well-organised process for obtaining the NIN. Students should be able to obtain their NIN in their accredited schools.
Policies that give priority to students at NIN registration centres and the provision of alternative avenues to generate the all-important profile code are some of the things the examination body can immediately do to ease the process for candidates going forward.
Addressing Nigeria's Power Challenges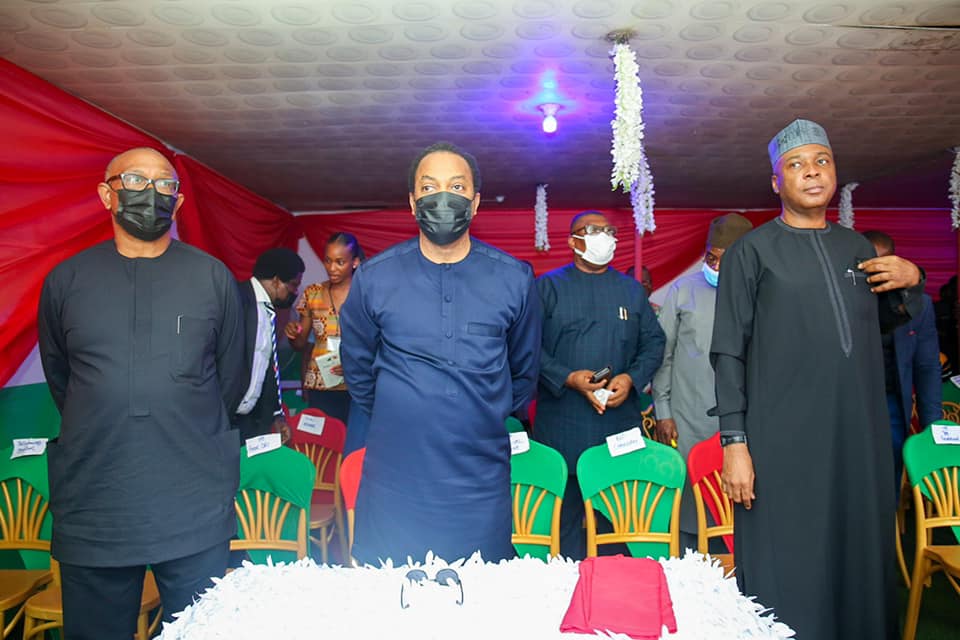 Recent data from the System Operator indicates that the electricity power supply situation has not shown any signs of improvement as it has continued to fluctuate due to chronic multi-faceted and long standing challenges. According to the data, supply fell by 22.9% from a peak generation of 4,115 Megawatts to 3,172 Megawatts on Saturday, June 12, 2021.
The data further indicated that most power plants in the country were operating far below their functional capacities due to gas shortage with Olorunsogo Power Plant (335mw) and Sapele Power Plant (450mw) completely out, while Egbin Power Plant was generating at 746mw out of about 1,000mw capacity; Omoku Power station generating just 37.20mw; Omotosho (NIPP) generating 105mw and Afam power plant generating only 80mw from more than 700mw capacity.
Still, the data showed an unstable power generation situation within seven days: 4,120.9mw on Sunday, June 6; 4,24.9.4mw on Monday June 7; 4,000mw on Tuesday, June 8; 3,720.7mw on Wednesday, June 9; 3,517mw on Thursday, June 10; 3,765mw on Friday, June 11; and 4,115mw on Saturday, June 12.
Apart from the fluctuations, national electricity grid collapse that often throws the entire nation or parts of it into complete power blackout is as well a common occurrence in the country. On May 12, the grid collapsed for the second time this year and the 29th time in the last three years. As indicated on Nigerian Electricity System operator data, the number of times the national grid suffered a collapse was four times in 2020, 10 times in 2019; and 13 times in 2018.
From an estimated power need of about 180,000mw, Nigeria currently has only 13,000mw installed generation capacity while the distribution system has capacity to evacuate 5,500mw only. On February 28, 2021, the Transmission Company of Nigeria (TCN) hit a record milestone on transmission of power as it recorded a national peak of 5,615.40mw. However, on most days, it is only able to dispatch around 4,000mw to Nigerians.
Currently, only 45% of Nigeria's population is said to be connected to the national grid while power supply difficulties are experienced about 85% of the time and almost non-existent in certain regions. Power supply difficulties cripple the agricultural, industrial and mining sectors and impede the nation's economic development efforts.
The damaging effects of insufficient power supply on businesses cannot be over-emphasized. Enjoyment of basic social amenities such as quality healthcare, adequate water supply, telecommunications services, etc. becomes limited or even impossible due to long term electrical power outage. Huge revenue loss, business disruptions, laying off of workers by affected industries, loss of very import records at data centres, wastage of perishable foods, destruction of home appliances, amongst others, are some of the consequences of unreliable and unstable electrical power supply.
Most businesses and households that can afford to do so, run one or more diesel-fuel generators to supplement the intermittent supply which comes at a huge cost to family budgets and jacks up cost of production of goods and with corresponding exorbitant prices of essential commodities. In addition, the combined large-scale burning of fossil fuel contributes to greenhouse gas emissions that in turn adds to global warming and related environmental disasters.
Admittedly, the energy crisis in Nigeria is a protracted one that dates back to several successive governments with each failing on promises to do something radical to sanitise and stabilise the sector in order to drive needed industrialisation and economic transformation. The country has been unable to meet its energy demand because of its policies, regulations and management of operations.
Continued use of aged equipment, poor maintenance culture, corruption and looting of funds meant for power sector reform have been fingered as some of the major causes of the dismal electric power supply situation in Nigeria. For instance, while the present Federal Government accuses the Olusegun Obasanjo administration of expending about 16 billion United States Dollars on the power sector without anything to show for it, it is (the present administration) alleged to have sunk in about 1.3 trillion Naira of borrowed money with the situation remaining virtually the same.
There is no doubt that the energy sector is a highly specialised, technical, complex and costly endeavour. It is, in fact, estimated that to generate 1,000mw of electricity could cost about $1.2bn. There are also a myriad of challenges to contend with, irrespective of the option chosen to generate power vis fermal, hydro, nuclear, wind, etc. Transmission and distribution also come with their peculiar impediments.
Gargantuan, complex and complicated as the challenges are, The Tide does not believe that they are insurmountable. The Federal Government only needs to muster the requisite will to do whatever it will take, including breaking the ring of corruption that has kept the sector bound. Every policy and official regulations that have been in place need to be revisited and reviewed to achieved results.
Speaking at the just-concluded Nigeria International Petroleum Summit, the Chair, Shell Companies in Nigeria/MD SPDC, Osagie Okunbor, said with 203 trillion cubic feet of gas reserves, what was needed in the country is to deliver projects that would produce gas. This is even as the International Oil Companies (IOCs) had insisted that in spite of Nigeria's huge gas reserves, a lot still needs to be done to attract investment to the sector to develop them to boost power generation in the country. We think that government also needs to consider taking off its hands in the entire power generation, distribution and transmission chain with the privatization of the Transmission Company of Nigeria.
Rhetorics about transformation or diversification of the economy will remain mere vain promises unless aggressive and drastic measures are taken to fix the abysmal power supply situation in the country. Sufficient, stable and reliable energy supply remains a sine-qua-non to industrialization that guarantees economic prosperity and poverty elimination.
To lift 100 million Nigerians out of poverty in 10 years as President Muhammadu Buhari has promised, will remain an elusive good and a day dream unless the problem in the power sector is conclusively addressed. No effort should, therefore, be spared in pursuit of overcoming the energy supply challenge in Nigeria and the time to do that cannot be further deferred.
As New Rivers LG Chairmen Assume Office…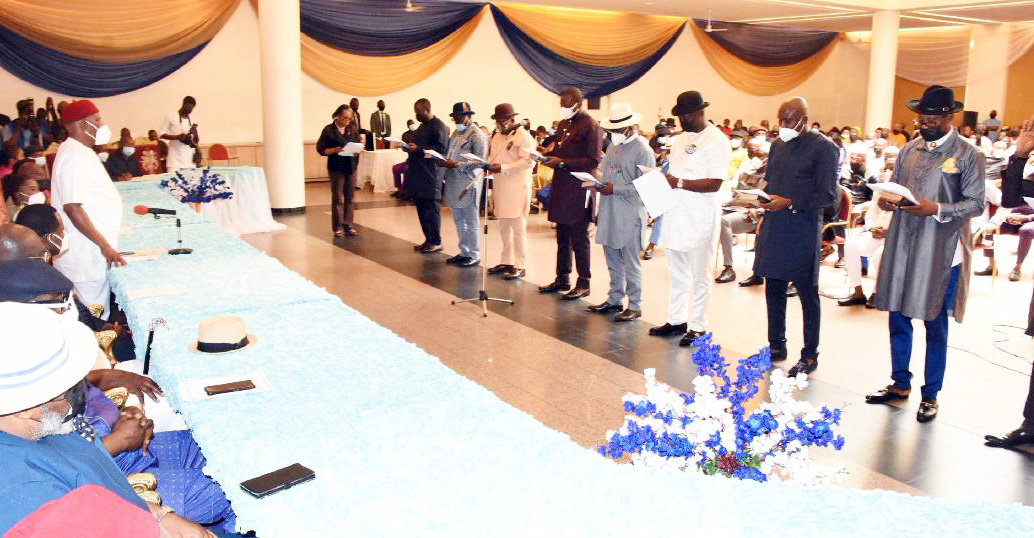 The 23 newly elected chairmen of local government councils in Rivers State were inaugurated last Thursday, June 17, 2021 at the Government House, Port Harcourt, by the Governor, Chief Nyesom Wike. The swearing-in ceremony was a follow-up to their victory on April 17, 2021 local government poll conducted by Justice George Omereji-led Rivers State Independent Electoral Commission (RSIEC).
The governor instructed the chairmen to cease from requesting loans from any financial institutions without approval from the state government. According to him, the warning had become necessary to curb the unbridle desire of some council chairmen to access money without a development plan.
"Don't go and borrow money without the state government's approval. Some of you tried it last time and started with your blackmail, saying, help us, we are finished. You have no authority to go and borrow money. Even we as state government, before we go and borrow money, we get approval from the Debt Management Office. No bank will even give us. Before you borrow money, the state must know what you want to use it for, and how you will pay it back, so that others who are coming will not suffer because of your indebtedness."
Wike urged the council chairmen to avoid friction and conflicts with the legislative arm of the councils by working in harmony with the councillors and security agencies to create the right environment for development to occur. He advised the chairmen to pay sufficient attention to issues of security to prevent probable security infringements in their councils. He specifically urged them to establish a strong working relationship with the Divisional Police Officers (DPOs) and the traditional rulers as well as have periodic security meetings for adequate briefings.
"Stay in your council areas. Don't stay in hotels and in Port Harcourt. If you're not at home, how do you know about the security situation in your local government? Security is key! Relate with your DPOs. It does not cost you anything. Even if it cost you, governance is not easy. Governance is expensive. Security is expensive. Some of you cannot relate with the DPOs. It's only when you have a problem that you relate with your DPOs and some of them are intelligent and when you call them that time, they turn their faces the other way. You must make effort to relate with your DPOs."
Wise counsel dictates that the Governor's admonition on the cardinal issues he raised are apt. Accordingly, there is a need for the chairmen to hit the ground running and ensure that development and dividends of democracy are brought nearer to the rural people. This can be feasible by guaranteeing that they administer the councils from their domains rather than from choice hotels in Port Harcourt even as the Governor has consistently advised. They should consider that as chairmen and councillors, they were elected by their people to provide the dividends of democracy. Hence, they are required to operate from home to fully comprehend the enormity of the challenges confronting the rural population.
There is no doubt that the era when council chairmen were perceived by their people as "visiting chairmen" must be bequeathed to the refuse heap of history. Reason is that current emerging realities require that they inhabit with the people, wine and dine with them, and where necessary, perish with them.
The council chief executives are also advised against reckless expenditure. We recommend stiff sanctions against any chairman that fails to perform and deliver what is expected of him. Regrettably, some chairmen owe workers many months of salaries. That being so, the new council bosses are urged to clear all salaries and allowances denied such workers by their predecessors.
To make this effective, the Governor has to monitor the payment of salaries and the expenditure pattern of the councils to ensure that funds are properly deployed to areas that will promote the interest of the people. This being the case, offending chairmen should be denied access to their security votes and perhaps, their imprest.
Equally significant is the need for the council chairmen to circumvent friction and conflicts with the legislative arm of the councils by working in harmony with the councillors and security agencies to create the right atmosphere for development to take place. Unnecessary impeachments, scathing criticisms and altercation or petitions have to be resisted.
As agents of transformation and machinery of development, the council coxswains must consult and liaise regularly with all stakeholders including the youth, women, traditional rulers, members of Community Development Committees (CDCs) and other pressure groups to chart the way forward in their respective areas.
Also, the council chairmen must run an all-inclusive administration and never isolate anyone or groups who may not have stood behind them. Of course, operating in any other way could be counter-productive as it has the potential to cause disaffection, division or even acrimony.
Similarly, the newly sworn in grassroots leaders have to understand that peace is priceless and necessary for any meaningful development to occur in the various communities. As they detrain for business, they must not only maintain stability, but must also shun stealing from the commonwealth for self-enrichment. Rather, they should invest such funds wisely in useful ways to attract businesses and development to their councils.
The primacy of good governance at the grassroots cannot be over-emphasised as Rivers people must feel their impact through effective governance. Just as the Governor is held accountable in the state, so must the chairmen and their councillors. We strongly advise them to replicate Wike's performance at the local level if they must be considered for a second tenure.
While congratulating the new council bigwigs, we urge them to be circumspect of bootlickers and praise-singers who have undermined several governments in the country and key into the NEW Rivers Vision of the current administration in the state to make a substantial difference. History indeed beckons on them!