Dickson Signs Medical University Establishment Bill Into Law
Governor, Seriake Dickson of Bayelsa State yesterday signed the Bayelsa State Medical University Establishment Bill and two others to ensure training of medical personnel, companies to support development, and to urge the people in line with the new Bayelsa plan.
The bills are Medical University Establishment, Corporate Social Responsibility and New Yenagoa City Development.
Dickson, who signed the bill in Yenagoa, said its necessitated to train medical personnel that would deliver quality health service in the hospitals built in the eight LGAs, assuring that the New Yenagoa City Development Agency bills would accelerate the transformation of the 350 Melford Okilo Memorial Hospital as a teaching hospital.
He said plans are on to construct a classroom block, in addition to an administrative block to make it more befitting, noting that, the facility would be completed before the end of his tenure to address both primary and tertiary healthcare needs of the people.
According to him, "the facility will now be used, not just as a hospital, but as a teaching hospital to train students. We believe that would be an optimal way of utilising that wonderful facility into which so much money has been sunk.
''The state would soon become a centre of excellence for medical health that would be visited by Nigerians and foreign nationals."
The Governor, who picked holes in the attitude of some companies in the state, averred that the Corporate Social targeted at corporate bodies to ensure that they contribute a percentage of their budget to enable us expand the scope of support we are giving to provide affordable healthcare delivery as well as quality education to our children."
On the New Yenagoa City Development Agency Law, Dickson said that the legislation would serve as a catalyst in driving his administration's vision of building a new Bayelsa, where development activities would be controlled in line with best practices.
Dickson noted that his administration has spent about N200 billion in providing world class infrastructure in Yenagoa, the State capital, including the construction of roads and bridges, Governor's office complex, adding that, a second flyover bridge would have been constructed at the Tombia- Etegwe area, if it had not been for the economic recession.
"In the state capital, all dualized roads were done by the restoration government, close to N200 billion has been spent, excluding the new yenagoa city which is most ambitious real estate development that any government can undertake, therefore be enlightened to jettison the propaganda spurned by people envious of the achievements of our government."
Austin Pade, Yenagoa
FG, OPEC Forge Ties To Ensure Global Oil Market Stability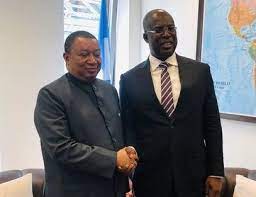 The Federal Government has given assurance of its readiness to support every move that will bring about stability in the global oil market.
This was reiterated at a visit by Dr Mohammad Barkindo, the Nigerian born Organisation of Petroleum Exporting Countries (OPEC) Scribe, to the Minister of State for Petroleum Resources, Chief Timipre Sylva, in Abuja.
They both expressed their readiness to work hand-in-hand to ensure stability of the global crude oil market.
Sylva said that Nigeria, as one of the leading oil and gas producing nations in Africa, would continue to abide by the Declaration of Cooperation (DOC) which has gone a long way in stabilising the market for the collective good of the producing and consuming nations.
On his part, Barkindo applauded Nigeria for the key role it has been playing in the global crude oil market, noting that the 50 years partnership between OPEC and Nigeria has impacted the crude oil market positively.
He presented a book entitled "Nigeria and OPEC: 50 years of Partnership," to mark the golden anniversary of its membership in the Organization of Petroleum Exporting
Can The Biden Administration Meet Its Ambitious Offshore Wind Power Target?
Earlier this year, the Biden administration said it planned to build offshore wind power generation capacity to the tune of 30 GW by 2030, creating more than 44,000 direct jobs and close to 33,000 indirect ones. To date, the United States has wind power capacity of 118 GW. Of this, only 42 MW is offshore wind. And According to IHS Markit, the 30 GW additional capacity target will almost certainly be missed.
Last year, the United States set a record in wind power capacity additions, at 14.2 GW added during the pandemic year. That was a continuation of another strong year in 2019, which also set a record in wind power additions, according to data from the Energy Information Bureau.
However, the reason for this boom in wind power generation capacity was not a simple response to greater demand for wind power. In fact, the reason for the records set in both 2019 and 2020 was the looming phase-out of the production tax credit, which spurred the mass deployment of wind and solar installations.
In December, Congress extended the production tax credit, which provided wind farm operators with a credit of $0.025 per kWh, until the end of this year. There are other incentives available to the wind industry, too. The biggest is the investment tax credit, which covers between 12 and 30 percent of investment costs at the start of the project. As of December, Congress has established a 30-percent investment tax credit for projects that start construction by December 2025.
So, with so much government help for the wind power industry, the 30 GW target in offshore wind should be a no-brainer. Yet, there are other factors at play besides government incentives and it is these factors, according to IHS Markit, that would make hitting the 30 GW target impossible.
For starters, the permitting process for offshore wind projects is lengthy and complicated, IHS Markit's Andre Utkin wrote in a recent analysis of the topic. Then, there are not enough manufacturing facilities for the turbines, blades, and other equipment that goes into a utility-scale wind farm. The installation process is also tricky: per U.S. legislation, only U.S.-flagged vessels can sail along the country's coasts. And there are not enough U.S.-flagged wind turbine installation and service vessels, according to IHS's Utkin.
Then there is the issue of transmission infrastructure. This is insufficient to accommodate an additional 30 GW of wind power capacity, according to the research firm. The transmission infrastructure problem is a global one, by the way. Earlier this year, IHS's Utkin reported that global offshore wind power capacity was set to expand sixfold by 2030 thanks to technological advances, cost reductions, and government incentives. However, he added, "the industry needs to rapidly develop and invest in new infrastructure to achieve these ambitious plans."
Finally, there is a regulatory hurdle, albeit not an insurmountable one. The Bureau of Ocean Energy Management tends to conduct lengthy investigations of the impacts of wind farm construction on the environment, which will also likely delay projects.
In all fairness, many of these challenges can be dealt with by legislators, a majority—although slim—of whom are clearly in favor of building the country's offshore wind power capacity. Some, however, are trickier because they do not depend on favorable policies. One example is the cost of building the necessary transmission infrastructure.
The recent $550-billion bipartisan infrastructure deal struck between the Senate and the White House envisages $73 billion in funding for clean energy generation and transmission. Yet copper prices are rising, and the offshore wind takes massive amounts of copper for its infrastructure. The $73 billion might simply be not enough for that and modernizing the U.S. aging grid.
Slav writes for Oilprice.com
UNIPORT Mourns As DVC-Designate Passes On
Barely five days after his election as the Deputy Vice Chancellor-designate, Academic, University of Port Harcourt (UNIPORT), Prof Andrew Efemini, has died suddenly.
The late Professor of Philosophy was along with others awaiting the ratification of his elevation by the institution's Governing Council before he died in the early hours of Saturday.
The university community, academics and human rights and civil society families have been thrown into mourning by news of the sudden demise of the outspoken professor.
As expected, the news of his demise instantly went viral on many platforms on the Internet.
The late Prof Efemini had always made his health status public that he had been a diabetic patient for many years.
It was not clear as at the time of filing this report whether the deceased died of complications from the terminal disease he had been battling with.
Reliable sources in the university confirmed the sad incident but pleaded anonymity.
"This is because his immediate family has not officially communicated to the university about the sad demise of academic," a source said.
The sources also corrected social media reports that he was "appointed" as DVC, Academic.
"He was actually elected, like other DVCs designate awaiting confirmation from the Governing Council of the university, and later sworn in and assume office."
Meanwhile, the Management of the University of Port Harcourt has officially announced the sudden demise of Deputy Vice Chancellor-designate in charge of Academic, Prof Andrew Efemini.
A statement last Saturday by the Public Relations Officer of the institution, Sam Kpenu, reads; "The Management of the University of Port Harcourt announces the sudden demise of Deputy Vice Chancellor-designate in charge of Academic, Prof Andrew Efemini, whose unfortunate death took place on Saturday, July 31, 2021 at the University of Port Harcourt Teaching Hospital (UPTH).
"Speaking when he paid a condolence visit to the family, the Vice Chancellor, Prof Owunari Georgewill, described Prof Efemini as a man of ideas, whose contributions had assisted the growth of the university. The vice chancellor said the exit of Prof Efemini was a personal loss to him.
"Efemini was elected as Deputy Vice Chancellor (Academic) at the 459th Senate Meeting (Extra-ordinary) on Wednesday, July 28, 2021. His appointment was awaiting approval by the Governing Council before his untimely demise on Saturday.
"He was a Professor of Philosophy of Development in the Department of Philosophy, Faculty of Humanities.
"More details will be made available subsequently. The university mourns his death," the statement added.
Ibiyeomie Justifies Church Hqtrs In PH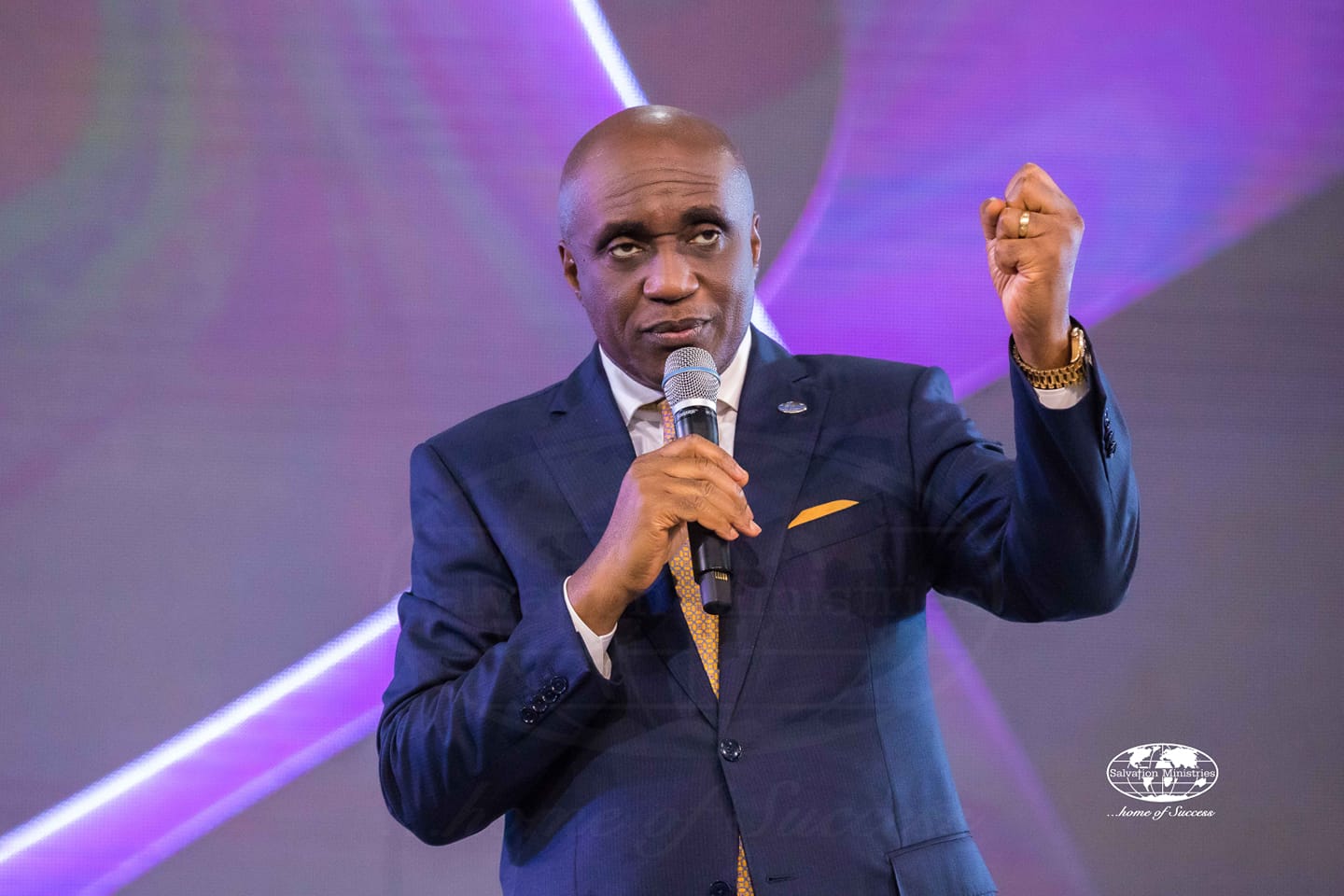 Pastor David Ibiyeomie of the Salvation Ministries in Port Harcourt has revealed the reason he established the headquarters of his church in Port Harcourt, the Rivers State capital.
Ibiyeomie spoke on the theme, "Supernatural Turnaround Through Hosanna Praise Part 1", in the first service, yesterday.
He said he settled for Port Harcourt because he found that his father in the Lord, Bishop David Oyedepo, was already dominating the Lagos area.
"When this ministry started, I said my father is in Lagos dominating but for here, I will dominate. Somebody said but this church has branches. I said mine is not a branch but the Headquarters.
"My father's Headquarters is dominating in Lagos, So, a branch cannot dominate mine which is Headquarters. When you don't take over as a child of God, it is an insult.
"Can you come to Port Harcourt and won't hear of Salvation Ministries? Even those who hate us know this. It is not of our own doings but God's doings.
Ibiyeomie also thanked God and the Hossana Praise for the heights the church has attained since he founded it.
"When this church started, we printed 20,000 copies of handbills and in that seminar, nobody came. 20,000 copies of handbills should at least bring 1,000 people but it was not so, no new member, no first timer.
"This church has been without signpost at a time, yet crowd enters here and you wonder where they are coming from. So, it is not your signpost but His publicity. If God does not advertise you, nobody will patronise you", he said.
'When this church started in Port Harcourt, Nigeria, where we were located was not a highway. People told us that why did we put a church in a hidden place. Before we came, people put churches in highways.
"It is not your location but God's publicity. People will come from Aba in Abia State, Calabar, Abuja, just to worship here.
"A man told me then that he flies in from Abuja every weekend to worship in the church. It is not how close your business is but God's publicity. You can be at the corner and people will still come when God is involved.
"Hosanna Praise compels multitude to follow you. Mathew 21:8-9 Great multitudes went before and after Him.
"People will be waiting for your products to arrive in the name of Jesus. John 12:32. When we lift God up in praise, he will draw men to Himself. If people are not coming to patronise you, is that a business.
"All you need to do is to give God high praise for you to get your high place. Don't ask your neighbour do you like my dance. Your concern is dancing to please God. If you do anything, you need God's help for it to be known".
Ibiyeomie, who was born in October, 1962, attended Bible school training at Bishop David Oyedepo's Word of Faith Bible Institute (WOFBI).
After completing the training, he started a house fellowship with his family in Victoria Island, Lagos.
He later moved to Port Harcourt, Rivers State, where he started Salvation Ministries (Glorious Chapel) on April 13, 1997, with a little over twenty members in attendance.
In July, 1997, the church relocated to a larger plot of land.
As of 2017, Salvation Ministries averages about 50,000 attendees every Sunday at its headquarters.
In February, 2011, Salvation Ministries started 14 satellite churches in one day, with all running five services each.