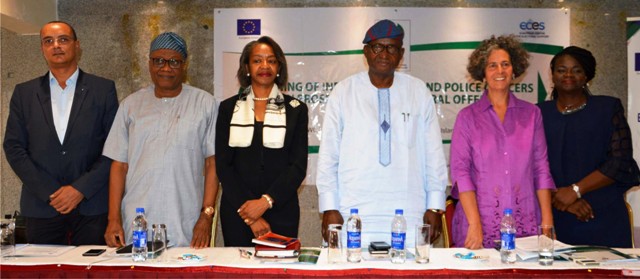 In about 157 days from today, Nigerians will embark on their sixth quest since 1999 to select, through voting, their dream President. That is, if the scheduled February 16, 2019 date for the Presidential election will hold as planned.
Expectedly, that President would be one who would truly appreciate the multifarious challenges of the nation and make humanistic efforts, as many are wont to say, to resolve them. A President, who, for once, would ipso facto tackle identified challenges of the nation without giving excuses for inability to do so.
As the countdown to the 2019 Presidential election, many concerned Nigerians have had reasons to review the last three years and developments so far in Nigeria's political realm vis-à-vis expectations of the would-be President from the 2019 polls.
No doubt, opinions are divergent: while the Pro-Buharis would do or say anything to justify their stand, the anti-Buhari group will do same in the opposite direction. This is not new, mostly because it has become so fashionable in Nigerian polity that one never sees anything good in the other, even when the truth can be very clear to discern.
As has become customary in Nigerian politics, emphasis will be more on what the anti-Buharis say ahead of the 2019 polls, only because it is considered normal for the average Nigerian politician to judge government more by what the opposition say.
It seems more in this context that The Guardian said: "Every alarm raised about suspected violence in the conduct of an election should be taken seriously not only by the Independent National Electoral Commission (INEC) and the Police, but also by political parties and the totality of Nigerians. This is because Nigeria is very much embroiled in violence for its own survival, that any additional spate of violence is disastrous and inimical to the stability of the country".
And since experience has shown that the "alarms raised" usually become the basis for judgment of incumbent governments, this analysis will broaden the horizon beyond election violence to policies.
Abimbola Adelakun captured the crux of this analysis in The Punch in his piece titled, "A Nigerian future without Buhari is possible". He noted in the piece that as Nigerians, "we already know what ails us. What no one seems to know yet is how to upend this lousy government and pave the way for a more productive and forward-looking governance".
To buttress his stance, Adelakun identified two categories of people in Nigeria: those clamouring for a second term for Buhari and chose to do it blindly, and those who are yet to make up their mind, but are keenly watching events as they unfold daily to be able to make up their mind on where to pitch their tent.
"One is the Buharists, a cult of devout followers of the President whose desire for a perpetual Buhari leadership has little to do with the quality of his governance. I will argue that no Buharist, none whatsoever, boasts of either the President's intelligence or his deployment of it to confront serious national issues.
"Instead, they exaggerate every mundane insight he has into simple issues and praise his supposed moral integrity because there is almost nothing else that continues to recommend him for the Presidency.
"It does not bother them that Buhari does not articulate any vision for the Nigerian state, neither has he demonstrated that he is driven by a sense of urgency to push his country beyond its state of poverty and disrepair.
"When he returned from another medical tour in the UK recently and was interviewed, it was frustrating that he was still stuck on the same old song about corruption and jailing of offender.
"There is another category of people who are not yet resolute about voting for either Buhari, his opponents, or abstaining entirely. This constituency has significant numbers that can sway the nation's fate come 2019. In the days ahead, they are the ones to be convinced that given Buhari's antecedents and temperament in handling crucial national issues, he is not the man for Nigeria's future", he said.
Adelakun argued that "Buhari also clings to corruption as a solo agenda because he has to pander to those whose sole demand on his Presidency has been for him to jail those who denuded the nation's wealth. Some of those followers, based on the issues that preoccupy their politics, are either blind to the gnawing reality of growing poverty or they have so much swallowed the All Progressives Congress (APC) propaganda that they live in an alternate reality".
The crux of Adelakun's argument is that the Buhari-led APC had "fight against corruption" as its gambit in 2015, and over three years later, it is still struggling to convince Nigerians that the fight against corruption is still on, with only increase in hunger and sundry hardship to show for it.
Meanwhile, the opposition at all levels is also plotting to beat the incumbent to the same game: the system is once again agog with alignments and re-alignments, and the only genuine picture being painted is that of perceived deprivation of personal interests, or protection of same by the key actors. In the midst of all these, little thought seem to be given to what governance should actually be about.
Aare Afe Babalola captured the scenario in Vanguard of July 25, 2015, when he said, "…however, as is again usual with them, they seem to have forgotten to write into their equation of political alignment and realignments the very thing that should be uppermost in the minds of any political leader truly desirous of serving his people; the unity and interest of the nation and the people they seek to serve".
As February 16 approaches, therefore, the expectations of Nigerians would be for aspirants for the coveted Presidency, and any other political position for that matter to be able to not only identify key questions on how to revamp Nigeria's economy, but also proffer workable solutions.
Paramount among the questions would, of course, be how to provide a workable solution to the hydra-headed corruption syndrome which has eaten deep into the nations psyche at all levels of governance. Part of it should be that merit is given its place in the polity, against the current stance of who occupies what space depending on the dictates of a relative selfish few whose decisions are often influenced by a quest to prove power.
While this is on, deliberate effort also needs to be made to debunk the seeming inherent notion that stands out Nigeria as a corrupt nation. This is because there is no country in the world that is not corrupt.
The difference is that while developed countries focus more on practical ways of deinstitutionalising the corruption phenomenon, countries like Nigeria use it as a political gimmick, the way the ruling All Progressives Congress (APC) used it to ascend the presidency in 2015, but with nothing concrete to offer.
Adelakun addressed this when he said: "When you compare the corruption in Nigeria to what goes on in the USA, our Nigerian leaders, for their entire thievery, look like mere pickpockets. In fact, larger economies give rooms for wider chances of crimes and abuse of power.
"What their systems have done differently has been to build systems and reproduce social processes that encourage continuous self-improvement to ameliorate occurrence of corruption. They did not paralyse initiatives by taking corruption as their peculiar cultural habit".
This is the ultimate expectation of Nigerians when the next president takes charge of the highest position in the country, come May 29, 2019.
Soibi Max-Alalibo