Telecom Operators Set To Expand Financial Inclusion …Target 90m Nigerians
Nigeria's largest GSM operators, Glo, 9Mobile, Airtel & MTN Nigeria are to expand financial inclusion to 90 million Nigerians by 2020.
Chairman, Association of Licensed Telecommunications Operators of Nigeria (ALTON) Mr Gbenga Adebayo, made this known to newsmen in Lagos, Thursday.
According to him, the operators came together recently to clearly articulate their commitment to deepening financial inclusion and providing Nigerians with access to a range of affordable financial services.
He said that the operators equally called for a level-playing field for mobile network operators to be allowed to participate fully in the Mobile Money industry.
Adebayo listed the commitment of the industry to include materially-improved financial inclusion rates and to deliver access to financial services to 90 million customers over the next 30 months.
He said that by the sixth month, the Telco's planned to bring access to financial services to 15 million customers, serviced by 100,000 agents.
Adebayo said that by the 12th month, the operators would bring access to financial services to 35 million Nigerians serviced by 250,000 agents.
According to him, by the 24th month, we will bring access to financial services to 70 million Nigerians, serviced by 600,000 agents.
He added that by the 30th month deadline, the mobile network operators would be committed to bringing access to financial services to 90 million customers, also serviced by 600,000 agents.
Adebayo said that following the issuance of Nigeria's first mobile money licences in 2009, the journey toward financial inclusion had been slow, as current financial exclusion level stood at over 40 per cent.
"There is a significant gap to be covered in order to meet Nigeria's target of 20 per cent financial exclusion by 2020.
"In Nigeria, Telco's are excluded from accessing mobile money licences directly under current guidelines, while in most sub-saharan African markets where mobile money is successful, Telco's are given a level-playing field," he said in a statement.
Adebayo said: "According to Mckinsey, as a direct result of increasing financial inclusion rates, Nigeria could realise as much as a 12.4 per cent boost in Gross Domestic Product."
He said that this would lead to creation of three million new jobs; $2 billion reduction in government leakages and $57 billion new credits for Small and Medium Scale Enterprises over a four-year period.
NCC Reassures On Protection Of Customers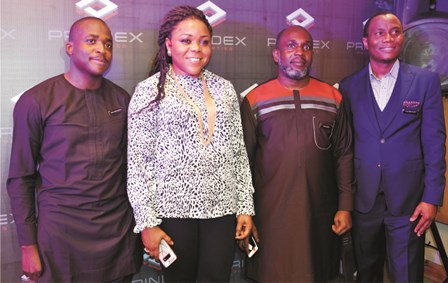 The Nigeria Communication Commission (NCC) has assured telecommuication consumers that they would continue to get the right value for their money
It also said that it would continue to address challenges in the industry.
The NCC's Executive Vice Chairman/Chief Executive Officer, Prof. Umar Danbatta, gave the assurance at NCC Day at Lagos International Trade Fair Complex, Tafawa Balewa Square.
He said as the regulator of the industry, the commission is aware of the huge responsibilities of safeguarding the interests of all the stakeholders.
Represented by the commission's Deputy Director, Consumer Affairs Bureau, Mr. Ismail Adedigba, the NCC boss said the forum was specially organised to strategise with the consumers to seek and proffer solutions to various telecom issues confronting them.
He said: "The NCC as the telecom regulator is aware that this feat of telecom being central to our daily life could not have been achieved without the consumers and as such identifies the consumer as a very important stakeholder in the telecom industry.
"This is evident in the Eight Point Agenda  of the commission where the empowerment and protection of the consumers from unfair practices through availability of information and education to make informed choices in the use of ICT services is emphasised."
Danbatta  said the NCC as a regulator has devised ways for subscribers to lodge complaints when they are dissatisfied with the services provided by operators, adding that the commission will also apply appropriate regulatory measures and sanctions against erring service provider.
He said one of the issues affecting telecoms consumers which the commission has proffered solution to is the issue of telemarketing, commonly known as unsolicited text message.
Human Capital Dev, Key To Mining Sector – Minister
The Minister of Mines and Steel Development, Mr Olamilekan Adegbite says human capital development is key to growing the mining sector.
He said this yesterday in Abuja when he visited the  Nigerian Geological Survey Agency (NGSA) to inspect some of its facilities.
The minister said developing human capital in the mining sector was necessary to build the right expertise to do things like certification of minerals locally, rather than going to South Africa and other countries to do same.
"If we do certification of minerals here, things will be easier and people can even come from other countries to have their minerals certified in Nigeria.
"Nigeria is a great country, and I am sure we have the resources in terms of human capital, let us train our people so we can achieve this.
"I have no doubt that we can do it, and I know that the NGSA is doing well and I will like us to keep it that way,'' the minister said.
Adegbite also expressed concern that the engineering profession was currently dominated by men, saying that there was the need to encourage women into the profession.
According to him, girls in universities should be given career talk to encourage them to take to the profession.
The minister also tasked Nigerians on the need to be patriotic and to always have the interest of the country at heart, as this was critical to ensuring its greatness.
"Let us all have Nigeria's interest first and foremost at heart, if we do that, Nigeria will be greater, and we will all leave peacefully.
"When Nigeria is great, it is able to provide for more.
"All this banditry we are having all over the place is because the growth that Nigeria has experienced has been exclusive, a lot of people had been left behind.
"And when people are left behind, the result is desperation and this had led to banditry, kidnapping and others vices," he said.
Adegbite charged the management of the agency to feel free to come up with ideas on how to move the agency forward.
The minister also inaugurated the agency's Mineral Museum and Customer Service Centre.
Earlier, NGSA Director-General Dr Abdulrazaq Garba said the museum was established for the archiving of Nigeria's scientific breakthroughs and geological heritage.
Garba said the agency's geological museums and collections were a great national asset that contributed to culture, research, scientific education and public engagement.
He added that it had also formed an intrinsic part of research carried out in the past and played a key role as a source of evidence in exploration of the nation's natural resources.
Speaking on the recent persistent earth tremors experienced in parts of the country, especially around Abuja, Garba said proactive measures were being taken to predict, detect and monitor earth movement and earthquake related activities.
According to him, the agency has procured and deployed earthquake monitoring equipment in form of high sensitivity volksmeter II in some parts of Abuja and Kaduna.
The Director General said the agency was collaborating with various institutions both locally and internationally with a view to adding value to its activities.
MOSOP Plans Template On Oil Production In Ogoni
The Movement for the Survival of Ogoni People (MOSOP), says it will soon set up a template for discussion around the issue of oil production in Ogoniland.
President of the movement, Mr. Legborsi Saro Pgagbara, who disclosed this at the 24th Ogoni Martyrs Day in Port Harcourt, recently said the resumption of oil production in Ogoniland must involve a broad based discussion with the people.
"Our points remain that any resumption of oil production in Ogoni must involve a broad based discussion with the Ogoni community taking into account that the oil industry and Ogoni had been in dispute and the issues surrounding this dispute have not been settled" he said.
The MOSOP president also stressed the need for the people to find a united platform that will protect their interest.
Also speaking the president of KAGOTE, Dr Peter Mede, said his organisation and MOSOP were working together to advance the common interest of the Ogonis.
Dr Mede also said KAGOTE was in support of the move by the Federal Government to conduct a forensic audit of the Niger Delta Development Commission (NDDC).
He said the 24th commemoration marked another milestone in the Ogoni struggle and used the occasion to pass a vote of confidence on the Lgborsi Suro Pgagbara led MOSOP.
The chairman of the occasion and former Vice Chancellor of the University of Port Harcourt, Professor Ben Naanen, said the Ogonis lost a whole generation to the struggle.
He, however, commended MOSOP for keeping the memories of Ogoni heroes alive.