Children's Amazing Sense Of Fashion
Do you know that it takes a strong sense of awareness to understand one's true style? Surprisingly, children effortlessly possess this awareness.
You may wonder what gives them the boldness to carry themselves about even when and where adults may fault their dressing; they don't fear looking like everyone else.
For these ones, they look and feel at their best at all times because they learn to accept their signature style and what can be more empowering than that?
Although children may not be thinking about trend per se, they are known for constantly experimenting with their looks and trying new things.
For subject of style, you don't have to underrate any child. Apart from having their opinions pertaining to what they wear, it is quite a bit tough, forcing any child to be adorned in a style or fashion not approved of him.
Of course learning to say 'No', simply explains an exertion of a sense of self and of independence of idea. Afterall, if they don't let you know they have style preference how would you know? Besides, your personal style best expresses the real you and same goes to the children.
The Children's Day celebration organized by the Assemblies of God Church Agip Road in Port Harcourt recently, no doubt provided a forum for children to express themselves in style.
Most captivating in their overt fashion statement is the yearning to grow and be like the adult.
The boys, girls even the cradles expressed a zealous desire to be like the Papas and Mamas. How cute they appeared as they went about the day's business.
Sylvia ThankGod-Amadi

Valentine: Couples Share Messages Of Love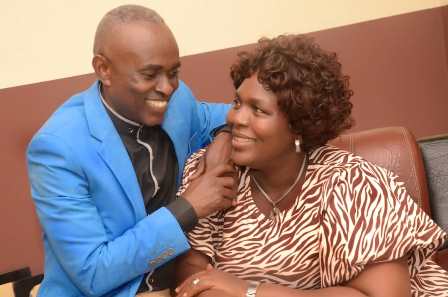 Rev & Pastor Mrs Ubong, married for 22 years, and blessed with five children
"We didn't start on a golden bed but love and perseverance with God's grace have brought us thus far. We chose from the day one of this marriage to put God first in all that pertains to our home.
"From our experience, one of the keys to a happy have remained as friends. Friends enjoy and esteem the company of one another, talk and express their feelings without fear or intimidation, share their common secrets, etc. On the contrary, couples who are not friends boss over one another.
"It is our belief that love must not be a seasonal thing but a lifestyle. This is God's command and standard. So in our home, we try as much as we can to celebrate love every day. That does not mean we don't celebrate special days.
"Because of the abuse of the Valentine's day and the word love, we now use the Valentine's day to talk about the God's kind of love, marriage and sex designed for people of all ages.
"This year, by God's grace, we are hosting it at Assemblies of God Graceland, at Iwofe road, Aker junction, by 9pm. It is often accompanied with a love banquet.
May God give us godly homes where love rules supreme."
With February14, the world aclaimed St Valentine's day, barely hours away from here, The Tide's Women Desk took to town to capture some couples who inspite of their long stay in marriage, still retain a high degree of romance. Excerpts.
Mr and Mrs Martins Mberu, a Catholic couple married for over 20 years. "Valentine's day is a day of romance. It should be celebrated to show love to one another through sharing of gifts and praying for St Valentine and the entire people in the world to live a life like that of St. Valentine.
"It is a day couples should show love to each other by ways of expressing their affection to each other with greetings and gifts.
"God instructs us to love one another and this is the biggest commandment of all.Today, many couples are too busy to have time for each other as well as transferring such love to their children.
"God calls us to be brave and to share His love with all who cross our paths. Scripture states that we should "not neglect to show hospitality to stranger.
"In loving others, there are many, many ways to do so, but to start, pray for them. Praying for others daily is an impactful way of loving them unconditionally, just as God calls us to do.
"Think about the people that are present in your everyday life, maybe a relative that you haven't seen in years or a friend you've drifted away from. Resolve to show love."
Engr & Mrs Ozuru Chibuike Monday, married for 22 years, " it has been very awesome, God has been so faithful, so far so sweet, come Friday, February 14, being Valentine day which happens to be our second son's birthday, we will renew our love with sweet and lovely words, going out to places of interest, and showing love to others".Valentine: Couples Share Messages Of Love

Monarch Gets Kudos For Upholding Okrika Culture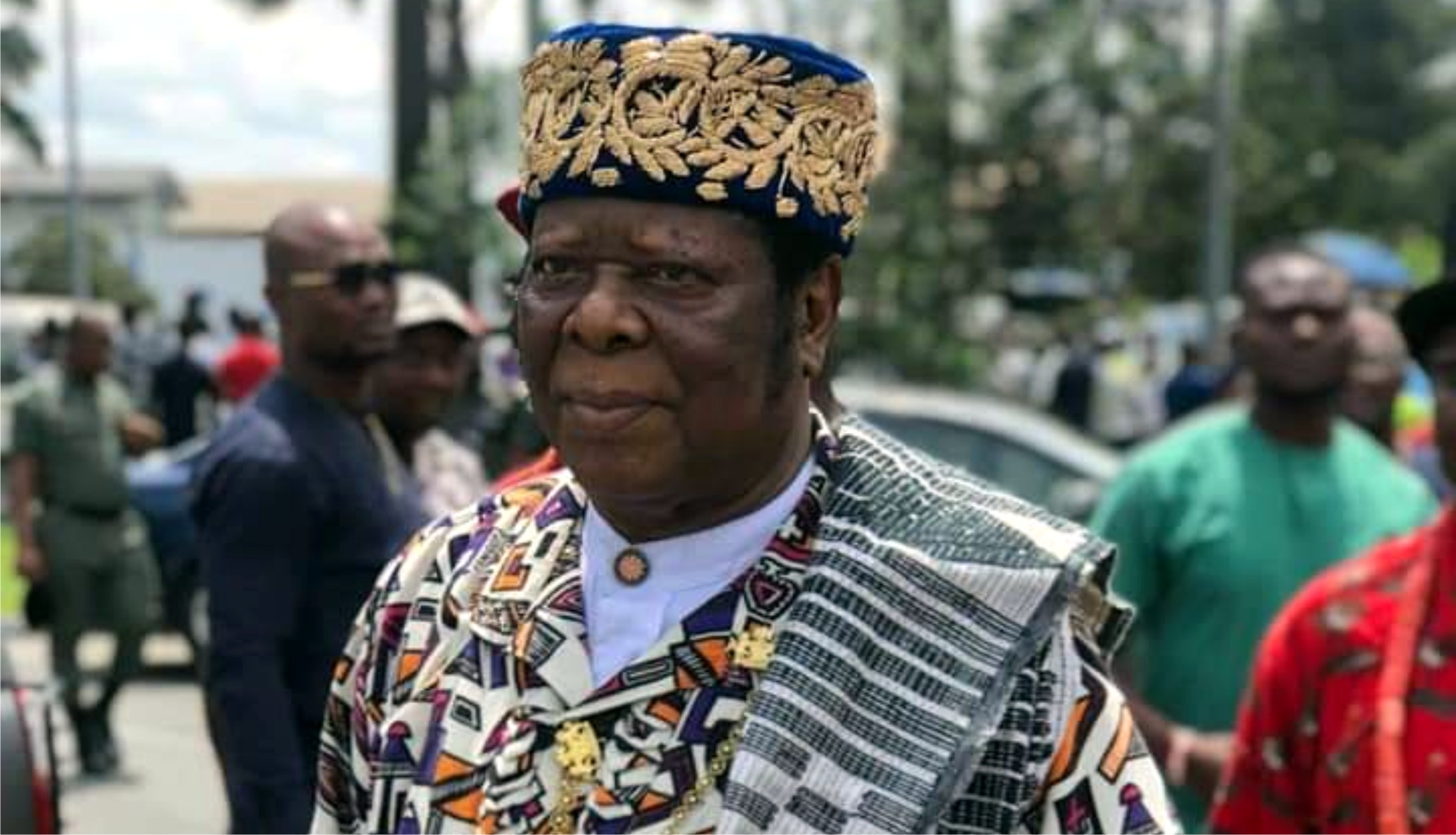 A one time Chairman of Okrika Divisional Council of Chiefs and former Chairman of Ogu/Bolo Council of Chiefs, Chief Marshall Daminabo Ockiya, has been applauded by his sibling and others for performing the traditional marriage rites of Bu-Yaa which automatically qualifies him to be his father's heir apparent and by so doing giving him the leeway to succeed his late father as the head of the Oforibokakaka's family in Ogu/Bolo Local Government Area of Rivers State.
Commending him for the feat, his younger brother, Joe Ockiya said in an interview with newsmen in Ogu, that he came all the way from United States of America to be part of the occasion due to the high regard he has for the Okrika culture.
He commended his elder brother for fulfilling his marital obligation as customs demanded, and expressed satisfaction and excitement over the development. He advised young people to always uphold the culture passed unto them by their forebears.
The monarch's children, Sepriye Emmanuel Ockiya, Belema Okujagu and Vicky Jackson, while also commending their father for performing the traditional marriage rites said their excitement knew no bounds as they had worked together to ensure that he performed the Okrika tradition.
They said that they hold their father in high esteem, describing him as a loving and philanthropic ruler who positively touches the lives of those who come in contact with him.
Speaking with newsmen shortly after the event, Chief Marshll Daminabo Ockiya said he was elated that the marriage rites which he had planned for a few years ago had finally been fulfilled through his children, and thanked them for their benevolence.
He explained that the decision to marry from his mother's family was borne out of the love he had for his father, late Oforibokakaka and equally because it was an obligation to do so based on the Okrika tradition.
"We have three types of marriage in our tradition: Lekria; Igwa and Bu-Yaa. Lekria and Igwa are smaller types of marriage while Bu-Yaa or Okuru Kaka is the highest kind, where the woman fully belongs to her husband even in death. And the one I did today was Bu-Yaa. I did this because my father was not married to my mother due to some circumstances that are not for public consumption. I will add here that I have wonderful children and I pray God to continue to bless and keep them," he said.
Highpoint of the event was the handing over of the 'Okuru' and the elephant tusk to Chief Ockiya, signifying that he had fully become a bonafide son and Chief of the Oforibokakaka's War Canoe House of Bolo.
Among dignitaries who graced the occasion included Chairman of Ogu/Bolo Local Government Area, Mr Erasmus Victor; former council chairman, Mr. Victor Alabo; and one time Managing Director of Nigerian National Petroleum Corporation (NNPC), Sir Morrson Tamuno; among others.

Women Rights Group Preaches Accountability, Transparency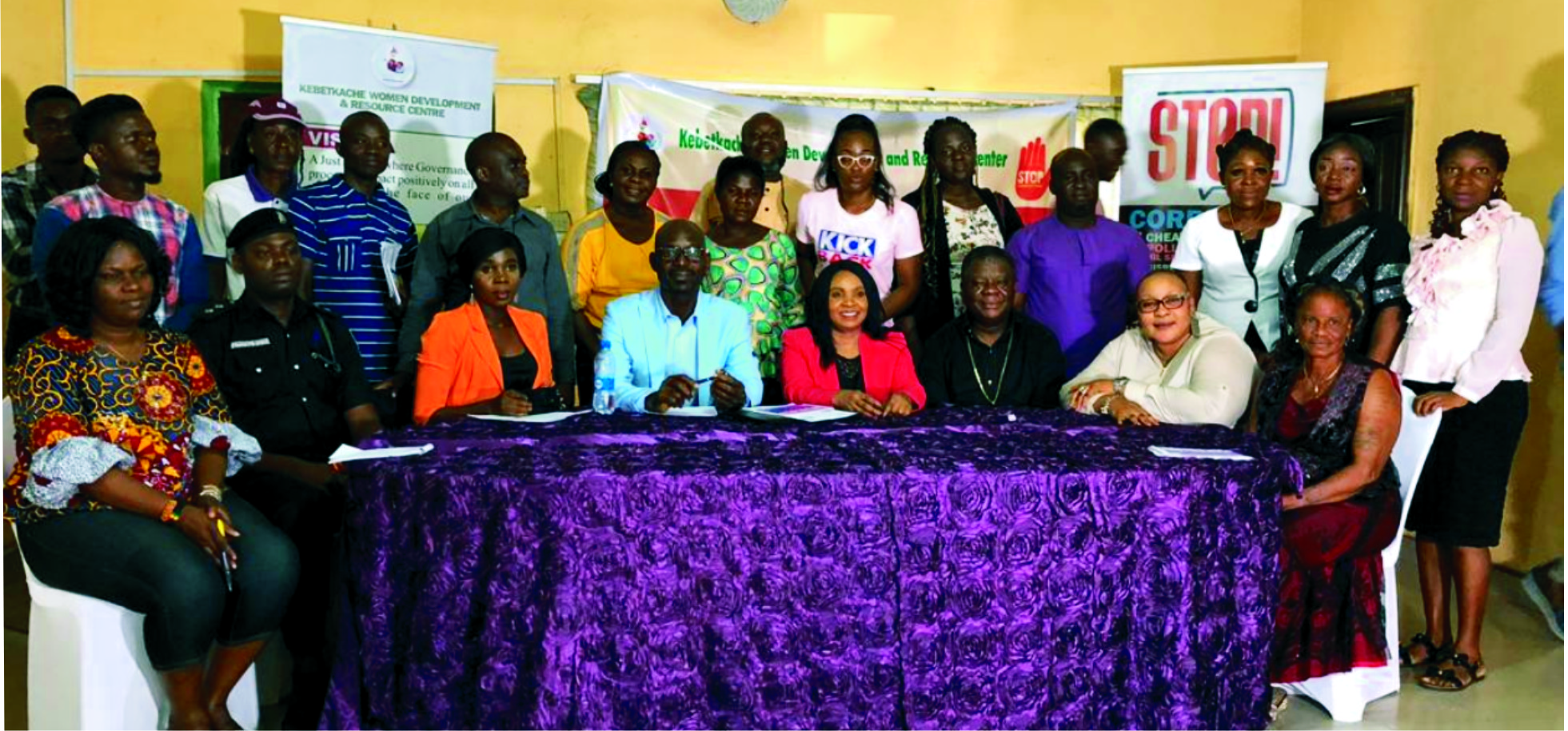 Kebetkache Women Development and Resort Centre, a women rights organisation, has taken a bold step to promote accountability and transparency in order to address issues of corruption as they affect women accessing social services.
The Executive Director, Madam Emem Okon in an interactive workshop session with the International Corrupt Practices Commission (ICPC), the Police and other anti-corruption agencies, organised by the body, on the topic: "Gender And Accountability: Promoting Ethics And Integrity," recently, in Port Harcourt, called on Nigerian citizens to promote ethical standards, accountability, transparency, and integrity so as to engender peace and progress in the country and society at large.
She said that in order to put an end to the high level of corruption in Nigeria, every citizen needs to conduct themselves in an acceptable manner worthy of emulation and commendation, while calling on anti-corruption agencies as well as the media to intensify efforts as much as possible at building consciousness in that direction.
In her response to if it is only women that suffer corruption and social vices in the society, she said: "Of course we know that it is not only women that require social services: such as quality education, functional health facilities, access to clean drinking water."
She expressed optimism that if every individual in the society begins to address the issue of corruption internally, there would be hope that in the soonest, it would be a thing of the past.
She charged that everyone need to know what is expected of them, noting that some people are made to feel that they are stupid, weak and don't know what they are doing when trying to promote transparency and accountability, which ought not to be.
"So people need to be encouraged that it is good to have integrity, it is good to be ethical in your profession. I want to charge participants to take the message home that there is hope as there are institutions that are still upholding integrity," she said.
She called on both leaders and citizens to have a change of attitude, mindset, behavior in whatever they find themselves doing, adding that their actions should be able to build good governance and better society and not to mar it.
"I am not only calling on leaders, but on every citizen, because people takes bribe, because somebody gives bribe, so am calling on everybody to change attitude, mindset, behavior, so that we can have good governance. If we don't have good governance, we cannot have those services that make life meaningful.
In his paper presentation titled: 'Entrenching Principles Of Ethics And Integrity In The Workplace,' the Guest lecturer, a member of the Independent Corrupt Practices Commission, (ICPC) facilitator, Mr Aveyina Peter defined ethics as those moral principles that control or influence a person's behavior, or the rule or standards governing the conduct of a person or members of a profession.
Peter also defined integrity as simply "doing the right when no one is watching or the quality of being honest and having strong moral principles," adding that without integrity individuals are untrustworthy.
Peter stated that ethical frame-works are those constitutional laws set out to checkmate activities of individuals, private, as well as public office holders and where the need arises, prosecute any airing member of the society that abuses his/her office.
He explained that public office is a position of stewardship for which an account must be rendered as it is a public trust as well as a national service for which an oath or pledge is made as a sign of responsibility and obligation to the people being served.
Talking about common forms of ethical risks, he advised that people guide judiciously against such risks, adding that ICPC has continued to surmount all those risks to maintain her integrity.
Peter itemised common forms of ethical risks as non-compliance with rules and regulations, conflict of interests, leakage of confidential information, unorthodox recruitment, compromised procurement, favouritism in training and promotion and abuse of office.
He stressed that if people adhere to rules and regulations and boldly doing the right things always, the society would be a better place for all.
The ICPC facilitator emphasised that ethics promote and preserve the well-being of members of the society as well as guide public servants in carrying out their official duties in order to achieve a united, peaceful and progressive nation, whose social order operates on the ideals of freedom, equality and justice.
He said: "It is the duty of every organisation in the public service to align its corporate behavior with the national ethics and goals.
He maintained that integrity in workplace fosters a positive workplace culture, stressing that organisations known for integrity perform better and as well gain more patronage from members of the society.
Also speaking, a Board member, Kebetkache Women Development Resort Centre, Chief Constance Meju commended ICPC for a well packaged lecture on corruption, describing it as a very welcome development, especially as everybody is crying that corruption is on the increase .
Meju stated that everyone needs to really understand what needs to be done and who needs to do what, noting that one of the things that need be done is first of all, everyone must have to check themselves as individuals in order to know how they are contributing to corruption and have a retrace upon realisation.
She condemned the act of over demanding which she said encourages people to take what does not belong to them.
She stressed that peace and progress cannot be achieved in a nation where there is injustice, noting that in order to achieve peace and progress, everyone must imbibe very high level of ethical standards in their day to day activities.
Meju charged public and private office holders to maintain high ethical standards in the discharge of their duties, while also calling on the anti-corruption agencies to ensure there is no sacred cow, but ensure that corruption check is on all.
Noting that Nigerian leaders are servants, she charged them to serve the interest of the nation first and not their own personal interest.
Meju added that they should also remember that they are in position of power because people put them there and as such they are accountable to the people, adding that they make themselves ready to answer questions, operate an open door policy and be transparent to the people.
She appealed to Nigerian leaders to lead the way that the people should go, noting that leadership is 'do as I do not do as I say'.
According to her, "Nigerian leaders must ensure that all the sectors function optimally by releasing the needed money that should go to all the sectors as well as ensuring that the people use money judiciously for the purpose it is meant. Everybody should do what is expected of them. If you are in the power sector give us light, if you are in the education sector upgrade our schools, so that we don't need to send our children out to study abroad. Let everybody go to school here and have quality education."
Meju maintained that education is very vital and as such it is important to check and monitor what is happening in the educational sector, adding that there is so much corruption as teachers are not teaching the students, thereby making them come out half-baked and as a result can't defend their certificates which in turn makes the future blink.
She said: "In future we may not just be talking about corruption, we need to make our children employable, we need to make them people that can compete favourably with people from other parts of the world."
Susan Serekara-Nwikhana