Don Charts Path To Varsity Education Enhancement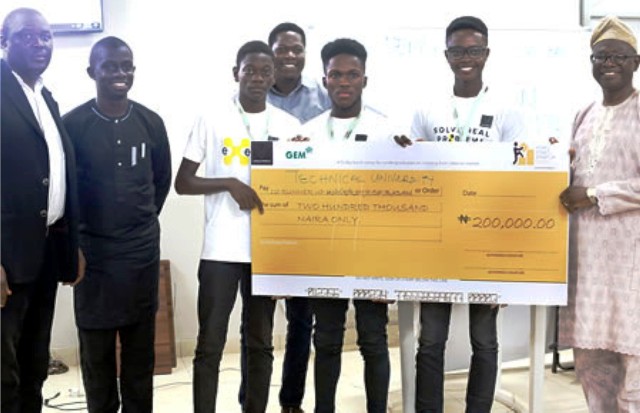 A university teacher at the Institute of Education, University of Ibadan, Prof. E. Adenike Emeke has outlined some ways in which university education in Nigeria can be enhanced in the 21st century.
Adenike said increase in funding, technical aids from foreign countries, improved enabling environment for teaching, learning and research in the universities as well as the establishment of more specialist universities and many others are some steps that can improve and enhance the university education system in the country.
She made this recommendation while delivering the combined 35th and 36th convocation Ceremony lecture of Ignatius Ajuru University of Education, Rumuolumeni, Port Harcourt with the topic "the Nigerian University of the 21st Century" held at the University Convocation Arena, Thursday.
The university lecturer, who presented historical background of university education from different climes, also highlighted some key elements and key goals that must be taken into consideration, in defining a university.
She further enumerated some challenges facing university education in the country even as she proffered suggestions that would uplift the country's university system forward being more compliant of a 21st century university system.
She opined that religion was influential and closely linked to formation of university education across the globe, adding that historical records indicate that the university was autonomous self-governing institution and developed first as religious institutions which originated in the medieval Islamic world, Italy and a Christian nation in Morocco.
Prof. Emeke stated that university education in the 21st century must be qualitatively inclusive, and should be available to all who can benefit from it and who are cognitively prepared to waist the experience.
"In other words, while university education should be an opportunity accessible to all the citizenry, it must be an opportunity accessible to all the citizenry; it must nonetheless be for those citizens who are truly qualified to undergo the rigour of university education and profit from it."
Earlier in his address, the vice chancellor of IAUOE, Prof. Ozo-Mekuri Ndimele lauded the ceremonial committee for the choice of the guest lecturer, and described Prof Adenike as a trail-blazer of higher reputation in academic.
Ikpeazu Charges Stakeholders To Sustain, Improve Gains Made In Education
Abia State Governor, Okezie Ikpeazu has challenged the state's Ministry of Education to rise to its co-ordinating responsibility that will build stronger synergy amongst major stakeholders in the education sector.
He said the synergy must align with the global vision of producing children capable of being society's desirable leaders of tomorrow.
Ikpeazu who gave the charge during a meeting with education managers in the state at his Aba Lodge identified capacity building, conducive learning environment and harmony among the education stakeholders as the leading factors toward the vision of bequeathing qualitative education for Abia children by his administration.
He noted that the setting up of the Continuing Education Center for teachers training, renovation of about 700 classroom blocks, the building of four model schools, procurement of smart boxes to enable Abia State Universal Education Board (ASUBEB) startup with the digital teaching platform for Abia children were all aimed at equipping school children for their future endeavours and enable them compete favourably with their peers.
The Governor also disclosed that plans have already been concluded to establish a Garment Factory within the year in addition to Enyimba Automated Shoe Factory which will produce uniforms and shoes for school children
He described them as motivations towards realising and sustaining high public school enrollment which the State's School Feeding Programme has achieved.
He also reminded the stakeholders of the need to adopt innovations and technological ways of teaching that will expose the children to the current and dynamic learning trends of today's world, adding that education is a pillar and enabler to any career which his administration recognised and adopted even to the point of formalising artisanal shoemaking.
Contributing, the Deputy Governor, Sir Udo Oko Chukwu expressed appreciation to the Governor for the immense interest he has shown towards improving the education sector which he described as a paradigm shift to the global challenge, and encouraged the education stakeholders to complement these efforts by restructuring the school system of the state.
Anambra Begins Recruitment Of Primary School Teachers
Anambra State Government has commenced recruitment of 500 teachers into primary schools across the state to enhance teaching and learning.
Chairman, State House of Assembly Committee on Basic Education, Hon. Ejike Okechukwu disclosed this at the House of Assembly complex in Awka during an interactive session between the committee and Head Teachers in Aguata Local Government Education Authority.
He explained that the recruitment exercise would fill the gap created by primary school teachers who had retired from active service and improve the standard of primary education in the state.
He assured that all challenges outlined by the Head teachers hindering the progress of primary schools across the state would be tackled to the barest minimum to ensure the upliftment of education standard in the state.
Okechukwu encouraged the teachers to remain dedicated to duty and shun all forms of sharp practices that could portray the state in bad light.
Reacting, Education Secretary, Aguata Local Government Education Authority, Lady Ijeabalum Obi commended government's performance in education sector.
She explained that the meeting offered the teachers and the committee the opportunity to brainstorm on ways to sustain the state's legendary performance in education and tackle issues bordering on teachers welfare.
In a vote of thanks, Mrs. Ebere Nwankwo from Eziagulu Primary School, Ekwulobia appreciated the committee for living up to expectations, pledging the teachers' preparedness to follow the lawmakers' directives.
Educationist Wants Early Introduction Of Art To Learners
Director of Studies at Pampers Private School and Rainbow College, Dr. Olayinka Oduwole, has said Art should be introduced to children in the early years as it aids physical, cognitive, and behavioral developments.
Oduwole in a statement made available to The Tide, said Art was a creative expression that nurtures the imagination and allows children to externalise their feelings.
To celebrate Children's Day this year and improve learners artistic skills, he said the  learners of Pampers Private Schools and Rainbow College published a joint e-book titled, "A Collection of Stories by Pampers Private School and Rainbow College."
"Through painting, sculpture, collage, music, dancing, acting, clay, drawing, or any other medium, art is a way for children to work through emotions,  make decisions, and express their ideas. It should be introduced to children in the early years to aid physical, cognitive, and behavioral development. When children work together on art projects, they interact and share with their peers. This collaborative work promotes social learning."
He explained that  children who performed arts regularly had been noticed to control their emotions and expressed the same in productive ways.
"Manipulating art materials provides children with a sense of freedom while encouraging focus and concentration, this informs the rationale for the promotion of art education and creativity as the bedrock of Rainbow College curriculum plan and implementation," he said.